Not only possessing a world famous scenic spot, Ha Long - Quang Ninh is currently the most attractive tourist destination of the country. Not only that, the specialties here also make diners fascinated, especially the new snacks are quite creative, unique and attractive with the typical flavor of the sea and the mountains. Here are the top 5 popular snack shops in Ha Long that you should keep in your bag when traveling with a backpack.
Spicy Kim Oc Noodles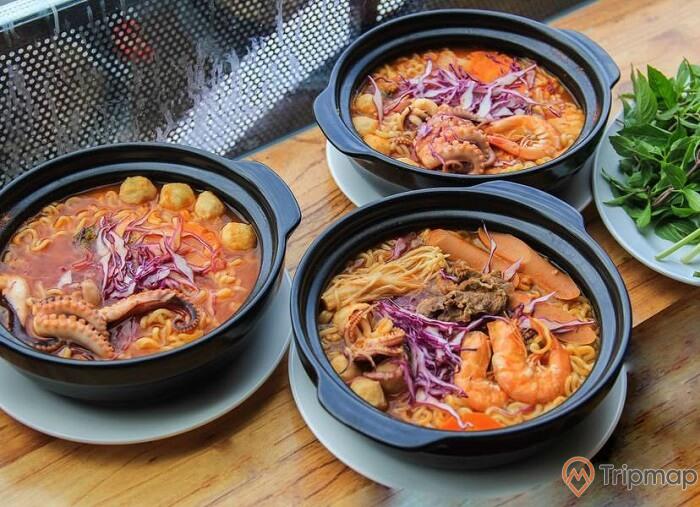 Kim Oc Spicy Noodles is a stylish snack shop Chinese cuisine, rich in sea flavor and very popular with tourists. The space is spacious, airy, clean and very cool. Staff are attentive and very polite. The main dish is spicy noodles of all levels and there are many types for you to choose from: Seafood noodles, dry mixed noodles, turkey noodles, ostrich noodles, octopus noodles... Toppings are pickled pickles, salted beans , salted green chili and four kinds of miso sauce (special), tuna sauce, hot and sour sauce and sesame sauce. Among them, miso sauce is considered the most delicious and satisfying.
Location: No. 19 Gieng Don, Ha Long, Quang Ninh
Business hours: 8:00 - 22:30
Mono shop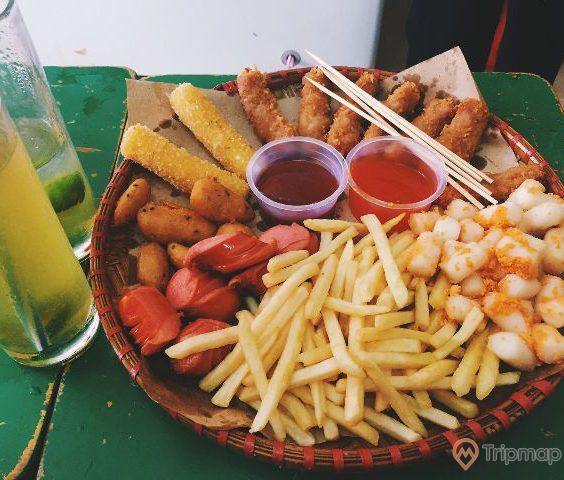 This is one of the famous snack shops in Ha Long, the price is extremely reasonable. Mono shop is beautifully designed with 2 floors with a quite spacious and comfortable campus. The menu is extremely diverse and all are famous delicacies such as Caramel longan, dried beef salad, fried spring rolls, sticky rice ice cream, fresh yogurt with glass buffalo legs, sparkling water, corn rib porridge... So you can be spoiled for choice. Order food without worrying about your pocket.
In particular, a famous snack that cannot be ignored at Mon Quan is "Thousand-layer Taiyaki fish". This is a traditional Japanese fish cake. The crust is very delicious, sweet and crunchy. There are many layers that overlap. The filling is fragrant and sweet. After the excursions, having fun, sitting in a luxurious and elegant restaurant, enjoying delicious food is second to none.
Location: 169A1 Le Thanh Tong, Ha Long, Quang Ninh
Business hours: 8:00 - 22:30
Fat Cat Quan
This is the address that serves delicious Ha Long tofu and banh mi. Compared to other eateries, the space is a bit small but it is arranged very delicately, neatly, cleanly and looks very cozy. The menus you can not ignore such as beef dipped in vinegar, crab cakes, fish noodles ... but especially delicious to mention are bread pans and tofu, especially mixed tofu. The ingredients for this dish include black jelly, tofu, red beans, longan, and lotus seeds, which are very cool and good for health. In addition, there are white tofu with a very pleasant taste, fragrant, fatty and smooth taste, crispy longan, lotus seeds and red beans that are luscious and fragrant. With pan bread, there are many spices such as beef, eggs, sausage, pate, potatoes served with spicy, fatty, sweet and sour sauce.
Location: 33 Gieng Don, Tran Hung Dao, Ha Long, Quang Ninh
Business hours: 10:30 - 21:00
Co Nghi Yogurt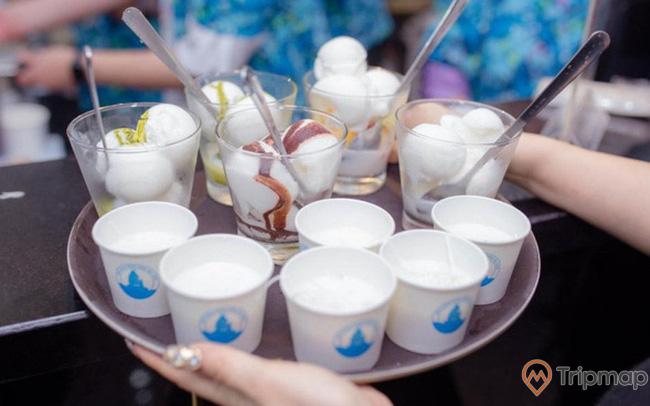 Formed in 1999, Co Nghi yogurt has become a famous brand of local people and tourists when coming to Ha Long. This shop has many outstanding dishes such as longan lotus tea, corn milk, hot cakes, fried sweet potatoes, smoothies, Italian ice cream, fruit juices... and especially yogurt - the dish that makes the owner's name. staff. Yogurt here is famous for foot Chau yogurt, jackfruit yogurt, fruit yogurt, jelly yogurt. Smooth yoghurt, soft and chewy feet, fresh fruit blends to bring a cool sweet taste to soothe the sweltering heat on sweltering summer days.
Location: No. 10, Van Lang, Ha Long, Quang Ninh.
Business hours: 8:00 - 23:00
Snacking Thien Phu
The shop mainly serves famous cakes such as filter cake, banh chung, banh xeo, banh beo, banh khot, mixed rice paper... The cakes are handmade, so they are delicious and have a distinct delicious taste. . And especially there is banh xeo - a specialty of the Central region. The cake is filled with shrimp and meat, including bean sprouts and onions. The crust of the cake is very crispy and fragrant when eaten, the greasy shrimp and meat filling is dipped with a little sweet and sour sauce served with raw vegetables.
With the top 5 famous Ha Long snack shops that are loved by tourists above, it has proved that Ha Long is not only the most popular tourist city in Vietnam, but also has a rich cuisine, always willing to customers from all over the world. . Anyone who has set foot in this land, enjoying sea-flavored dishes will probably be very unforgettable, especially young people when their hobby is street snacks.