Ha Long Bay is one of the most attractive tourist attractions in the coastal city. This place is a wonderful nature with a rich flora and fauna system that brings many unexpected and interesting experiences to visitors. For the convenience of tourists coming here, Tripmap.vn will introduce the tourist routes organized by the Ha Long Bay management board in the past time.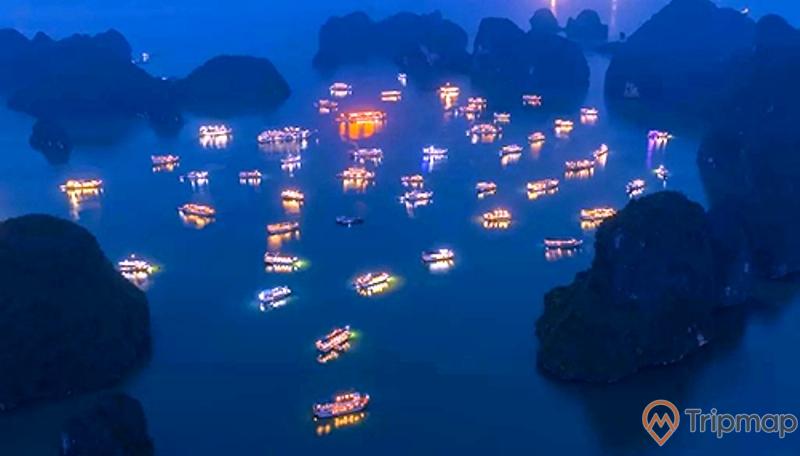 Route 1:
Thien Cung-Head Wood – Stone Dog Island, Ba Hang fishing village, Perfume Island, Trong Mai Island (Fighting-cock)
Route 2:
The stone dog, the incense stick, fighting cock, Surprise Cave, Ti Top (or Soi Sim), Me Cung Cave, Ho Dong Tien (or Drum Cave or Virgin Cave or Bo Nau Cave or Luon Cave).
Route 2 and overnight stay:
Rock dog, incense peak, fighting cock, Sung Sot Cave – Ti Top or Soi Sim – Maze Cave – Tien cave (or Drum cave or Trinh Nu cave or Bo Nau cave or Luon cave) – Overnight stay: Hon 690-Lach Dau Xuoi-Hon Lom Bo (or Trinh Nu Cave-Drum Cave or Ho Dong Tien-Luon Cave) or Hon 587 Hang Lat).
Route 3:
Culture center Cua Van fishing village– Cua Van fishing village- Tien Ong Cave- Ba Ham Lake.
Route 3 and overnight stay:
Cua Van Fishing Village Cultural Center – Cua Van Fishing Village – Tien Ong Cave – Ba Ham Lake – Overnight spot: Ba Ham Lake (or Cua Van Fishing Village).
Route 4:
Grass Cave - Master's Cave - Vong Vieng fishing village – Cap La Cave – Cong Dam fishing village or Tung Ang Ecological Area – Cong Do or Hon Xep.
Route 4 and overnight stay:
Co Cave, Thay Cave, Vong Vieng Fishing Village, Cap La Cave, Cong Dam Fishing Village or Tung Ang-Cong Do Ecological Area (or Hon Xep), Cong Do Overnight Point.
Route 5: Ship Port - Gia Luan Wharf (Cat Ba - Hai Phong):
Stone Dog Islet, Ba Hang Fishing Village, Dinh Huong Islet, Trong Mai Islet (Ga Choi), Hoa Cuong Fishing Village.
Additional attractions for adults: Ba Hang Cave or Soi Sim.
Visit additional points in the route:
Bo Nau Cave (or Luon Cave or Drum Cave or Trinh Nu Cave)
Above are the tourist routes on Ha Long Bay, Tripmap.vn hopes to contribute to bringing you the most wonderful and attractive excursions.