Traveling to Binh Dinh, an idyllic land with beautiful beaches and no shortage of famous landmarks, you will be hard-pressed to resist the enchanting wild beauty of Ghenh - Vung But, a landscape that is making the world move. Devotees have moved in to check in recently.
Binh Dinh Not only famous for famous blue sea paradises such as Cu Lao Xanh, Eo Gio or Ky Co, but it also has De Ghi - Vung Boi in the green that makes many people fascinated. De Ghenh Tourism - Vung Boi, You will be able to touch the pristine beauty almost completely of nature, which is likened to the beautiful sleeping fairy of Nau.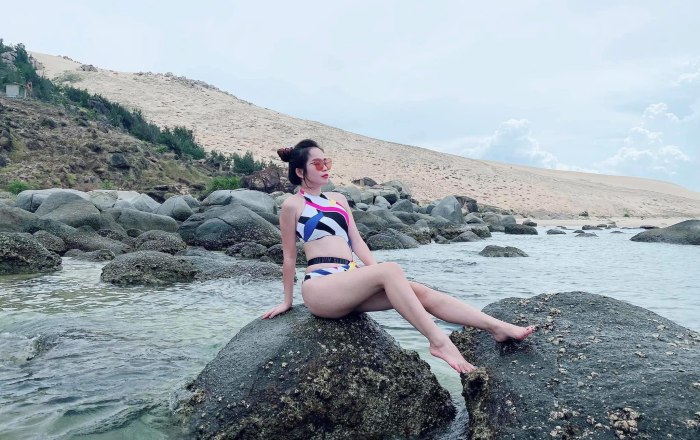 Traveling to Gam Ghi - Vung Boi you will be mesmerized by the beautiful scenery.
>> See more: The hottest Quy Nhon-Binh Dinh travel experience
De Ghi – Where is Vung Boi? Instructions on how to move
De Ghi - Vung Boi is located about 50km north of Quy Nhon city center, visitors can move here relatively easily by various means of transport. Accordingly, De Ghi sea belongs to Cat Khanh commune, Phu Cat district and Vung Boi located at the foot of Vinh Loi mountain of My Thanh commune, Phu My district.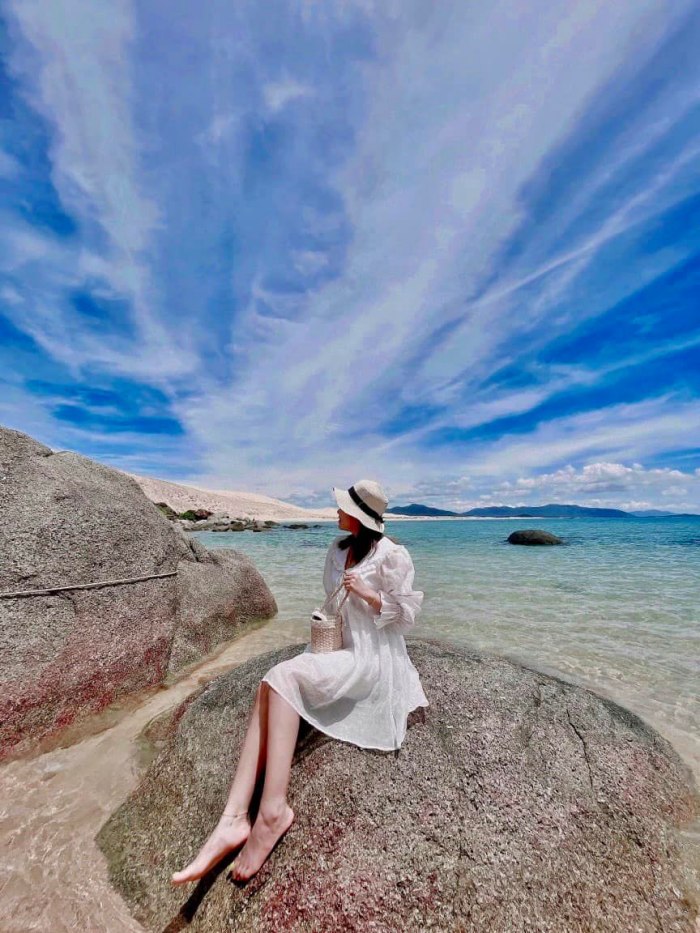 From Quy Nhon, it will take you about 1 hour to get to De Ghi - Vung Boi
From Quy Nhon city to travel to De Ghi - Vung Boi, You move in the direction of DT640 road, then you will check-in to What is first, this is a very beautiful unspoiled seaport and has a busy fishing port so you will be able to discover a lot of interesting things. From De Ghi, you can move to Vung Boi by canoe with a travel time of about 15 minutes.
If you choose to go by road, it will take you longer with a distance of 8km from My Thanh junction through Vinh Loi village and then to Vung Boi. The road to De Ghi - Vung Boi is not too difficult to go but it is easy to get lost, so in addition to consulting the map, you should ask the locals to run the right route, to avoid spending a lot of money. Travelling schedule.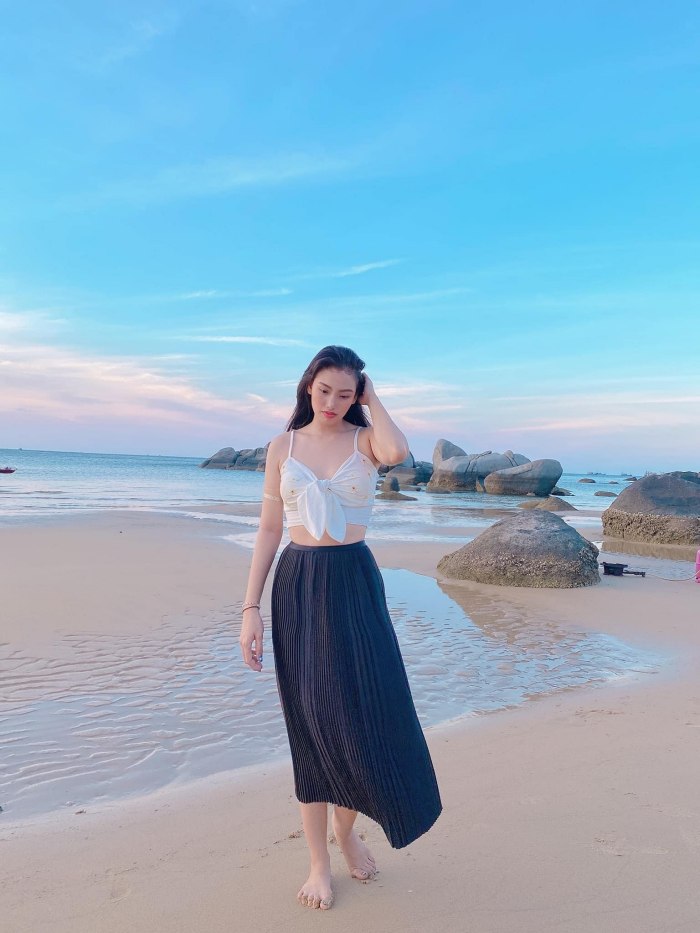 You should ask the locals for directions to save time finding the way.
Travel to De Ghi - Vung Boi to see a panoramic view of the picturesque sea paradise
If you have ever been mesmerized by the picturesque beauty of Ky Co, Eo Gio or Hon Kho, surely when you come to De Ghenh, Vung Boi you will be even more surprised by the pristine beauty.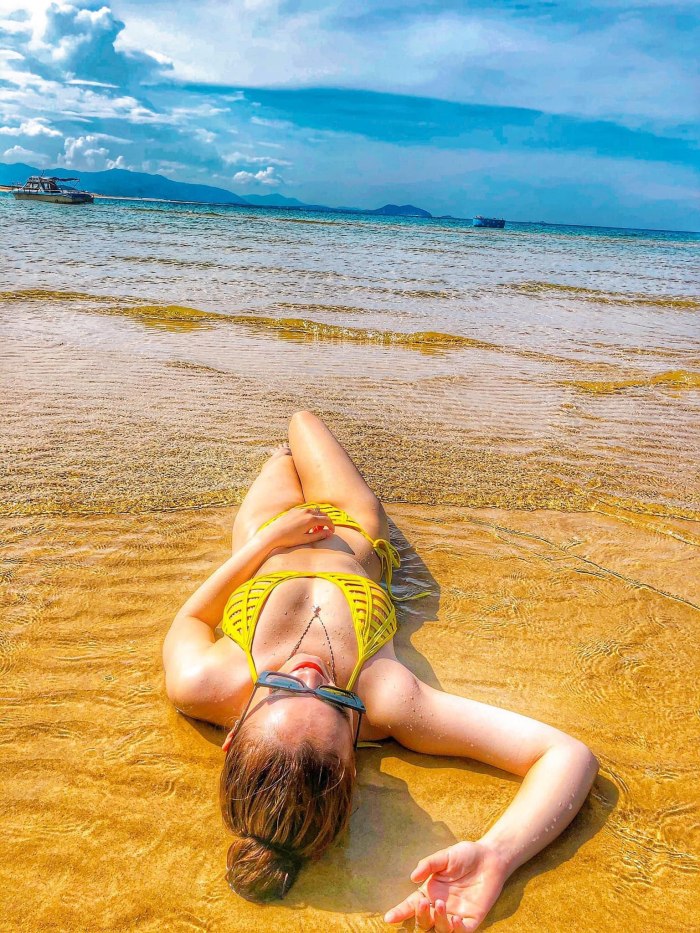 The beauty of De Ghi - Vung Boi is both splendid and wild.
The scenery here will make you just want to forget everything to completely immerse yourself in the beautiful nature. De Ghi Beach - Vung Boi has an extremely fanciful blue color, a captivating beauty with clear blue sea water. The sea water is divided into three distinct colors, in the distance is a deep blue like the sky, closer is jade, near the shore is a clear light blue.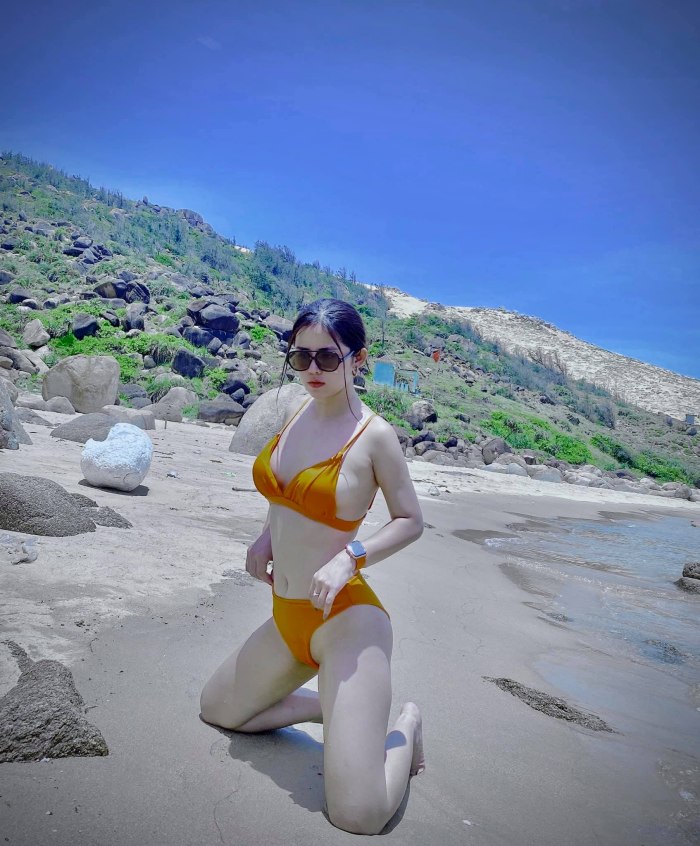 Unspoiled beauty always amazes us.
Under the sparkling sea sun makes the scene more charming than ever. From this sea, you can zoom out to see all the majestic mountains with arms outstretched to De Gi beach, on the shore the rocks of all shapes also create a beauty that is both radiant and wild. . .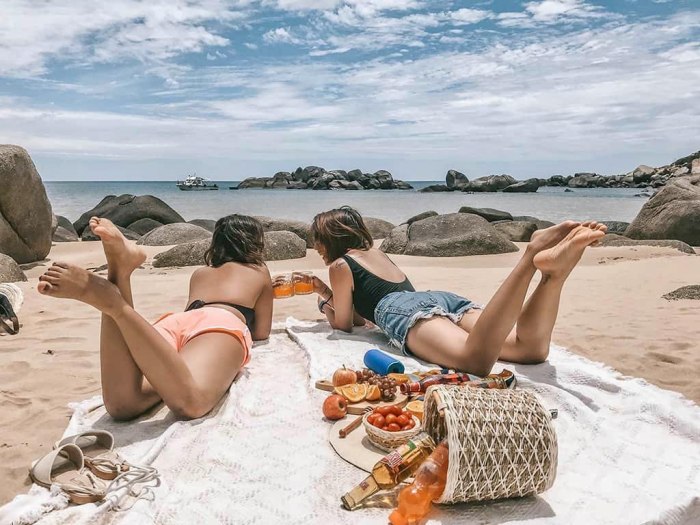 The picturesque setting will make you fall in love from the very first visit.
Experiences not to be missed in De Ghi - Vung Boi
Check-in attractive places
De Ghenh Tourism - Vung Boi, You will have the opportunity to explore attractive places with a long pristine beach, clear water you can see the bottom, check-in Hon Con Trau is like a swimming pool. The beautiful natural swimming pool is formed by the miraculous formation of the reefs, you can enjoy a dip in the clear water or watch the fish swim around. Con Trau islet is quite isolated, so you can only swim to check in, not use the boat.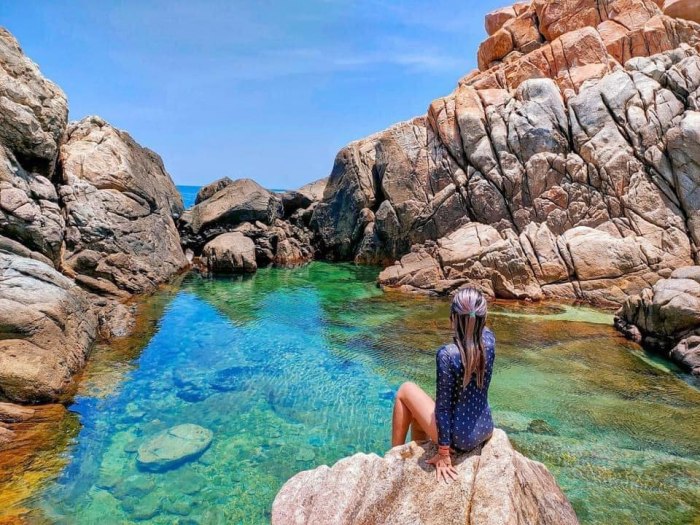 Con Trau Island is like a natural swimming pool.
Another attractive place that you can hardly ignore is the ancient sand dunes, this hill is located on the beautiful clear blue coast with the wild look of the famous sand deserts. This sand dune, whose real name is Vinh Loi sand hill, is a favorite check-in point for many tourists because it still retains its enchanting wild beauty. There is an area also known as the cracked desert because the soil here cracks into large patches creating a very different beauty.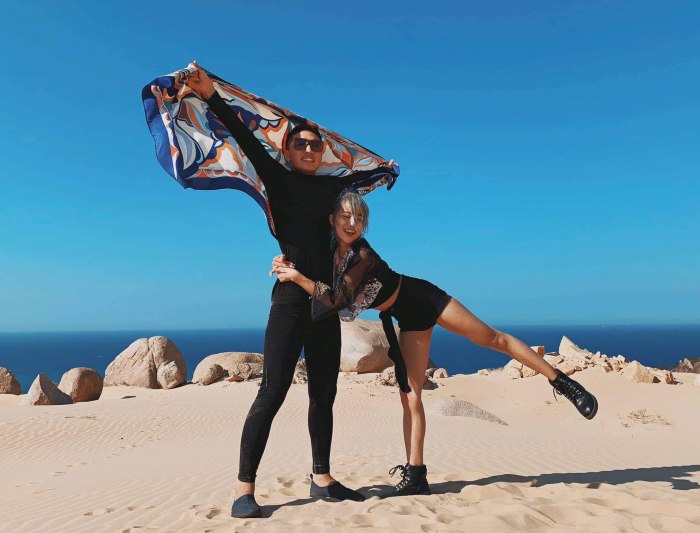 Mo Co sand dune is also known as Vinh Loi sand hill.
Scuba diving to explore the vast ocean
De Ghi - Vung Boi is an ideal place for you to experience scuba diving and enjoy the lake. There are pristine coral reefs with beautiful vibrant colors. You can join short-term experience tours to participate in this experience, just need specialized glasses for swimming and diving, you can see the whole beautiful world of the ocean and coral species here. After scuba diving, you can combine boating or kayaking.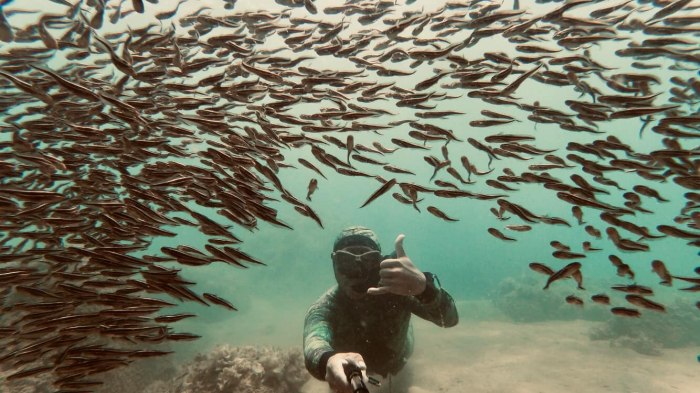 The waters of De Ghi - Vung Boi have many fish and corals.
In particular, if you are lucky, you can catch the giant ocean whales swimming in the blue sea, this is a wonderful sight that not everyone is lucky enough to encounter in life.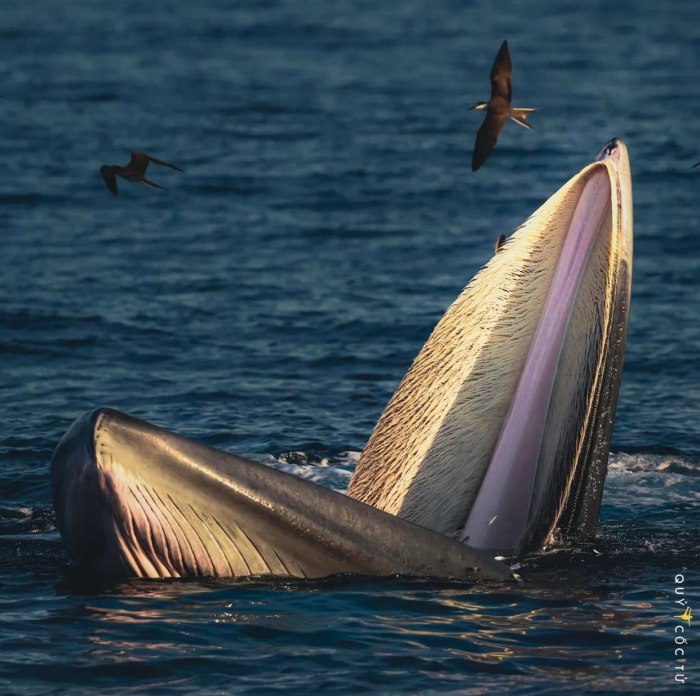 If you are lucky, you will be able to catch wild whales at De Ghenh - Vung Boi. Photo: Devil Coc Tu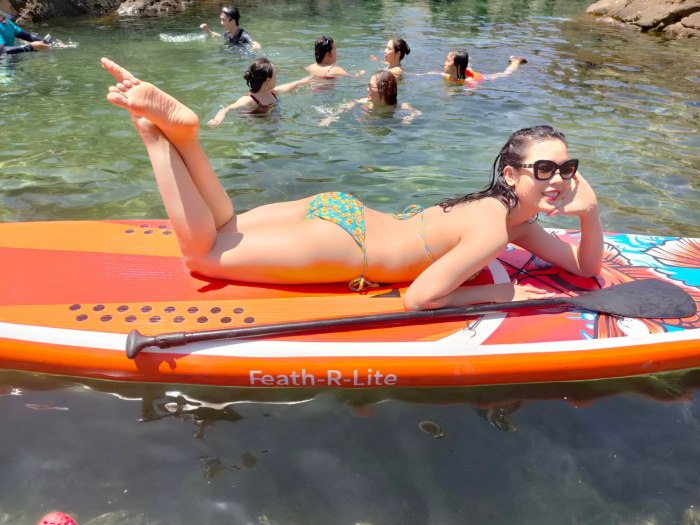 Don't forget to paddle sup to explore the ocean.
>> See more: Quy Nhon tour package is super HOT
Camp to watch the sunset and sunrise
Camping is also a favorite experience when it has long, flat beaches, beautiful scenery suitable for you to camp and enjoy short picnics. This experience will give you the opportunity to fully see the beauty of De Ghenh - Vung Boi at different times of the day from brilliant dawn to fanciful sunset and mysterious night sea. In particular, designing beautiful picnic rugs and virtual check-in right on the beach will be an extremely memorable experience for those who love virtual living.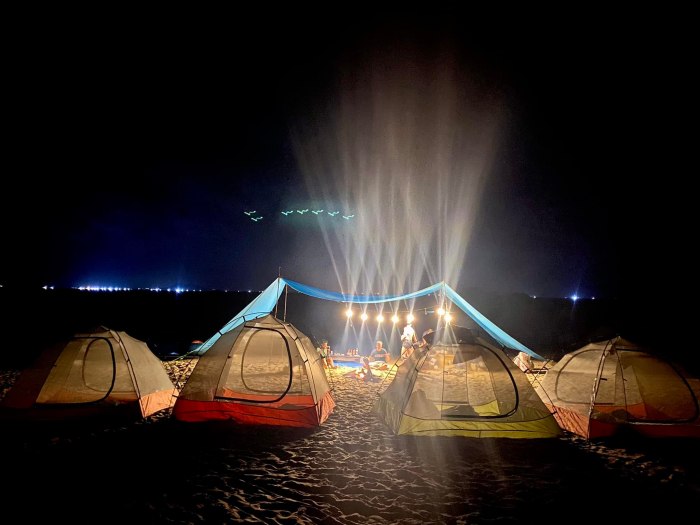 Camping overnight will give you the opportunity to fully explore the beauty of De Ghenh - Vung Boi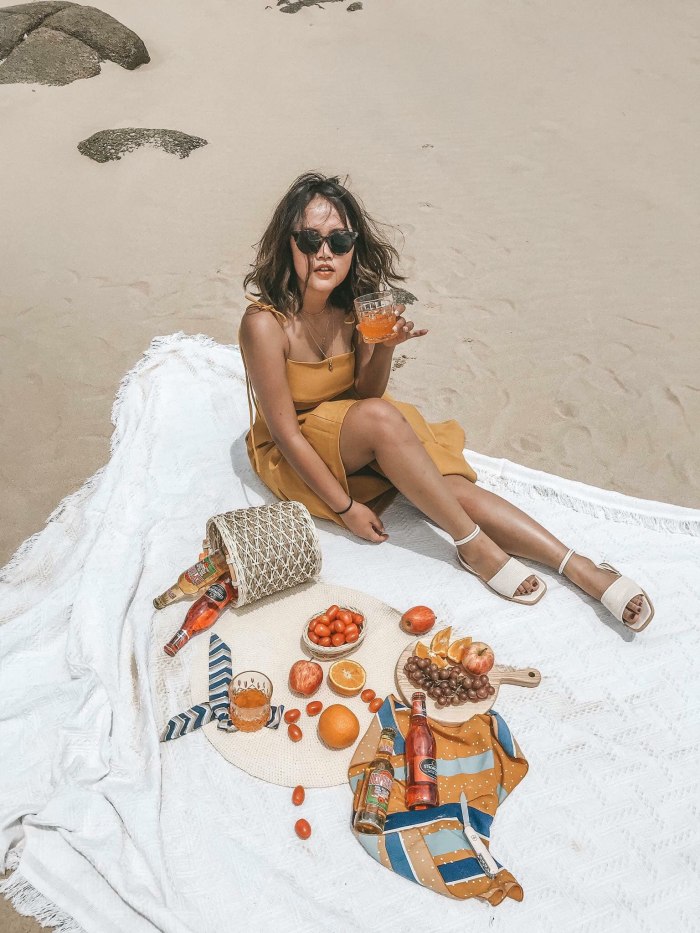 Virtual picnic on the beautiful beach.
Hunting wild fish
Fishing is also a very interesting activity when De Ghi - Vung Boi tourism that you will be hard pressed to ignore. The sea here is very wild, so you can hunt fish right on Vung Boi beach. Skilled fishermen will teach you how to hunt the big fish on your own. Fish in this area is very rich and diverse, you can hunt it yourself and enjoy it on the spot with super attractive fresh fish sashimi. With this activity, you need the guidance of fishermen and hunting will also be limited to ensure the balance of the marine ecosystem here.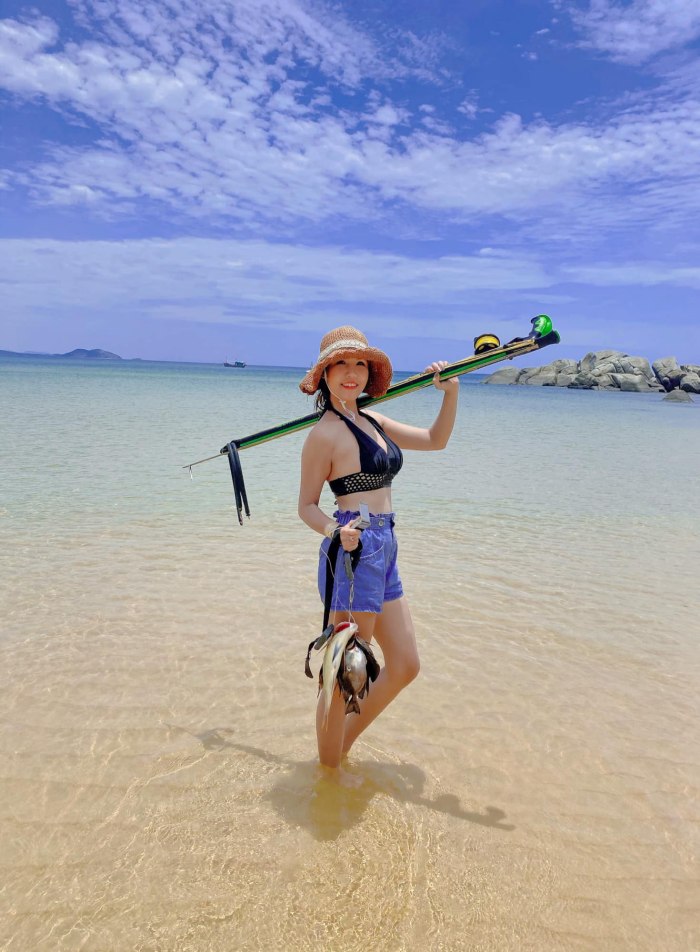 Fishing is a very interesting activity in De Ghi - Vung Boi
Enjoy delicious seafood
De Ghi beach tourism - Vung Boi Surely you will be mesmerized by the fresh seafood dishes, the restaurant in De Gi beach area is the ideal place for you to enjoy fresh seafood dishes caught and prepared by fishermen. turn fresh. Accordingly, you can enjoy many delicious dishes with simple processing, keeping the fresh taste of seafood such as steamed crabs, snails, steamed rolls, steamed sea fish rolled with rice paper. Grilled fresh squid, sea urchin, grilled shrimp or nutritious crab soup...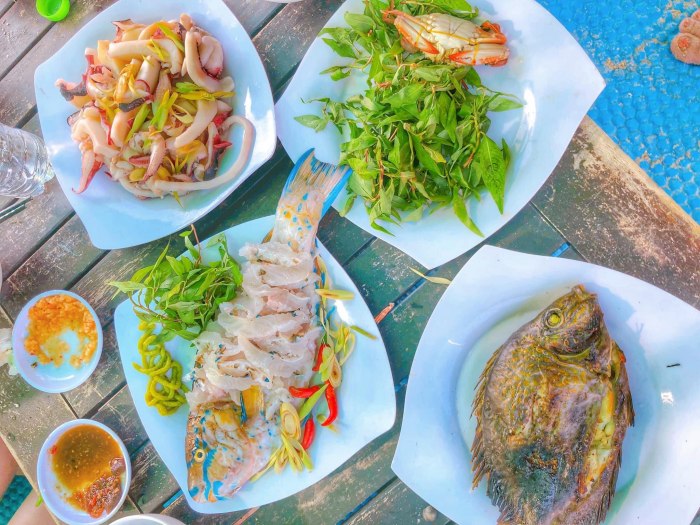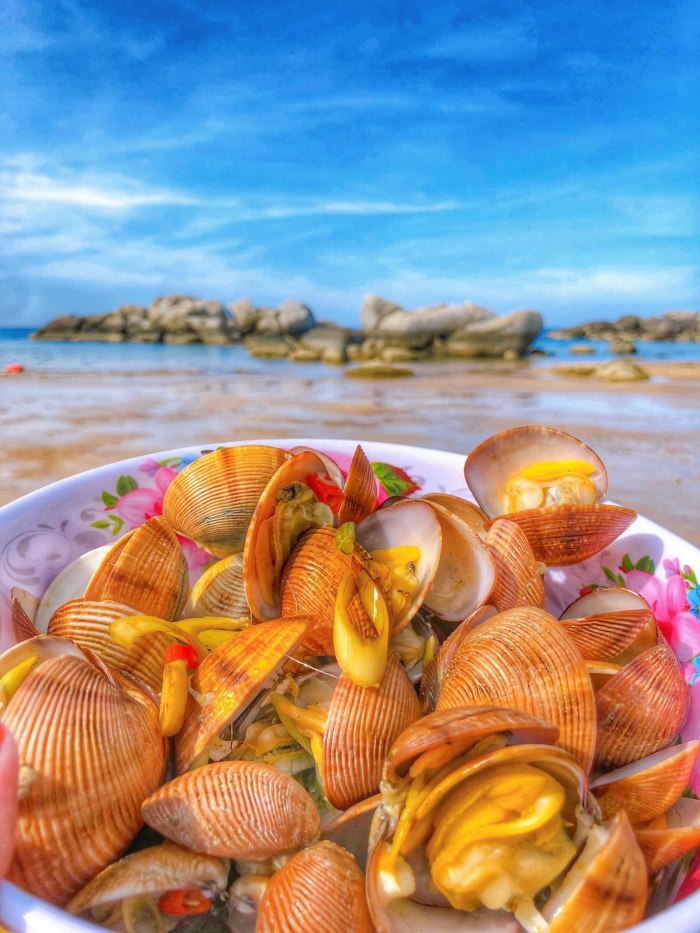 Seafood in De Ghi - Vung Boi is very fresh and attractive.
Pocket the notes to remember when coming to De Ghi - Vung Boi
De Ghi Tourism - Vung Boi It is still an extremely attractive experience that many people love, especially if you are too familiar with the famous Quy Nhon tourist destinations, this place is the ideal paradise to visit. wind change. However, you also need to carefully study the information as well as grasp the important notes to make the trip complete, especially for those who come here for the first time.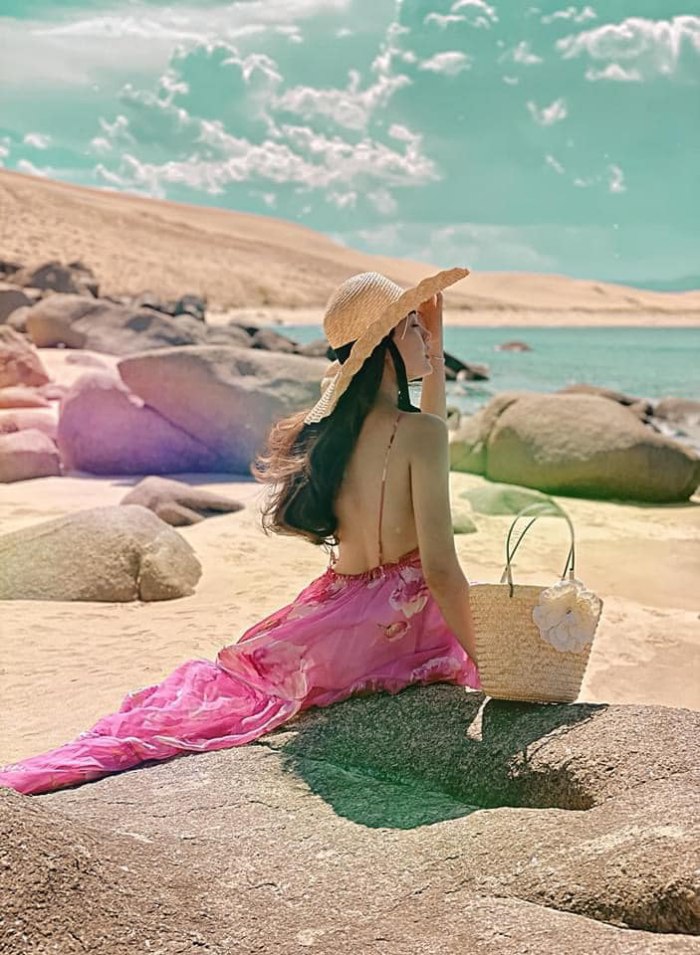 You should check in early in the morning to avoid the sun
First and about check-in time, the feature of De Ghenh beach - Vung Boi in the summer is that the midday weather will be very hot. Therefore, the best time to check in is early in the morning. From Quy Nhon, it is best to start moving from about 5am to have a comfortable time when finding your way. From Gam Ghi to Vung Boi, you should take a canoe to both save time and enjoy the beautiful panorama. The most beautiful season to Traveling to De Ghi - Vung Boi From April to September, this time does not worry about storms and the weather is very nice.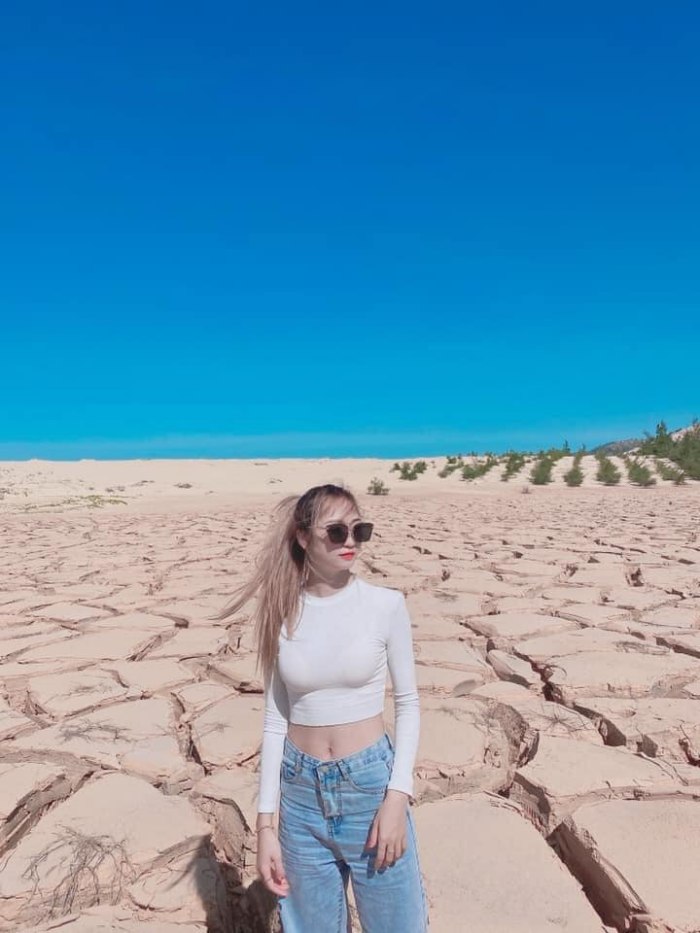 It is advisable to prepare enough items for sun protection and use during the trip.
The next note you need to remember is to prepare all the necessary items from sunscreen, jacket, wide-brimmed hat, sunglasses to protect your skin. In particular, if you want to experience camping overnight, you cannot forget the necessary items from camping gear to food and support items. Make a list and prepare fully because this area is far from residential areas, so water and necessities will be very limited.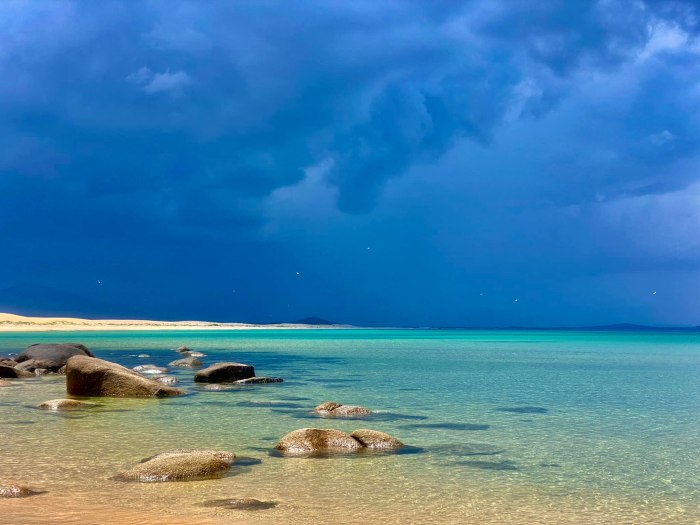 The landscape in De Gi-Vung Boi will always be beautiful by everyone's cooperation.
Tourists De Ghenh – Vung Boi It will definitely bring you many memorable experiences, but along with checking-in to enjoy to the fullest, you should have a sense of preserving the general landscape, not littering. If camping, please clean it up and return it to its original state when you leave so that the sea remains as beautiful and pristine as it is today.
>> See more: Discovering Vi Rong Cape – A 'cold spine' paradise in Binh Dinh
Photo: FB / De Gi-Vung Boi Travel
Hong Tho
According to Vietnamese sports newspaper