Mui Ne is known as a paradise for those who love to discover the new and wild nature of nature. If you and your loved ones are preparing to visit this land, please update your Mui Ne travel schedule 2 days 1 night now.
Referring to Binh Thuan tourism, surely people will immediately think of Mui Ne. This is the headland of Phan Thiet city, famous for its clear blue beach, immense white sand dunes, soaring coconut trees… All create a wild and beautiful scene. . Mui Ne tour 2 days 1 night, Do not miss the attractive destinations below.
Mui Ne tour itinerary 2 days 1 night
How to get to Mui Ne?
Belonging to the South Central Coast, Mui Ne (Binh Thuan) is far from Hanoi more than 1.500km. From the capital, you can travel by many means such as bus, train or plane to start Mui Ne travel itinerary 2 days 1 night .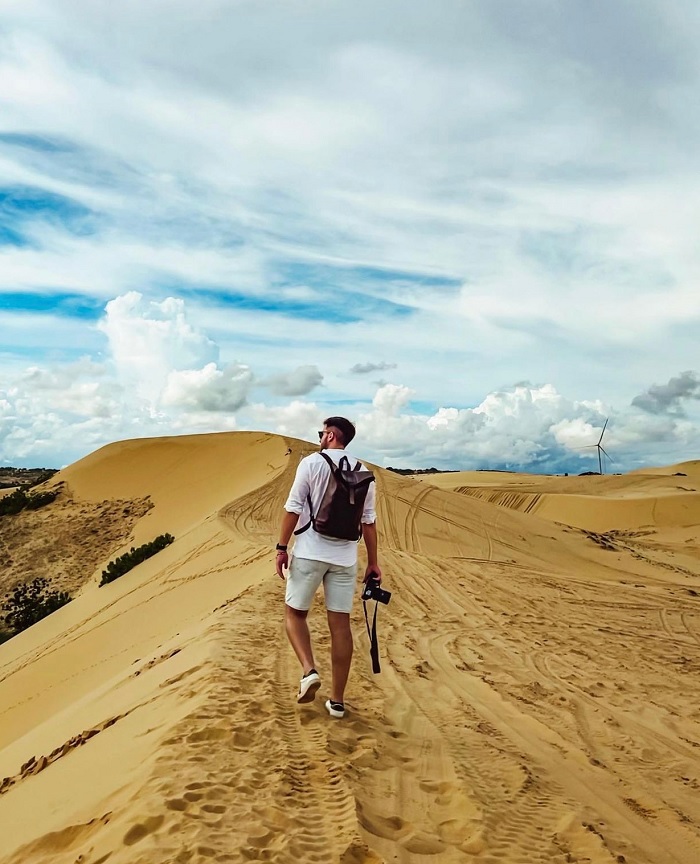 Mui Ne - an increasingly popular destination in the tourist world. Photo: rodri_aranda
For passenger cars, you should choose a sleeper bus because the travel time is relatively long, about 20-30 hours. Some reputable bus companies such as Phuong Trang, Hoang Long... The ticket price for the Hanoi - Mui Ne route is 700.000 - 800.000 VND / person.
Trains are suitable for those who have a lot of time and want to enjoy the natural scenery along the two sides of the road. You should book train tickets many days in advance to be more active. The ticket price for the Hanoi - Binh Thuan journey ranges from 441.000 to 1.531.000 VND depending on the train car, the type of seat you choose. However, the train only stops at Binh Thuan station, you will have to go another 38km to reach Mui Ne.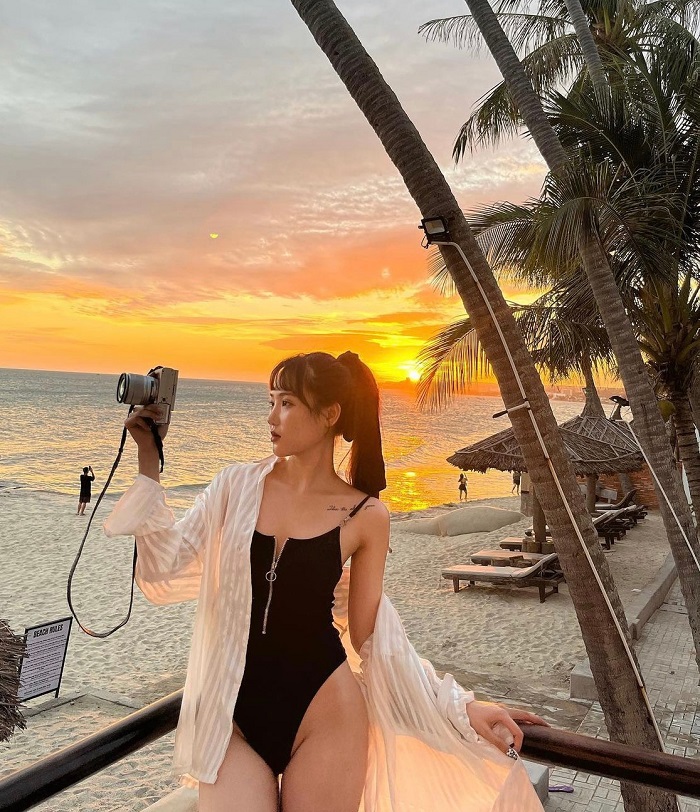 What are you waiting for without planning a trip to Mui Ne in the near future? Photo: choco_tao
Theo Mui Ne travel experience The most convenient and fastest way to travel from Hanoi to Mui Ne is still by plane. However, because Phan Thiet airport has not been completed, you will have to land at Tan Son Nhat airport (HCMC) or Cam Ranh airport (Nha Trang) then move by bus to Mui Ne.
With airplanes, Tourists travel to Mui Ne 2 days 1 night You can choose Bamboo Airways, Vietnam Airlines, VietJet Air... for your journey. Airfares from Hanoi to Ho Chi Minh City are just over 1 million VND / turn / person.
How to City Ho Chi Minh City is just over 200km, so the move from Ho Chi Minh City. Ho Chi Minh to Mui Ne is also easier and faster than Hanoi. The price of a bus ticket for the Ho Chi Minh City - Mui Ne route is about 160.000 - 250.000 VND / person depending on the type of vehicle. Ticket price for SPT1 / SPT4 train departing in the morning at Saigon station is only 110.000 VND / person.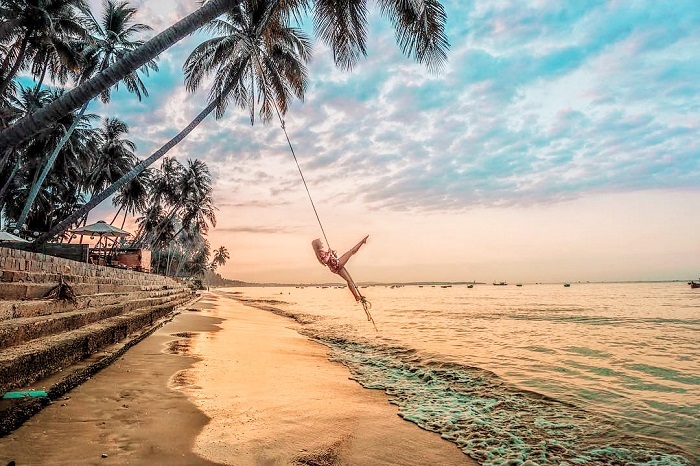 Mui Ne moves people by its wild beauty. Photo: Phan Thiet
When you arrive at the resort, you can move to the attractions in Mui Ne by taxi, bus or motorbike rental. Motorbike rental price is only about 120.000 VND / car / day or 200.000 VND / scooter / day. At most motels and hotels in Mui Ne, there is a motorbike rental service. If not, you can ask the front desk to make a reservation for you.
>> See more : Travel to discover famous Mui Ne tourist attractions 'don't want to return'
Where to go to Mui Ne?
In Mui Ne travel itinerary 2 days 1 night Definitely can't skip finding out where to stay in advance. Follow Mui Ne travel experience Because this place is quite developed in tourism, choosing a hotel, resort or motel is not difficult.
Nguyen Dinh Chieu Street is the center of Mui Ne. Along this route, there are many resorts, high-class 4-5 star hotels, with private, spacious and full-service bathing space. Some resorts you can refer to such as Sailing Club Resort Mui Ne, Pandanus Resort, Anantara Mui Ne Resort, NovaHills Mui Ne... Room rates can range from 2.000.000 VND / night. Visitors can consider options depending on their budget and needs.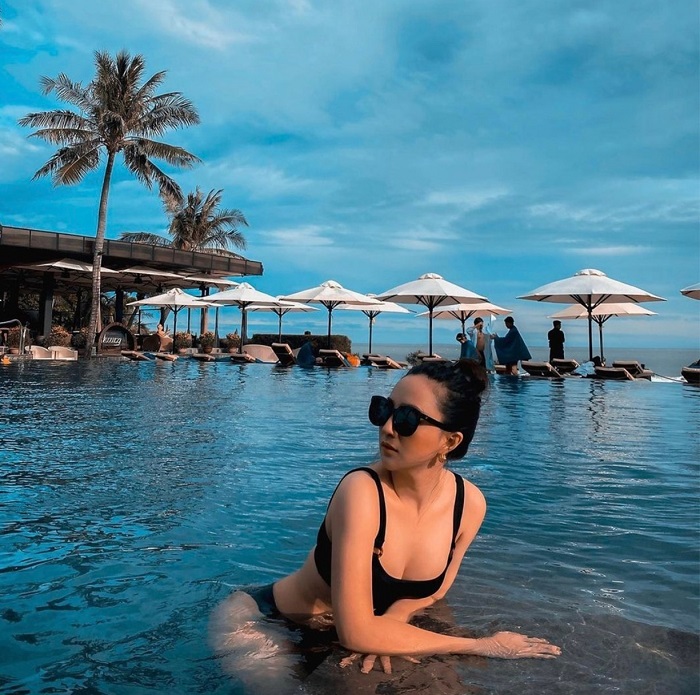 Mui Ne has a full range of motels, hotels and resorts from affordable to high-class. Photo: Anantara Mui Ne Resort
Mui Ne also has beautiful homestays, affordable prices suitable for young people who like novelty with an average price of 500.000 VND / night. Many hotels on Nguyen Dinh Chieu Street have room rates from 700.000 to 1.000.000 VND / night.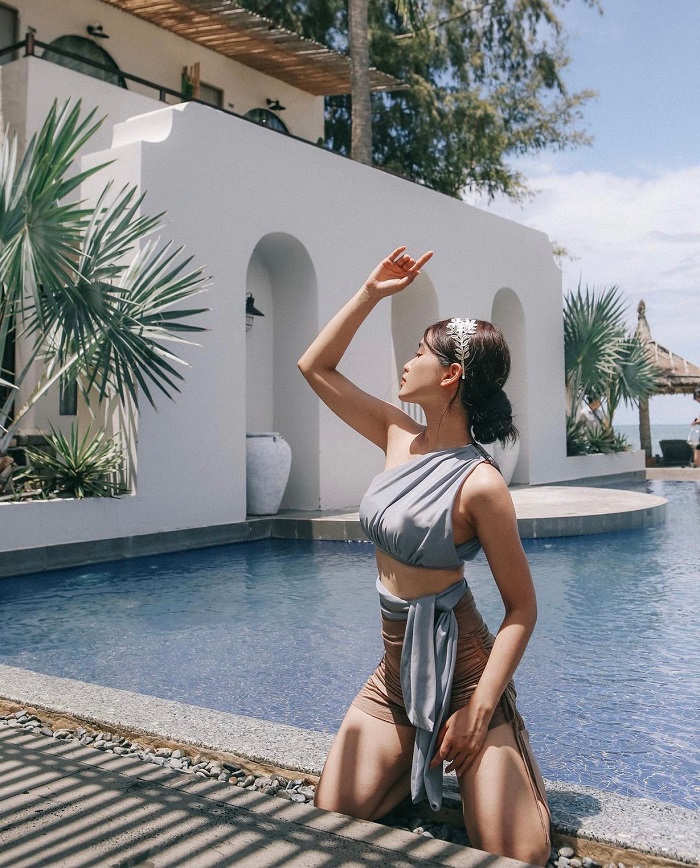 Hotels in Mui Ne all have beautiful views and a variety of rooms. Photo: thienhang.dino
To save more, tourist tourists Mui Ne 2 days 1 night can choose motels in the city Phan Thiet . In the city center there are also many famous tourist attractions, which you can combine with the attractions in Mui Ne.
Mui Ne specialties
You do not need to worry What to eat when going to Mui Ne? Because here there are many attractive specialties not to be missed. What you need to do is prepare an empty stomach so that you can taste all the specialties during your 2 days 1 night trip to Mui Ne.
Fish salad: This dish is made from transparent fish, fresh apricot fish caught right in the waters of Phan Thiet. Eat fish salad with vermicelli, raw vegetables and special dipping sauce. In addition, many shops also add spices to make the fish salad more fresh and full such as fried rice, peanuts, beef skin, rice paper ...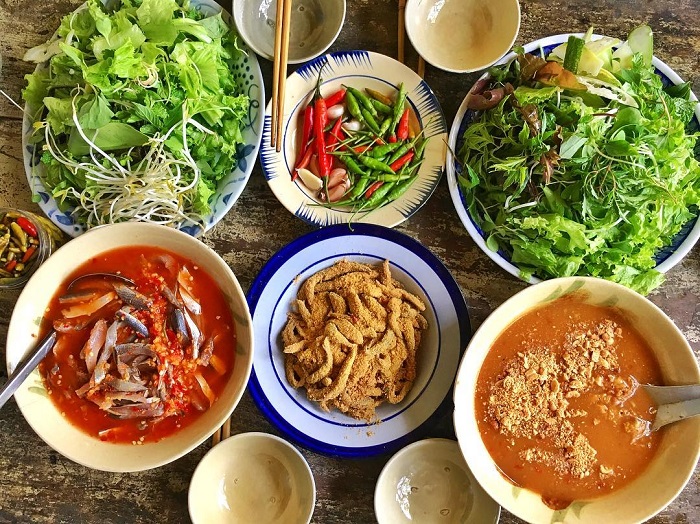 Mui Ne has a famous apricot fish salad. Photo: Phan Thiet Tourism
King crab: King crab has fragrant, chewy meat, crispy and soft crab shell. This dish is cooked by restaurants into porridge or steamed with salt and pepper. When eating, diners will feel the taste of the sea.
Grilled rice paper with fish sauce: In the list What to eat in Mui Ne, you definitely cannot ignore the grilled rice paper with fish sauce. This dish is very popular in Binh Thuan, can be found in any street vendors. When eating, visitors will feel each piece of crispy rice paper melt in the mouth, mixed with the sweet and salty taste of fish sauce, the fatty taste of eggs and onion fat.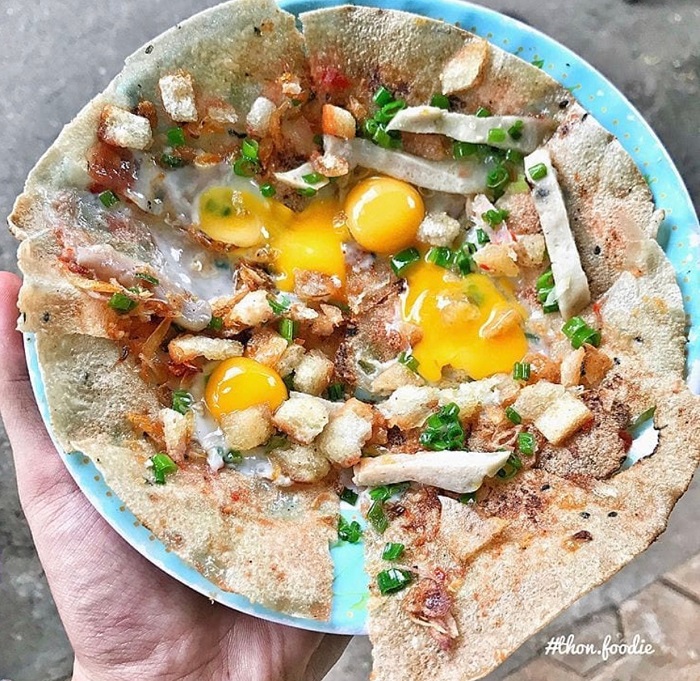 Do not forget to enjoy famous specialties when coming to Mui Ne. Photo: Foodie Phan Thiet
Traveling to Mui Ne 2 days 1 night, you can try more hot pot, fish cake soup, quai cauldron cake, dong salad, grilled thunderstorm, snail salad... These are all famous dishes that are loved by many diners. prefer.
Destinations in Mui Ne travel itinerary 2 days 1 night
Day 1: Hon Rom - Pink sand hill - Bau Trang - Suoi Tien
The schedule for the first day of the 2 days 1 night Mui Ne tour you can refer to is Hon Rom - Red Sand Dunes - Bau Trang - Suoi Tien. These locations are quite close to each other, convenient for moving.
Hon Rom is the name of a small mountain in Long Son hamlet, TP. Phan Thiet. It has unspoiled beauty, with 17km of stretches of beach. For those who like to watch sunrise or sunset, Hon Rom is the ideal address. In Hon Rom, there are famous beaches for you to immerse yourself in the cool, blue water such as Hon Rom 1, Hon Rom 2...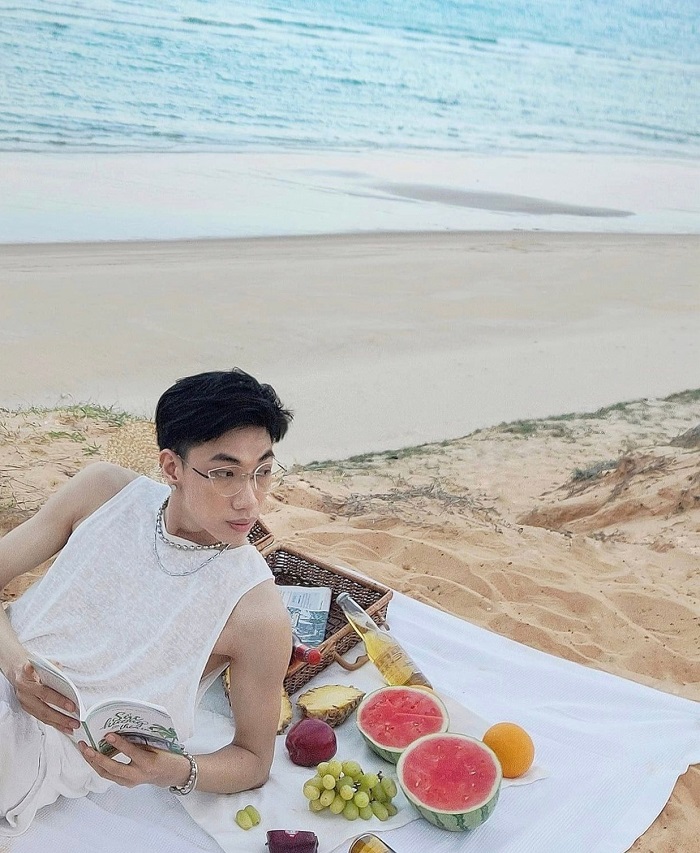 Hon Rom is peaceful and poetic. Photo: lelong.02
Pink sand dunes are considered by many to be the most beautiful in Mui Ne. When coming here, visitors will be overwhelmed by the endless stretches of sand dunes like there is no stopping. Interestingly, the color of the sand also changes very vividly, there are times when the sand dunes change to 18 different colors. At the pink sand hill, do not forget to experience the super attractive skateboarding game.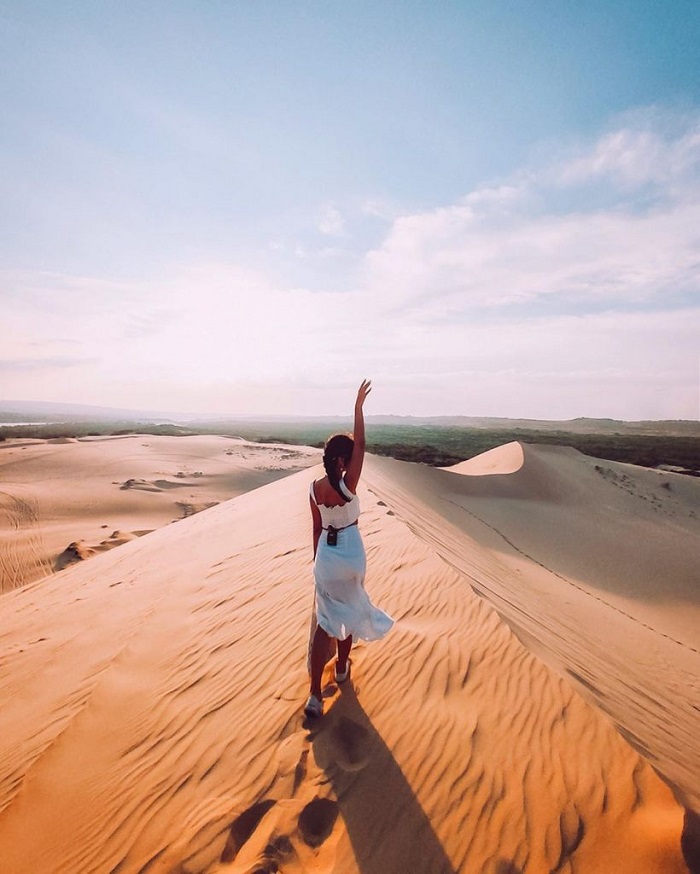 Guaranteed Mui Ne will give you countless unique, life-changing virtual photos. Photo: Phan Thiet Tourism
Another famous attraction in Mui Ne is Bau Trang - a miniature "Sahara desert". Telling you a little experience that this place is most beautiful in the early morning or cool afternoon (17h-18h), and the afternoon is very sunny and hot. When coming to Bau Trang, don't forget to try thrilling games such as skateboarding on the sand, riding off-road motorcycles...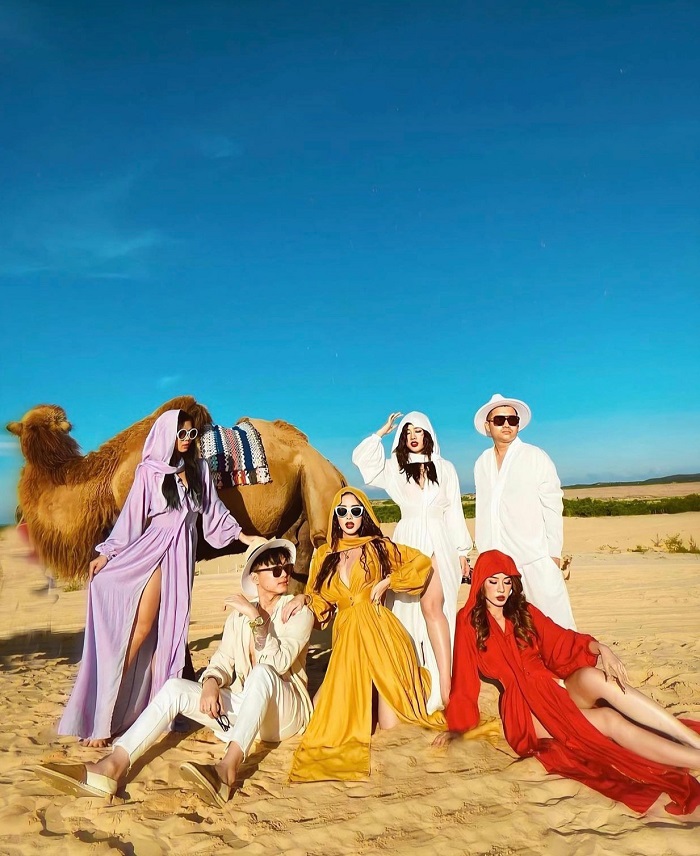 Bau Trang is known as the miniature Sahara of Vietnam. Photo: vscocam10k
Fairy Stream is 1,8km long, is a small stream, hidden behind a sand hill, so not everyone knows it. However, if you have the opportunity to travel to Mui Ne 2 days 1 night, visit this place, you will be mesmerized by the beauty of the fairyland, the brilliant red space and the rugged, undulating stalactites. along both sides of the stream. Ticket price to visit Suoi Tien is only 15.000 VND / adult.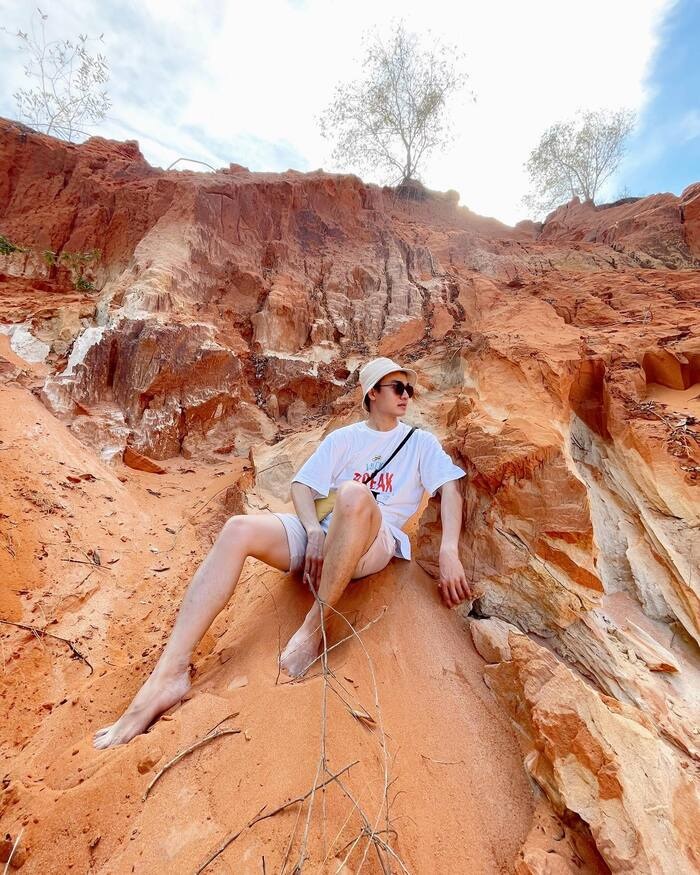 Suoi Tien has a unique and fancy beauty. Photo: anhtuan.tr
Day 2: Mui Ne Fishing Village – Po Sha Nu . Tower
About 3km from town, Mui Ne fishing village is a place to help you experience and understand more about the life of the people here. In the early morning, many fishing boats return, the fishing village becomes a bustling seafood trading place. In the afternoon, the fishing village becomes a place to watch the romantic and poetic sunset. Coming to Mui Ne fishing village, you can also enjoy delicious specialties and countless beautiful shimmering virtual photos.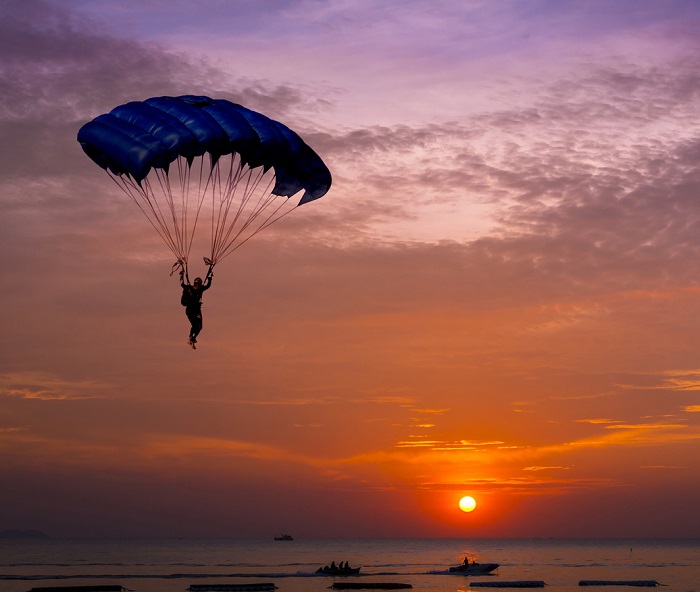 Mui Ne fishing village is peaceful in the late afternoon. Photo: Diamond
Close Mui Ne travel itinerary 2 days 1 night , visitors can visit Po Sha Nu tower. Bearing the ancient Hoa Lai architectural style of the Champa people, Po Sha Nu tower is an architectural work of historical and artistic value, attracting a large number of tourists from all over the world. When coming here, girls should choose dresses with bright colors or costumes similar to the Cham people to take pictures.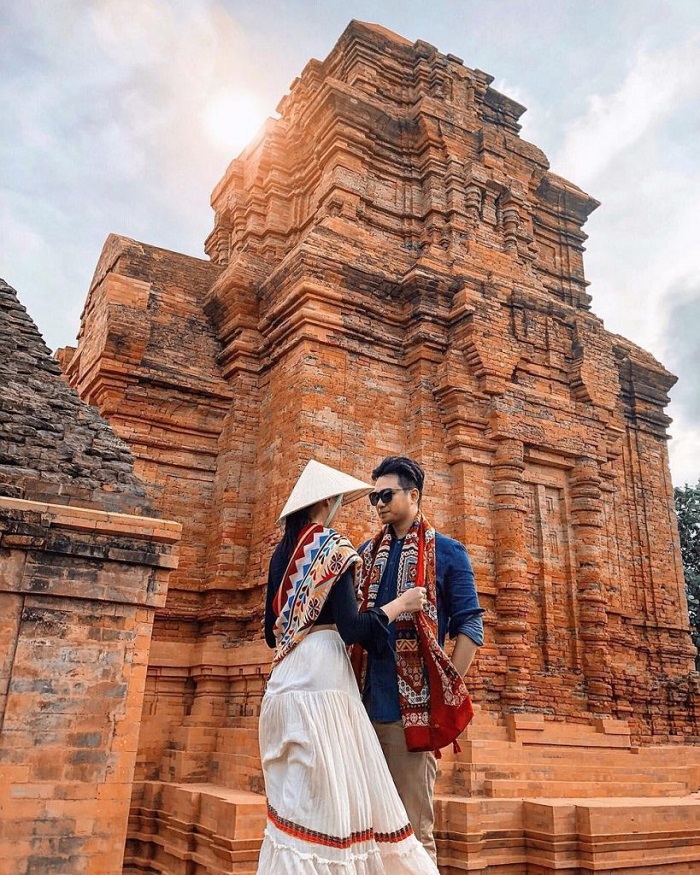 Po Sha Nu Tower in Mui Ne. Photo: halotravel
Above is Mui Ne travel experience 2 days 1 night self-sufficient believers can refer. If you have time, you can visit Hang Pagoda, Cu lao Fishing, Phu Quy island, Ke Ga lighthouse...
Yen Yen
According to Vietnamese sports newspaper