Cao Bang is a place that is loved by travel enthusiasts because of its majestic natural scenery that is no less poetic, especially the cost is affordable for many people. With just over 2 million VND, you can travel to Cao Bang 3 days 2 nights to fully explore the natural scenery as well as the unique culture of the people here.
Cao Bang is a mountainous province in the northeastern border of our country. Nature favors this land with many picturesque landscapes. Referring to Cao Bang, many people must have heard of it Ban Gioc Waterfall, Ho Thang Hen, Pac Bo cave ... both majestic and historical value. Few people know that with just over 2 million VND, you can Cao Bang travel 3 days 2 nights Discover the natural beauty here.
Cao Bang tour 3 days 2 nights just over 2 million VND
Moving Guide
If Ha Giang attracts tourists by its grandeur and newness, Cao Bang attracts tourists from all over the world by its charming, gentle and peaceful painting. Cao Bang is about 240km from Hanoi capital with a travel time of about 6-8 hours. Vehicle Cao Bang tour 3 days 2 nights The most convenient is still the car.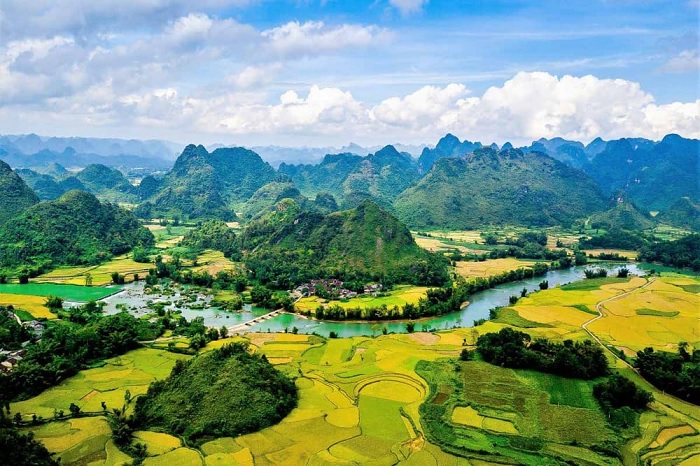 The majestic scenery of Cao Bang. Photo: langsontv
If you do not have a personal vehicle, you can choose a sleeper bus from My Dinh bus station (Hanoi) with a ticket price ranging from 300.000 to 350.000 VND / person / way. Because the travel time is quite long, visitors can depart in the evening and arrive in Cao Bang early the next morning.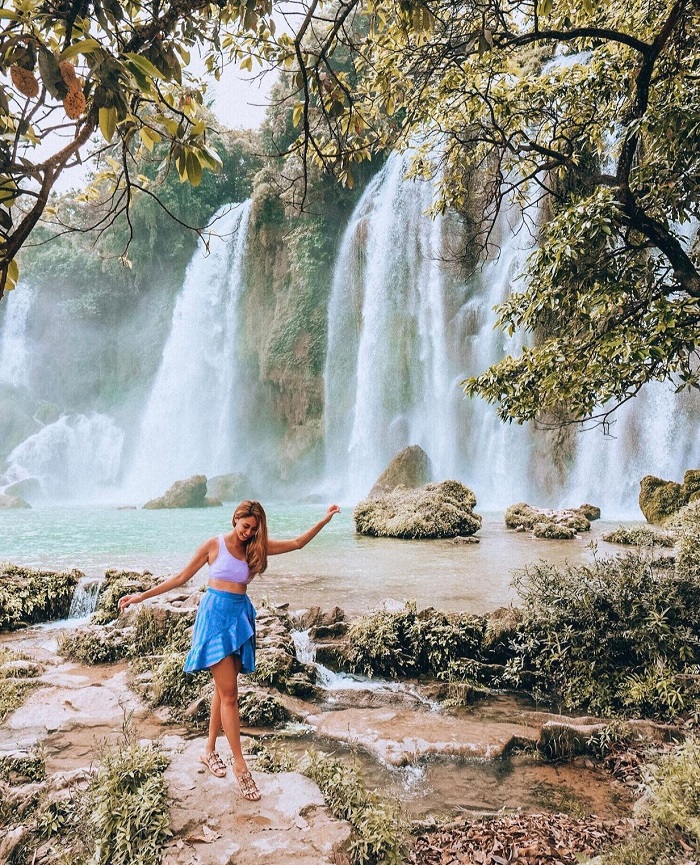 Cao Bang attracts tourists by its majestic natural scenery that is equally poetic. Photo: tialacson
Theo Cao Bang backpacking experience If you want to travel conveniently, you can rent a motorbike for 150.000-200.000 VND / day. Many homestays have motorbikes for tourists, you can ask in advance to avoid losing time.
>> See More : The peaceful autumn of Cao Bang in the set of photos by designer 8x
Where to stay?
In Cao Bang, there are many beautiful and affordable homestays Cao Bang tourists 3 days 2 nights option. Room price is relatively affordable, only about 200.000 - 500.000 VND / night. Visitors can refer to some addresses such as Classique Homestay, Cao Bang Eco Homestay, Primrose Homestay Cao Bang ...
Cao Bang has many beautiful homestays, chosen by tourists when visiting. Photo: Classique. At a local's house
The common feature of the homestays is that they all have a beautiful view, cool and clean space, so you can safely explore the places destinations in Cao Bang .
What to eat in Cao Bang?
In general, Cao Bang cuisine is very diverse and affordable. When you come here, don't forget to enjoy local specialties such as roasted duck with 7 flavors, pork ribs, sticky rice filling, chestnuts, dumplings... Each dish has its own unique flavor of the Northeast mountains. You can also eat directly at the homestay or visit the local market to enjoy with prices from 30.000 VND depending on the dish.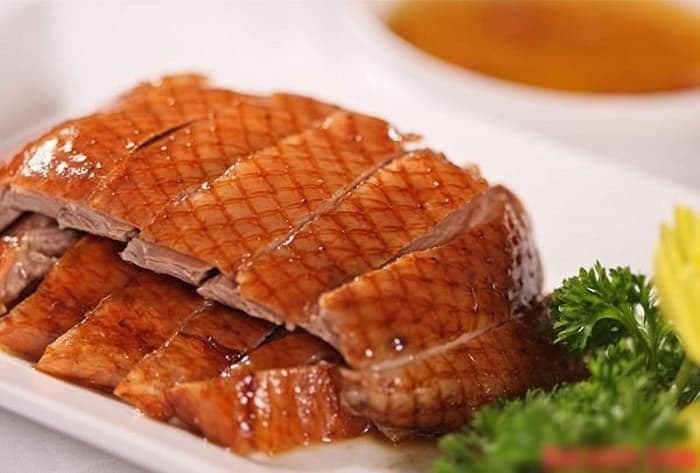 Cao Bang is famous for roast duck with 7 flavors. Photo: Real Sound
Detailed itinerary for Cao Bang tour 3 days 2 nights
Day 1: Than Mountain - Ban Gioc Waterfall - Thang Hen Lake
If the first day you are wondering what to do in Cao Bang, you can refer to the following schedule: Mat Than Mountain, Ban Gioc Waterfall, Thang Hen Lake. These are all famous places not to be missed when Cao Bang tour 3 days 2 nights .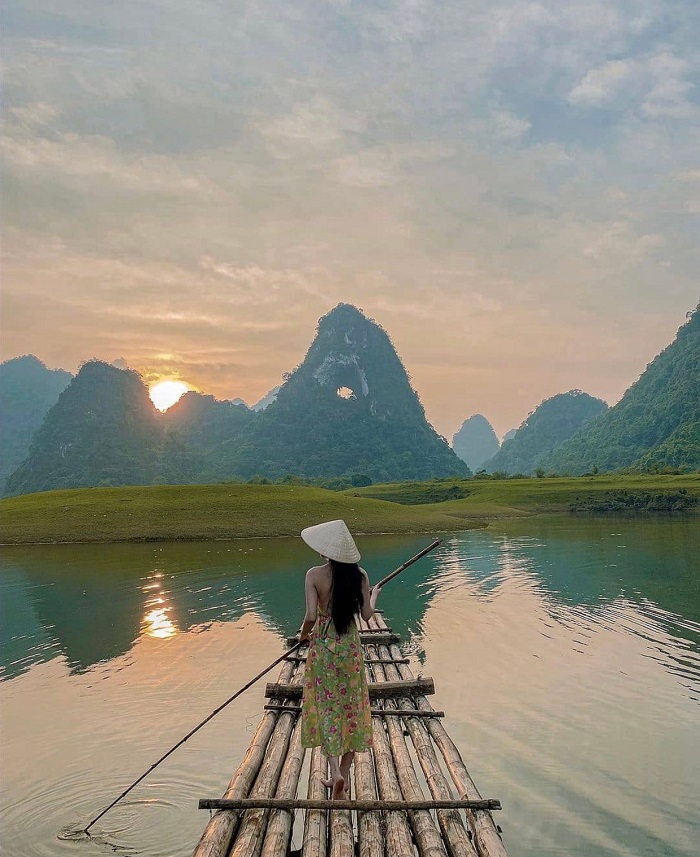 Experience sailing at Than Tai Mountain. Photo: vietnamtravel_vn
Mat Than Mountain, also known as Tung Mountain, belongs to Quoc Toan Commune, Tra Linh District. The mountain has a very unique shape, in the middle there is a large hole with a diameter of up to 50m, which can see through both sides of the mountain.
The scenery at Mat Than Mountain is very peaceful with smooth green grass, alternating with rolling rocky mountains. Every season, destinations in Cao Bang This place put on its own beauty, creating an extremely diverse natural landscape. This is also a very interesting camping address for those who love peace.
For young people who are passionate about "photography" in virtual life, it is definitely impossible to ignore Ban Gioc Waterfall - a majestic waterfall that has appeared in many magazines and social networks. Seen from above, the waterfall looks like a beautiful art picture that is hard to describe in words. Ban Gioc Waterfall has a height of 60m, described as graceful and soft as a white silk strip between the Northeast mountains and forests.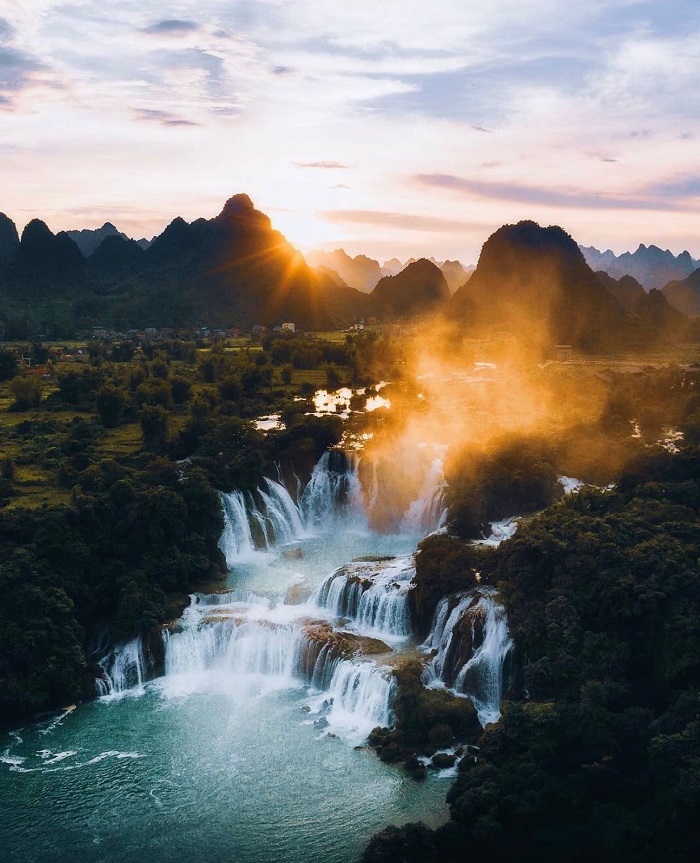 The majestic scenery of Ban Gioc Waterfall seen from above. Photo: Vietnamtraveller
Theo Cao Bang backpacking experience When coming to Ban Gioc Waterfall, don't forget to experience the boat ride to see the falls. Sitting on a motorboat driven by local people, you will directly feel the majesty of each block of water from a height of tens of meters pouring straight into the river, dispelling the silence of the mountains.
Ticket price to Ban Gioc Waterfall area is 40.000 VND / person and 50.000 VND / person if you want to go sightseeing in a boat for 15 minutes. The girls can rent costumes to take pictures here for about 100.000 VND / set.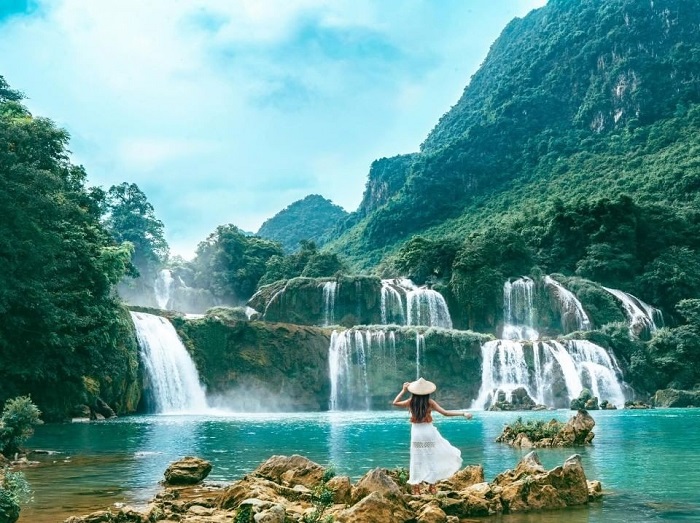 Ban Gioc Waterfall - a picturesque check-in place in Cao Bang. Photo: farwego
Cao Bang also has a place known as the "great love cup" of the North. That is Ho Thang Hen. In Cao Bang tour 3 days 2 nights , you can visit here to experience the romance of nature.
Located at an altitude of more than 1.000 m above sea level, Thang Hen Lake has charming scenery, jade green water surface. The rows of trees that stretched wildly over the steep, craggy cliffs and undulating peaks reflected in the water created a wonderful scene.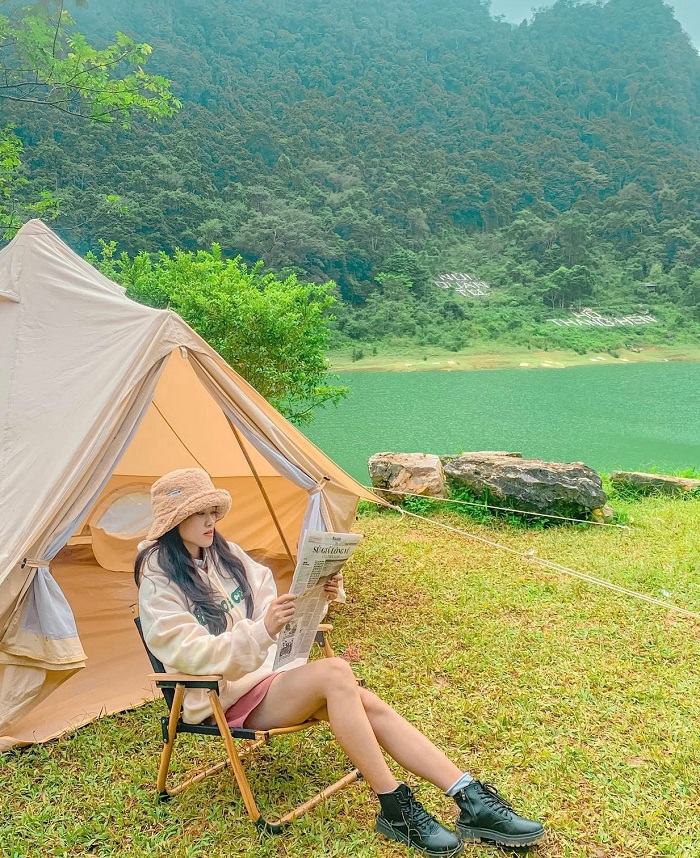 Lake Thang Hen is peaceful and charming. Photo: buihoai06
Thanks to the favor of the natural environment, Thang Hen lake eco-zone is also home to many wild animals such as hoe, crow, golden monkey, etc. Admission to Thang Hen lake eco-zone is only 30.000. VND/person.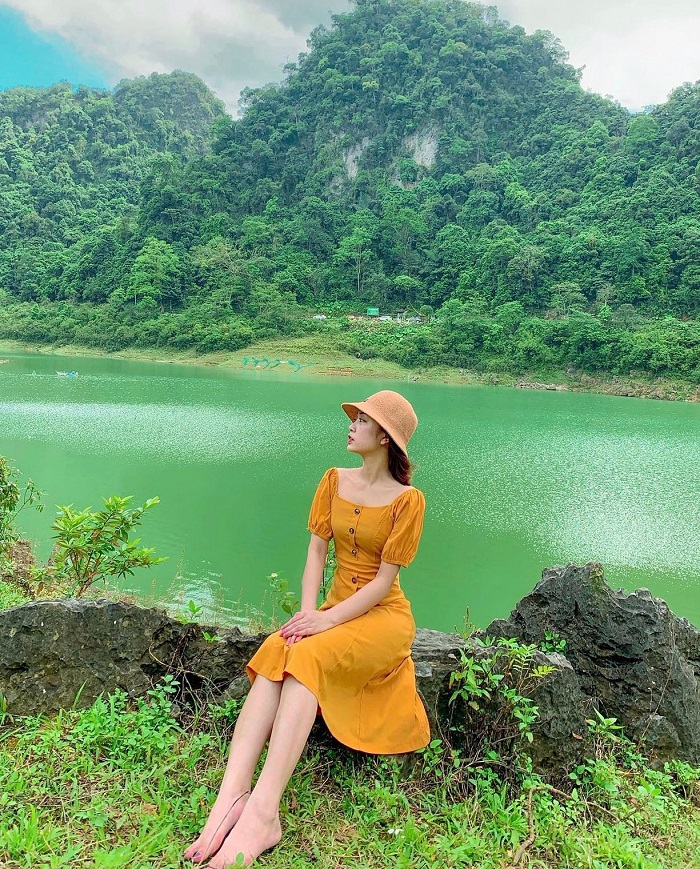 It is not difficult to take beautiful photos at Thang Hen Lake. Photo: _lk.9x
Day 2: Lenin Stream - Pac Bo Cave - Me Pia Pass
The second day in the act Cao Bang tour 3 days 2 nights more than 2 million dong, don't miss it Lenin stream, Pac Bo Cave, Me Pia Pass.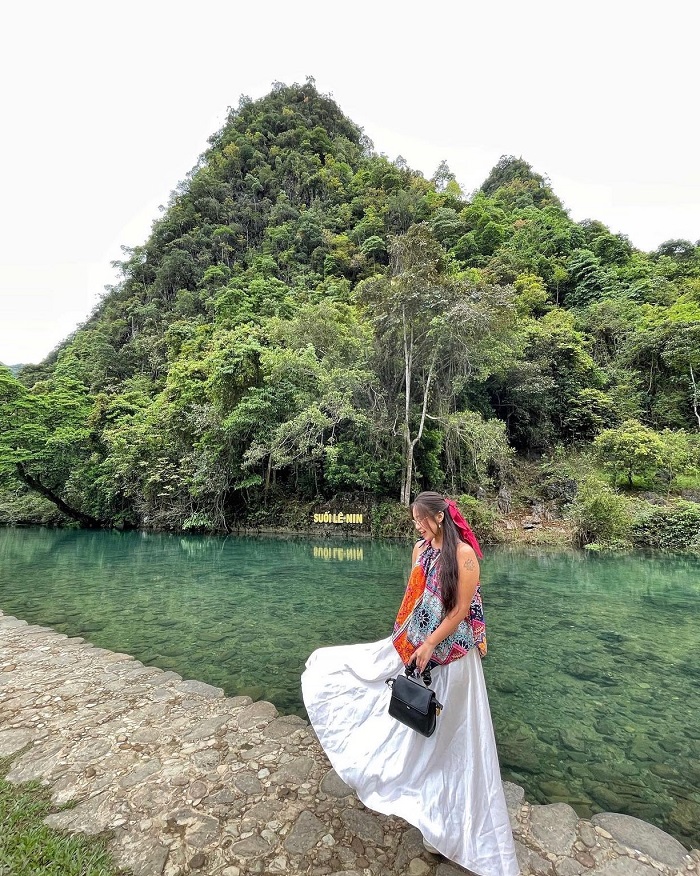 Lenin Stream - a famous stream in Cao Bang. Photo: jeniferday
Ticket visit Lenin stream is 45.000 VND / person, there is a 2-way shuttle service. Far from city center Cao Bang about 50km, but the distance to Lenin stream and Pac Bo cave is quite easy. Lenin stream has a very special clear blue color, like a mirror that brightens up the whole mountain space. Standing from above looking down, Cao Bang tourists 3 days 2 nights You can see each school of fish swimming peacefully and beautifully. People can go early when the sun just comes out, the scenery will be more poetic and attractive.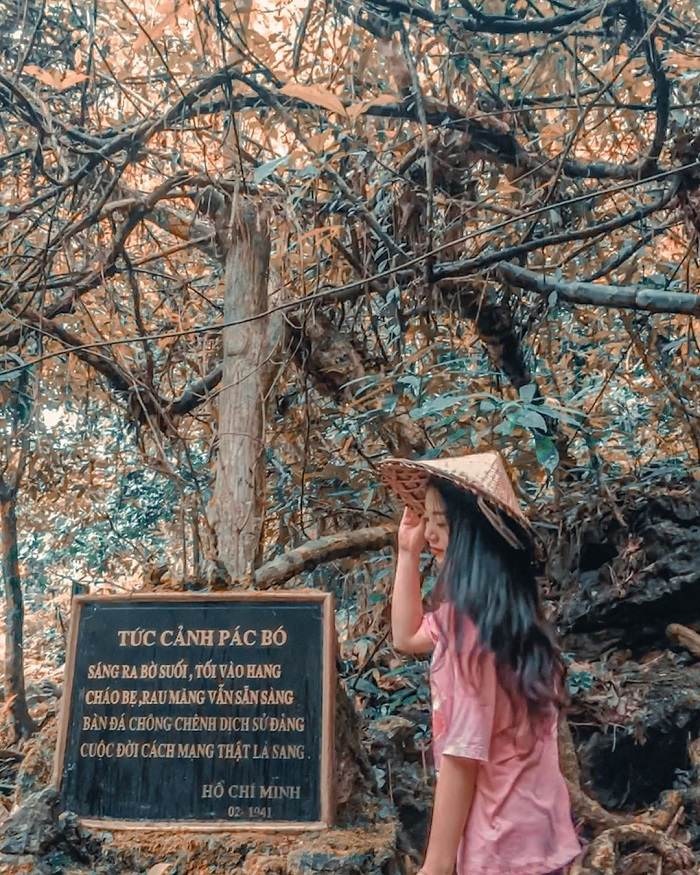 Pac Bo Cave is a revolutionary relic associated with Vietnamese history. Photo: trieudiemquynh_
Pac Bo Cave was once the residence of President Ho Chi Minh, a proud historical relic. This cave is only about 15m2, so far, the cradle where Uncle used to lie is still kept. The space is relatively tight and slippery, it is best to wear sports shoes to facilitate movement.
In the list of dishes to play in Cao Bang, it is impossible not to mention the Me Pia pass. The pass has a total length of only 2,5km, also known as a very unique 14-storey pass. To the pass, visitors park motorbikes for a fee of 20.000 VND, then climb the mountain about 3km, watching the whole pass from above.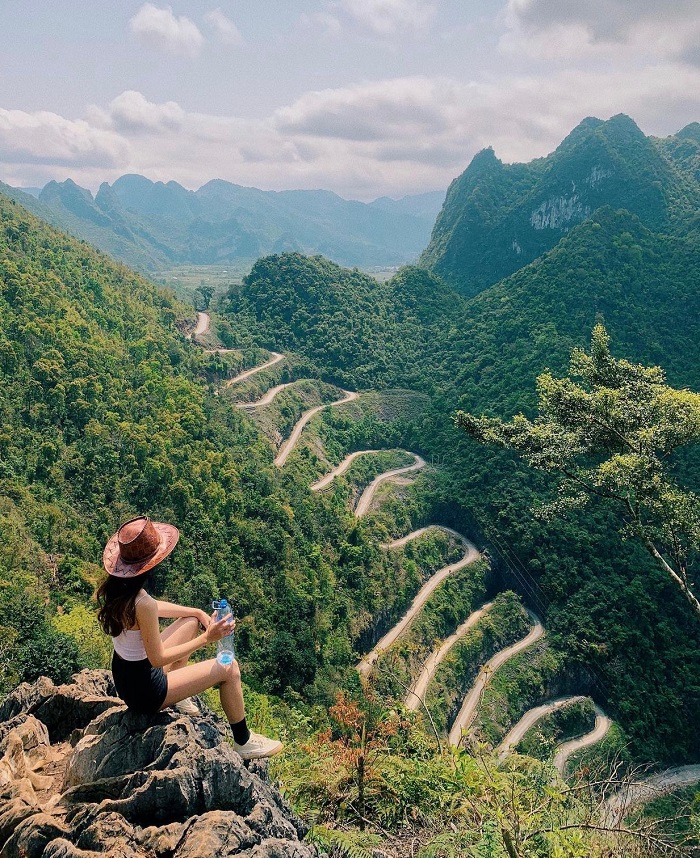 Ma Pia Pass with 14 steep floors like a giant snake seen from above. Photo: jellkz
As the name suggests, the Mé Pia pass has a 14-storey structure that stands up like a large winding snake. With quite rugged terrain, Me Pia Pass is a suitable place for skilled riders who want to explore and conquer nature.
Day 3: Nguom Ngao Cave – Hanoi
Last day of the tour Cao Bang 3 days 2 nights , visitors can come Nguom Ngao Cave and prepare to return to Hanoi.
Nguom Ngao Cave has a wild beauty that has not been affected by humans. In the cave there are many stalactites, stalagmites, steps, ledges... with all different shapes. Especially different from the stalactites in other localities, the stalactites in Nguom Ngao cave have shimmering and fanciful colors that make you feel like you are lost in a maze, paradise. In particular, the most prominent is the lonely stone column and the upside down lotus flower associated with interesting legends.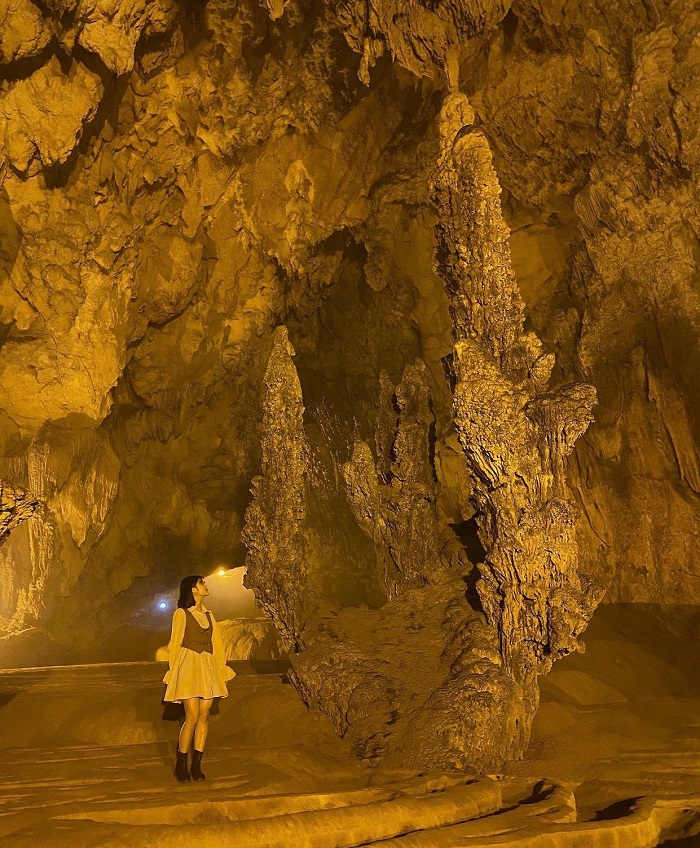 The majestic and unique scene inside Nguom Ngao cave. Photo: anna_nguyen315
With Cao Bang travel experience 3 days 2 nights , you should buy a tour ticket of 195.000 VND / person, to explore and experience the entire cave system such as walking, climbing walls, wading ... with a guide. local. With this tour, visitors will be equipped with both reflective vests, cave walking shoes, flashlights...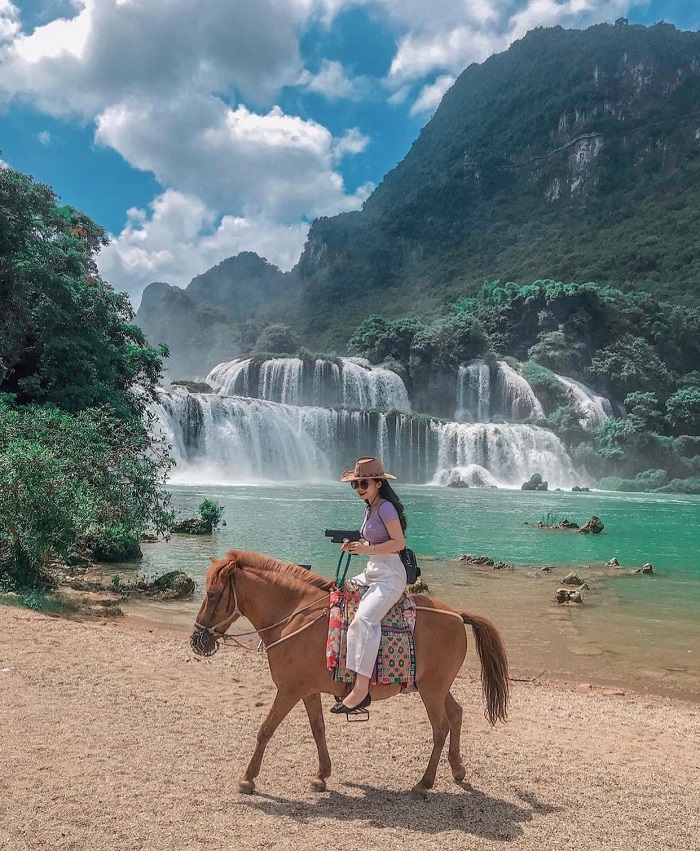 Cao Bang - an interesting destination for you and your loved ones. Photo: _dominhngoc_
In the afternoon, you book a car to return to the capital, end the tour destinations in Cao Bang for 3 days and 2 nights. Ideally, visitors should book a car to return early to avoid being sold out or being "inflated".
Note
Theo Cao Bang backpacking experience , when visiting this place, you need to keep a few things in mind:
– When traveling, you should ask locals and homestay owners to find good restaurants
– Should go early because the destinations are quite far from each other
– Should prepare a full fuel tank and make sure the steering wheel when deciding to move to difficult terrain.
– Remember to check the weather before you hit the road
Above is the specific schedule for Cao Bang tour 3 days 2 nights suggestions. Thus, with just over 2 million VND, you have had interesting experiences with the Northeast mountains.
Yen Yen
According to Vietnamese sports newspaper