Da Nang not only attracts visitors by its vibrant pace of life, sparkling bridges on the romantic Han Giang River, but also its traditional markets.
If one day you get lost in Da Nang Han Market , the famous traditional market of Da Nang, you will find loads of fun and interesting experiences for your journey. Han Market is not only a place to shop in the traditional style very typical of Da Nang, but also a great place for visitors to discover culture, local cuisine, and attractive shopping that make visitors don't want to leave. step when stopped. Da Nang tourism Come to Han market to explore and enjoy a unique, bustling but still very quiet space in the heart of the city.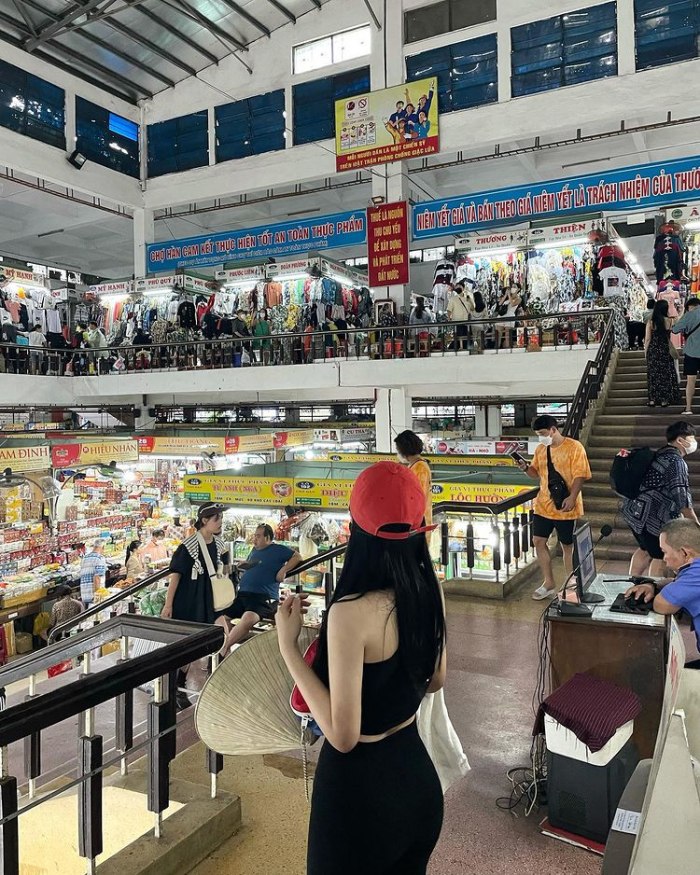 Da Nang Han Market is an attractive destination in the city center. Photo: @hyun_j_i_
>> See more: Full Danang travel experience from AZ
Panorama of Da Nang Han Market
Da Nang Han Market For a long time, at first, this was just a very small trading point located along the Han River in the form of self-production and self-consumption. However, over time, thanks to its favorable geographical position in terms of both road and waterway, this place has developed into a busy market.
This market was officially built and put into operation in the 1940s, at that time the French also built the Tourane train station to transit goods to the main station and many Chinese and Vietnamese merchants. has invested in building busy trading areas with shops selling gold and silver, traditional medicine....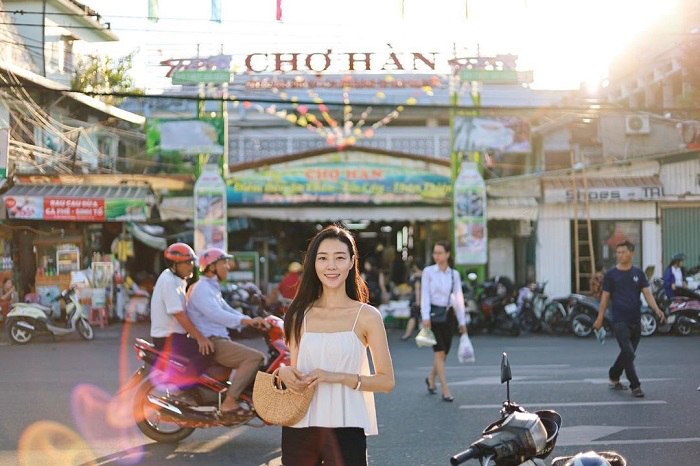 Han market has existed for a long time. Photo: ST
By 1989, Da Nang Han Market was completely newly built with 2 very modern floors, total area of ​​28.000m2 with cool architecture, convenient for trading and displaying goods.
Han Market currently has about 576 stalls, 36 kiosks selling about 30 different groups and industries with separate areas from clothes and fabrics to dry food, specialty gifts, and dining areas. fresh produce, seafood, meat, vegetables, fresh produce.
The market has 2 floors with dozens of items for sale. Photo: @sonadesuka_
The name Han market originates from the location of the market located near the Han River. In the past, Da Nang people used to call this market a rich market because most of the buyers were wealthy people, belonging to the upper class. Later, the market gradually became a busy trading place for everyone including locals and tourists to visit, trade, and shop and is gradually becoming an extremely attractive tourist destination of Vietnam. . Da Nang city, loved by tourists from all over the world.
>> See more: Tour Da Nang - Hoi An super HOT package
Enjoy the fun at Han Market, Da Nang's fascinating racing paradise
It is often said that if you want to understand a land, go to the market and walk like a local, in Da Nang, Han market is one of such places. Han Market is not only a busy trading place comparable to Con market, but by checking-in here, visitors can discover a lot of interesting things.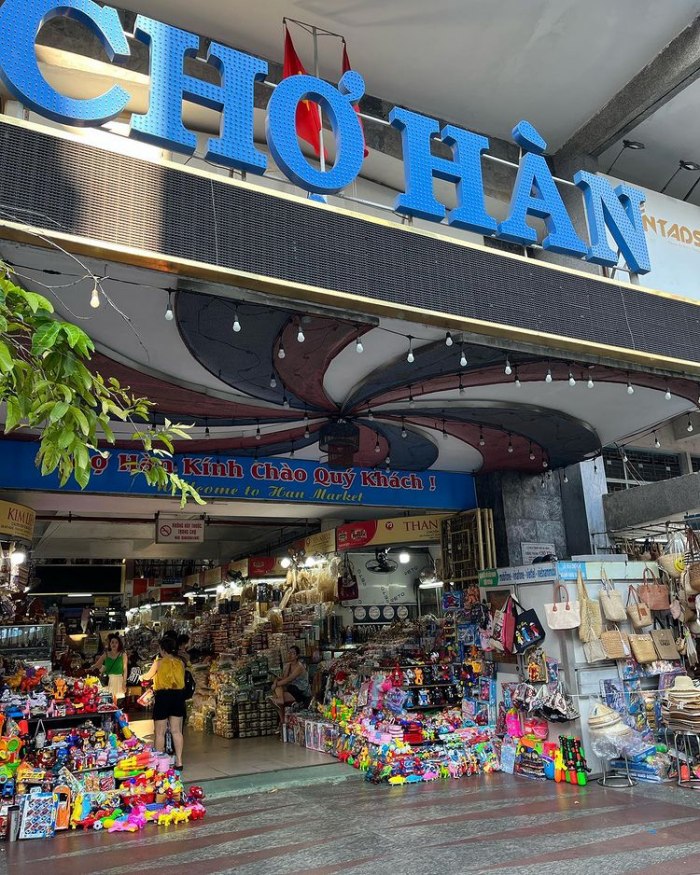 Coming to Han market, you are free to visit, explore and experience. Photo: @yoms_mj_
Shop to discover the beauty of the traditional market
Da Nang Han Market As one of the largest markets here, the scale and space are very large, visitors can freely roam, shop and explore. The trading areas of the market are arranged very scientifically and neatly, so when visiting, visitors will not feel too busy and messy even though there is still a busy atmosphere of sellers and buyers like many areas. . other traditional markets.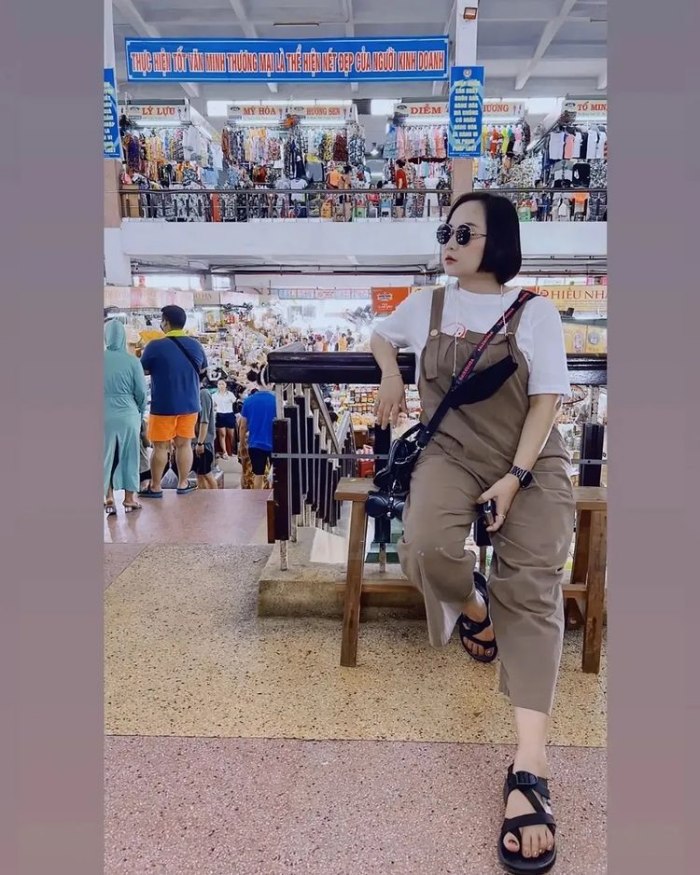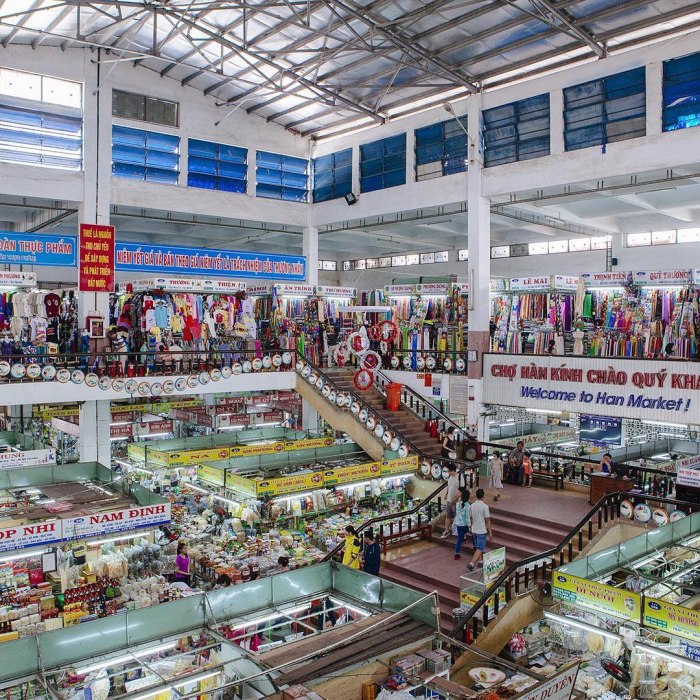 The market space is very compact, not crowded, although still bustling. Photo: @parided
Visitors can enter the market by many different roads, if going from the main gate on Bach Dang street, visitors will pass by stalls selling fresh fruits and vegetables, then to the food court, dry goods stalls... on the first floor. 2 of the market. The market is a place to sell fabrics, fashion items and a variety of goods. The shopping atmosphere here is very bustling and fun, so you can freely roam and shop when you need.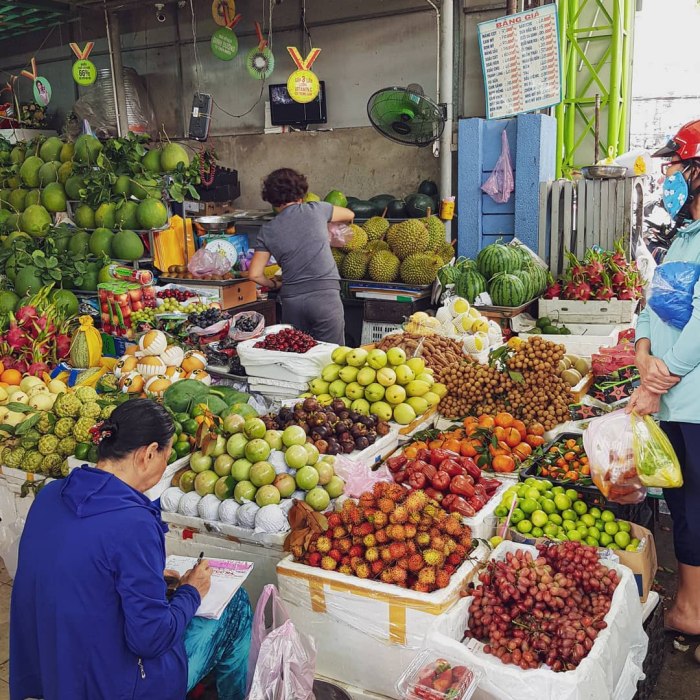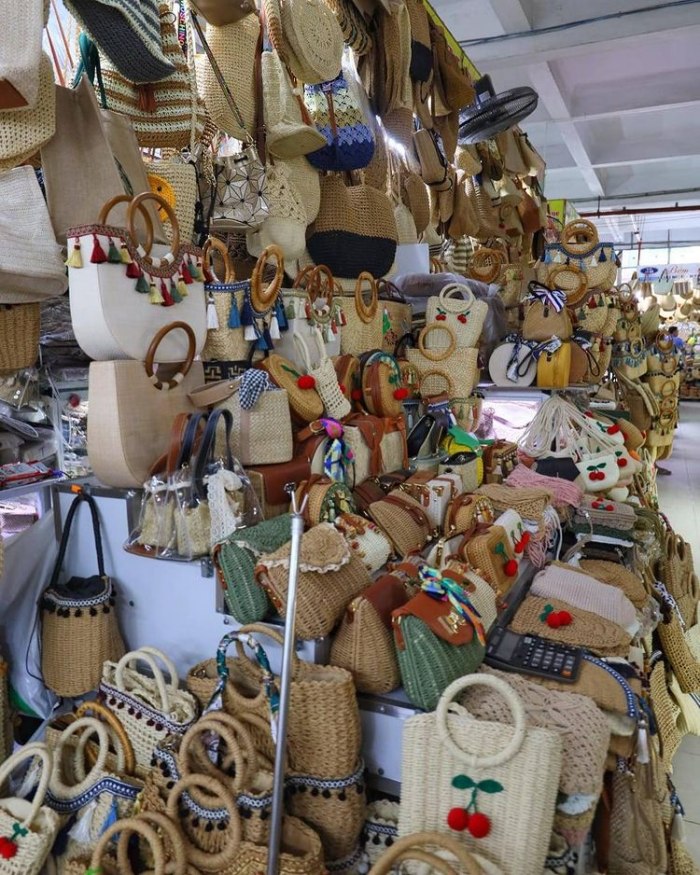 The items for sale are very diverse. Photo: @dananglocaltour.
Han market is more about fashion, gifts, souvenirs and specialties as gifts, so the choice of buying gifts will be richer than Con market. Some specialties as gifts you can buy here such as seasoning sauce, anchovy sauce, fish sauce, dried food such as squid, fish, beef... Da Nang dried beef or clothing fabrics, especially garment fabric.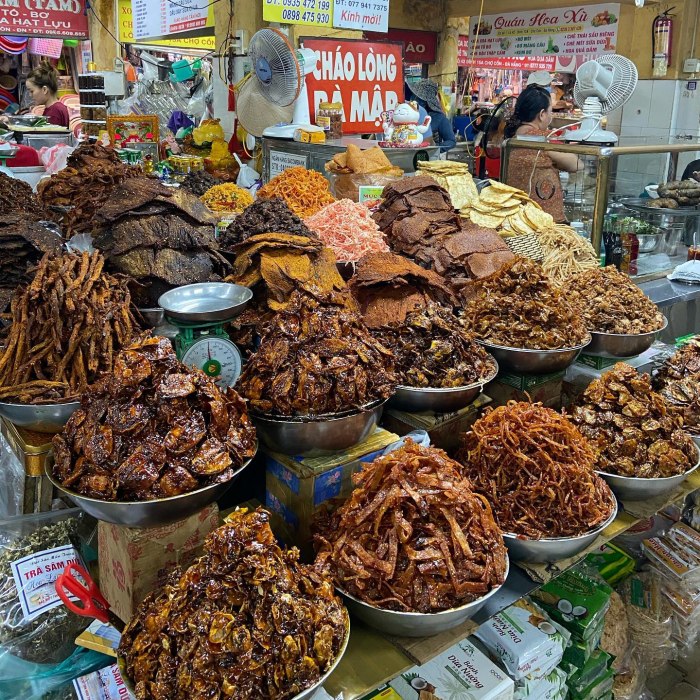 There are many delicious specialties here. Photo: @haichiecbungmo
Discover the unique culinary sky at Han Market
Just like Con market, Han market is also one of the attractive culinary paradises of Da Nang. It has its own attractive food court with many typical dishes. At the area Danang Han Market cuisine, you can find most famous Da Nang delicacies.
from fish vermicelli, banh chung, banh xeo nem lui, Quang noodles, pork rice paper rolls, grilled meat vermicelli, banh can, snail sucker, grilled burgers, smoothies, tea, ice cream, too pho... Just stroll around the food court. of the Han Market and you'll have a truly epic food tour.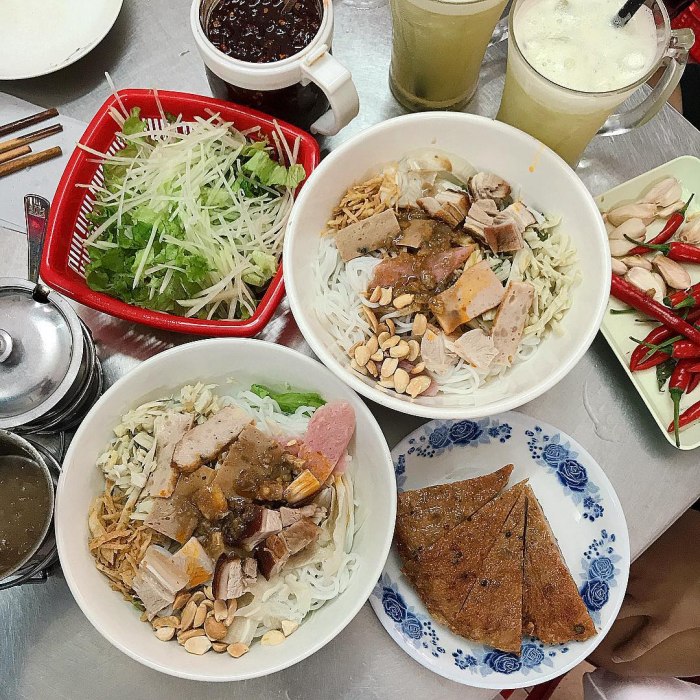 Korean market cuisine is very attractive. Photo: @sueeeevo.
Some delicious dishes you must try when you come Da Nang Han Market is snail, a dish loved by many young people. Da Nang milk snails, in addition to snails, are also served with coconut rice, green mango, sweet and sour papaya. Banh Canh is also a delicious dish you should try when you come to Han market, the broth is very light, the broth is fragrant, the topping is usually pork or bone, and the fibers are made from tough filter powder.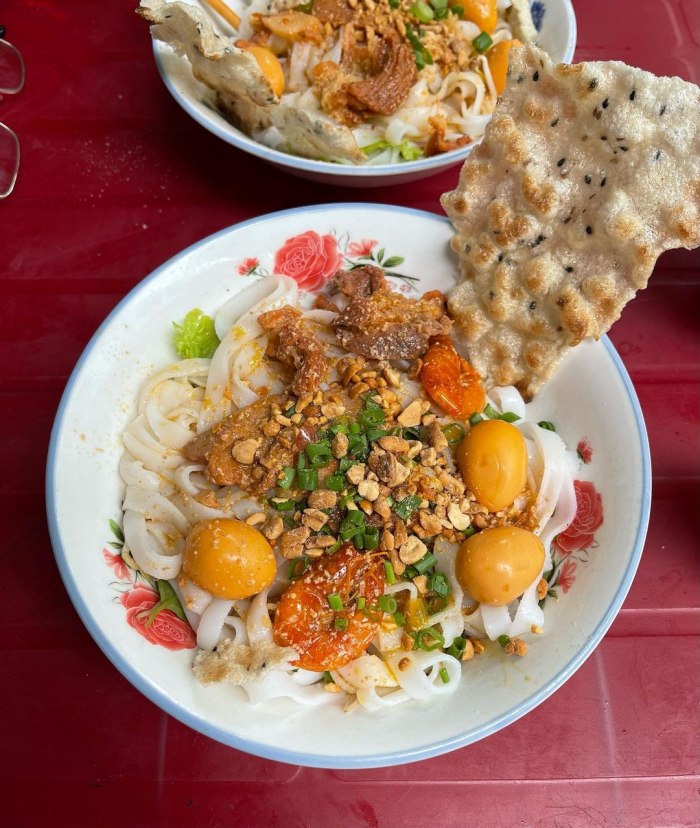 Quang noodle in Han market is also a favorite dish of many people, noodles are a combination of Da and Quang flavors with shrimp noodles, meat, egg or shredded chicken, served with crispy rice paper. Also, don't miss the super cheap attractive beo cake or butter cream, ginseng tea is a hot hit at this market.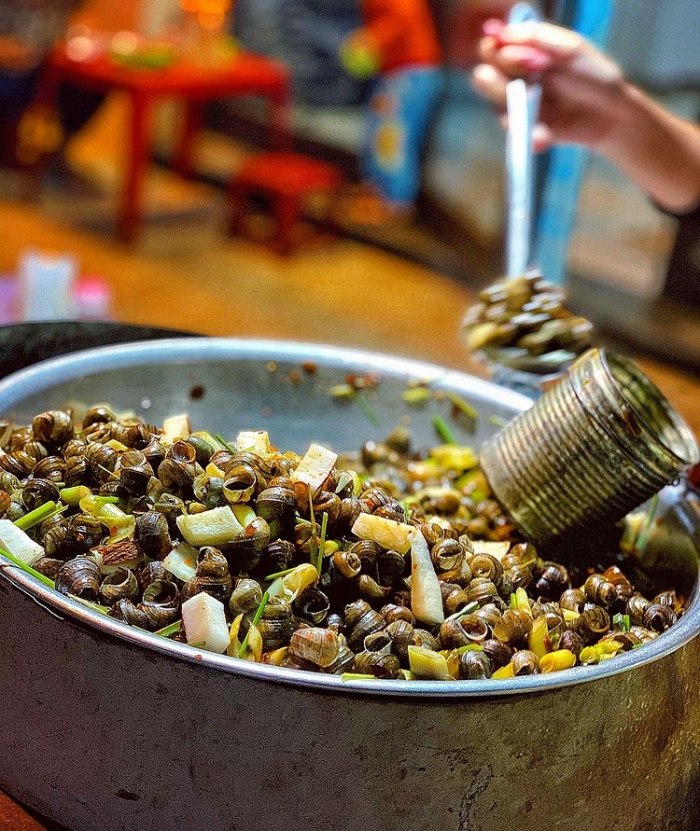 Snails at the Han market are very attractive. Photo: @cukhoaiiiiiii_
Experience of checking in to the Korean market you should know
Moving Guide
Da Nang Han Market located right in the city center so you can move very easily, the market is adjacent to all 4 main roads, the prime location is Tran Phu, Bach Dang, Hung Vuong, Tran Hung Dao, the main gate. area. located at 119 Tran Phu Street, but you can enter the market on any side because the space around the market is open on all four sides.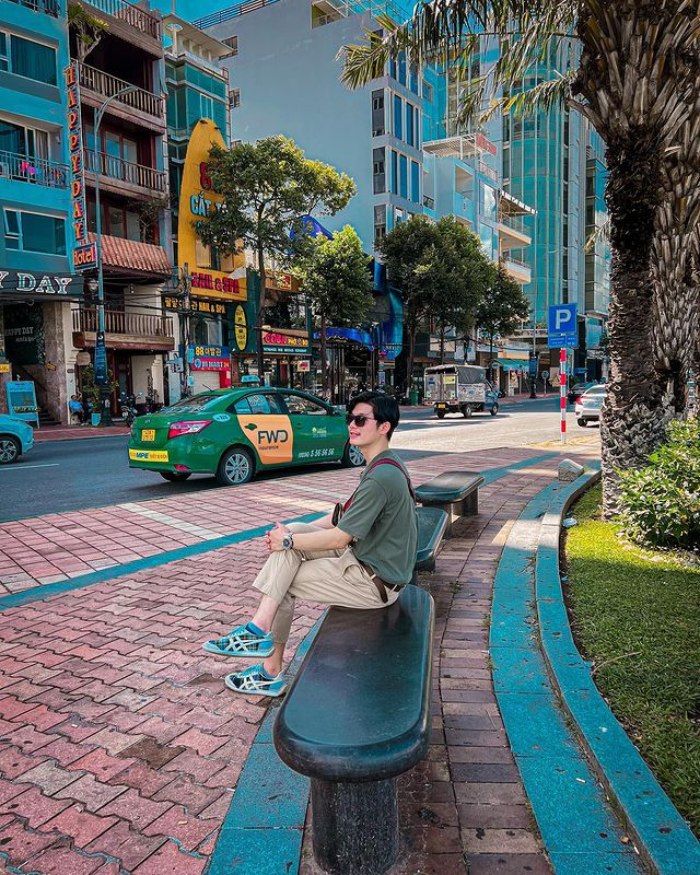 Han Market is located right in the center, so it is very convenient to move. Photo: @zag_zigzag_
If you go from Dragon Bridge, you just need to move in the direction of Bach Dang for a short distance and then turn to Nguyen Thai Hoc Street to reach the market, the travel time is about 4-5 minutes.
Hotels near Han Market
Because it is located in the central area, the selection hotels near Han market Da Nang very easy. The streets around the market area have many hotels to serve visitors. Some names you can refer to such as Satya Danang Hotel, Orange Danang Hotel, Novotel Danang Premier Han River Hotel, Sun River Hotel...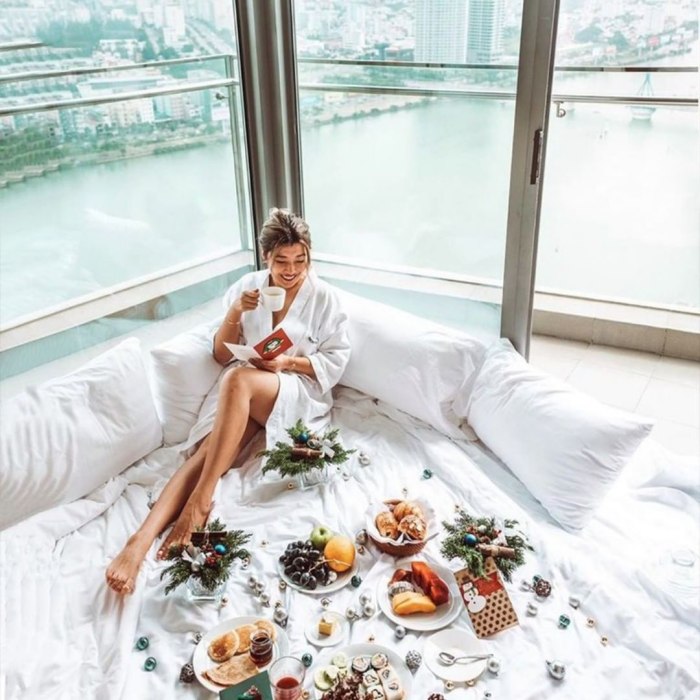 Novotel Danang Premier Han River near Han market. Photo: Novotel Danang
Korea Market opening hours
Da Nang Han Market is an attractive tourist destination, so its operating hours are wider than other markets in the city. Accordingly, the market is open from 6 a.m. to 22 p.m. daily. However, Experience going to Han market in Da Nang You should know that from about 7-8 o'clock, the market begins to thin and many stalls will close soon. Therefore, it is best to visit the market before 7 am for the most comfortable shopping and sightseeing.
Shopping experience to know
when the Traveling to Da Nang Han Market , you need to pocket some experience to have a complete and satisfied trip. At this market, except early in the morning, other times of the day you can bargain the price of items down about 40% to 50% of the price offered by the stall owner, if the seller finds it reasonable they will agree. Your values. choose. Han market is a tourist market, so there is no shortage of stalls selling goods for foreign tourists, so the prices of these stalls will be much higher than outside and difficult to bargain.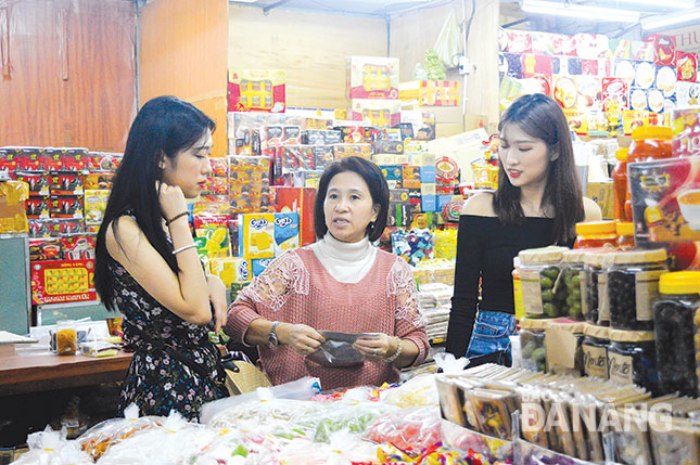 Should pay the price when shopping at the Han market. Photo: Da Nang Newspaper
Da Nang Han Market Not too wide, but to comfortably shop and eat, you should wear comfortable shoes. You should also take care of your own belongings when exploring the market because although the security in Da Nang is very good, the market is quite crowded so crooks can sneak in and enter the food court of the Han market, you should ask the price first. . Eat. Drink to be more proactive about the price and enjoy with peace of mind.
Explore the list of attractive destinations near Da Nang Han Market
Because of its prime location, Da Nang Han Market Located very close to many attractive tourist attractions of the city worth living, visitors can combine quick and convenient check-in during their trip.
Da Nang Chicken Church
This church is also known as Da Nang Cathedral, located right on Tran Phu street, only 2-3 minutes by car from Han market. The church features classic Western Gothic architecture and a very prominent pink color. This is a very famous check-in place in Da Nang. Right near the chicken church is Dien Hai citadel, a very famous historical site.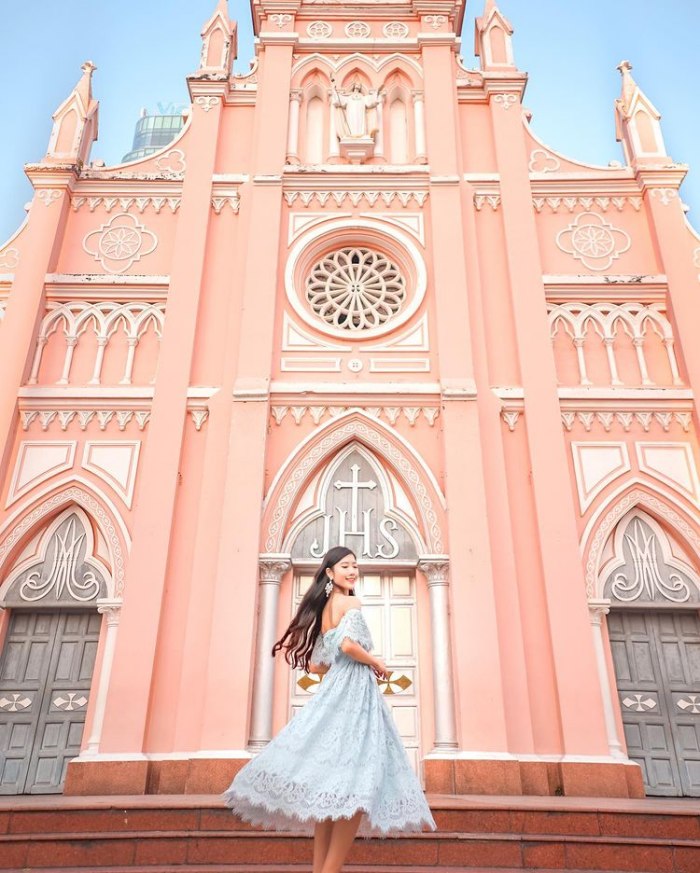 Chicken Church is located opposite the Han market. Photo: @dianaohy_
Han River Bridge
This unique revolving bridge is a symbol of the livable city and is only a short distance from Da Nang Han Market 4-5 minutes of travel. The bridge has been in operation since 2000 with a length of 487,7m, a width of 12,9m, can rotate 90 degrees and the architecture is also very unique.
Dragon Bridge
This most famous bridge in Da Nang is definitely a familiar stop for tourists, the bridge is located right near Han market, on Bach Dang street with only 3-4 minutes to go to the market. Here you can check-in with the unique bridge architecture, watching the Han River and the vibrant city.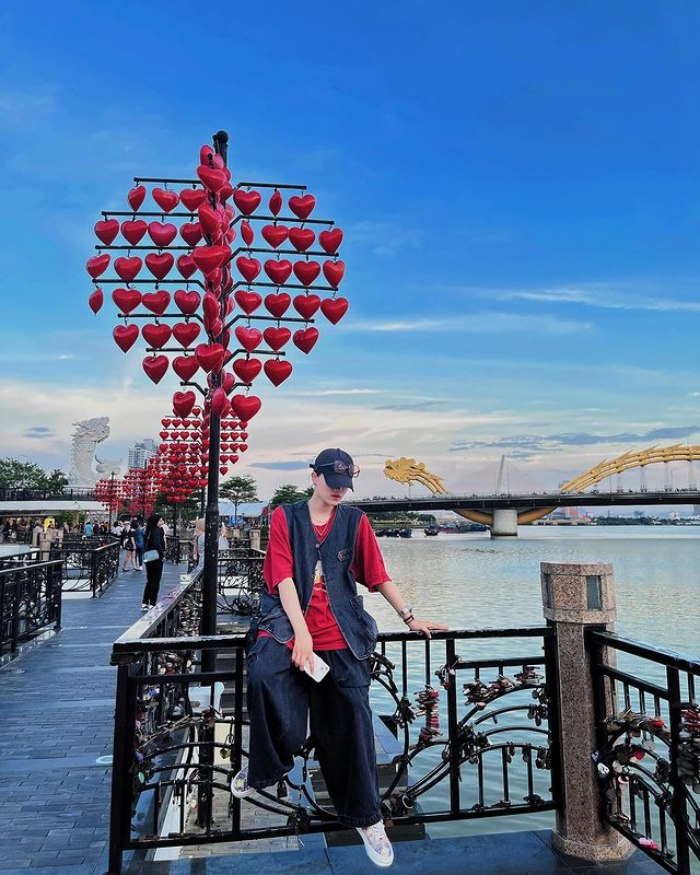 From Han market to Dragon Bridge and Da Nang Love Bridge is very close. Photo: @ my_dva715
Apec. Park
This open tourist destination is still hot recently in Da Thanh. Are from Da Nang Han Market It only takes about 7-8 minutes to get here. You can enjoy the unique space, check-in with the unique high-flying kite symbol and many interesting experiences. In addition, Han market is also very close to Love Bridge, Bach Dang Wharf, Walking Street, Tran Thi Ly Bridge, Nguyen Van Troi or a little further is SunWheel Danang.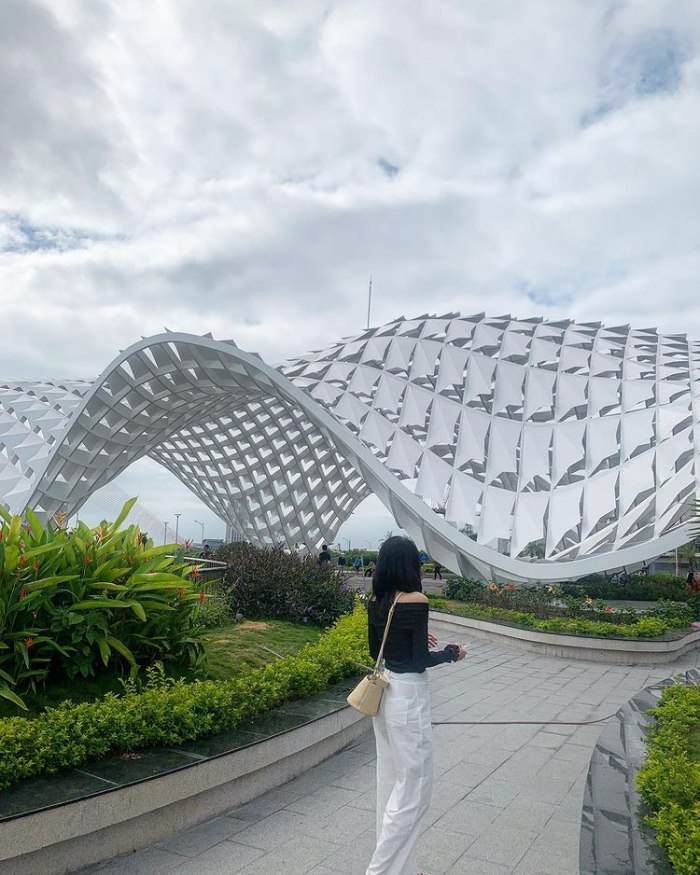 From Han market to Apec park or tourist attractions near the center is also very fast. Photo: @littleecee_
Tourists Da Nang Han Market will bring you countless unexpected experiences, don't forget to immediately save this attractive destination to your check-in list when coming to the city worth living.
>> See more: Visiting the city worth living is indispensable to experience taking photos at the most checked-in places in Da Nang
Hong Tho
According to Vietnamese sports newspaper