Possessing a beautiful natural setting and located right near Saigon, Buu Long tourist area Dong Nai is a great check-in point for you to return to nature, let go of all your troubles and "escape" the intense heat. harsh in the city.
Dong Nai Tourism Tourists will have a lot of choices about destinations, but Buu Long tourist area is always the favorite choice of many people because it not only possesses beautiful natural scenery, diverse spaces in the area. It is also a healthy and cool place, but it is also an attractive culinary and entertainment complex. If you don't want to have to move too much but still have a variety of experiences, Buu Long Dong Nai tourist area is a great choice for you.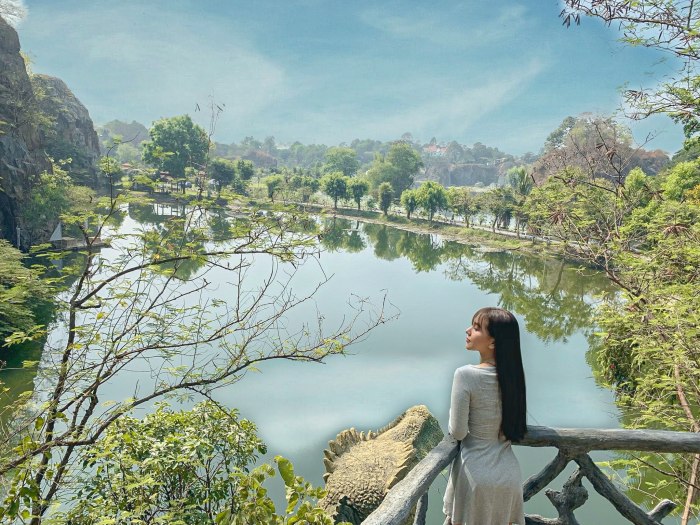 Buu Long KDL is an attractive check-in place in Dong Nai. Photo: us
When should you go to Buu Long tourist area?
When you intend to travel to Dong Nai as well as Buu Long tourist area, choosing the right time is extremely important. You can come to this resort at any time of the year, but the most favorable is still summer, the sky is blue, convenient for check-in and explore. Usually weekends are the time when this place is very crowded, so if you want to be bustling, you can visit on this occasion, if you want to enjoy a quiet space, you can go on weekdays. Buu Long Dong Nai tourist area will be open from 7am to 17pm from Monday to Friday, Saturday and Sunday only open from 2am until sold out.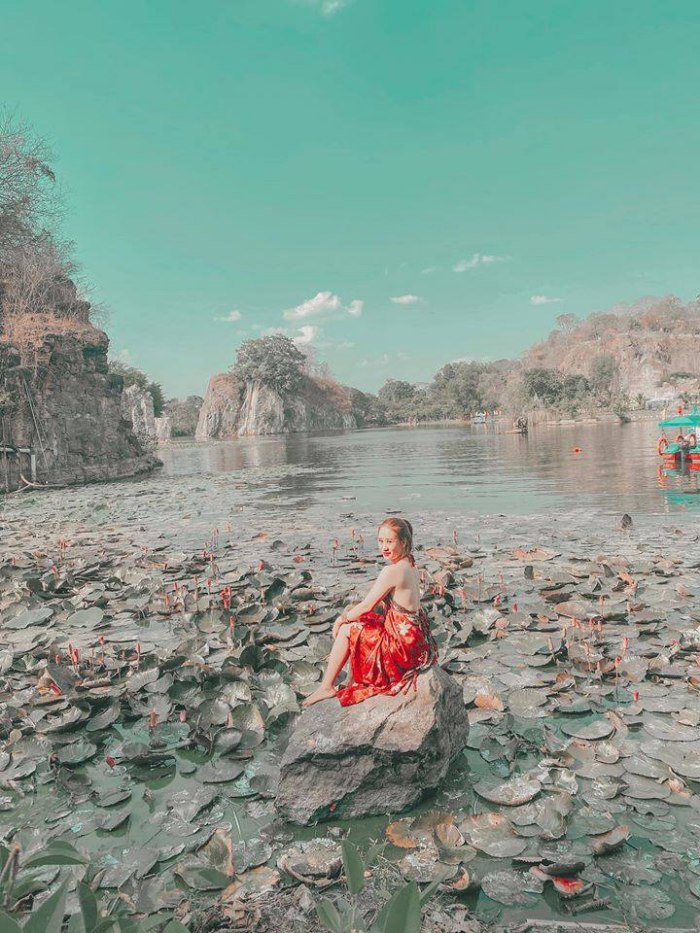 Summer is the most suitable time to come to Buu Long KDL. Photo: Buu Long KDL
How to move to Buu Long Dong Nai tourist area?
Buu Long Dong Nai tourist area is located near Saigon, so moving here will be very easy, you can take a bus, car or motorbike. If you have your own car or motorbike, you can be more proactive about your schedule. From Saigon, you move in the direction of National Highway 1A towards the direction of Linh Xuan overpass, then turn left through National Highway 1K through Hoa An bridge, to Huynh Van Nghe street, go straight to see Buu Long tourist area. On the right. If you take a bus, you can pick up the car at Cho Lon station, choose route 5 to Bien Hoa, the fare is 15k / turn, there will be a trip every 25 minutes.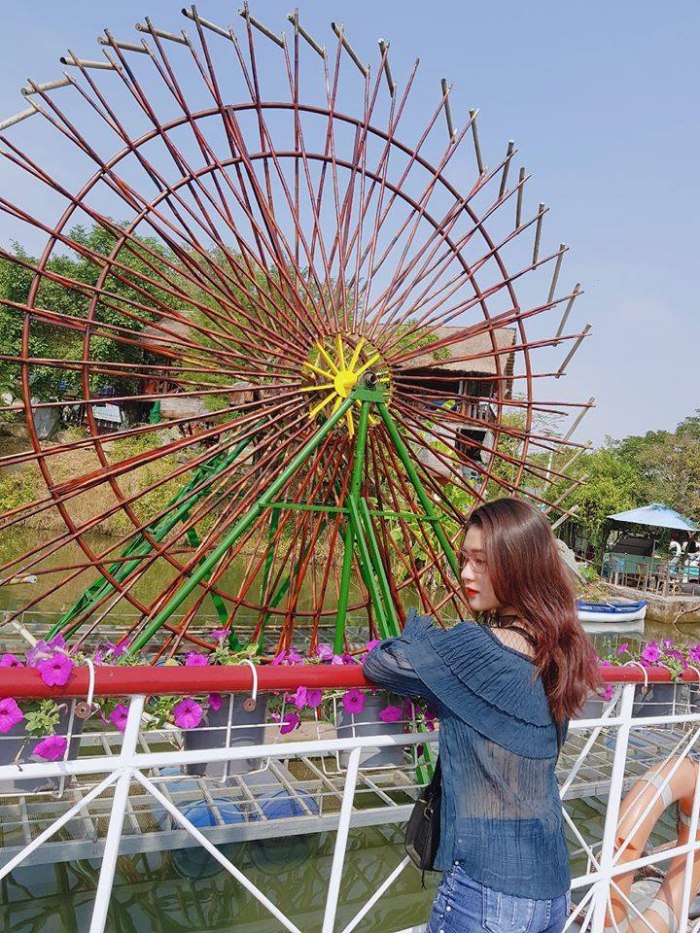 From Saigon, you can move to Buu Long KDL by many means. Photo: Buu Long KDL
Check-in every HOT location in Buu Long KDL
Buu Long Dong Nai tourist area fascinates visitors by its beautiful natural scenery, many green trees. The landscape here is charming, combined with extremely unique architectural, artistic and religious works. You can check-in many HOT locations here.
Long Van lake cluster, Long An
These two lakes are located next to each other and are both artificial lakes but have a very charming beauty. Long An Lake has an area of ​​18,5 hectares located at the foot of Long An Mountain. Long Van Lake is located between Long An and Binh Dien mountains, so it has an extremely favorable location, the lake water is always clear and calm. At these two lakes, you can check-in, enjoy the scenery or move on the bridge to the middle of the lake to check-in.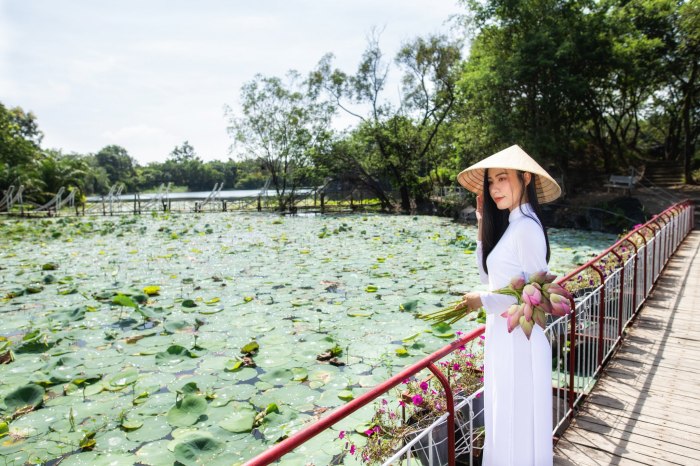 Long Van and Long An lake clusters have poetic scenery. Photo: Buu Long KDL
Buu Phong Co Tu and Binh Dien Mountain
This is a very beautiful landscape in Buu Long tourist area with an area of ​​8,7ha, Binh Dien mountain has many rare and ancient trees and rocks of all shapes. Buu Phap Pagoda is located on Binh Dien mountain with 4 floors, 3 majestic stupas worshiping Buddha, Maitreya and Shakyamuni.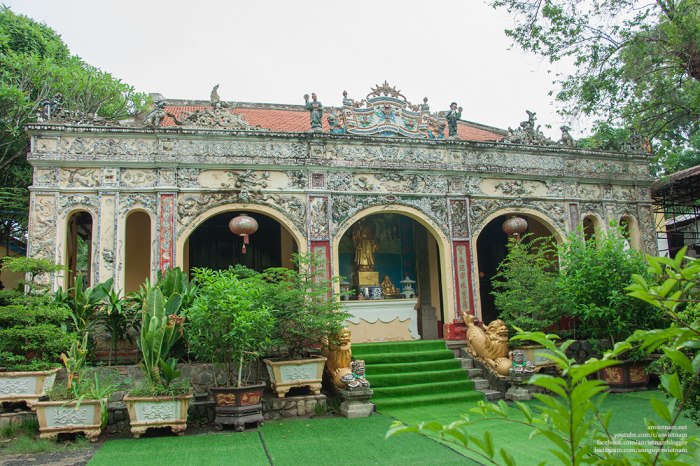 Buu Phong Co Tu with ancient architecture. Photo: st
Long An Mountain – Long Son Thach Dong Pagoda
Long An Mountain is located in the east of Buu Long Tourist Area with an area of ​​3,4 hectares, the highest peak is 52m including a cluster of lakes and Long An mountain. The most prominent is Long Son Thach Dong pagoda with a scene likened to a fairy scene. The temple is located on a high ground, many areas, on major holidays at the temple there are events that attract a lot of Buddhists and tourists from all over the world to visit. Check-in here, you can not only admire the beautiful natural scenery but also breathe the fresh air and enjoy rare peaceful moments.
Main amusement park
This is the most favorite place for tourists when coming to Buu Long KDL because there are so many things to experience and explore. The central area is highlighted by two golden dragons with pearls, next to the waterfall is the area of ​​the art performance stands. At the main amusement park, you can experience a series of exciting games such as tramcars, ball houses, rockers, floats, a cool space that is very suitable for you to have fun and exercise.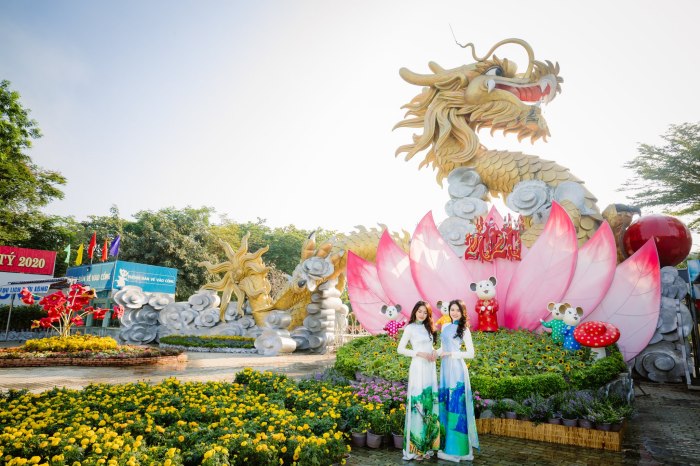 The main amusement park has a large Dragon statue. Photo: Buu Long KDL
Valley of Love and Lan Island
This is a place that many tourists love in Buu Long tourist area because of its dreamlike scenery. The space here is decorated with a diverse ecosystem, including more than 80.000 colorful orchid pots for you to drop your soul to check-in.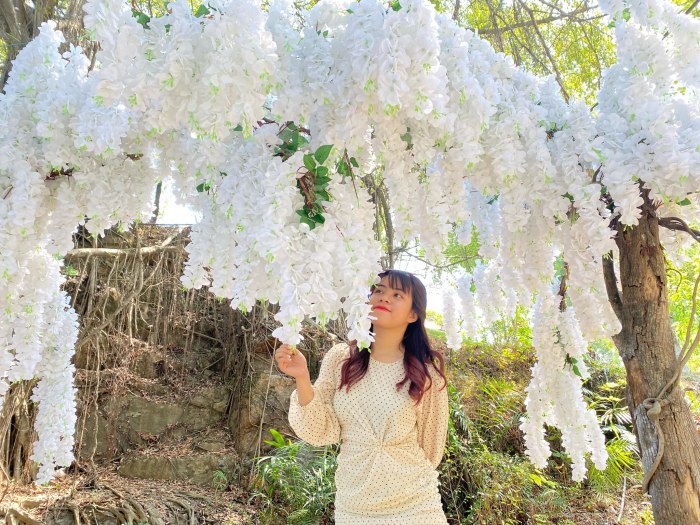 Valley of Love and Orchid Island is a great virtual living place. Photo: Buu Long KDL
Buu Long Zoo
This zoo is extremely loved by children, in a space of 2 hectares, Buu Long Dong Nai tourist area arranges this area into an animal paradise with features such as swans, parrots, tucans, white peacocks and white peacocks. ... Tu howling, ornamental chicken. . Especially the collection of prehistoric animals such as dinosaurs, 9-horned rhinoceros, mammoths, lightning dragons, volcanoes... are recreated to create an extremely lively space.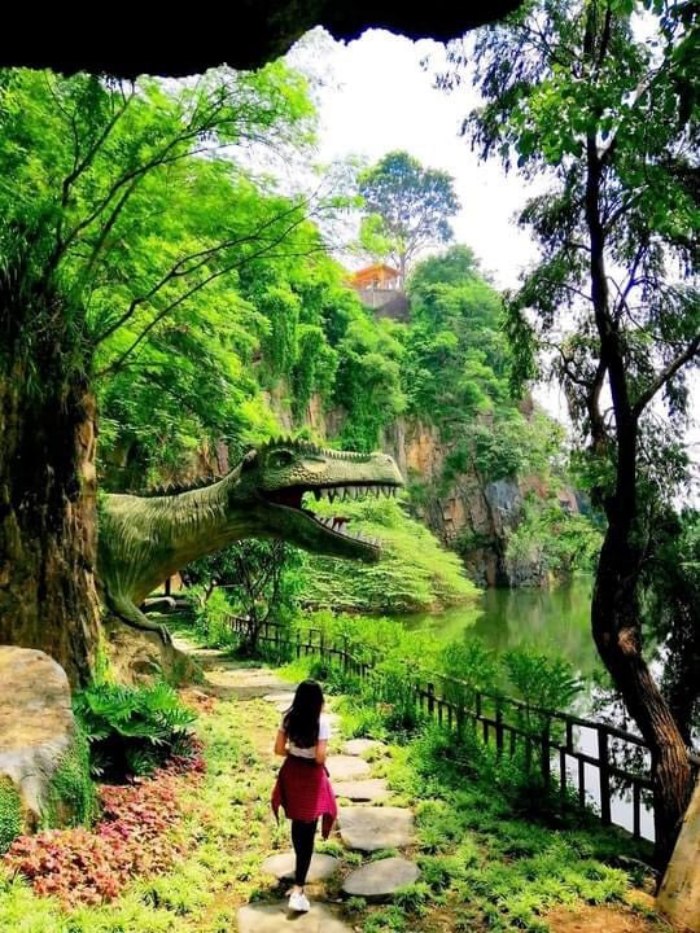 The zoo has a lot of interesting things for you to explore. Photo: Buu Long KDL
>> See more: Southern tour is super HOT in summer
Discover attractive cuisine at Buu Long tourist area
Buu Long Dong Nai tourist area has a system of modern restaurants to serve the needs of culinary experiences for tourists, here you can check-in the restaurant Bride with luxurious European architecture, Du Long restaurant. . With a traditional culinary space, Du Long 2 restaurant has a unique Asian style. There is also Huong Sen coffee shop so that visitors can relax and enjoy refreshments.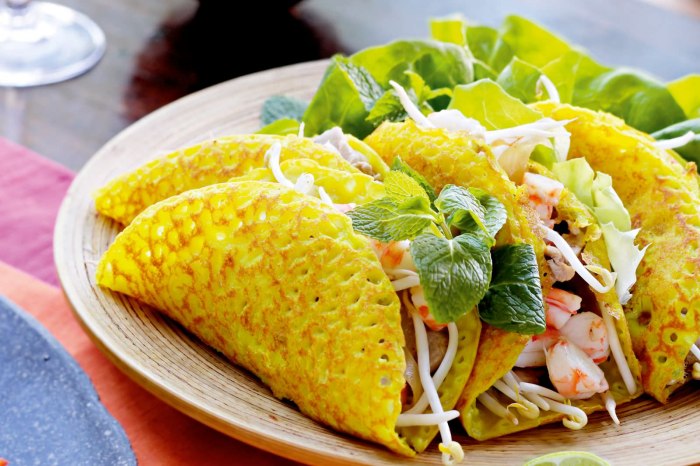 Cuisine of Buu Long KDL is very attractive. Photo: Cooked
Cuisine served at Buu Long Tourist Area has a strong Southern flavor with outstanding dishes such as pancakes, steamed snakehead fish with raw vegetables, sour bamboo shoot salmon hot pot, perch hotpot, steamed red tilapia. There are also many other delicious dishes such as steamed chicken with lemon leaves, fried rice with salted fish, lotus root salad with shrimp and meat, fried chicken wings with fish sauce... In addition, the area near the resort also has food courts. . Really attractive for you to enjoy freely.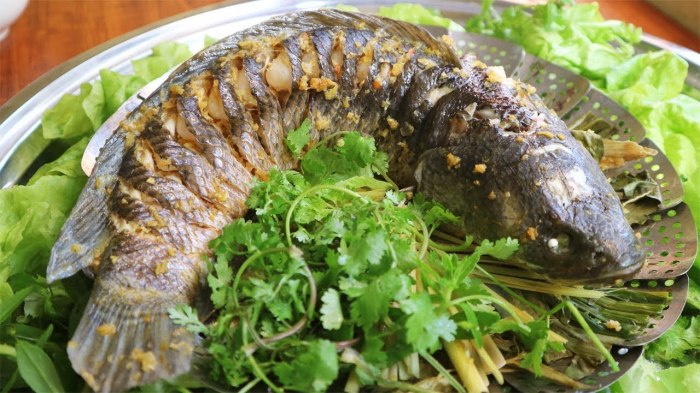 Steamed snakehead fish wrapped in rice paper. Photo: Buu Long KDL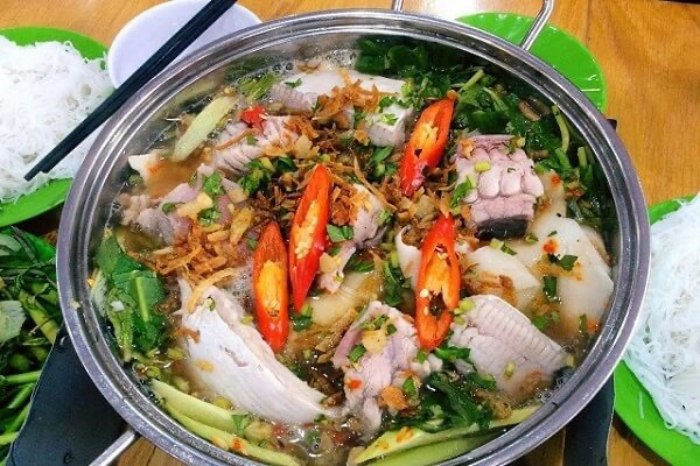 Attractive salmon hotpot. Photo: Buu Long KDL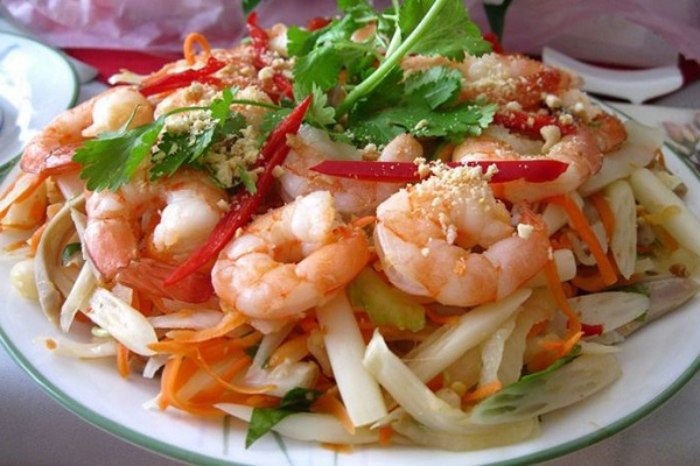 Shrimp and lotus root salad is a dish that is loved by many people. Photo: Buu Long KDL
Pocket notes to know when checking-in Buu Long Dong Nai tourist area
Buu Long Dong Nai tourist area is chosen by many tourists as a stopover for short trips. To fully enjoy the trip here, you also need to note some information as follows: This is a very crowded tourist area, so please bring flat shoes, sports shoes for comfort when moving, luggage Carrying should be as minimal as possible because you need to move a lot. The resort allows guests to bring food from outside, so you can freely party without being affected or surcharged.
It is recommended to bring light luggage to move comfortably. Photo: Buu Long KDL
To see the full view of the resort, you can check-in on Bao Long mountain, the view from here is breathtaking. Do not forget to prepare virtual living things because the scenery here is so charming and poetic. If you go in the summer, remember to bring a hat, hat, sunscreen to be comfortable. If you want to stay overnight, you should book a room or rent a tent in advance for the initiative.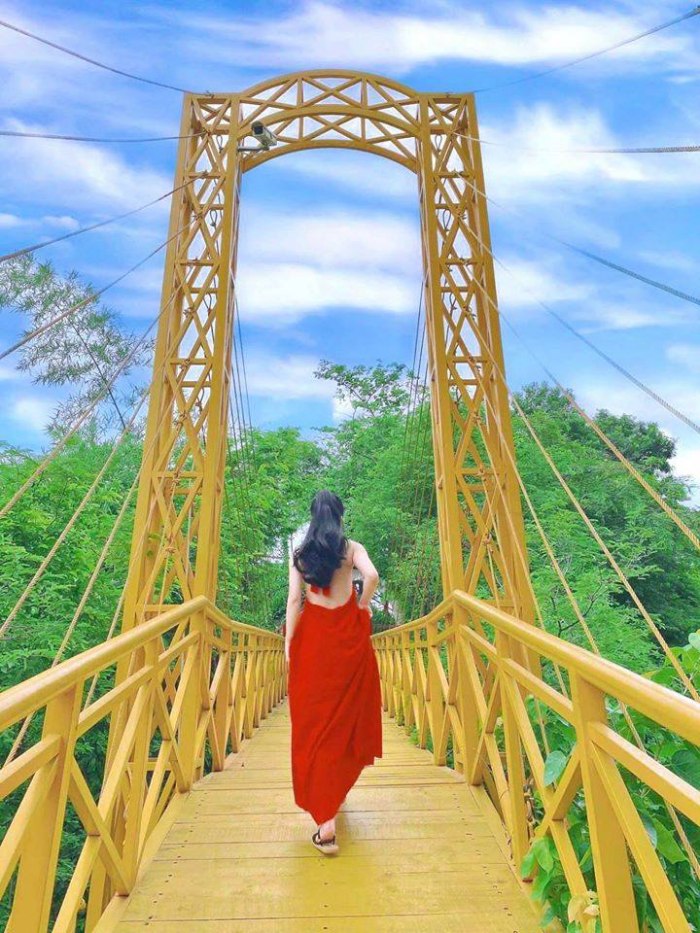 Don't forget to prepare gorgeous outfits to live virtual. Photo: Buu Long KDL
Buu Long tourist area is an extremely attractive destination with many interesting things for you to enjoy and explore. If you are looking for a "delicious-healthy-cheap" trip near Saigon, this resort is definitely the ideal place that you should close right away.
Hong Tho
According to Vietnamese sports newspaper