Ha Long - Quang Ninh is a name that is especially familiar to tourists from all over the country and abroad. This place is not only known as an extremely attractive tourist paradise but also a unique culinary paradise rich in the taste of mountains and sea. Ha Long Tourism What specialties, what to buy as gifts for relatives, friends is one of the concerns of many tourists before leaving.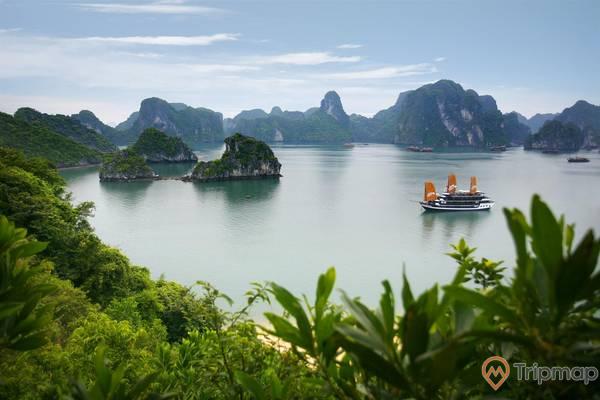 Traveling to Ha Long, Quang Ninh, what to buy as a gift?
Not only famous for the magnificent beauty of the sea, mountains, forests, fanciful caves, enchanting people with magnificent and magnificent works. But the cuisine here also has a unique style of the sea. There are many delicious dishes in Ha Long, but to buy as gifts for relatives and friends, visitors should choose dried seafood - famous specialties such as squid rolls, dried squid, sage dried, shrimp paste....
Ha Long squid cake - famous delicacy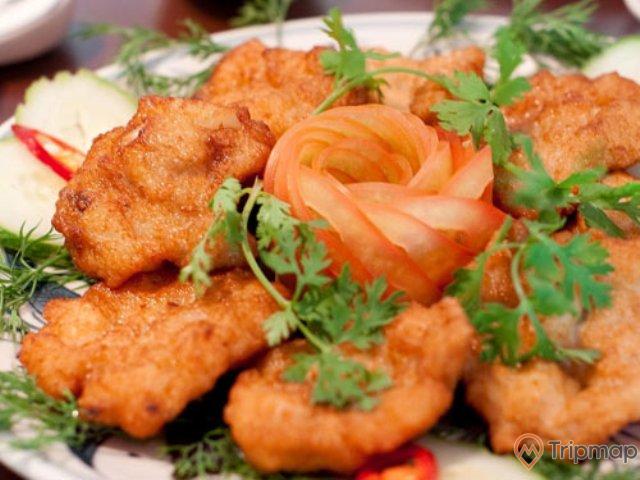 Referring to Ha Long cuisine, it is definitely impossible not to mention the squid cake - a famous delicacy ranked in the Vietnamese culinary directory.
Speaking of Ha Long specialties, it is definitely indispensable for Ha Long squid rolls. Is one of the ranked dishes in Vietnam. Therefore, it is a pity if you do not choose to buy Ha Long squid as a gift.
The grilled squid here is handmade, so the unique taste is guaranteed. Selected from fresh, traditional hand pounded squid combined with a separate processing method to make the most attractive pieces of squid. Grilled squid has a delicious, sweet, crunchy, chewy taste that is different from the taste of other regions.
The usual price ranges from 330.000 VND/kg to 450.000 VND/kg depending on the type. Each kilo of squid is about 30-32 pieces. However, in order to buy quality squid without being challenged, visitors should pay attention to choose reputable long-term suppliers.
Dried Sa Sung - a rare delicacy.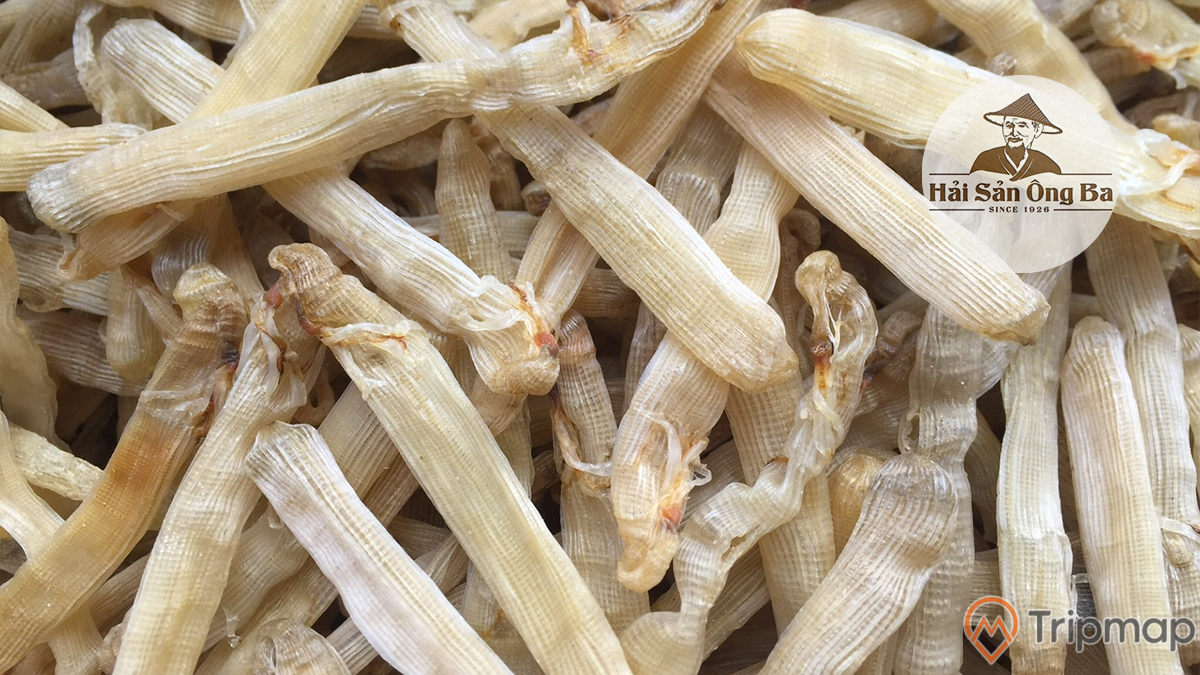 Sa worm is a rare seafood with very high nutritional value, especially good for health and quite expensive. Looking through the worms, the shape is not eye-catching, quite similar to the earthworm, but the size is larger. Dried Sa Sung is often used to cook porridge, vermicelli, pho, or soak in wine. Fresh Sa Sung is also processed into many stir-fried, fried dishes...
Dried Sa worms are usually ivory-white in color, with a characteristic aroma, with an average length of 4cm to 15cm. The price of dried wormwood can be up to several million per kilogram, several times higher than that of other dried seafood. And this is a very meaningful and precious gift for relatives and friends.
Dried octopus
Dried squid is made from squid leaves. Immediately after being caught, the squid is cleaned, salted and then dried in the sun. The best squid is still a sunny one, the outside is dry and crispy but the inside still retains the deliciousness. The delicious dried squid has a thick body, thin, light pink skin, smooth, straight body, white flesh, not wet to the touch, the squid head has a beard and is firmly attached to the body. The most common way to use dried squid is to bake it to drink wine, fry it, make a salad, stir-fry it with vegetables... If you choose dried squid as a gift, it's ideal.
Shrimp paste - delicious food for children.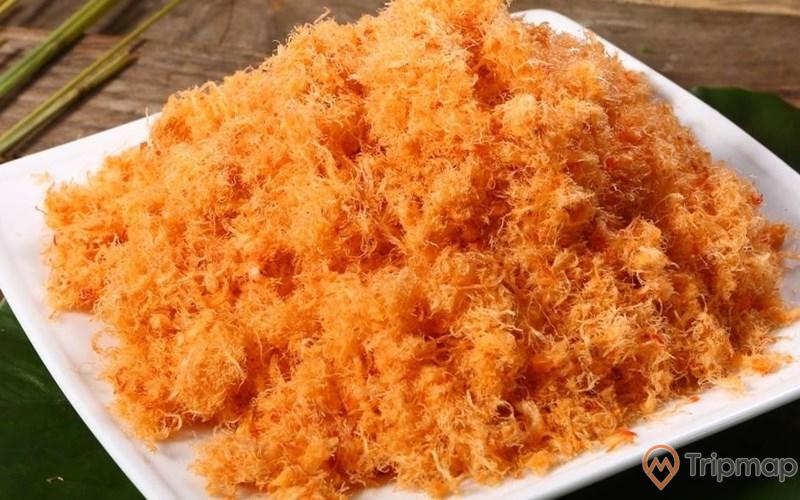 Shrimp paste is a great gift for children and the elderly. Shrimp paste is made from white shrimp plus handmade method, so it always retains the most delicious taste. Shrimp have just been caught and brought back to be cleaned, steamed, then pounded and marinated traditionally. Finally, dry stars. Shrimps are sweet, fragrant, and fleshy, especially when eaten with sticky rice, white rice, or as a topping for other dishes. Because of the reasonable price, suitable for many people's taste, this type of gift is very popular with tourists.
What are the culinary specialties of Ha Long?
Ha Long is a coastal city mixed with mountains and forests, so the specialties are also extremely rich. In which, there are dried seafood such as squid cake, dried squid, dried shrimp, shrimp paste, sa worm as introduced above, other famous specialties that you can enjoy on the spot such as shrimp, squid, crab, snail, scallop, clam, sea ​​buckthorn, boring dishes, oyster milk porridge, ha porridge, nodding cake, surface vermicelli, spring rolls, squid roll cake, sloppy Tai cake, upbeat chicken Loi, Ba Kich wine, Yen Tu apricot wine… and many other delicious dishes.
Sea buckthorn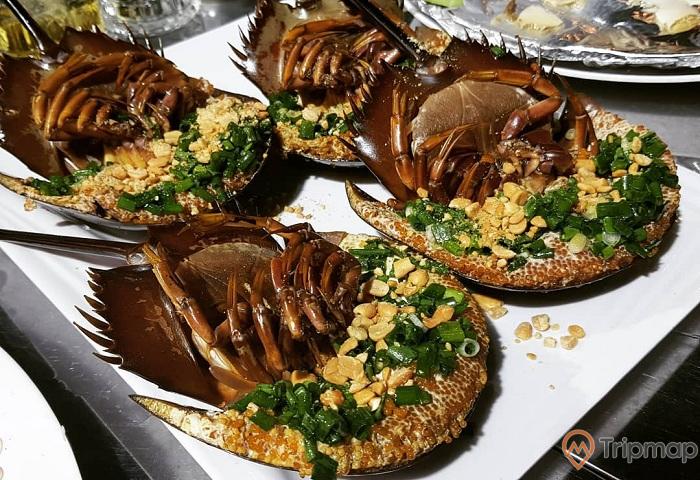 Sea sam is one of the specialties of Ha Long with a different, delicious, chewy, chewy, and greasy taste. Sam is processed into many dishes such as steamed sam, fried sam with vermicelli, grilled sam with cartilage, sam salad, fried sam with chili pepper, deep fried sam's egg...
Bored of the sea
Shaped like a clam but bigger. The type of boring Ha Long is extremely delicious, fatty but not as boring as the inherent name. Bored can be processed into grilled boredom, cooked soup, fried noodles extremely attractive. In addition, sea buckthorn is also used to soak alcohol, which is very good for health.
Oyster milk porridge
Oyster milk porridge is a specialty in Ha Long that is both delicious and nutritious. The dish provides many vitamins and nutrients for the body, especially good for people with blood pressure, nerve or diabetes problems.
Surface vermicelli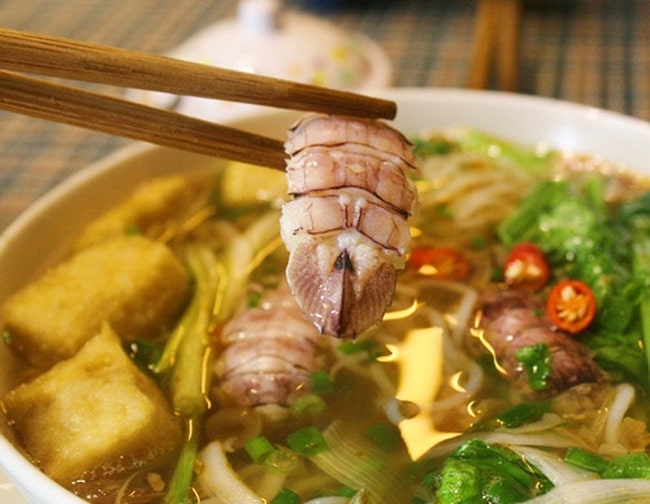 This vermicelli is made with surface meat, vermicelli, sweet and sour broth, a few pieces of fried beans, shrimp, and squid cake served with raw vegetables and stir-fry. Enjoy a bowl of vermicelli with a hot, sweet and sour surface in the cold northern weather.
Nodding cake
Nodding cake with dipping sauce is one of the specialties that always satisfy the most gourmet guests when arriving in Ha Long. Banh cuon looks like banh cuon and the method is similar to banh cuon, but it's softer, more chewy, and when you pick it up, it's always nodding left and right, so it's called nodding cake. The ingredients of the sauce include fried onions, sour fish sauce, minced meat and chicken fat, but with a special processing method, it always creates its own delicious and irresistible flavor. Coming to Ha Long without trying this nodding cake, your trip is not complete.
Spring rolls
Made from thinly sliced ​​pork skin, white, mixed with crushed roasted peanuts, hearing and served with fig leaves dipped in fish sauce. Although very rustic, but extremely loved by diners, it is impossible not to participate in wine parties.
Yen Tu plum wine
For men, alcohol is indispensable in the travel menu. Yen Tu apricot wine is produced from traditional rice wine soaked with fresh apricots into a golden color, sour and sweet taste. In the evening, sipping a glass of Yen Tu apricot wine and enjoying the scenery is nothing compared.
Three Size Wine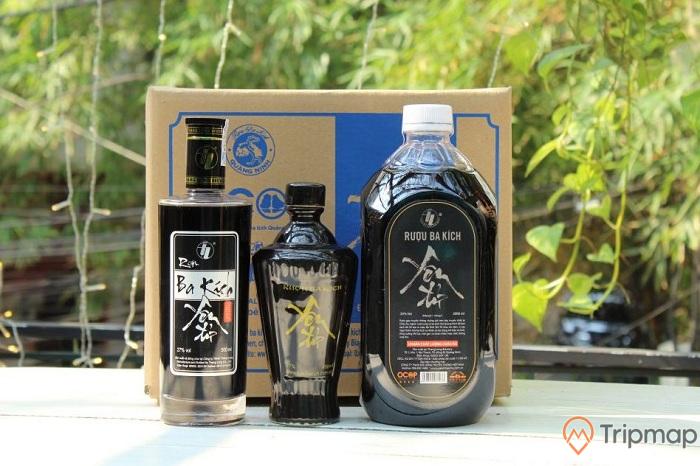 Three Size Wine
Ba Kich wine is a famous specialty in Ha Long that is loved by locals and tourists. To create this wine, it is necessary to soak the white and purple three size tubers for many days. When drinking, alcohol is fragrant, does not cause headaches, used in the right dosage also brings positive effects to health.
Above are the delicious specialties of Ha Long, every time visitors come here, they can freely enjoy or buy as gifts for relatives and friends. To taste the specialties of the coastal city and buy the best quality products, you need to find reputable suppliers.