Alley
Dong Xuan market
has long been famous for delicious snacks, is a place frequented by gourmets. If you are wondering to find a place to eat that meets the criteria of delicious - nutritious - cheap, what are you waiting for without going to eat delicious dishes in the alley of Dong Xuan market below.
Located in a beautiful location, right near the old town, adjacent to Dong Xuan market, Dong Xuan market lane is quite easy to find and is loved by many diners. The small alley is only about 200 meters long, but it is always crowded with visitors, including foreign tourists. Let's go to Vietnam Tourism to take a look at the delicious food in Dong Xuan market lane Get ready for the upcoming cheap food tour.
Delicious dishes in the alley of Dong Xuan market
Dong Xuan market lane has about 15 stalls selling goods, open from 7am to 18pm every day. Because the alley is quite small, the shops usually only have enough tables and chairs for customers to eat. Above is a billboard introducing the dish. Although the alley is quite crowded, it is still easy to find restaurants. Guests coming to eat should park their cars outside and then walk in for the convenience of a cheap Dong Xuan alley food tour.
Just coming here, diners will see a lot of attractive snacks such as grilled oysters, dried beef salad, pillow cake, shrimp cake… The famous Hanoi snacks are almost all available in this alley. Diners can refer delicious food in Dong Xuan market lanen below.
Dried beef salad
Opening time: 7am - 13pm
One of the delicious food in Dong Xuan market lane must mention the dried beef salad. Follow experience going to Hanoi, dried beef salad here is very full, only costs about 30.000 VND. Dried beef is seasoned and seasoned with lemongrass, ginger, chili, soup powder, and sugar.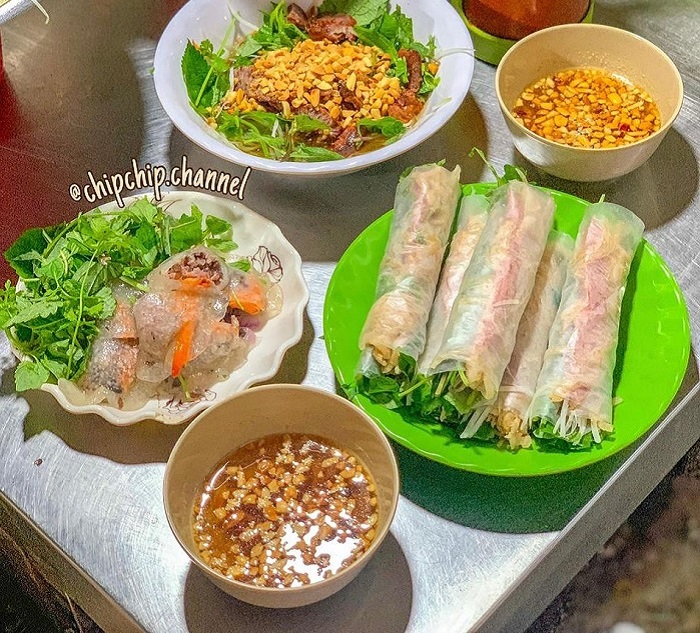 The dried beef salad here is big, the broth is sour and sour. Photo: chipchip.chanel
The dried beef is very tender and still retains its sweetness. Sour and sour, sweet and sour, eat a lot without getting bored. Diners eat dried beef salad with chopped carrots, green papaya and roasted peanuts.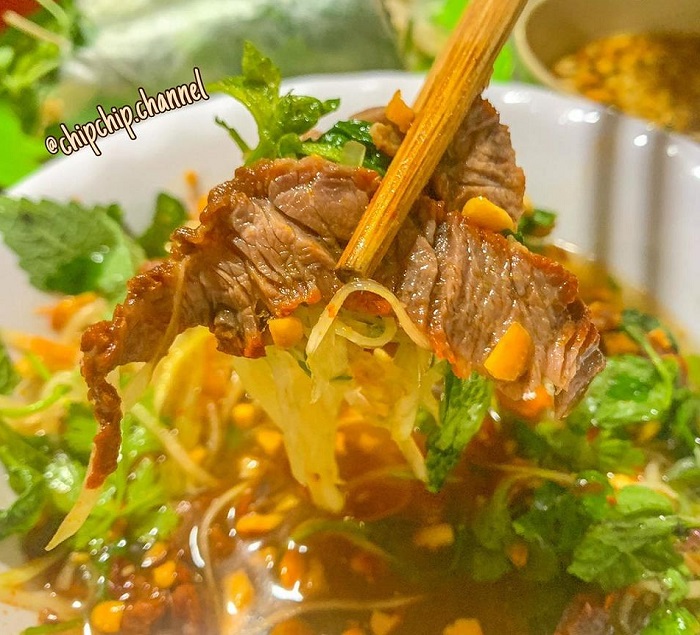 Dried beef is dried in large pieces and then chopped into about 2 knuckles. Photo: chipchip.chanel
In addition to dried beef mannequin, diners can also use filter cake, which is also a delicious dish that many people appreciate when coming here. Filter cake in the alley of Dong Xuan market The shell is not too thick, when eaten, the mouth is flexible, the smell of shrimp and meat. In particular, the dipping sauce is mixed according to its own recipe, which is very popular with foodies. The shop also sells spring rolls and rolls for only about 8.000 VND / piece. Roll has vegetables, so it is very cool to eat.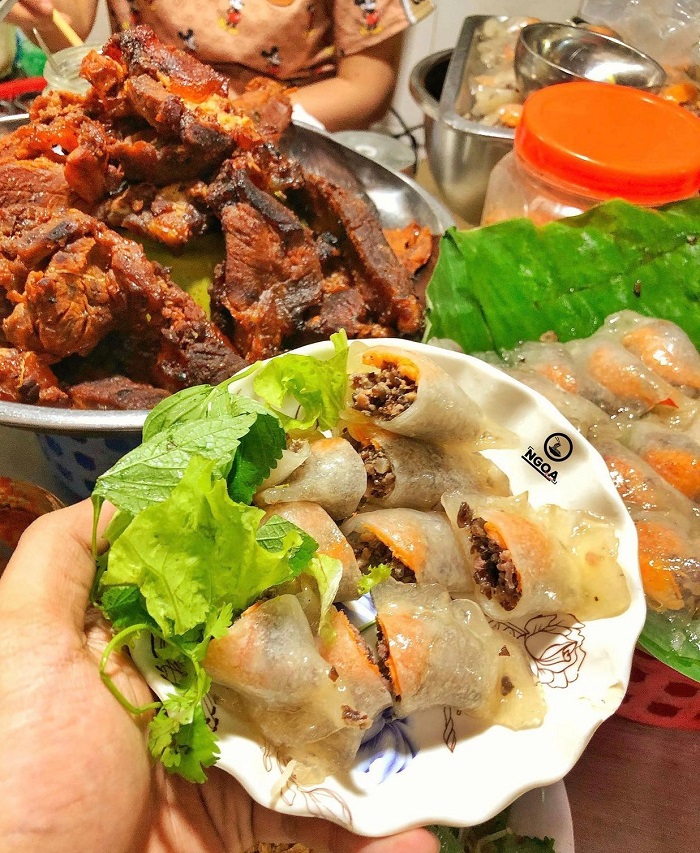 Don't forget to try the equally delicious filter cake at this shop. Photo: Ngoa
Ms. Om's shrimp cake
Opening time: From 10am to 13h and from 15h to 17h
Delicious food in Dong Xuan market laneAnother dish that you definitely have to try is Co Am shrimp cake. With experience going to Hanoi of gourmet diners, shrimp cakes here are deep fried. When eating, each piece of cake melts in the mouth mixed with the delicious fresh shrimp with the whole shell, which stimulates the taste buds. The cake is freshly fried so it's always hot and fresh.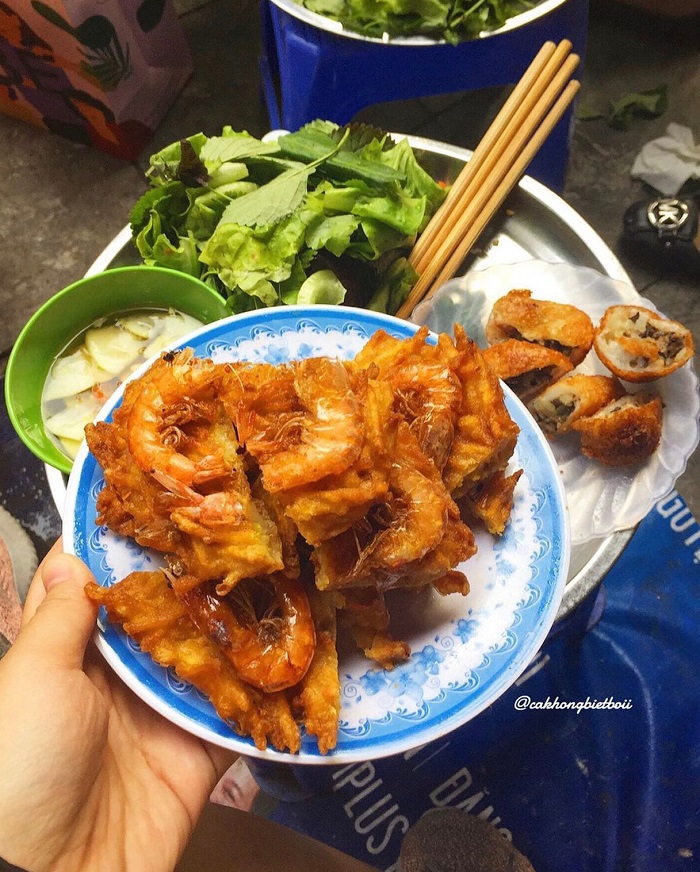 Co Am shrimp cake is crispy in the mouth. Photo: cakhongbietboii
In addition to fresh shrimp, the crust is very focused by the owner with its own secret. The cake has the addition of shredded potatoes to create a sweeter and more fleshy feeling than other shrimp cake shops. Khanh served with raw vegetables and sweet and sour sauce.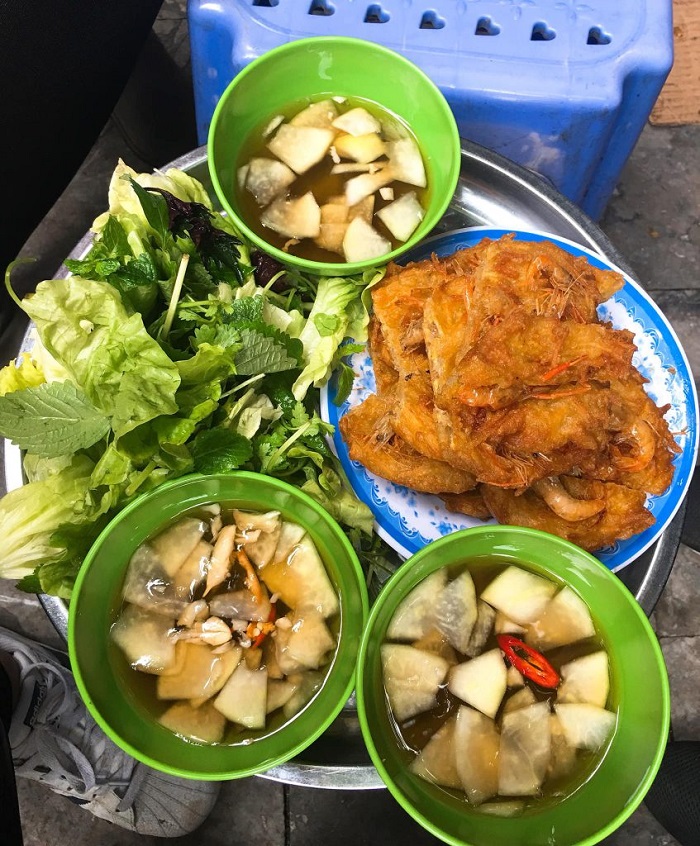 The restaurant is very popular and at peak lunchtime is very crowded, sometimes you have to wait 10-15 minutes to get a seat. Photo: reviewdoan
Shrimp cake in Dong Xuan market alley This place has been around for more than 30 years and is always crowded with visitors. The selling price is more than 12.000 VND/piece. Co Am shrimp cake is open from 10 am to 13 pm and from 15 pm to 17 pm every day. Many people rate Co Am's shrimp cakes as the best in Vietnam West Lake Because there are many shrimp, each one is big and fresh, the crust is not greasy. What are you waiting for, come and try it now Hanoi snacks this unique.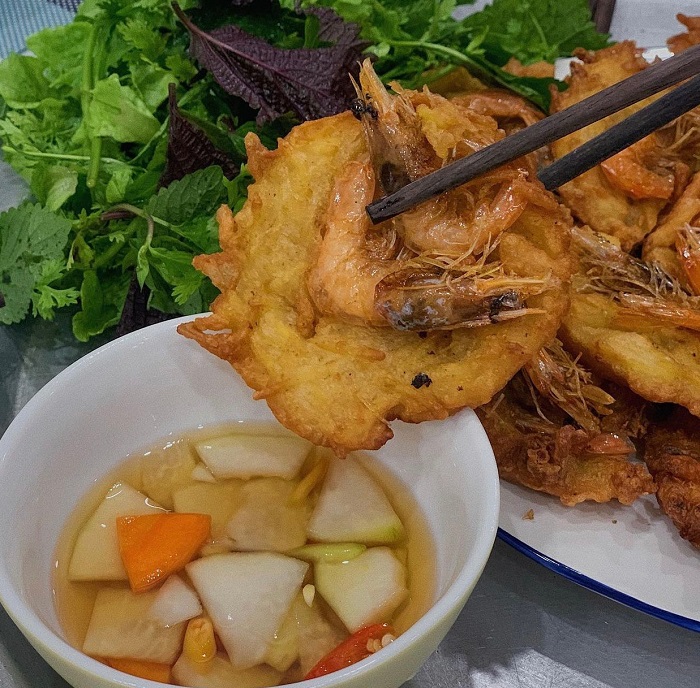 Delicious shrimp cakes, eat a lot and do not get bored. Photo: chiecbungthuongluong
>> See more: Hanoi nuggets are fragrant with the taste of autumn and September, the season that causes memories
Yen Tea
Opening time: From 9am to 18pm
Tea Yen is also worthy delicious food in Dong Xuan market lane that diners should try. Follow experience going to HanoiThis tea shop has existed for more than 23 years and is owned by Mrs. Truong Thi Bach Yen. The price of tea here ranges from only 20.000 to 30.000 VND, so you can enjoy it without worrying about burning your wallet.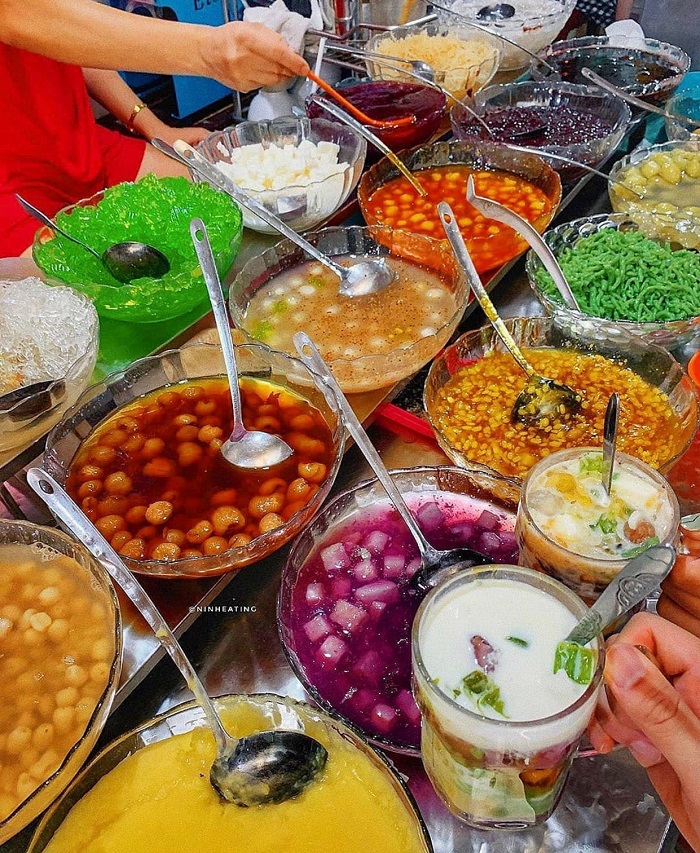 A tea stall full of varieties and toppings, looks attractive. Photo: riviu.vn
Hanoi snacks This place is located at the end of Dong Xuan eating alley so it is easy to find. Tea Yen has up to 23 flavors of tea such as black beans, banana tea, green beans, pomelo tea, sweet potato tea, dew sa tea... In the winter, the shop can serve hot tea and drift cake to serve diners.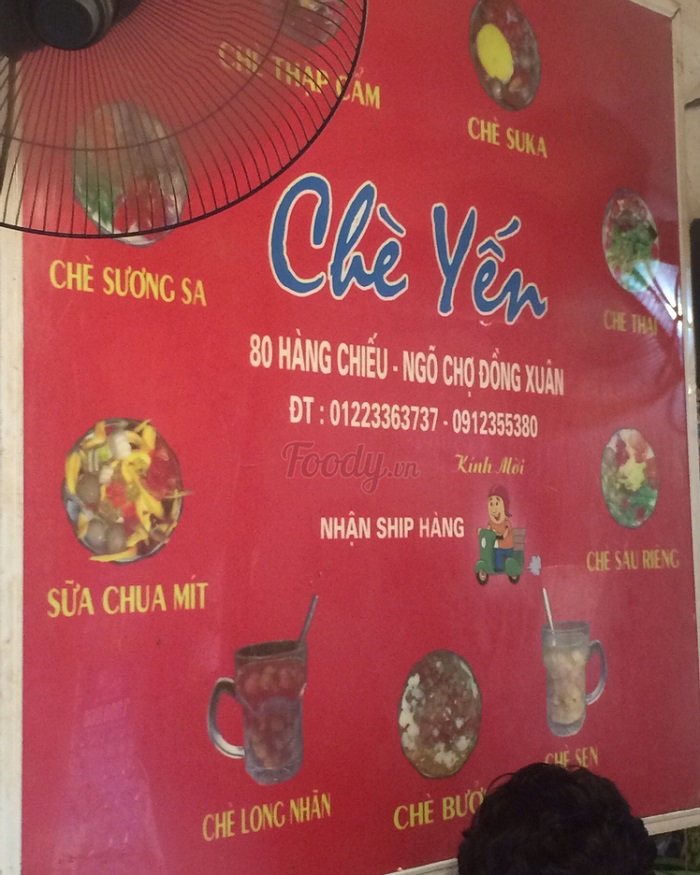 Tea Yen has a full range of teas and toppings for you to choose from. Photo: foody
The cup of tea is full, all kinds of toppings, fragrant, sweet, chewy, soft, and delicious to eat. Over the years, Yen tea shop has become a familiar address for restaurants food in Dong Xuan market lane in particular and the address Hanoi snacks Generally speaking. Tea Yen is attached to many generations of students and young people here.
Another experience from other diners is with Yen tea – delicious food in Dong Xuan market lane This, you should eat last, after enjoying other dishes. Don't forget to dessert with delicious tea.
Mrs. Phuong's noodle soup
Opening time: 8am - 17pm
One of the oldest restaurants in Dong Xuan market lane is Mrs. Phuong's noodle shop. Surely this name many foodies have heard, but not everyone has enjoyed it because there are quite a few shops selling it. In fact, pho tiu is a sweet and sour noodle soup. Pho tiu is similar to noodle soup, but the owner replaces it with fresh noodle soup, adding more sauce, suitable for the taste of the North.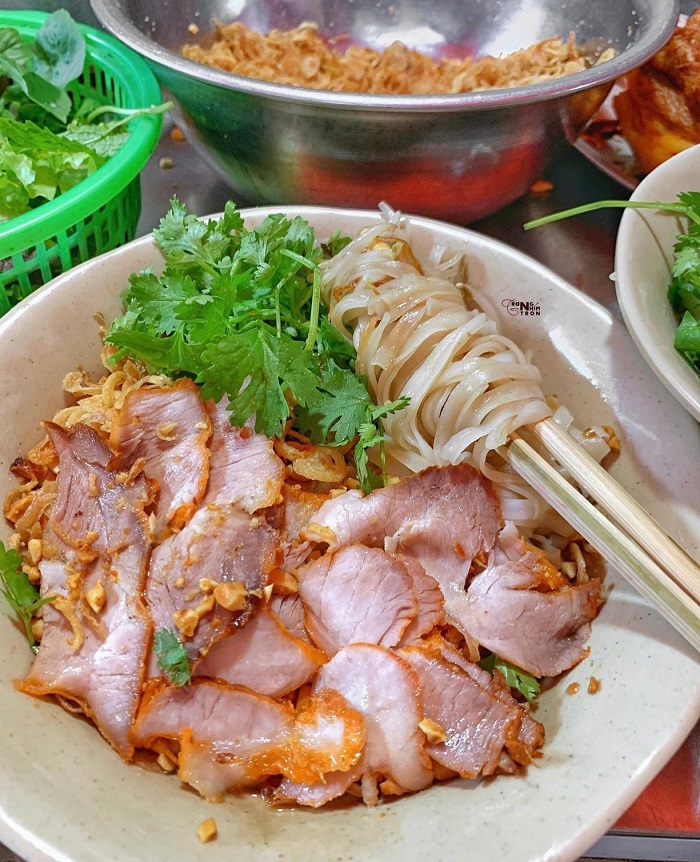 Pho tiu Mrs. Phuong has long conquered the gourmet world. Photo: trangnimtron
At Mrs. Phuong's shop for nearly half a century, it has always been crowded with customers. This is Delicious food in Dong Xuan market lane, is not only familiar to the people around but also to tourists Ha Noi find.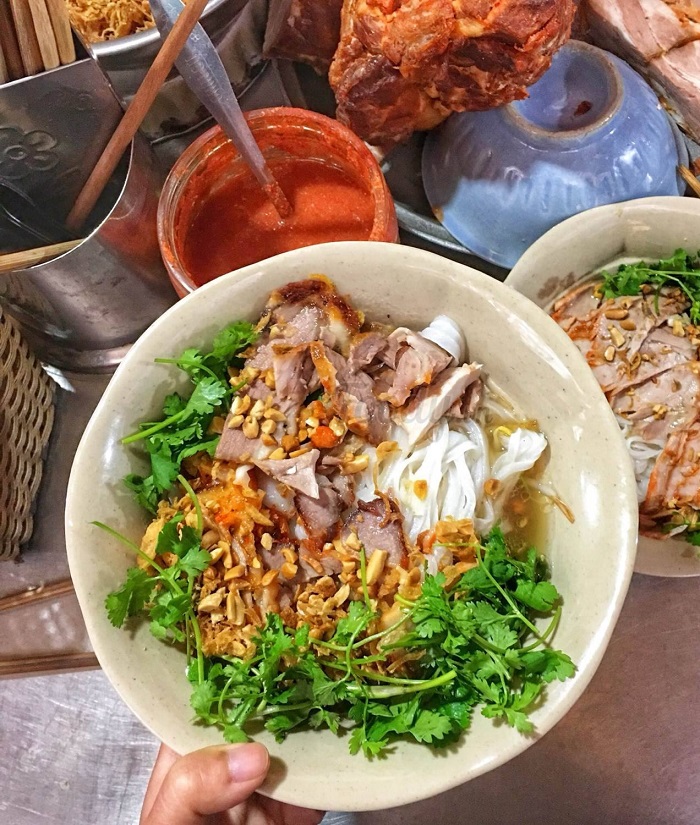 The bowl of pho is full, with a lot of meat. Photo: trangnimtron
Looking at a bowl of pho tiu seems to be very simple, just fresh pho noodles are put in the bowl, add char siu meat, non-fragrant dried onions, roasted peanuts, coriander ... and then proceed to pour the sauce. However, the most special feature of Mrs. Phuong's pho is the 5 sauces prepared according to the heirloom recipe. The sauces are sprinkled on the bowl of pho tiu in turn, with enough sweet and salty taste to eat very well.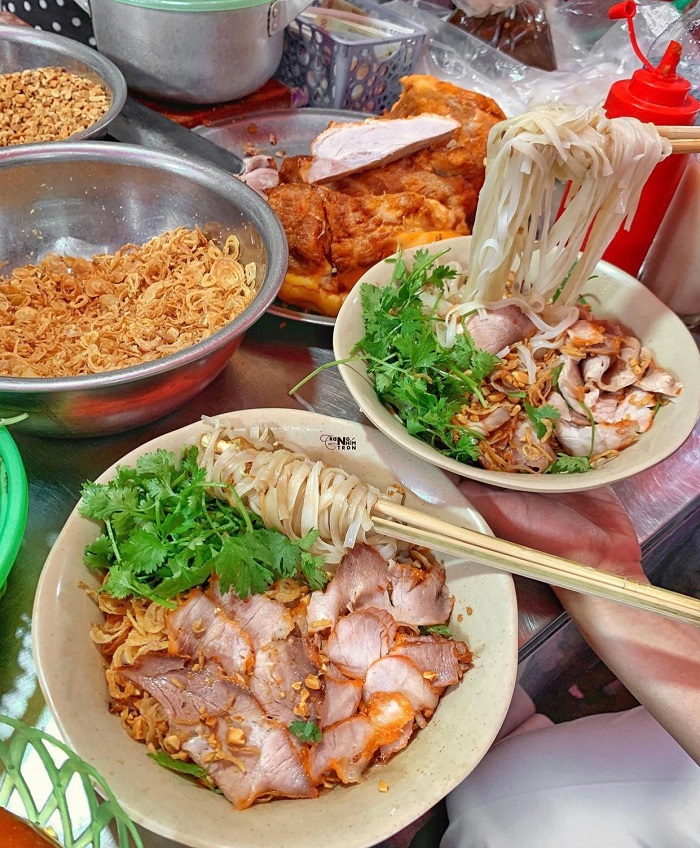 Pho tiu - a special noodle dish that has been around for a long time, never bored. Photo: Foodie
Dong Xuan market noodle soup – has soft, sweet char siu meat mixed with the fleshy taste of fried onions and a little fat from the fat sauce. Hanoi tourists can add vinegar and chili according to their taste. The price of this super plump bowl of pho tiu is only 35.000 VND.
Thuy snail noodle soup
Opening time: From 7:30 a.m. to 17:30 p.m
On the culinary map of Hanoi, there is no shortage of delicious noodle shops. However, Bun snail Thuy located near the end of Dong Xuan market lane is still loved by many fastidious diners. This is one of the delicious food in Dong Xuan market lanen definitely you must try. The restaurant has a small space, few seats, but the staff is enthusiastic and very fast.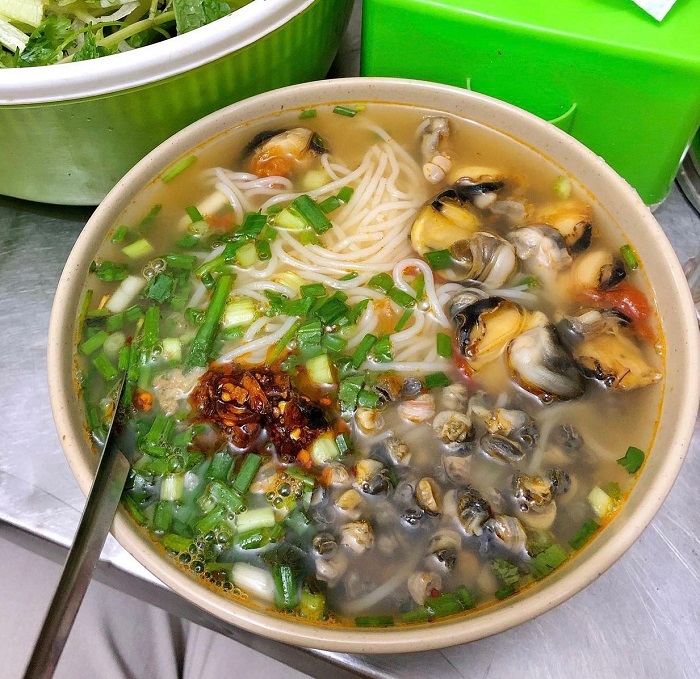 Thuy snail vermicelli - a bowl of snail vermicelli that holds customers' feet for many years. Photo: velvet_
According to the experience of going to Hanoi, the shop has 2 basic types: cold snail vermicelli and vermicelli. The snails here are stuffed snails, each one is greasy, round, full of mouth. The best part for a bowl of Thuy snail vermicelli is the sour and sour broth, with a subtle smell of sticky rice.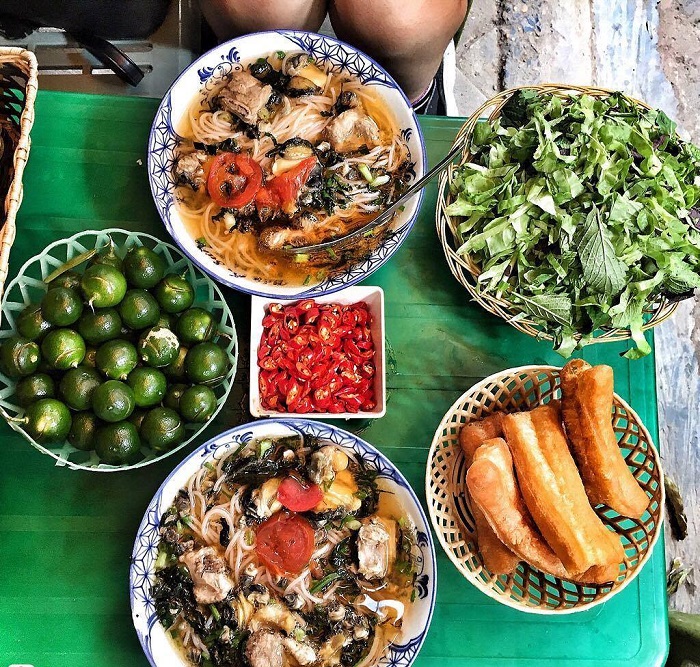 Do not forget to enjoy this hot and fragrant snail noodle dish when visiting Dong Xuan market lane. Photo: jampa
When eating, you add a little chili, the mild spicy taste mixed with the sweet and sour taste on the tip of the tongue, making you eat it all the time. Snail vermicelli here does not add spring rolls, beef or pork rolls like today's snail noodle shops, so eating feels light, not fuller. In the morning, a bowl of vermicelli noodles with vermicelli or hot, fragrant banana beans is a great suggestion.
Above is the 5 suggestion delicious food in Dong Xuan market lane You definitely have to try it when you are confused about what to eat. In addition, Hanoi tourists can also go to this small alley to enjoy the capital's delicious and cheap snacks. Follow Vietnam tourism To update more delicious dishes, cheap food tours across the country.
Yen Yen
According to Vietnam Sports Newspaper