A name that is causing a stir in the tourist map of Vietnam in general and Hai Phong in particular is
Lan Ha Bay
. Coming to Lan Ha Bay is coming to the green, peaceful and poetic nature. If you are intending
Lan Ha Bay travel
In the near future, please note the useful experiences below.
Located in the East Cat Ba islandLan Ha Bay has an area of ​​​​about 7.000 hectares with 376 large and small islands lying on the clear blue water, creating a beautiful landscape picture. Lan Ha Bay Tourism It will definitely give you an overwhelming and unforgettable feeling.
In Lan Ha Bay, even the smallest islands are covered with verdant vegetation. There are also shiny golden sand beaches, for you to freely swim and take pictures.
Lan Ha Bay is a tourist paradise that makes you forget the way back
Best time to go to Lan Ha Bay
The weather of Lan Ha Bay is similar to the North with four distinct springs, summers, autumns and winters. You can travel to Lan Ha Bay at any time of the year because each season has its own beauty.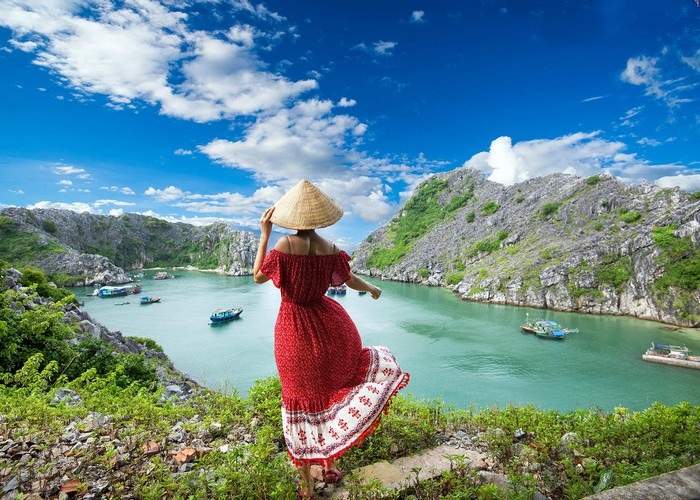 Lan Ha Bay - an underground paradise in Hai Phong. Photo: dulichreview
From April to June, the weather in Lan Ha Bay is typical of summer, quite sunny and hot, with clear blue sky, calm sea, suitable for summer tourism and swimming. From September, the weather here is cold, the air is cool and sunny. The setting is peaceful and quiet, suitable for resort activities.
Thus, according to Lan Ha Bay travel experience Depending on your needs and interests, you can arrange a time to visit this place at any time of the year.
>> See more : Discover Cat Ba Island, which is known as the Maldives resort paradise in the Gulf of Tonkin
How to get to Lan Ha Bay?
Firstly, Lan Ha Bay tourists need to move to the city. Hai Phong then to Cat Ba island to the bay. Hai Phong Only more than 120km from Hanoi, so the travel time is quite fast. From the capital, there are 2 ways to get to Hai Phong, that is by train or by car.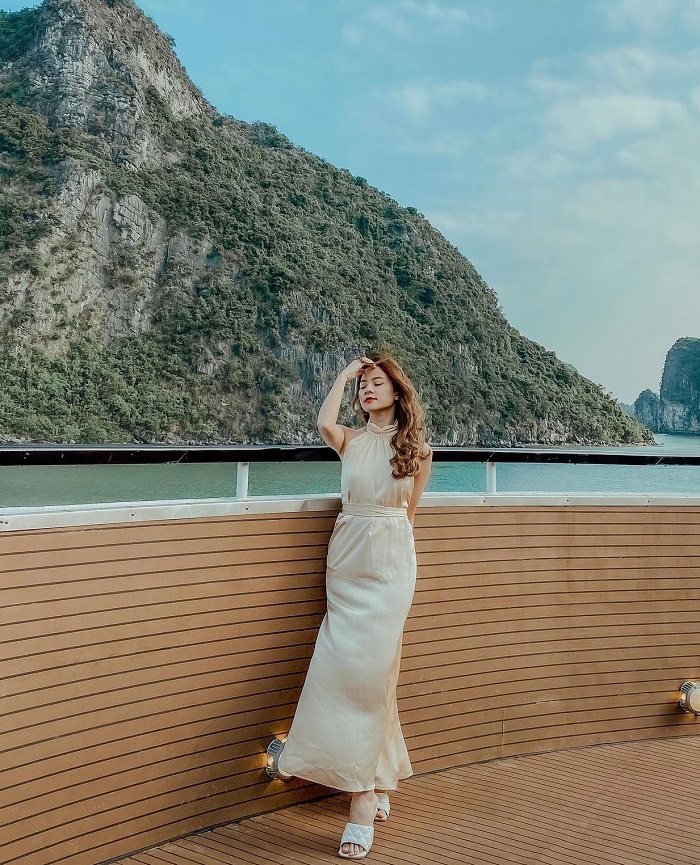 The road to Lan Ha Bay is very convenient. Photo: Nhimsoc13
+ Passenger car / private car: Travel time by road only takes about 2 hours. Buses depart continuously at Gia Lam bus station, Nuoc Ngam bus station with a ticket price of 80.000 - 150.000 VND depending on the vehicle, depending on the trip. You can choose a limouse if you want to take it to your home. In addition, according to Hai Phong backpacking experience , you can completely drive by yourself along the Hanoi - Hai Phong highway. The path is easy and quite fast.
+ Train: From Hanoi station, tourists to Lan Ha Bay can choose HP1, LP3, LP5, LP7 trains to Hai Phong. Train ticket price is 105.000 VND / person and travel time is about 3 hours.
+ Plane: The city of red phoenix flowers has Cat Bi airport. Therefore, tourists from afar can also choose to fly to Hai Phong. Follow Lan Ha Bay travel experience , airfare from Ho Chi Minh City to Hai Phong from 1,1 million VND / way. From Da Nang to Hai Phong, the airfare is from 600.000 VND / way. Airlines such as Vietnam Airlines, Bamboo Airways, Vietjet... all operate this route.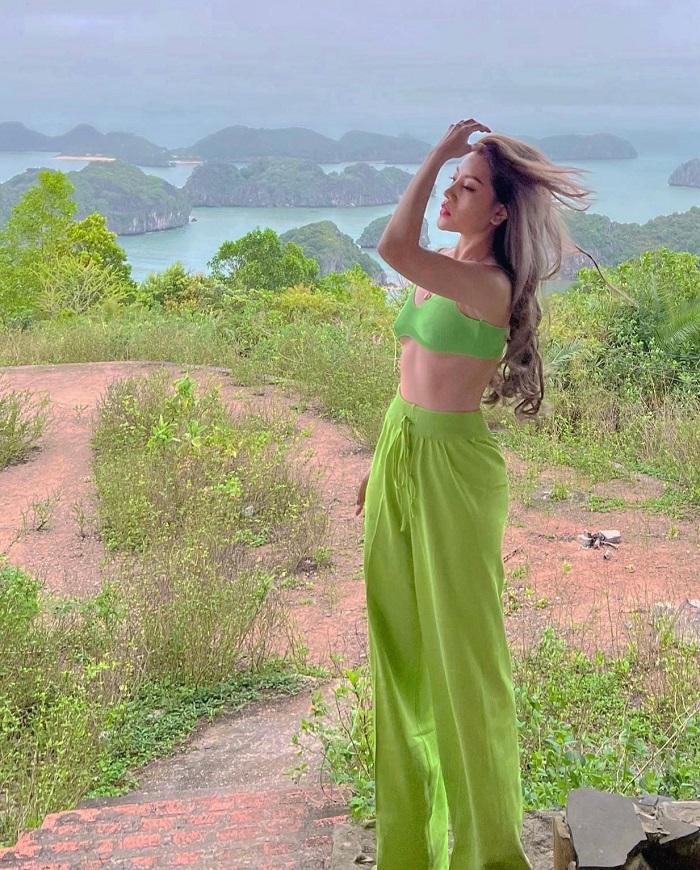 Lan Ha Bay - the ideal place for fun and relaxation for you and your family. Photo: bongflicka
At Binh wharf, visitors board a boat directly to Cat Ba island. The advantage is that the travel time is fast but can cause you to get seasick. In addition, you can choose a speedboat to Cai Vieng wharf, then take a bus to the center of Cat Ba.
From Cat Ba, visitors to Lan Ha Bay buy a ticket of 30.000 VND/person at Cai Beo wharf, then take a boat or canoe to the bay. Groups of 25 or more guests should rent a boat to the bay. If going with a few people, visitors choose to get off the machine for convenience, the rental price is 500.000 - 1 million VND.
Where to go to Lan Ha Bay?
Theo Lan Ha Bay experience Here, accommodation services are quite diverse with types of bungalows, homestays, resorts... Guests usually stay at Monkey Island, Van Boi Island, Nam Cat Island, and raft houses. floating near Viet Hai … if you stay overnight.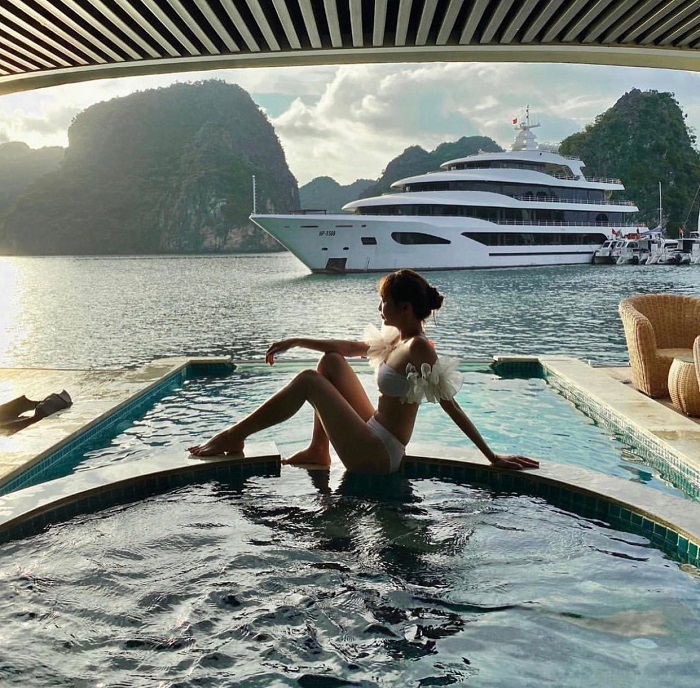 You can stay at a homestay, a yacht... when traveling to Lan Ha Bay. Photo: capellba_cruise
On Lan Ha Bay, there are also yachts such as Little Cat Ba Boat House, Cat Ba Cruise, Serenity Cruise... designed to serve overnight guests. This is also an interesting experience for visitors when enjoying the feeling of watching the sea and floating on the sea.
What to do in Lan Ha Bay
Lan Ha Bay tourism is to come to the green nature, away from the hustle and bustle of the city. The ideal time is that you should spend 2 days 1 night when visiting this place. If you are wondering What to do in Lan Ha Bay? , you can refer to the suggestions below:
Visit famous places
Luon Cave : Referring to famous places in Lan Ha Bay, Luon Cave is definitely not to be missed. As the name suggests, this cave has a rather low entrance, large bow-shaped. The water here is so clear you can see it in the mirror. Tourists travel to Lan Ha Bay will row the boat through the cave. Right from the entrance of the cave, you will feel the excitement, and this is also the ideal address to check in "virtual life".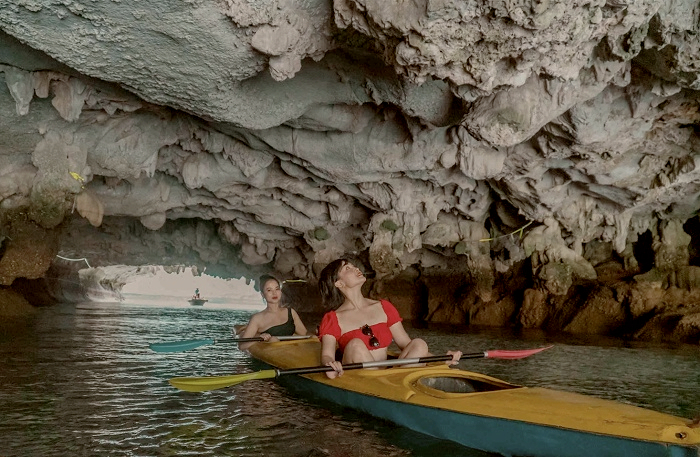 Luon Cave is an interesting place to visit when coming to Lan Ha Bay. Photo: Catbapanorama
Cai Beo fishing village: The ancient Cai Beo fishing village is located on the Cat Ba archipelago with an age of up to 7.000 years, with more than 500 households living. Up to now, the fishing village still retains its long-standing cultural values ​​and unspoiled beauty that attracts domestic and foreign tourists. In the list things to do in Lan Ha Bay Don't miss visiting this fishing village.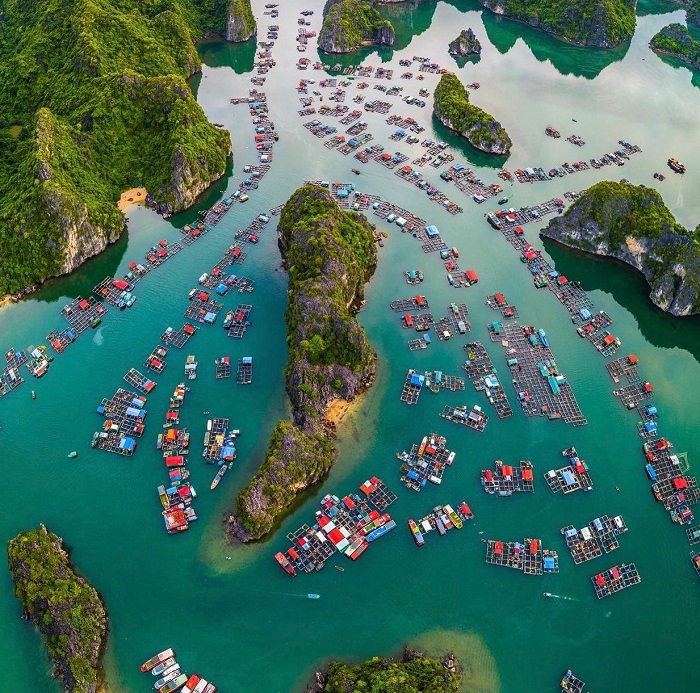 Beautiful view from above of Cai Beo fishing village. Photo: Quytran83qn
Nam Cat Island: It is no coincidence that Nam Cat Island is considered by many tourists as an underground paradise. The natural scenery here captivates people. The small island has a romantic stretch of beach, surrounded by mountains. The scenery here is poetic, peaceful and equally majestic. At this point, all worries and smog in urban areas seem to be completely removed. The sea water is very clean, the sand is fine white, it is difficult for words to describe.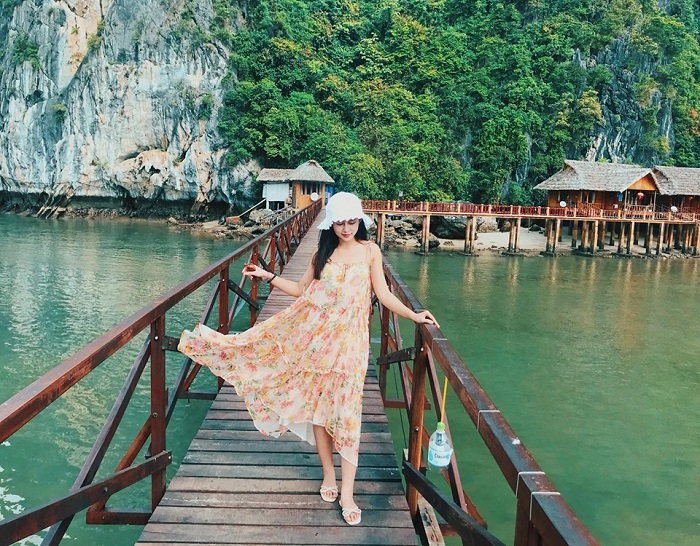 Nam Cat Island promises you many beautiful virtual live photos. Photo: ngancandy89
Go to the beach
What to do in Lan Ha Bay ? Swimming is definitely not to be missed. The sea water here is very clean and clear, you can see the bottom. Tourists come to visit Lan Ha Bay You can freely swim in the sea, immerse yourself in the cool water to dispel the harsh summer sun. Visitors can also dive and watch schools of colorful fish swimming around.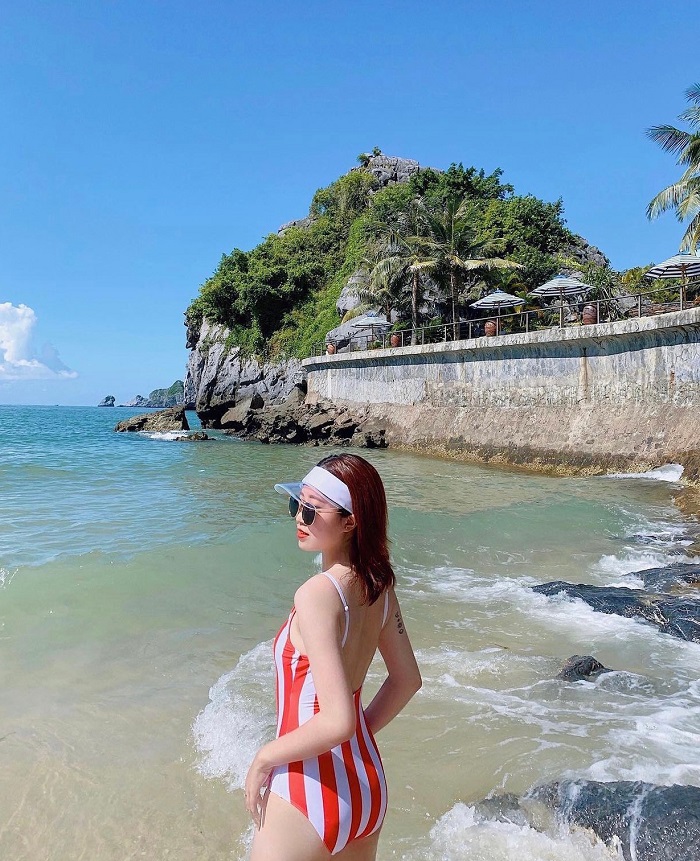 Coming to Lan Ha Bay, you will be able to swim in the cool, clear blue water. Photo: htag
Climbing
If you are adventurous and like a challenge, climbing in Lan Ha Bay is a great activity for you. The cliffs are craggy and steep, stimulating the endurance of the backpackers. Tourists in Lan Ha Bay You can go to Ca Cave, Hon But, and Tien Ong Island to participate in climbing activities. The terrain is quite easy and short, suitable for even amateur climbers.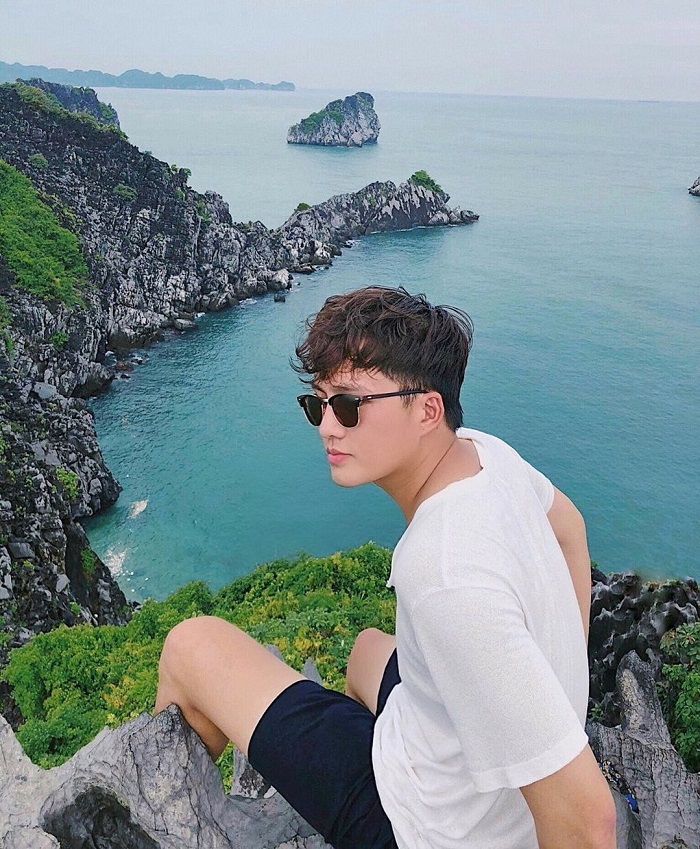 Lan Ha Bay is also an ideal climbing destination for those who love challenges. Photo: manhtienkhoi
Note when climbing, visitors should pay attention to the limestone mountains at the mouth of the cave and in the cave as well as the starting terrain to ensure safety for their trip.
Kayaking
Kayaking is also an attractive activity on the list things to do in Lan Ha Bay . With boating, visitors can choose to rent a self-rowing boat or buy a kayak tour while sailing and diving to see the coral.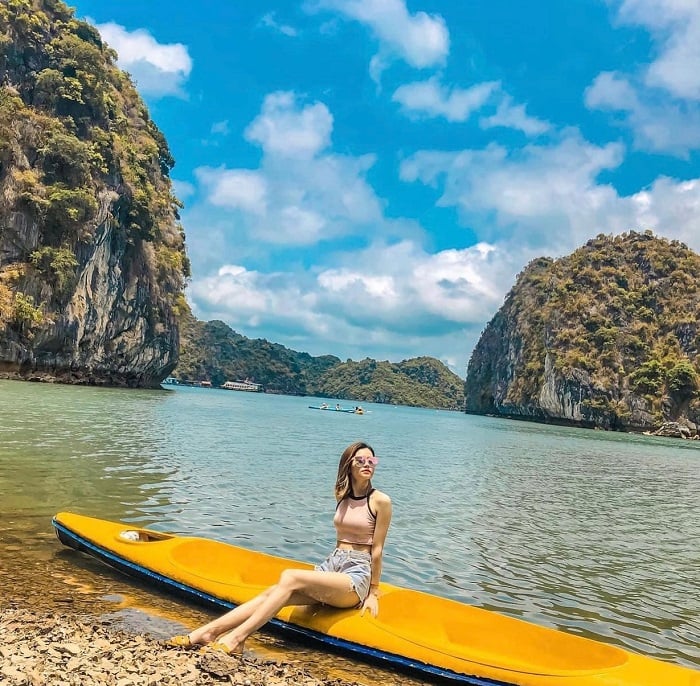 Tourists can rent rowing boats or go on a tour. Photo: saigonlienminh
Boat rental price is only from 50.000 - 100.000 VND / boat / person, no time limit. This is also an interesting experience when exercising while discovering the most beautiful places in Lan Ha Bay by yourself. According to my experience Lan Ha Bay travel Tourists often go kayaking in the area of ​​Mekong cave, Dark cave, Sang cave… Another note is that when kayaking, you should not have too many personal belongings and should wear clothes. life jacket.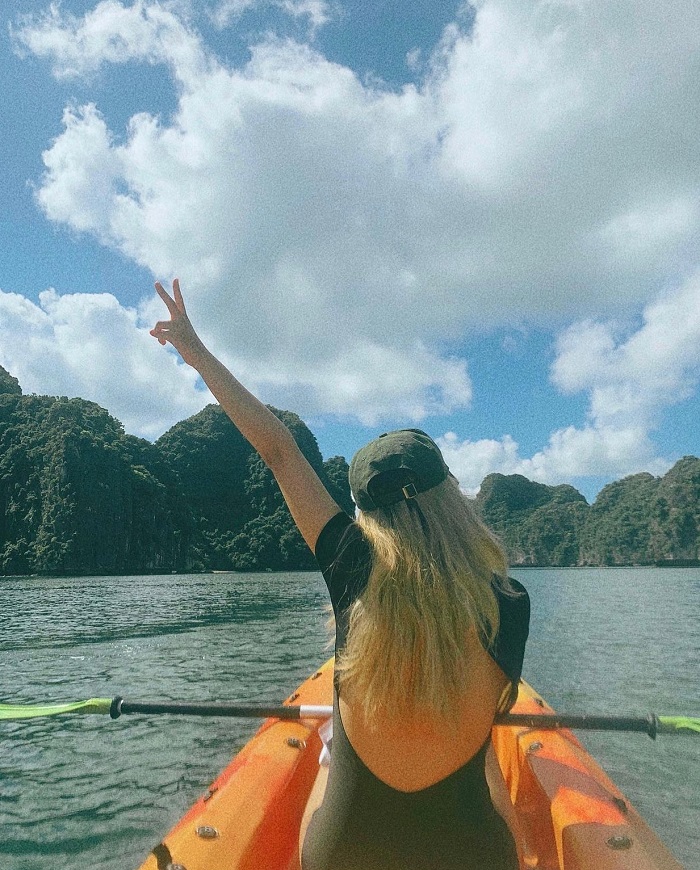 Kayaking to discover the beauty of Lan Ha Bay. Photo: ngmailinh
See the sunset
For romantic believers or couples in love, watching the sunset on the sea in Lan Ha Bay tour This is a great suggestion for you. The bright red sun covers the entire space of Lan Ha Bay, the last bit of sunlight sparkles like a diamond on the sea surface and then slowly disappears behind the beautiful cliffs like an art picture. Don't forget to fully charge your phone because this moment will give you hundreds of thousands of likes.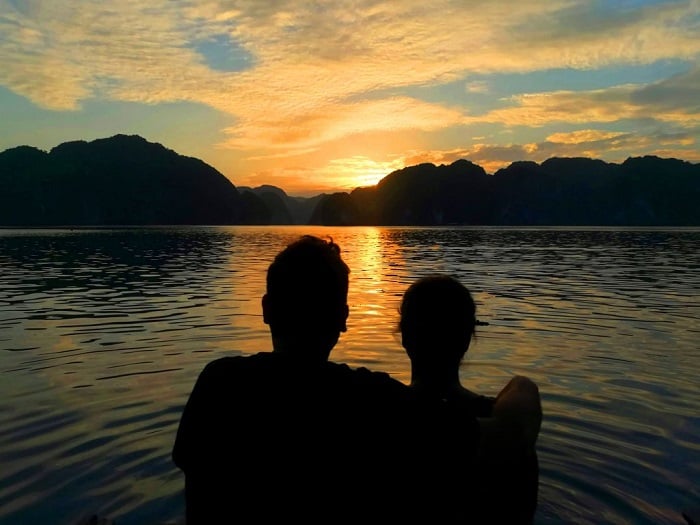 Romantic sunset scene at Lan Ha Bay. Photo: masalamg
Delicious food in Lan Ha Bay
Traveler to Lan Ha Bay Don't forget to enjoy the famous dishes here. Delicious dishes in Lan Ha Bay must include:
Comedy Tu: The specialty in Lan Ha Bay is Tu comei that is both fresh and delicious, and the meat is tough. Tu comei is processed into many delicious dishes such as grilled onion, porridge or salad. The price of comedians at restaurants is quite high, from 50.000 - 70.000 VND / child.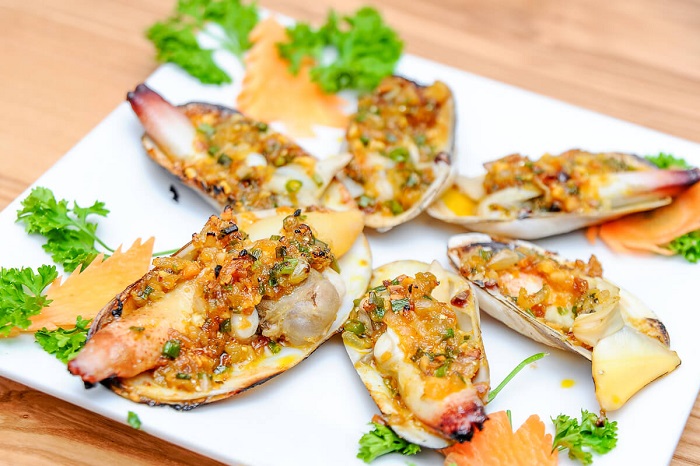 Tu comei is processed into many attractive dishes. Photo: dvn
Green Crab: This species only lives in salt water with a depth of 4-10m. Green crabs in Lan Ha Bay are caught on the same day, so they are very fresh and firm. People often process steamed green crab with lemongrass with beer. When eating, diners dotted with salt, pepper, and chili are hard to resist.
Oysters: A delicacy in Lan Ha Bay is blood cockles. This dish is grilled on a hot coal stove and served on the spot. Blood cockles are nutritious, eat without being sick.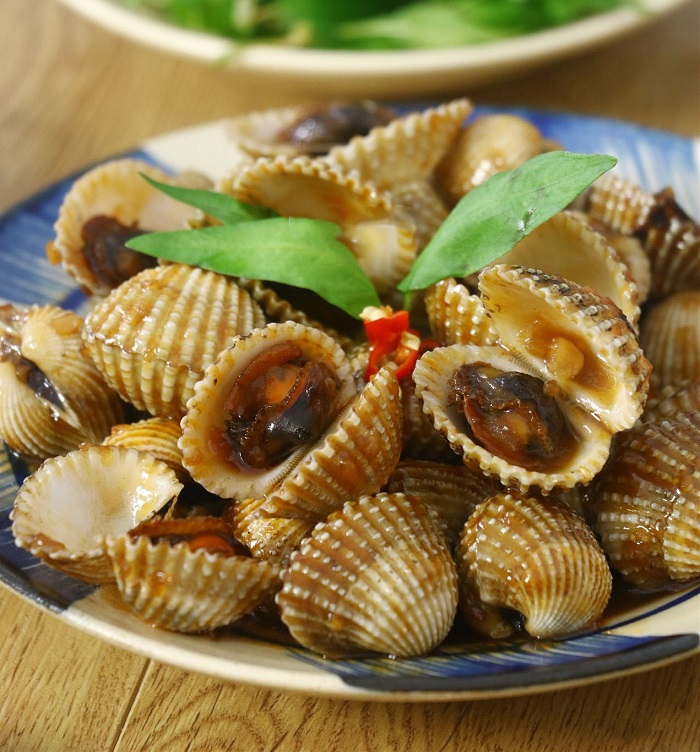 Blood cockles are also a specialty that should be tried when coming to Lan Ha Bay. Photo: ahalong
Sat: There are many attractive dishes made from sam such as porridge, sweet and sour fried sam, vermicelli... but the best is still grilled sam. Gourmet diners often use grilled sam with peanuts, sour grapefruit, fried with onion fat, dipped in fish sauce ... and drink cold beer. Just eat once, you can't forget this delicious taste.
In addition, many types of seafood such as squid, octopus, surface, table mai ... are also famous specialties, delicious dishes not to be missed by visitors.
Other fun places near Lan Ha Bay
Near Lan Ha Bay, there are many other famous destinations. Tourists travel to Lan Ha Bay can be combined Visiting Cat Ba Island, discover the pearl of the North Hai Phong.
Monkey Island: Monkey Island Also known as Cat Dua Island, is located in the south of Lan Ha Bay, in the Cat Ba archipelago, only 2 km from the center of Cat Ba town. Ticket price to visit this island is very cheap, adults are 50.000 VND / person. As the name suggests, this is the common home of more than 20 mischievous monkeys. Here, Tourists in Lan Ha Bay can play and feed them.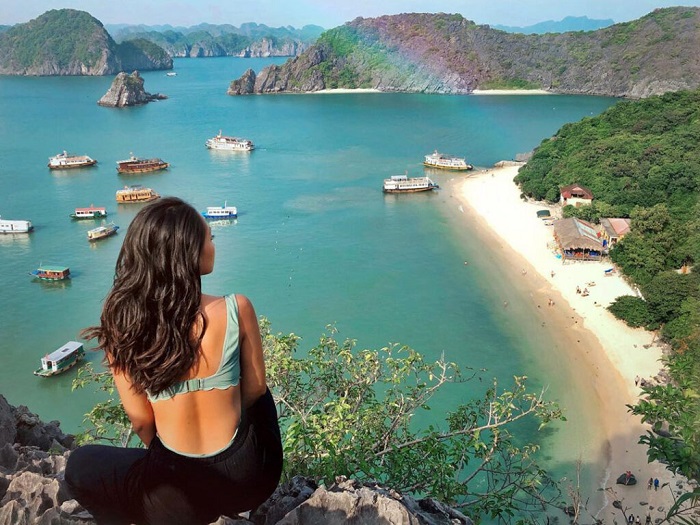 Near Lan Ha Bay, there are many famous attractions. Photo: Grand Fleuve Boutique
Viet Hai fishing village: Located deep in Cat Ba National Park, Viet Hai fishing village is a peaceful, rustic place, completely separate from the outside. Visiting Viet Hai fishing village, visitors can rent bicycles to walk around the small road, admire the beautiful scenery on both sides of the road, explore the houses, learn about the people's life or explore the forest. The wild and rustic beauty of this fishing village with both mountains and sea gives you an incredible feeling of freshness.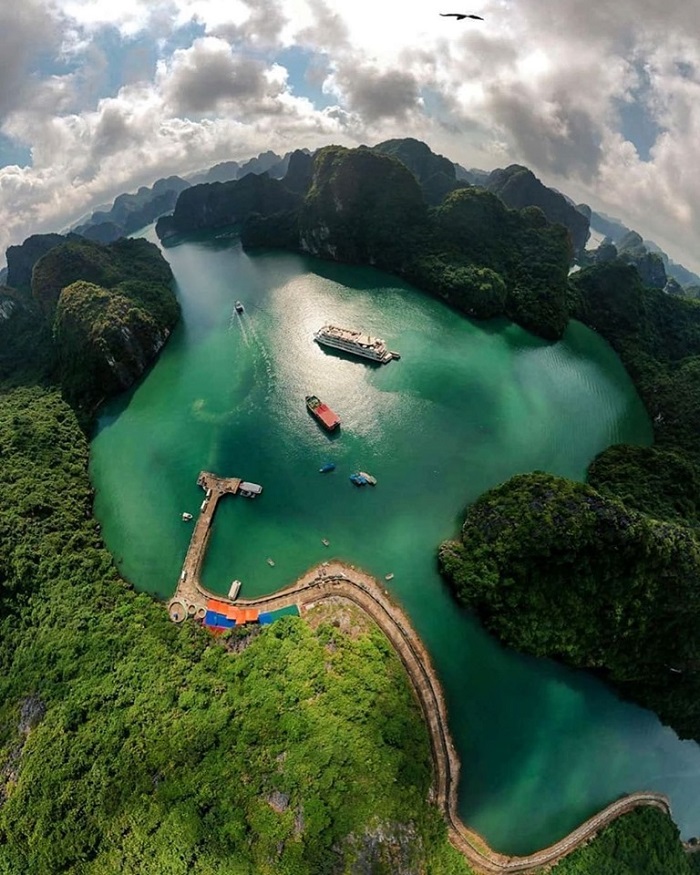 Viet Hai village pier seen from above. Photo: Catbaexpress
Military Medical Cave: Military Medical Cave Located on the main road of Cat Ba National Park, it is considered the most unique and hundreds of years old historical symbol of Hai Phong city. Ticket price is 80.000 VND / adult, 40.000 VND / child under 1m2. Hang Quan Medical used to be a field hospital during the resistance war against the US to save the country. Up to now, the architecture of the cave is still relatively intact. Visiting this place, you will feel a part of the revolutionary activities of our ancestors during the years of fighting against foreign invaders.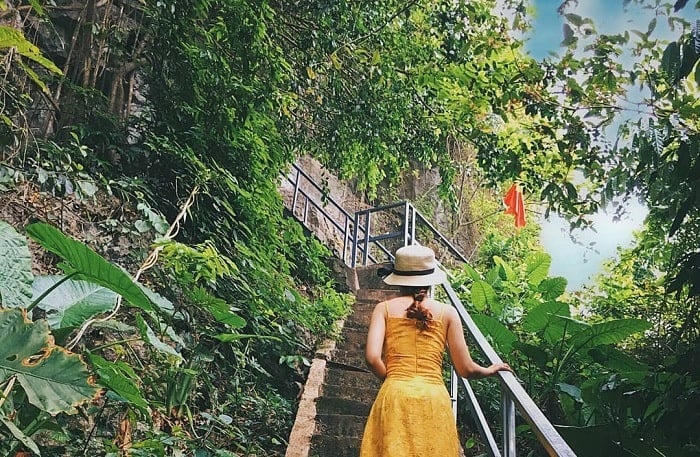 Quan Y Cave is a historical site in Cat Ba. Photo: Bekatravel
Here is the experience Lan Ha Bay travel details from AZ for you. Visit Vietnam tourism to update more destinations, useful travel experiences.
Yen Yen
According to Vietnamese sports newspaper