Quang Ninh is a famous tourist destination in the country with many diverse types of tourism and many attractive tourist attractions that are hard to ignore. Famous as Ha Long Bay – World natural heritage, Quan Lan, Co To, Tuan Chau, Yen Tu scenic spots… and top entertainment places such as Ha Long sunword, Tuan Chau amusement park, New Ha Long Club, Ha Park Lan, Vincom Center Ha Long… Only 1 day is a limited time to explore this paradise land. So " Quang Ninh tourism Where should I go for a day? " of Tripmap.vn will suggest the most perfect itinerary for you.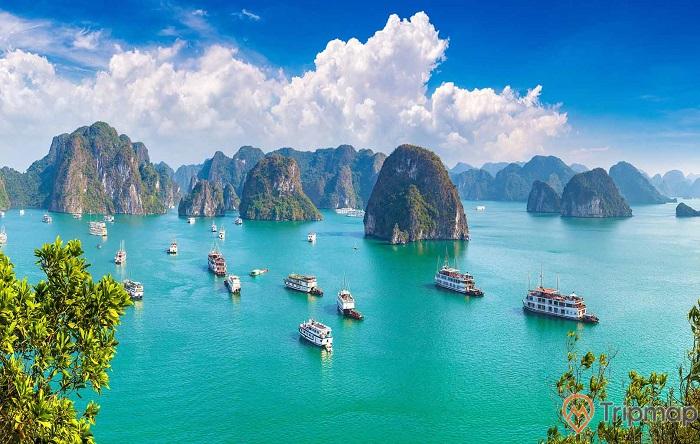 Where to go in Quang Ninh 1 day?
Ha Long Bay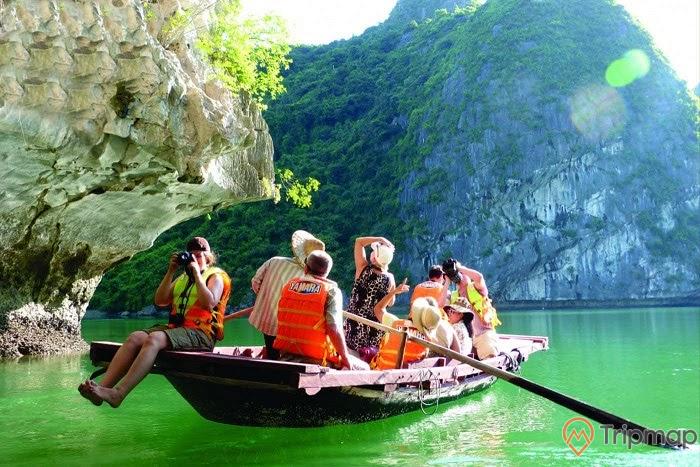 It can be said that Ha Long Bay is the most attractive tourist destination in Quang Ninh, the tourist center of the country, and has been recognized by UNESCO as a natural heritage of the world many times. Favored by the Creator, the fairy scene with majestic mountains, blue sea, thousands of rocky islands, mysterious and fanciful caves enchanting people's hearts. Viewed from above, the whole bay is like a charming, quiet and magnificent painting. Anyone traveling here will be conquered by the breathtaking natural landscape and many unique tourist experiences.
Quang Ninh Museum
With limited time in just one day, Quang Ninh Museum is the second most ideal place to visit and learn about the culture of the inhabitants of the mining area. Quang Ninh Museum is known as the mysterious black pearl on the heritage bank. Owning a unique design, breaking the way, the outside is covered by mysterious, transparent black glass panels, reflecting the sky, clouds, water and people of Ha Long. Inside is a 2-storey space displaying many valuable artifacts, recreating nature, the sea, people and the history of the coal industry. Visiting the museum, visitors not only admire a classy design but also see a miniature Quang Ninh in sight.
Suggest the most perfect 1 day Quang Ninh travel itinerary
Morning
6hoo: Guests wake up and have breakfast.
7:00: Departure to Ha Long Bay. Tourists travel to Ha Long Bay by yacht or seaplane. These are the two most ideal means of visiting heritage sites. You can comfortably watch the quiet nature of this charming place and check-in your hands.
12h00 ; Guests have lunch and rest.
Afternoon :
14h00: Visiting Quang Ninh museum, visitors visit the lobby on the 1st, 2nd and 3rd floors.
17h00: check-in the space outside the museum. Then proceed to have dinner and start the journey back to the starting point.
Share Quang Ninh travel experience 1 day
To make your trip as convenient as possible, you should keep a few things in mind:
If you do not have time to plan a 1-day trip to Quang Ninh, you should contact to book a tour at travel agencies.
If traveling by motorbike, you should bring enough driving license, identification papers, motorbike insurance. Prepare food and drink to replenish energy when resting.
If you come to Quang Ninh in the peak season, always be careful to protect your property and personal belongings to avoid pickpockets.
Ticket prices to visit tourist attractions in Quang Ninh vary from time to time. Therefore, you should regularly update information about ticket prices close to the date of departure.
Traveling to Quang Ninh 1 day, where to go, shared above is the most perfect itinerary to help you save time and money. Hope to bring you the most useful information. In addition, Quang Ninh has many other attractive places waiting for you to travel in the near future.