Ha Long is a coastal city in Quang Ninh province. Ha Long not only possesses beautiful landscapes of bays, caves and mountains, but also converges many modern, luxurious and top-class tourist complexes in the country. Currently, this coastal city is a tourist paradise for domestic and foreign tourists. So, what is there to experience here? Find out with Tripmap.vn in the article below.
Where is Ha Long located?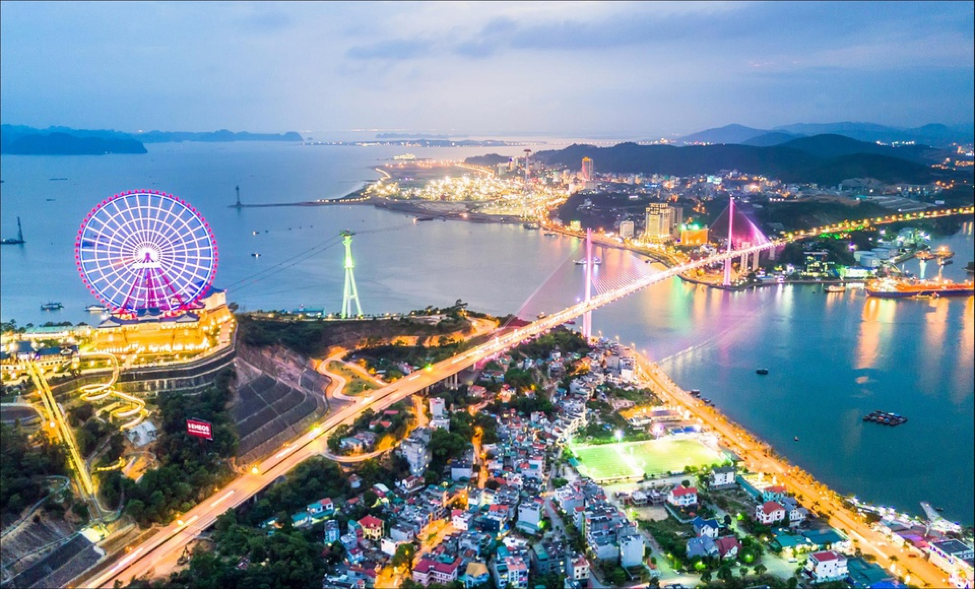 It is the most developed central city of Quang Ninh province, located in the northeast of Vietnam. This is a young, dynamic, most livable city in the country. To the south of the city, it borders Ha Long BayIt has a 50km-long bay along the coast, in addition, it borders Cat Hai district and Hai Phong city. North Ha Long City borders Bac Giang province, the East borders Cam Pha city and the West borders Uong Bi city and Quang Yen town.
How to go to Ha Long and move in Ha Long?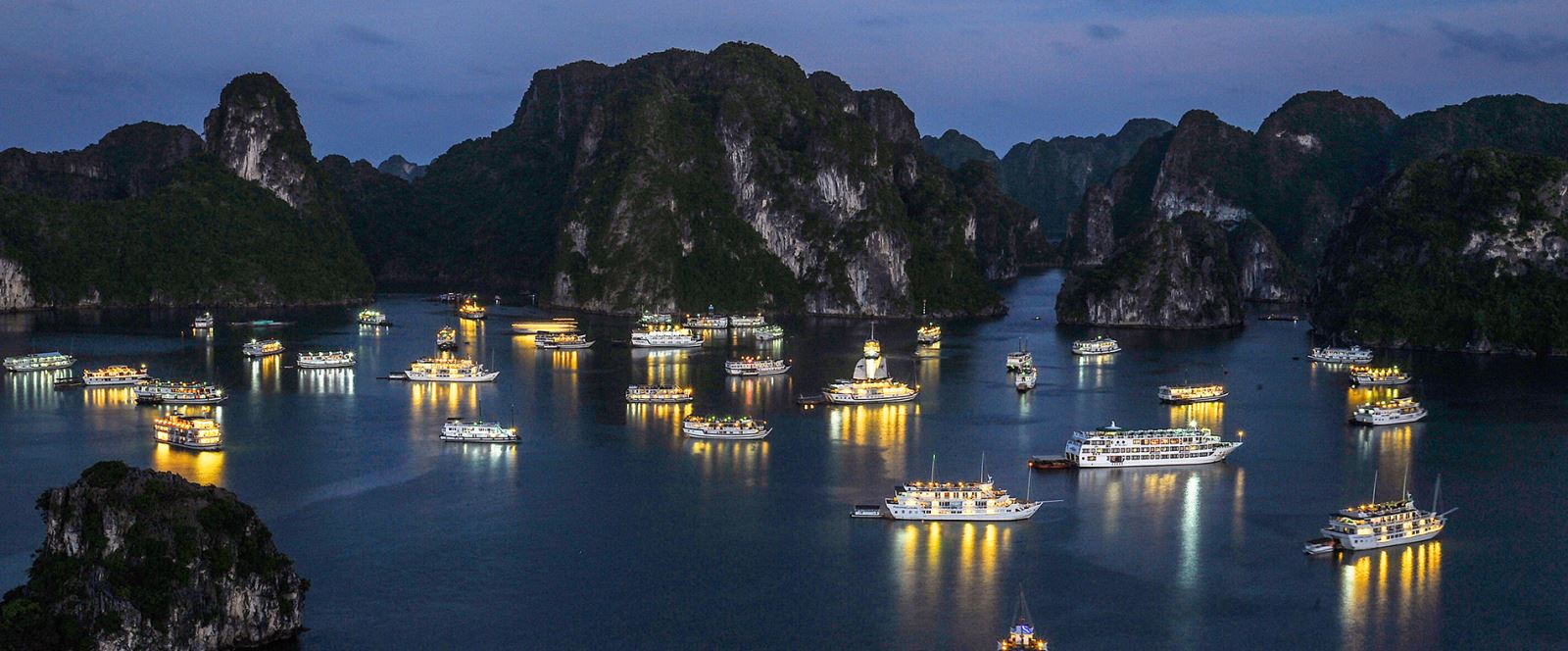 Ha Long is a tourist city and an important traffic hub of the Northern region. Therefore, road, waterway or rail traffic is very developed. The northern provinces can reach Ha Long by car or train, while the southern provinces can come here by air.
Travel from Hanoi to Ha Long
If you come from Hanoi, there are many convenient and fast ways to travel to Ha Long by many means
Auto and Moto
The road trip by motorbike or car from Hanoi to Ha Long can take 3 hours along the route Hanoi - Bac Ninh - Ha Long with 3 routes:
165km route: Hanoi – Highway 5B – Dinh Vu Port (Hai Phong) – Hai Phong Expressway – Ha Long (the most time-saving route)
155km route: Hanoi (road 5) – Sai Dong fork (10km) => Sai Dong (road 1) – Bac Ninh (23km) => Bac Ninh (road 18) – Pha Lai – Chi Linh – Dong Trieu – Uong Bi – Ha Long (122km).
160km route: Hanoi (Noi Bai airport road) - Bac Ninh (32km) => Go to National Highway 18A to Pha Lai - Sao Do - Dong Trieu - Uong Bi => Ha Long.
By Coach
To ensure safety and health, save money, traveling by bus is the best solution. Buses from My Dinh and Luong Yen bus stations to Ha Long usually depart at 6am, the last at 5pm. This journey also takes about 3-4 hours. Buses will be spaced from 5 to 15 minutes apart, getting off at Bai Chay wharf in Ha Long. Ticket price for seats is about 100.000 VND/person, while sleeping seats fluctuate 200.000 VND/person.
Train
If you like to experience the train, you can choose the Ha Long Express train from Gia Lam station, to Ha Long station takes about 5 hours for about 100.000 VND / person / way.
Move by tour Ha Long
If you come to Ha Long by tour, you are completely assured and comfortable because everything has a travel service to calculate the cost and package for you. You just need to carry your travel backpack.
How to travel from the southern provinces to Ha Long
Due to the distance, you should choose to travel by plane, car, bus or train. However, you also have to travel many stages to reach Ha Long.
Cars/passengers
If you do not have your own car, traveling by bus is also very secure. This is the way to experience the beauty of the road from South to North. This journey is about 1721km long and takes 33 hours.
Plane
From Ho Chi Minh City, you can fly to Noi Bai Airport in Hanoi or Cat Bi Airport (Hai Phong) and the shortest way is Van Don Airport in Quang Ninh. Ha Long tours from Ho Chi Minh City also follow the flight route, which takes the least time to travel.
But in my opinion, go Summer Long you should go to Hanoi will be the starting point of the Ha Long tour or the easiest car rental.
1. Flight routes from the city. Ho Chi Minh City to Hanoi is the most, cheap fares give you many options in terms of time.
2. Daily tours to Ha Long, travel companies in Hanoi run all year round. The cheapest. Stable service.
3. If you return to Hanoi, you can connect other tours more easily.
Train
If you take the train, you will have to go to Gia Lam station (Hanoi) and then continue to Ha Long station.
Moving in Ha Long
It must be said that moving in Ha Long is extremely convenient with a variety of vehicles such as axis, motorbike taxis, Grabbike, Grabcar, bus or rent a motorbike yourself if you prefer more comfort. If you go on a cruise or visit the bay, you can take a cruise or seaplane, you will surely have memorable experiences.
What is the best season to travel to Ha Long?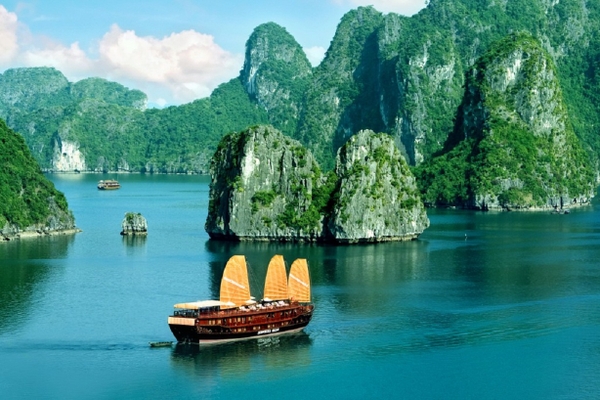 Ha Long weather also includes 4 seasons, but due to the influence of sea weather, the climate is milder, mainly the cold season (from November to March) and the hot season (April to October).
April - June
When Ha Long is the most crowded, Vietnamese tourists come here to have fun, swim, and travel.
July 7
The weather in Ha Long is very stormy, the sea is rough, so Ha Long is very empty, so it is not recommended to come at this time.
April - June
This is the best time to come to Ha Long to have fun. At this time, the sun is still beautiful, the sky is clear, the temperature has not dropped too deeply, so you can still swim in the sea. These months are no longer summer – the season when family members have a lot of rest, so tourists are less. If you do not like too crowded, you can go at this time.
April - June
Due to the cold weather, tourists only come here to have fun, entertain and visit places on the mainland.
Where should Ha Long travel to play?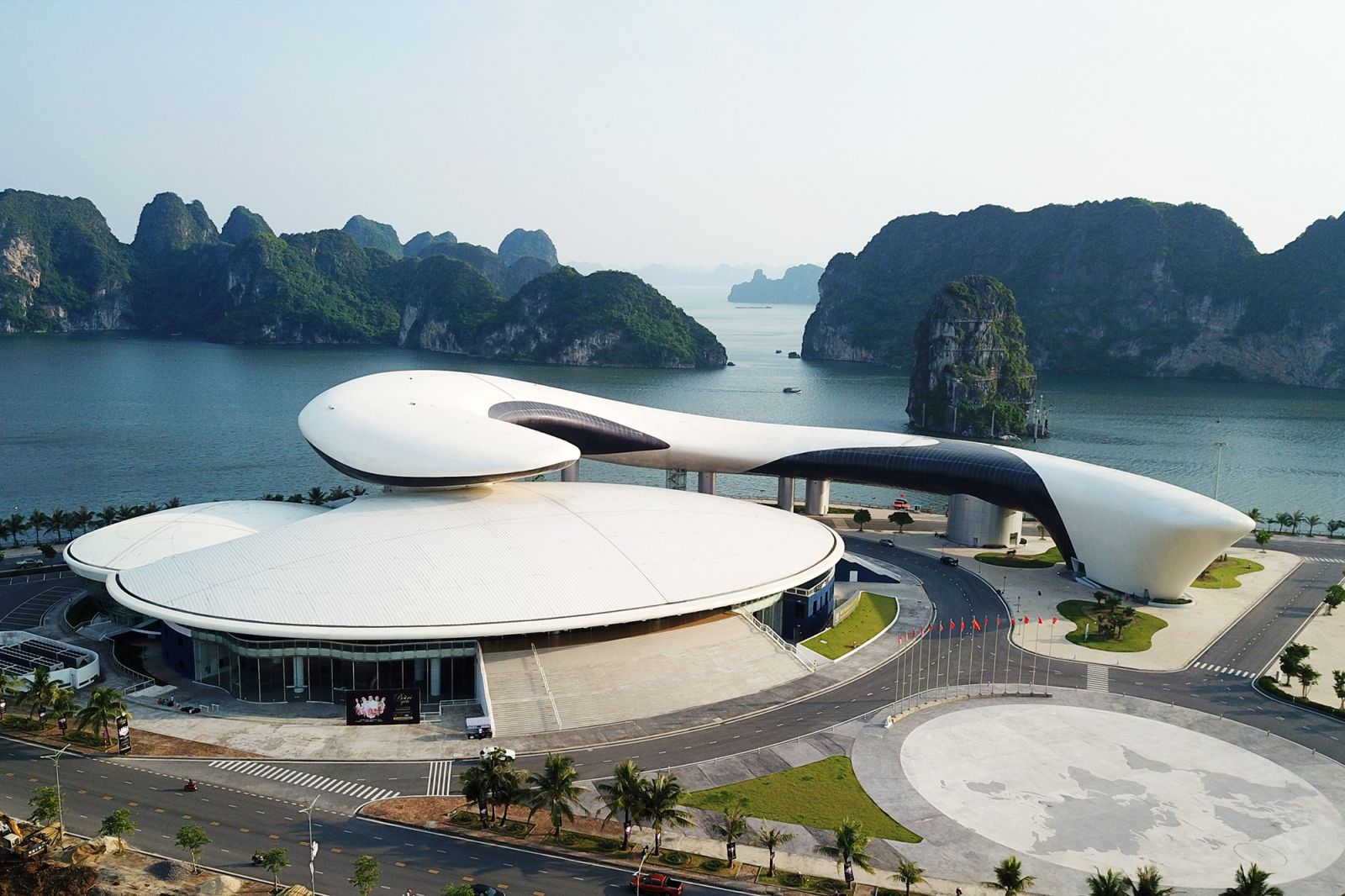 Ha Long not only attracts visitors by the natural heritage of Ha Long Bay, but also famous for many entertainment complexes and many modern, unique and novel works to delight visitors to come and experience, Explore and enjoy.
Bai Chay area
The place that probably attracts the most tourists is Bai Chay beach. This is the largest and most beautiful artificial beach in Quang Ninh with a sand beach of more than 500m long and 100m wide. This place has a fresh climate with summer planning
Modern, synchronous floor, providing a variety of entertainment services. In particular, Bai Chay Bridge - Ha Long's palace is one of the extremely impressive check-in points for young people. Together with Sun World entertainment complex
Ha Long Park Sun World complex offers visitors many options: Dragon Park - including adventure games, thrilling games; water park Cyclone Bay, Ba Deo amusement park
Built in a Japanese-style architecture with a sun wheel, Sun World artificial beach, Food and Shopping area. has contributed to creating a highlight, promoting multi-tourism development activities
schedule for this place.
Sun World Ha Long Park
This is a large, modern, world-class amusement park complex with many different entertainments for all ages. Combination Sun World Ha Long includes 2 main areas: coastal entertainment area and amusement park
play on the top of Ba Deo, these two areas are connected by a unique sea-crossing cable car system called Queen Cable Car.
The Sun World complex offers visitors many options: Dragon Park - including adventure games, thrilling games; Vortex Bay water park, Ba Deo amusement park built in a Japanese-style architecture with a sun wheel, Sun World artificial beach, Food - Shopping area.
Ha Long Old Town
With a unique and delicate architecture, simulating ancient architecture in Hoi An and Hanoi, it is a place to attract young people to check-in and live virtual. Coming here, you seem to be lost between Hoi An and ancient Hanoi. The neighborhood is extremely busy with two
Bustling frontage by restaurants, shops.
Ha Long Night Market
Located on Ha Long Marine Boulevard, this is the most crowded destination at night in the coastal city. With more than 100 large and small stalls selling clothes, shoes, souvenirs to confectionery, seafood specialties ... this night market is the destination of domestic and foreign tourists when traveling to Ha Long.
Ha Long Bay
Recognized as a World Natural Heritage site and voted as one of the New 7 Natural Wonders of the World, Ha Long Bay is the focus of every tour when coming here. Possessing the beauty of the water and the sky, the scenery is like a fairyland with hundreds of large and small stone islands, a magical limestone stalactite cave complex. Visitors who come here to enjoy can choose from Halong cruise tour During the day, or overnight cruises on Ha Long Bay are extremely interesting.
It is the most famous and beautiful cave in Ha Long Bay. Going through 100 stone steps, visitors will enjoy the fairy scenery in the cave. The massive stalactites, many strange shapes are shimmering in the colorful lights. The deepest part of the cave is called the 'royal garden', where you can see a transparent lake to the bottom, with a variety of flora and fauna.
This is the largest limestone cave in the heritage bay, dating back 2 million years. This place has a system of stalactites that can change sparkling colors when reflecting the sun
This is the largest limestone cave in Ha Long, dating back 2 million years. With a system of stalactites that can change sparkling colors when reflecting the sun, the scene is very fanciful, mysterious and enchanting.
Located on Bo Hon Island, shaped like an arc-shaped hollow rock, inside is a blue lake in jade color, as smooth as a mirror. The most interesting activity here is kayaking through the cave to admire the magical stalactites of different shapes and sizes, created over millions of years.
Located near Dau Go cave, Thien Cung cave is the most beautiful cave that is open to visitors during the Halong Bay tour. The cave is nearly 10.000m2 wide, has a complex structure, divided into many levels, many compartments with high and wide ceilings and walls. The scenery in the cave is as beautiful as a floating place with a lot of stalactites and stalagmites, so it is named Thien Cung cave.
This is the oldest and most famous traditional fishing village in the province, densely populated, forming a fishing village floating in the middle of the sea, floating on the water. Coming here, visitors can explore the life of local fishermen with fishing and aquaculture activities.
Quan Lan Island
Located on Bai Tu Long Bay, has an area of ​​about 11km2. This is one of the islands that still retains the inherent wild beauty of nature. Therefore, there are many young tourists who love to come here to enjoy, explore and visit the relics of temples, communal houses, shrines as well as the life of local residents on the island.
Co to island
With an area of ​​about 47,3km2, including 50 large and small islands. This place is known as the beautiful green pearl of Ha Long. Every year, Co To always attracts a large number of domestic and foreign tourists to Ha Long to come and relax.
The natural scenery on the island is extremely poetic, fanciful but equally idyllic. The blue beaches, with white clouds, golden sunshine, fine white sand... all will bring visitors to immerse themselves in nature, removing worries from noisy life.
Tuan Chau Island
Dubbed the paradise pearl island, Tuan Chau is a great destination for tourists. Bringing a new look that is extremely elegant, luxurious, modern but equally gentle and quiet. Co To attracts thousands of tourists to have fun, swim, sightsee, relax as well as enjoy many high-class services on the sea, enjoy many attractive, unique and new entertainment programs.
Cai Bau Pagoda
Cai Bau Pagoda It was built on the foundation of an ancient temple called Phuc Linh Tu more than 700 years ago. Possessing a unique architecture, it occupies a prime position when the back is leaning against the mountain, facing the sea. Cai Bau Pagoda is likened to a charming watercolor painting. There, visitors will feel the peace, tranquility, and serenity.
What's delicious about Ha Long specialties?
Squid rolls cake - delicious dish not to be missed when coming to Ha Long
Squid roll cake: Banh cuon filled with meat, wood ear or fragrant vegetarian rolls are eaten with squid rolls and sweet and sour fish sauce. The most unique feature of this dish is that squid rolls must be pounded by hand, deep fried in golden fat; The deep sweetness of the squid, when eaten, is still lumpy pieces of squid mixed in the fatty meat.
Sea buckthorn: Sea sam is processed into many dishes in a miraculous, strange and delicious way such as sam sam, sam's egg, sam salad, sam's blood soup, fried sam with lemongrass and chili... This is not suitable for people with weak stomach or seafood allergy.
Surface vermicelli: Surface shrimp, also known as mantis shrimp (mantis shrimp), brushed shrimp is a type of seafood that is exploited a lot in the waters of Quang Ninh. The fresh surface is boiled as a broth, giving the broth a very attractive sweet taste. A bowl of vermicelli with the outside of the main dish is the skin of the peeled meat, there are also young shrimp, squid or cockerel.
Sacrifice: is a famous seafood in Quan Lan Island (Van Don district). Sa Sung lives hidden in the sand, where the tides rise and fall. Sa worm has high nutritional content, rich sweet taste, can be processed into many dishes such as fresh fried sage with garlic, salad , grilled with salt and pepper or grilled dried sage... Popular with tourists when going Ha Long tourism.
Bored: is a bivalve mollusk, shaped like a clam but with a thick body, black shell, with many layers like ocean waves. Bored living in the mud in the beaches at the foot of the island, the most famous one is in Quang Yen district. Bored is considered a nutritious food, helping sick people recover quickly. The dishes from boredom include: bored porridge, bored grilled, bored cooked spinach, bored wine ...
Where to rest when traveling to Ha Long?
Ha Long extremely developed, along with accommodation facilities also developed, ranging from homestays, hostels, to 2-4 star hotels, or villas, resorts. Room prices fluctuate from 250.000 VND or more depending on the area with many restaurants, near tourist attractions or not. If you are self-sufficient, you can search for accommodation on sites like booking.com, agoda or airbnb.
Above is some general information about Ha Long such as how to come to Ha Long, what is beautiful in Ha Long or what is delicious in Ha Long. Hope this information is useful for you in your upcoming trip to Ha Long.