Saigon is still known as a bustling, modern city with many attractive tourist attractions. Not only that, the cuisine here is also appreciated by many gourmets. If you have the opportunity to visit, do not forget to enjoy this extremely popular cheap Saigon food tour.
Referring to Saigon, surely many people will immediately think of food, because there are countless delicious, attractive and especially affordable dishes here. This place is considered as the culinary center of the whole Southeast region, the cuisine has bold interference between regions, so the taste is very diverse and rich. With only 200.000 VND, you will also have one Cheap Saigon food tour , full belly from morning to evening.
Suggestions for cheap Saigon food tour
Breakfast
Sticky rice
Theo Saigon backpacking experience In the morning on a cheap Saigon food tour, you can eat sticky rice that is both firm and delicious. In Saigon, there are many famous sticky rice restaurants. During the city tour. In Ho Chi Minh City, you can refer to some suggestions such as:
Number One chicken sticky rice restaurant: Located at 15 Nguyen Trung Truc, in the heart of Saigon, Number One chicken sticky rice restaurant is one of the addresses Cheap Saigon cuisine Famous near and far for its beautiful layout and firm chicken. irresistible delicious. The tough chicken, whether shredded or whole, is also very tasty.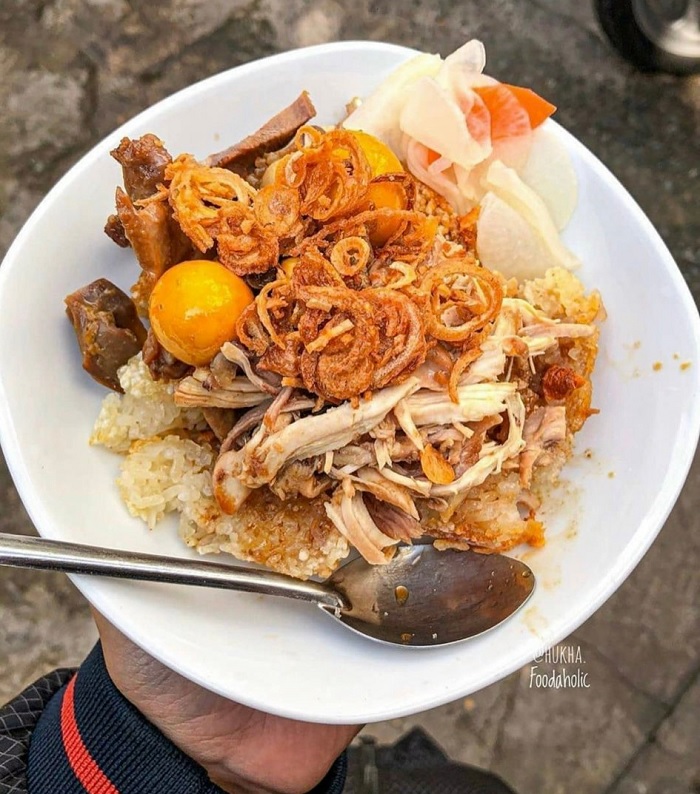 Number One Chicken Sticky Rice brings you a perfect morning. Photo: Shopeefood
In addition, chicken sticky rice also has a part of fried young eggs, stimulating the taste. Spread on the plate of hot sticky rice with chicken is fragrant fried onions, when eating, diners will feel the delicious flavor that blends right from the tip of the tongue. The price of sticky rice here ranges from 10.000 - 35.000 VND / serving.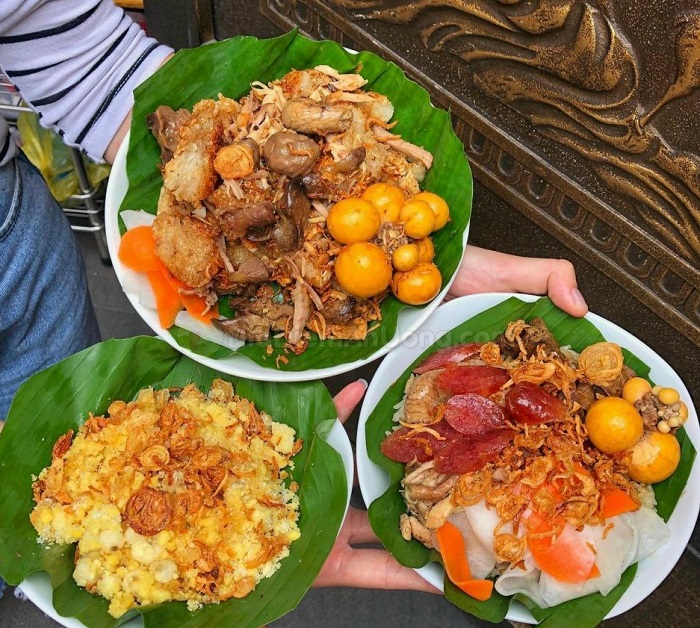 Spinach chicken with all kinds of attractive fillings. Photo: Place to eat
Hai Co spicy sticky rice: Cheap Saigon food tour is definitely not to be missed Hai Co spicy sticky rice. Right from the early morning, Ms. Ly Quoc Huong's sticky rice shop on Nguyen Duy Duong street, An Dong market area (District 5) was crowded with people. The shop is hidden under an old apartment block, but it's not difficult to find. Hai Co spicy sticky rice set full of compliments with enough onion fat, pate, silk rolls, pounded peanuts, hot and fragrant from special spicy sauce.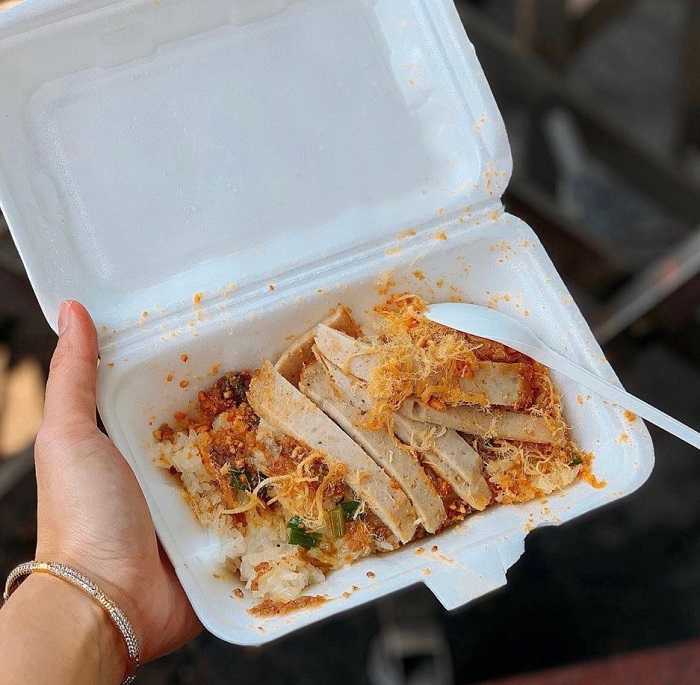 Hai Co spicy sticky rice is a familiar breakfast address of Saigon people. Photo: Regiabydog
The dipping sauce is a great way to help Hai Co's shop always attract customers. It is known that the restaurant Cheap Saigon food tour This dish has a dipping sauce made from a traditional secret with a special chili as the main ingredient. The price is from 15.000 - 25.000 VND / serving.
Lotus leaf sticky rice: If you are wondering What to eat in Saigon? In the morning, try going to Mrs. Hanh's lotus leaf sticky rice shop on the sidewalk of Ngo Thi Thu Minh street, Tan Binh district. Small shop with 4 types of sticky rice, sticky rice gac, sticky rice with corn, sticky rice with peanuts. Instead of styrofoam boxes, sticky rice is wrapped with lotus leaves from Dong Thap, fresh and lightly fragrant. Ba Hanh sticky rice shop is open from 6:30 am to 9 pm, crowded with customers with affordable prices from 15.000 - 20.000 VND for a piece.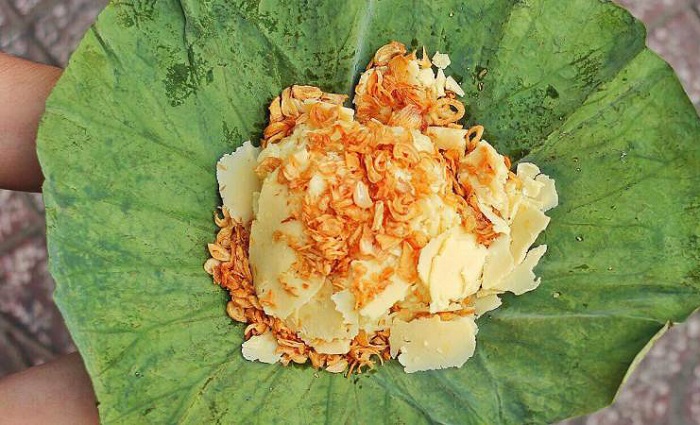 Ms. Hanh's lotus leaf sticky rice is famous in Tan Binh district. Photo: Hanoitv
Whole shrimp rolls
This is also a popular dish in Saigon, but not many shops sell whole shrimp cakes. On Le Dai Hanh Street, Rice paper roll shop with shrimp and meat Loan with more than 30 years of experience is always busy with customers coming in and out. This dish deserves to be on the breakfast list of cheap Saigon tours. The sticky rice shop is open from 6am to 11:30am, serving students and working people.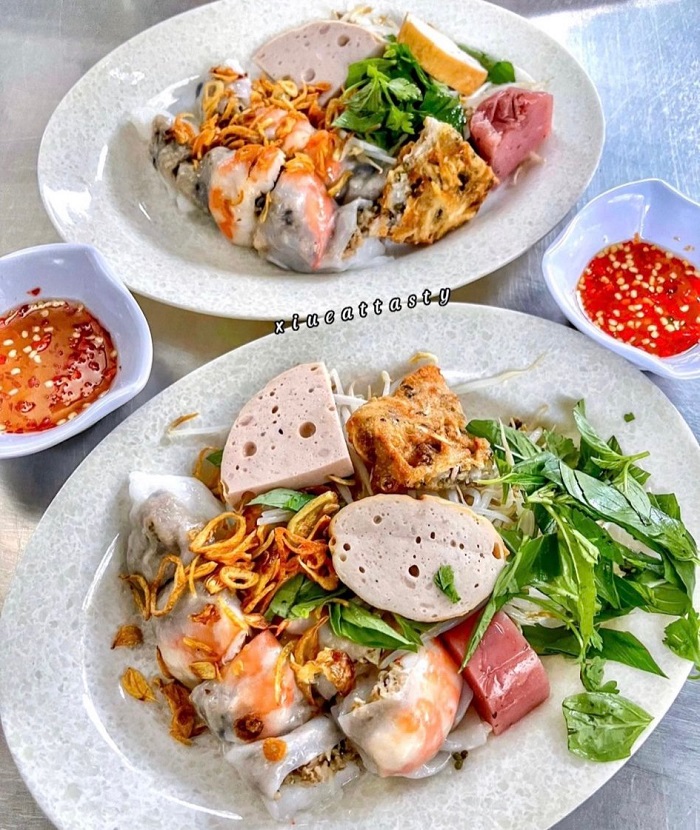 Unique whole shrimp rolls worth trying on Le Dai Hanh street. Photo: xiueatasty
As soon as you step into the shop, you will be overwhelmed by the attractiveness and satiety of the rolls inside Cheap Saigon food tour this. One roll is 1 shrimp cut in half. Deep fried shrimp, fresh and delicious. The rolls are soft, thin on the outside, hot. The price of a meal starts from 40.000 VND.
>> See more : Cooling off super delicious summer with unique ice cream dishes in Saigon, looking like you just want to 'eat right in'
Lunch
Broken rice
Referring to Saigon cuisine, it is impossible not to mention the name broken rice with ribs. This dish is loved by many locals and tourists. You can have breakfast, lunch or dinner for 30.000-50.000 VND.
Ba Ghien broken rice: One of the best eateries in City Ho Chi Minh Not to mention is Ba Gien broken rice. Don't forget to enjoy this eatery to have a Cheap Saigon food tour completely. Ba Ghien broken rice has been around for a long time, impressed by the super large, golden rib, which is seasoned to taste. There are also skin, eggs, spring rolls, tofu with pickles and rich fish sauce. The shop is located right on Dang Van Ngu street, Phu Nhuan district.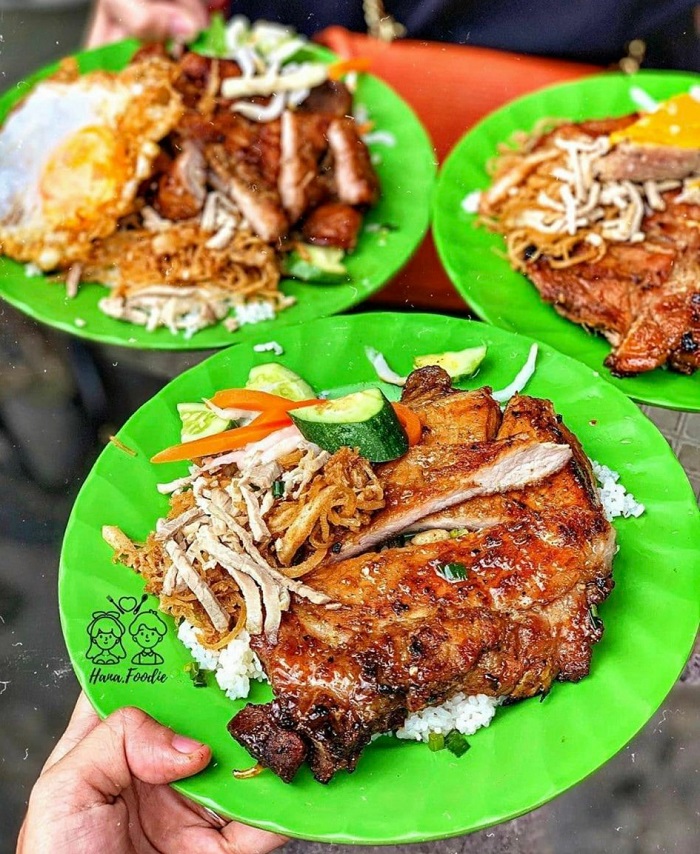 Ba Ghien broken rice - a dish worth trying when visiting Saigon. Photo: Shopeefood
Do Phu Coffee - Dai Han broken rice: With a unique style, Do Phu coffee - Dai Han broken rice on Dang Dung Street, District 1 is also an interesting dining spot for tourists in Ho Chi Minh City. Ho Chi Minh. This broken rice restaurant had a breakthrough, combining Vietnamese food with Korean kimchi. Fried chicken eggs with fried rice are greasy without feeling sick. Grilled ribs at Do Phu coffee - Dai Han's broken rice is well seasoned, add a piece of char siu, eat it all the time without feeling tired. The price for this is 60.000 VND.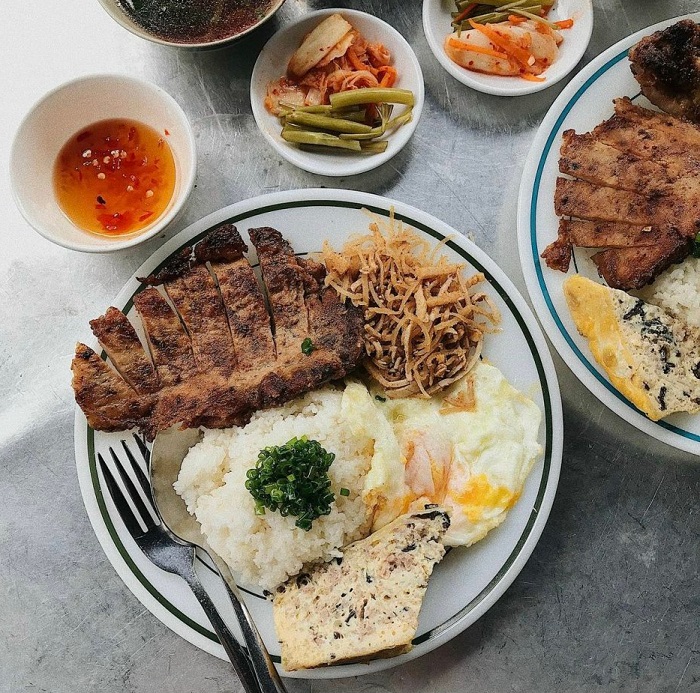 Dai Han broken rice restaurant has a unique space, an interesting check-in address for you. Photo: pungpeos
Bui Saigon broken rice : Follow Experience going on a cheap Saigon food tour , a popular broken rice address with other dense chain stores you should try is Bui broken rice. The shop is located in District 7, District 1, District Binh Thanh ... so it's very convenient to choose. The plate of broken rice here has young ribs and accompanying dipping sauce. When you come here, you should try honey grilled ribs, grilled ribs with salt and chili ... very unique and strange mouth of the restaurant. The average price of a meal is from 45.000 to 60.000 VND.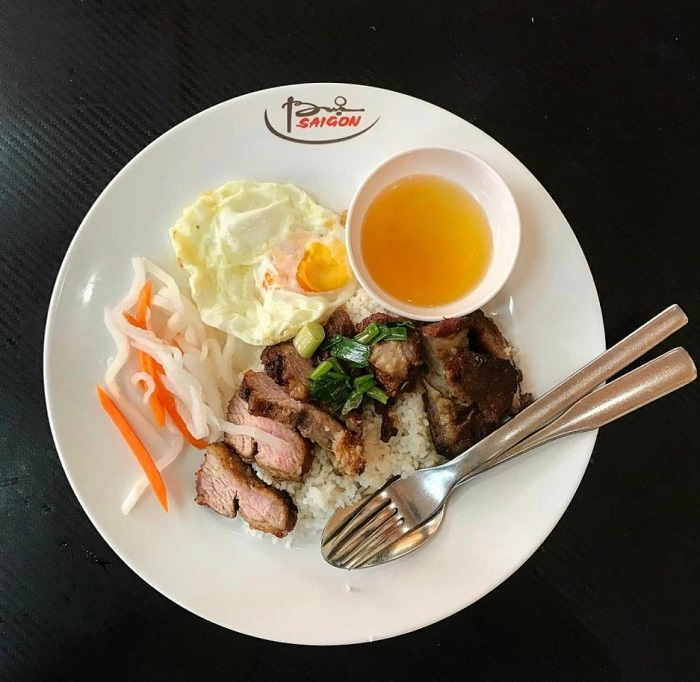 Bui Sai Gon broken rice owns a chain of stores throughout the city. Ho Chi Minh. Photo: intothe150_woojung
Noodles
Experience Cheap Saigon food tour but skipping tofu - famous Saigon dish is a mistake. In the list of what to eat in Saigon, immediately save the addresses selling delicious noodles below.
Nam Vang Thanh Dat noodle soup : With 14 branches covering the whole city. In Ho Chi Minh City, Thanh Dat noodle soup is always crowded with diners coming to eat at the restaurant or shippers waiting to serve dishes for diners far away. The owner said that the main secret lies in the sweet broth from the bones and fresh ingredients imported during the day. Noodles are beaten very finely, do not stick to hands, mixed with tendons, kidneys, shrimp, meat ... Hu Tieu in Thanh Dat costs from 40.000 to 65.000 VND / serving, special type is 100.000 VND.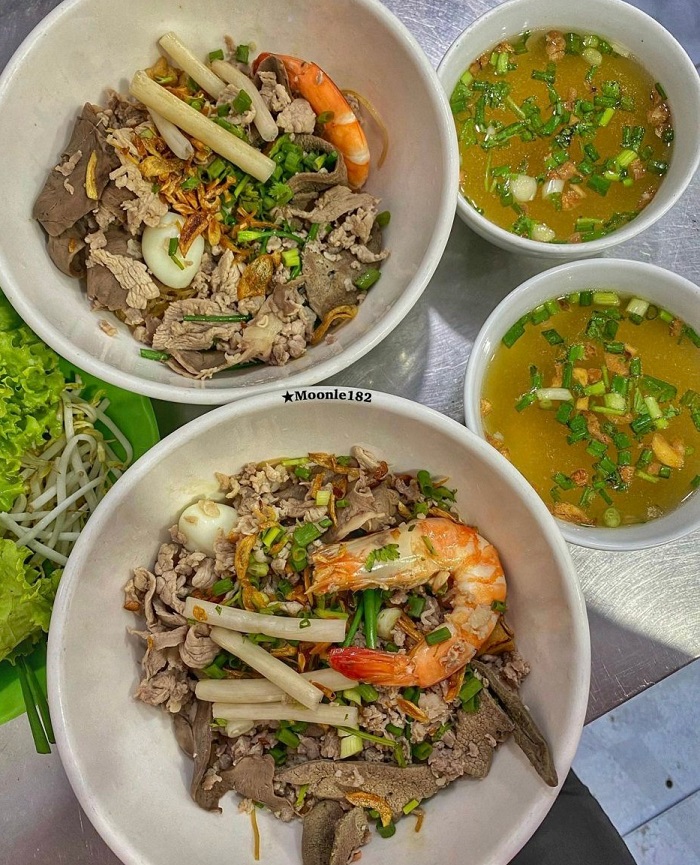 Nam Vang Thanh Dat noodle soup is famous in Saigon. Photo: moonle182
Quan To Chan in District 1: For more than 50 years, To Chan restaurant on Nguyen Cu Trinh street has been one of the city's delicious eateries. Ho Chi Minh is popular with many diners. The noodles here are large, light yellow in color, soft to eat without being mushy. The seasoning is seasoned in true Chinese style with soy sauce and red vinegar. Diners have many choices when visiting To Chan such as wonton noodle soup, sausages, sausages... Coming here, you will feel the extremely fresh and unique ingredients. The lowest price is 37.000 VND.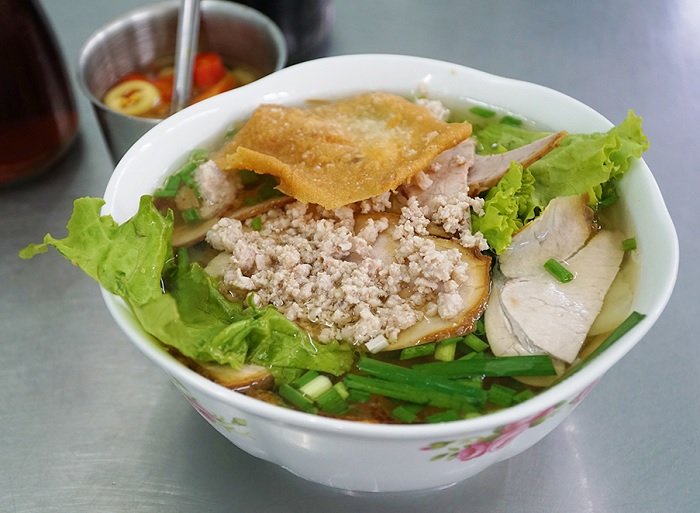 To Chan restaurant has long become a familiar address for gourmets. Photo: Vnepxress
Dinner
Rib congee
Finish cheap Saigon food tour, Don't forget to enjoy the rib porridge. In this magnificent city, there is no shortage of heart porridge, heart porridge, chicken porridge, duck porridge ... and even ribs porridge. Rib porridge is rarely sold, but if you find the right restaurant, it will be very delicious and memorable.
Rib congee Tran Khac Chan: Located in a small alley on Tran Khac Chan Street, Mrs. Hao's "sleepless" ribs porridge shop has existed for more than half a century. Porridge cooked every day sold out that day. In the early days, the restaurant only had rib porridge, but now, the menu is extremely rich with more than 10 dishes. You can choose from a variety of fillings such as northern Thao eggs, pork skin, squid, liver ... The porridge bowl is hot when brought out, the decoration is also very beautiful with fresh onions and fried onions. Rates here are priced from 40.000 VND depending on the rate.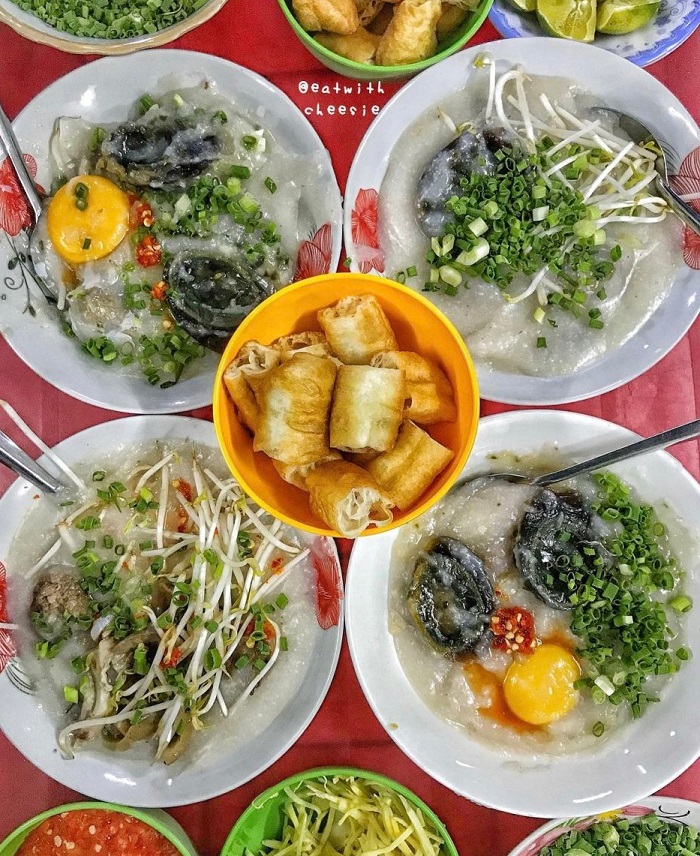 Currently, the restaurant has a variety of toppings for you to choose from. Photo: eatwithcheesie
Ong Ta's Rib Porridge : Located on Pham Van Hai Street, Tan Binh District, Ong Ta's ribs porridge is the ideal address for unknown days. What to eat in Saigon? . Ribs are stewed, when eaten, they will melt in the mouth. Accompanied by a rich, delicious minced meat sauce. Diners can order more cookies to make the dinner more complete. The price of Ong Ta's ribs porridge is very affordable, only from 20.000 VND.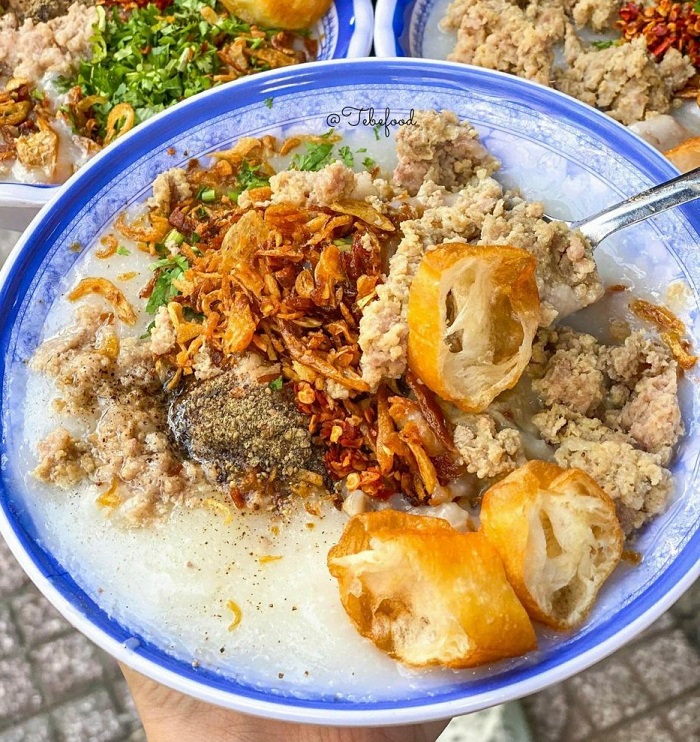 A bowl of hot, rich porridge stimulates the taste buds. Photo: tebefood
Beef
Braised beef dish is rich and nutritious, especially suitable for eating on rainy days. This dish is varied in many styles, each style has its own unique features, becoming the ideal dish in Cheap Saigon food tour .
Mrs. Mai's braised beef: The shop is located on Nguyen Thi Minh Khai Street, District 1, frequented by many indigenous people. For dinner, you can order a full portion of beef, beef tendon, carrots, herbs, and onions to make the dish more flavorful. The meat with chili salt has a moderate spicy and salty taste, making the braised beef dish even more delicious. Price from 45.000-65.000 VND / piece.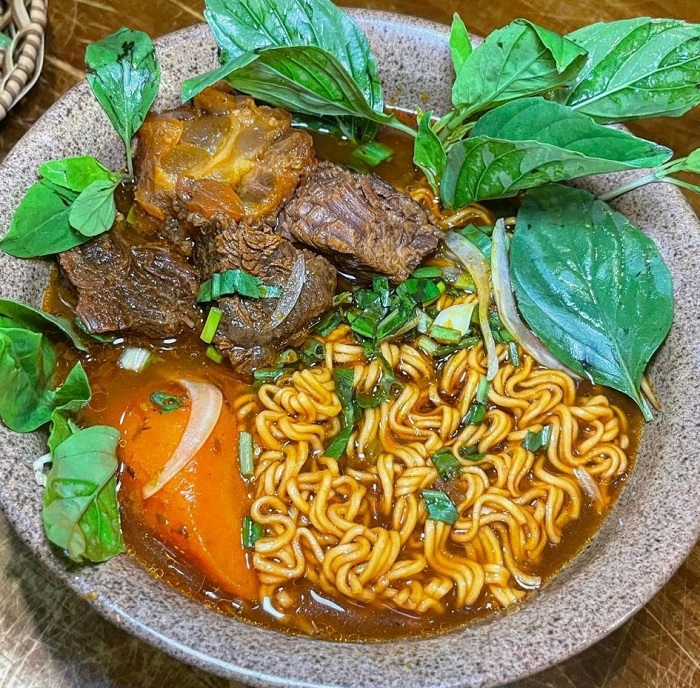 Co Mai braised beef attracts diners by its delicious broth and fresh ingredients. Photo: shalala_sso
Braised beef Ganh : Existing from 1975 until now, beef braised Ganh is known as one of the delicious restaurants in HCMC. Ho Chi Minh is famous. The shop has an ancient style from the last century, rustic utensils, creating a comfortable and cozy feeling. Because the broth is a bit bland, you can add more seasoning to taste. Soft beef with all kinds such as bucket, tendon ... Price from 30.000 VND / serving.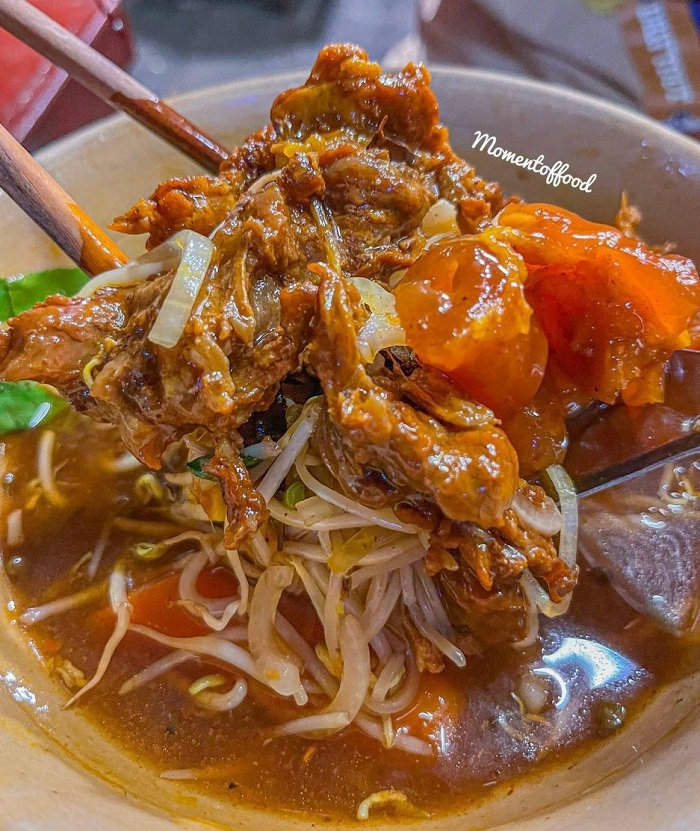 Braised beef Ganh has been around for nearly 50 years. Photo: whereinhcmc
Crab soup
Theo Saigon backpacking experience Crab soup cake is a delicious dish not to be missed when coming to this city. In the dinner of the cheap Saigon food tour, you can eat crab cake soup that is both delicious and warm.
One of the oldest and famous crab cake shops in Saigon is Co Bong crab cake soup. The shop opens from 14:25.000 and is always crowded, especially in the evening. Bong's crab cake soup is also full of ingredients such as northern Thao eggs, shredded chicken, quail eggs, crab meat, pork brain, greasy pork marrow, fragrant with ginger. The average price of a bowl of crab cake soup is VND 15.000 / bowl, a small bowl costs VND 10.000 / bowl, adding northern Thao eggs costs VND 40.000 / egg. Pork brain, extra marrow cost 11 VND / piece. Quan Nam on Pho Co Dieu Street, District XNUMX.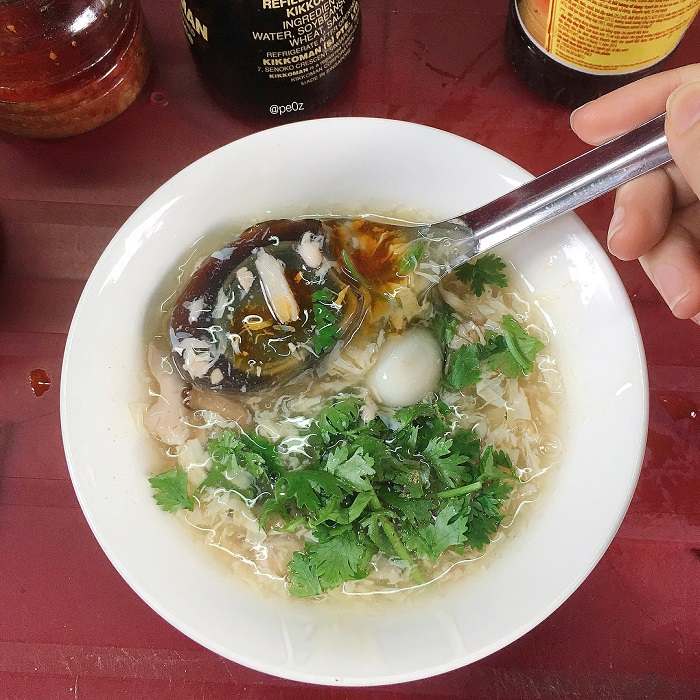 Crab soup cake - a famous dish that must be tried when coming to Ho Chi Minh City. Ho Chi Minh. Photo: @ pe0z
Here are suggestions Cheap Saigon food tours For gourmets and gourmets. Follow Vietnam tourism to update more delicious, interesting and unique restaurants.
Yen Yen
According to Vietnamese sports newspaper