Quang Ninh is known to tourists as the top tourist paradise in Vietnam. In addition to owning a world natural heritage Ha Long Bay, Quang Ninh also gives visitors the new and unique beauty of nearly 2000 different large and small islands. And Quang Ninh tourism This summer, visitors will certainly not be able to ignore the top of the most beautiful emerging tourist islands on this mining land. Explore with Tripmap.vn in the article below.
Quan Lan Island - Minh Chau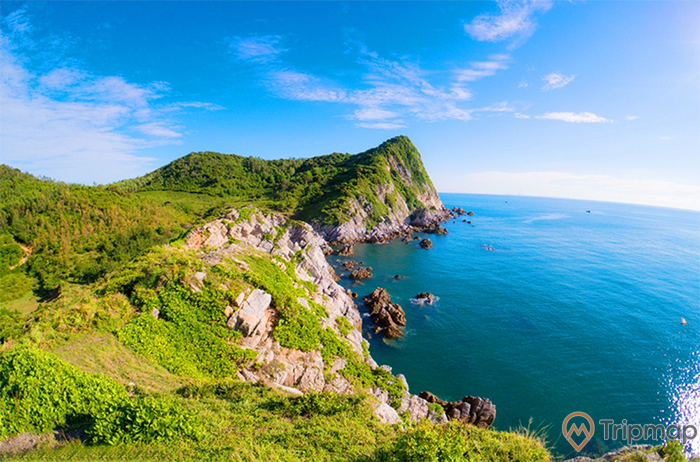 Quan Lan Island – Minh Chau is a small island located on Bai Tu Long BayVan Don district, Quang Ninh province. The island area is only about 11km2 and about 7000 inhabitants. To get to the island, you move to Cai Rong port and buy a boat ticket to the island along the route Van Don - Quan Lan. From April to September every year is the most suitable time to visit Quan Lan island. However, from July to September on the island, storms often appear. Therefore, before coming here you should check the weather forecast 4 week in advance.
Visitors who have set foot in Quan Lan are captivated by the beauty of pure, rustic, peaceful and quiet nature. With long and poetic beaches like Minh Chau beach, Son Hao beach, Quan Lan beach... are all beautiful shimmering under the gentle morning sun or when the sunset gradually falls.
Not only attracting visitors by the blue sea, white sand, golden sunshine, green primeval forests, soaring casuarina groves running along the beach. This place also preserves many beautiful historical and cultural relics such as communal houses, pagodas, shrines, etc., including Quan Lan ancient communal house built in the Late Le Dynasty. This is the only communal house in Vietnam to worship the statue of King Ly Anh Tong - who was instrumental in founding the Trang, Van Don town in 1149 and General Tran Khanh Du - the fortress of Van Don. Currently, in the communal house, there are still 18 ordinations of the Nguyen kings clearly stating this merit.
In particular, Quan Lan has a rich source of seafood, excursions and enjoys seafood, night squid fishing, BBQ party, kayaking, camping, visiting temples, swimming, watching sunrise and sunset , check-in ... are interesting activities when coming to Quan Dao.
Pearl Island
With an area of ​​about 45 square kilometers, Ngoc Vung Island belongs to Van Don island district and is one of the islands that still retains the most pristine beauty of Quang Ninh. Legend has it that in the past, there were many rare pearl species living on the island, which emitted light at night to brighten up the whole island. The name Ngoc Vung is called so and the profession of raising mussels for pearls also becomes the main livelihood of the residents here.
Dubbed as a small village in the middle of the sea, the island fully converges all topographical elements such as rivers, lakes, beaches, harbors, plains... and many valuable historical and cultural relics. With long beaches, interspersed with clumps of sea water spinach with green color on the background of clean, pure and soft white sand. Occasionally, you will encounter rocky outcrops, a small gravel road running along the coast when the tide is low and the dense green casuarina forest like a strong wall to block the wind, always filled with the scent of the sea. salty.
In particular, in addition to visiting the island and swimming, visitors can also visit the memorial house, Uncle Ho memorial area, the national flagpole, ride a bicycle to enjoy the scenery on the coastal roads or join the locals in catching clams. shoveling shrimps and enjoying their achievements… surely your trip will be more meaningful.
Dragon Eye Island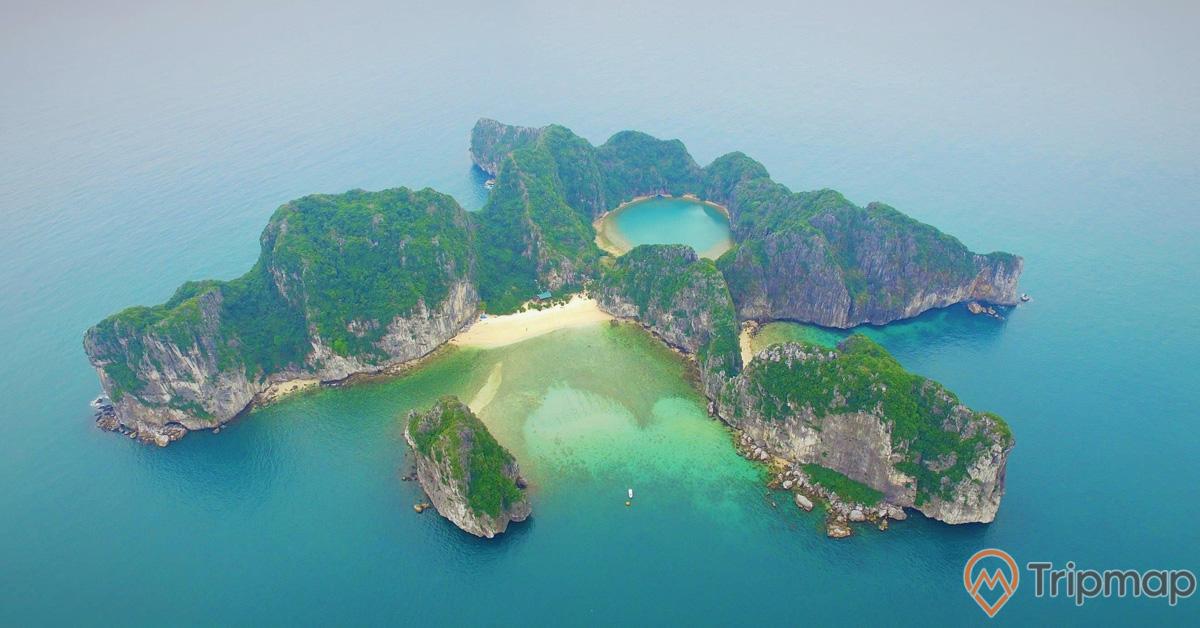 Dragon's Eye Island is located in the south of Ha Long Bay, near the sea adjacent to Lan Ha Bay (Cat Ba, Hai Phong). This place is also known as Bai Dong. Formed by the envelope of majestic limestone mountains, white sand beaches and forests with green natural ecosystems, in the middle is a large lake that looks like jade green. The lake is quiet, calm, with gentle ripples, especially safe for tourists to swim. This is considered the most unique island in the Gulf of Tonkin.
If you look down from above, visitors will see that the island looks like a dragon's head, the lake is shaped like a crystal in the middle like the big and open eyes of the Dragon. It is also for that reason that many people call this place Dragon's Eye Island. Although the island area is only about 30ha, but this place is really a charming place with beautiful mountains, hidden in the middle of the blue sea, clouds and fog.
Cai Chien Island
Located in Hai Ha district, Mong Cai city, Cai Chien island is also one of the most pristine and beautiful newly discovered islands in Quang Ninh. Unlike Co To or Quan Lan, Cai Chien Island blows into the soul of tourists a new wind because of its wonderful, rustic, pristine and very sincere and close nature. Surrounding the island is surrounded by majestic green mountains, the vast blue sea creates an airy space of clouds, sky and water. Here, man and nature seem to be one, extremely harmonious and delicate.
The beautiful beaches that visitors must experience once such as Dau Rong beach, Cai Chien beach, Van Ca beach, Dragon tail area, Thoi Xanh island... Especially, Dau Rong beach is not only with long stretches of sand, The sea water is clear, but there are also rows of green casuarinas running along the beach. The air is cool and airy, the waves are smooth, suitable for bathing and creating activities at sea.
Co to island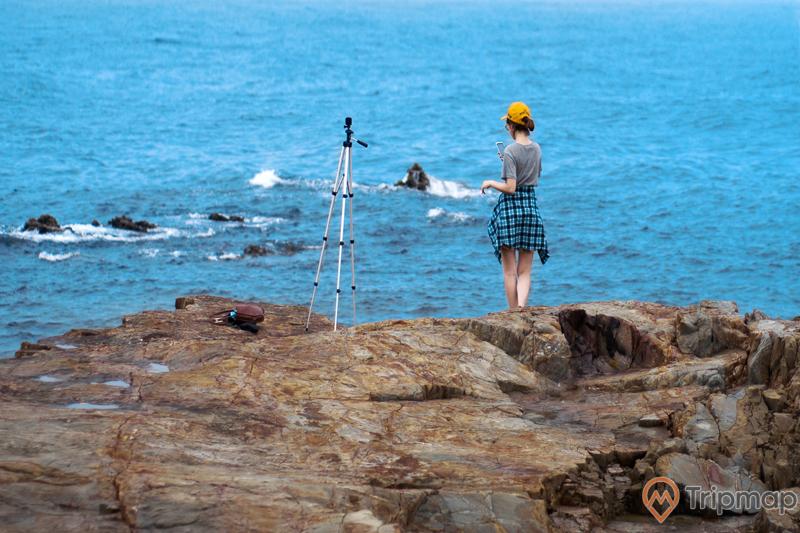 Co to island is one of the discovery paradise for tourists when coming to Quang Ninh. With a rich beauty, just a little wild and generous of Cau My rock beach, both loving, gentle, soft, flowing like the soft silk of Van Chay and Hong Van beaches, or romantic and poetic of the Love road, and quiet and deep like Co To island.
Perhaps that's why Co To is hailed as a beautiful green gem. Co To Tourism, you will enjoy an authentic vacation, away from the hustle and bustle of city life. Coming to this island paradise, visitors will be extremely interested in the clear blue sea with white clouds gradually appearing, making all your troubles and worries seem to be poured out.
Traveling here, you can also visit Co To church, Uncle Ho's monument and conquer the top of the mountain Co To lighthouse -the night eye of the mine land.
Tuan Chau Island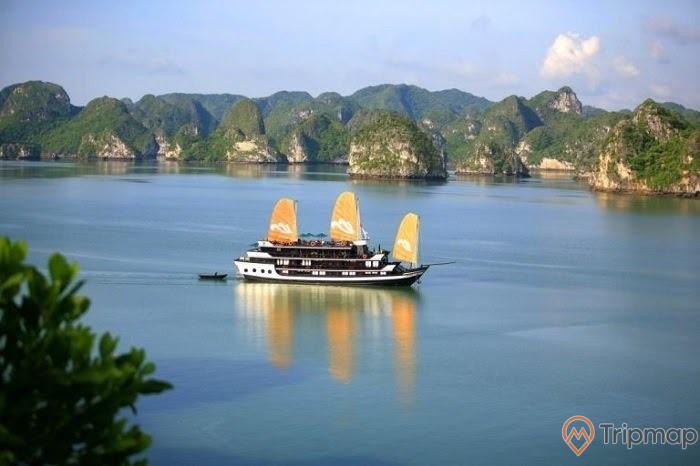 Tuan Chau Island in Quang Ninh is one of the attractive resort paradise for both domestic and international guests. The scenery here is as beautiful as a mysterious ink painting with long white sand beaches as smooth as velvet, plus the turquoise blue sea and the immense green of the mountains and forests...
In particular, Tuan Chau Island is invested and built, including many modern and unique entertainment projects, many high-class resorts such as the modern, luxurious, elegant, European-style Tuan Chau international passenger pier. , water music zone splendid, monumental with many unique amusements, amusement parks Tuan Chau park With many diverse and attractive entertainments for both adults and children... Especially, the restaurant system is extremely luxurious with rich sea specialties processed in different styles comfortably for visitors to enjoy.
Above are the top most beautiful tourist islands in Quang Ninh that you cannot ignore in the next tourist season. With these tourist paradises, we hope to bring visitors great vacations. And Quang Ninh is indeed a land blessed with many favors by nature. In the future, this land will develop even more brilliantly.