The most interesting summer travel is sea travel. Traveling to Ha Long, it is a pity to miss the opportunity to immerse yourself in the beautiful sea space. Top 4 most beautiful beaches to visit when traveling to Ha Long will be introduced by tripmap.vn in the article below, hoping to bring you many interesting things.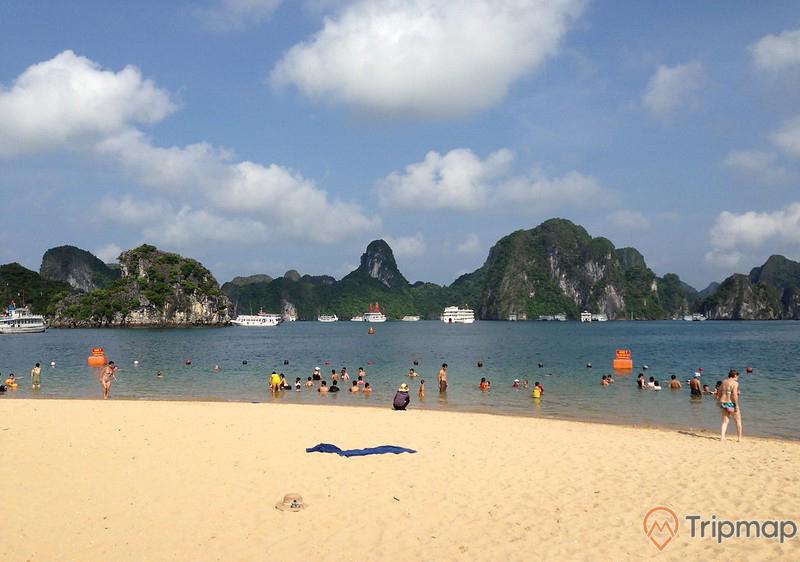 Sun World Ha Long Beach
Outstanding Impressions
Sun World Beach is an artificial sea with an area stretching over 900m. The beach belongs to the tourist area Sun World Ha Long Complex, located on Bai Chay beach, Ha Long City, Quang Ninh. To connect and attract tourists, the beach is open for free for residents and visitors to swim, rest and visit.
The impressive point of the beach is the beautiful natural landscape, the vast and spacious sea space, the fresh and cool air. In addition, there are many interesting entertainment and entertainment services that bring players exciting moments of relaxation. Around the beach is a system of commercial centers, restaurants, hotels... serving diverse needs of tourists.
Convenient to move to other tourist destinations
From Sun World beach, visitors can easily move to other amusement parks such as Water Park (Typhoon Water Park), Dragon Park (Dragon Park), The mysterious hill area, food court and shopping at Sun world Ha Long. Or maybe take a trip to Ha Long Bay, visit the cluster Quang Ninh Museum and many other places without taking too much time.
Tuan Chau Beach

Tuan Chau Beach located on Tuan Chau Island, in Ha Long city. It is considered one of the most beautiful beaches in the city. Located about 7km from the tourist port, Tuan Chau beach is an artificial beach with nearly 2km of coastline.
The beach is long, the water is shallow and the waves are quite calm, so visitors are comfortable playing and swimming. Owning clear jade-like water, especially in the morning the first rays of the sun reflect on the sea surface, the water surface looks like it is inlaid with shimmering, sparkling gold. In the afternoons when the sunset falls, the scene becomes extremely romantic, the water gradually becomes deep blue, engulfing the blazing sun fireball. Swimming in the sea at this time is extremely wonderful, the sun is gentle, the sea water is cool, transparent like a mirror, the sea breeze blows with the salty taste of the sea far to the shore.
The white sand is smooth, clean, pure, and doesn't stick to your feet. In the hot summer afternoons, the sand becomes golden, looking from above, it looks like a golden silk strip emerging between the deep blue sea and green coconut trees. Around the beach are many neighborhoods, motels, resorts, restaurants, high-class hotels, which are paradise resorts for upper-class guests.
Not only that, you enjoy participating in activities such as high-speed water skiing; paragliding canoes, windsurfing; fishing on Ha Long sea; Rowing; hot air balloon Visiting Ha Long Bay or climbing mountains, camping... Or going to the island to see dolphins, sea lions, seals, circus animals, martial arts....
Not only that, there are also artificial springs, musical waterfalls, marine life pools as well as swimming pools, tennis courts and many other water games. It is the attractiveness of Tuan Chau Beach that has contributed to giving Tuan Chau Island a completely new look, becoming the most famous tourist area in Ha Long.
Hon Gai Beach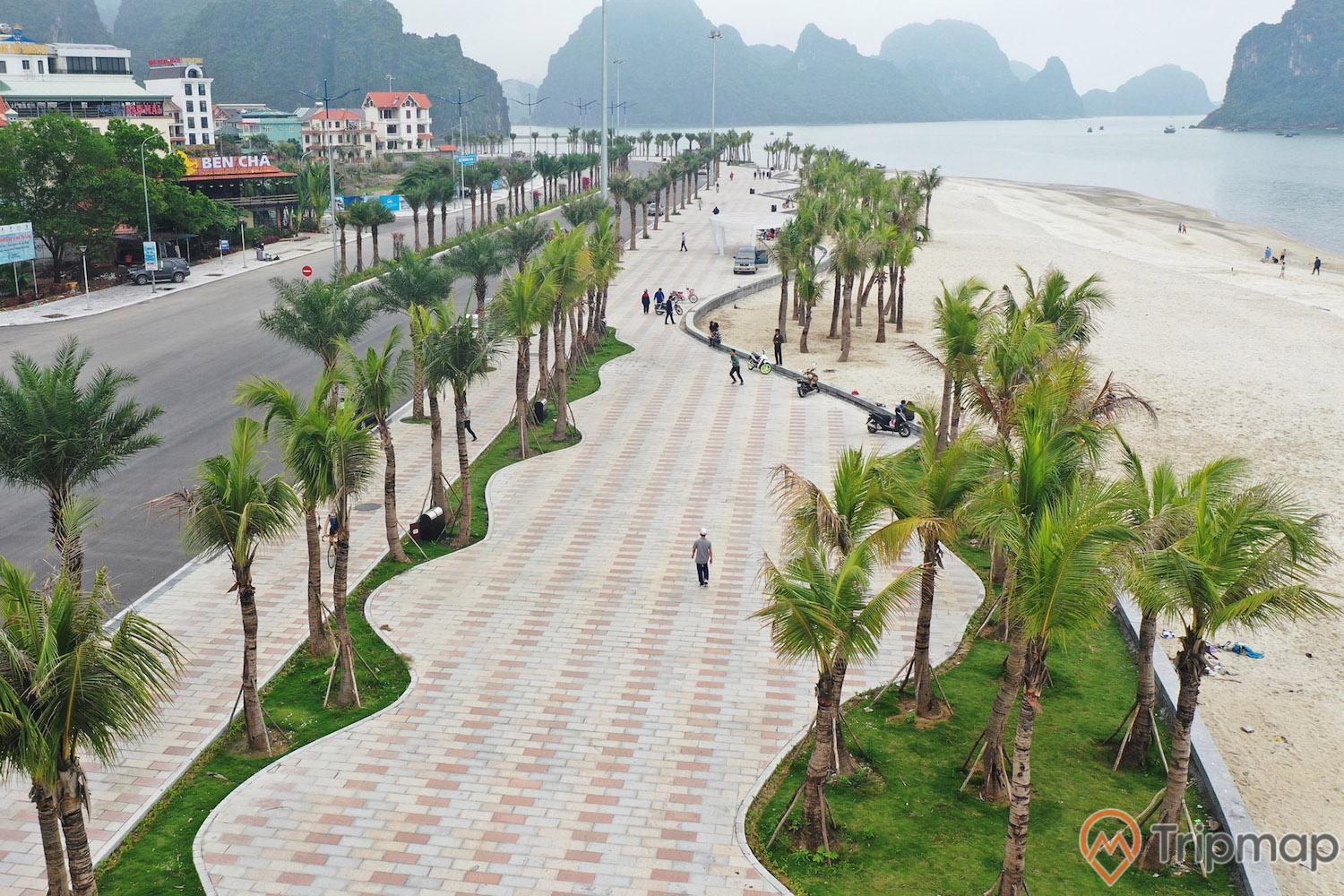 Only about 5 km from Bai Chay, it is one of the largest and most invested artificial beaches in the North. The beach is 900m long, 185m wide, invested with a grandiose and modern planning, which is the most attractive beach in Ha Long city, including both domestic and international visitors. The beach has wide roads, parking lots, sidewalks, trees, accommodation, fresh water baths...and especially very clean and bustling.
This is one of the largest and most invested artificial beaches in the North. The beach is 900m long, 185m wide, with roads, sidewalks, trees, a professional, well-trained marine rescue team and many sea games that attract young people. With such a scale and investment, Hon Gai beach has become an attractive tourist destination in Ha Long Bay and is extremely popular with domestic and foreign tourists. In the future, it will definitely continue to develop further and become one of the most sought-after Ha Long beaches by tourists.
Not only that, on the large, airy and cool space on the beach, many fun activities and collective entertainment can be organized, many bustling sales areas are convenient for customers to enjoy after bathing. street snacks
In addition, around Hon Gai beach in Quang Ninh, there are countless other tourist attractions that you will not be too unfamiliar with such as Co To town, Quan Lan IslandThese travel experiences won't be too expensive, you just need to know how to plan and choose the right place to eat, stay and have fun. So let's create the best memories with your loved ones and family with the Hon Gai beach tour.
On the side of the heritage site of Ha Long city, there are many beautiful beaches, both artificial and natural, attracting thousands of domestic and foreign tourists every year. Above are 3 beaches that are crowded with tourists to experience swimming, organize many interesting sea entertainment and entertainment activities.
Ti Top Beach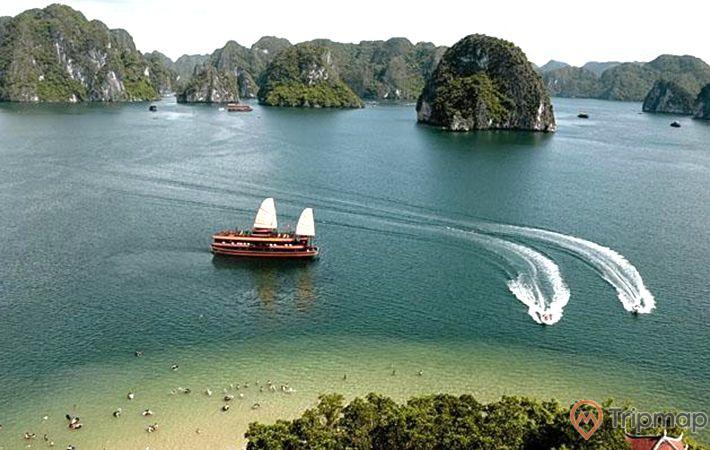 Belonging to the most beautiful island in Ha Long Bay, located in the southeast of the bay, about 7-8 km from Bai Chay tourist port. Compared to other beaches, Ti Top beach is shorter in length but very attractive to tourists because of its wild and natural beauty. Seen from above, the beach is curved in an arc like a moon embracing the island's foot, so it is also known as Vong Trang beach.
The beach space is quite quiet, airy, cool and especially very clean, the cool and fresh air gives visitors a feeling of peace, relaxation, and extraordinary relief. In front of the sea are green, majestic, magnificent mountains that block waves, wind and sun. Above is the soaring casuarina forest, the sea water morning glory flowers race to grow green, until the time comes to bloom brilliantly to adorn the blue water, white sand, and golden sunshine here.
Coming to Ti Top beach, visitors can enjoy swimming, watching romantic sunsets, watching the sky and the water like a lyrical picture full of poetry. In addition, you can also experience many other fun activities such as kayaking, squid fishing, buoy pulling, skydiving, etc. In particular, kayaking is an activity that many tourists love to choose. Most.