Quang Ninh - where nature favors with countless beautiful landscapes with many beautiful bays. Therefore, traveling here with 5-star cruises is one of the unique and extremely interesting experiences. Currently in Quang Ninh, there are many opportunities to experience luxury service on 5-star yachts at extremely favorable prices. Tripmap.vn will review with you some of the most popular 5-star yachts today.
President Cruises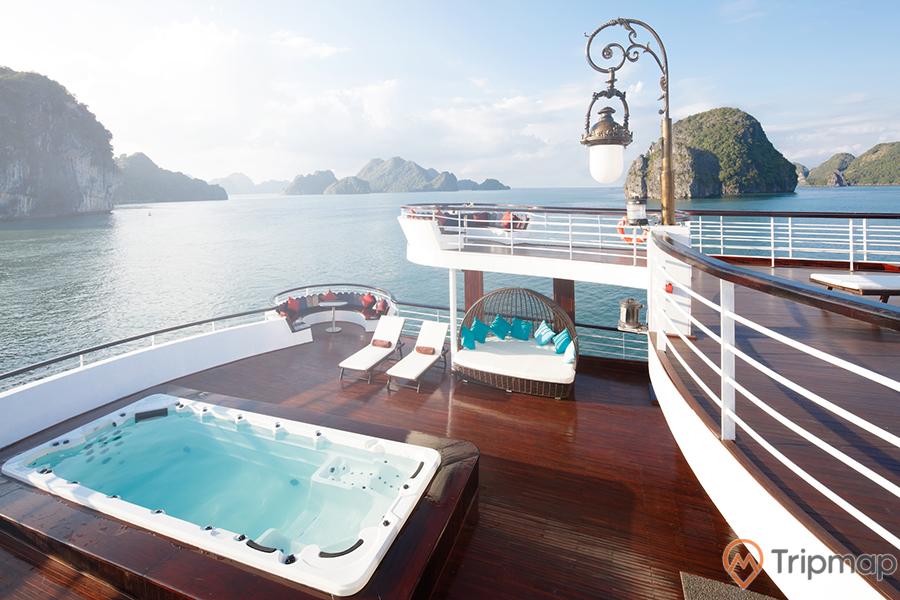 President Cruise is one of the luxury yachts and is chosen by many tourists when traveling to Ha Long Bay. Started in operation in 2018, this yacht has built a brand name as a yacht with really high quality and service quality.
The yacht has the largest sundeck in Halong Bay with 87m2 and can accommodate up to 100 people. On the yacht, guests can enjoy many luxurious services such as spa, cool swimming pool, piano room, restaurant, spacious motel, amenities no less than the rooms and guests. 5 star hotel. In particular, President Cruises designs many activities to experience directly at sea, promising to bring visitors many new discoveries.
Scarlet Pearl Cruise
This yacht is rated as a 5-star luxury cruise ship on Lan Ha Bay - Ha Long. With a youthful, unique, elegant and luxurious design style, Scarlet Pearl yacht always conquers the most fastidious upper-class customers.
With a 4-storey design with full facilities including 23 spacious rooms (4 different guest rooms: Silver Pearl, Golden Pearl, Onyx Pearl, Scarlet Pearl), Tahiti restaurant, Bistro bar, Akoya Spa, gym room & pearl showroom.
Scarlet Pearl cruise 2 days 1 night will take you to discover Lan Ha Bay – Cat Ba island and many attractions along the route. In particular, Scarlet Pearl offers you many interesting experiences such as kayaking in the Frog Pond area, swimming, taking a bamboo boat to visit Bright and Dark caves.
However, on the yacht, the common rooms like Silver Pearl do not have a bathtub and the yacht does not have a swimming pool, so if you want the best check-in, you should sit from the small catamaran, enjoy the sunset party, with the background of main yacht.
Le Theater Cruise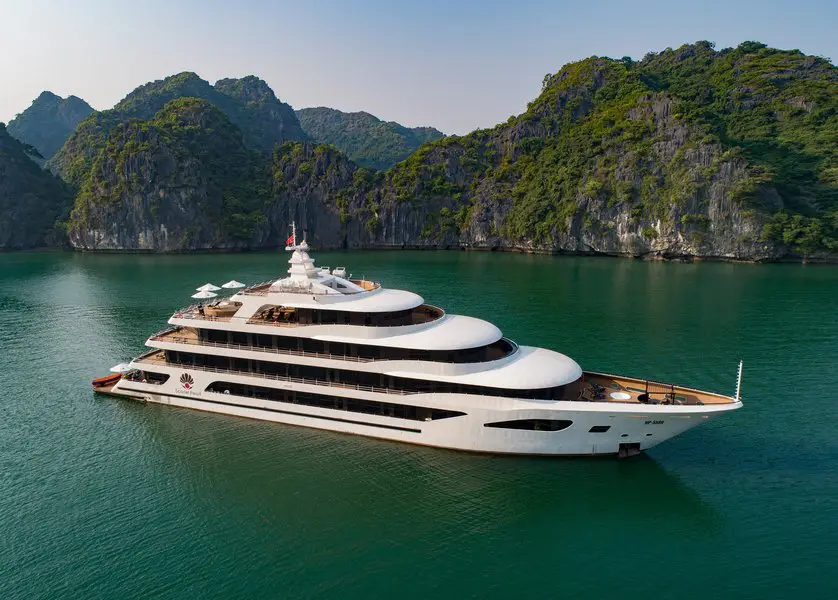 Le Theater stork is known with another friendly name, the Theater yacht is designed to be simple, light but extremely elegant and sophisticated. Le Theater Cruise itself is an artistic design from the decoration style to the amenities for visitors. The yacht has a large scale for a group of up to 40 people, but is designed as gently as a "yatch" yacht chartered exclusively for cruising on Ha Long Bay.
The yacht includes 21 luxurious rooms with an area from 25 m2 to 40 m2 with a private balcony to bring you comfort and convenience, worthy of a high-class travel experience. Room categories include: Junior Suites, Executive Suites, Family Suites, Panorama Suites & Le Theater Suites. The rooms are decorated with blue and white tones in harmony with the blue sea of ​​the bay, but also full of luxury and elegance.
Le Theater cruise also takes you to discover the area of ​​Lan Ha Bay - Cat Ba Island,. Tourists will experience interesting activities such as kayaking in the Frog Pond area, swimming, fishing, taking bamboo boats to visit Bright Cave, Dark Cave... Or if you don't like it, you can sit on the deck to enjoy the feeling. Relax, breathe in the cool air, listen to the sound of the sea at night as the yacht weaves its way between the rocky islands in the heart of Lan Ha Bay as well as impressive and unforgettable experiences for a special holiday. However, Le Theater only has 1 small swimming pool on the rooftop for children and the room on the 1st floor does not have a bathtub. If you want the best check-in, you should move to the top of the rooftop plunge pool and the restaurant area.
Capella Cruise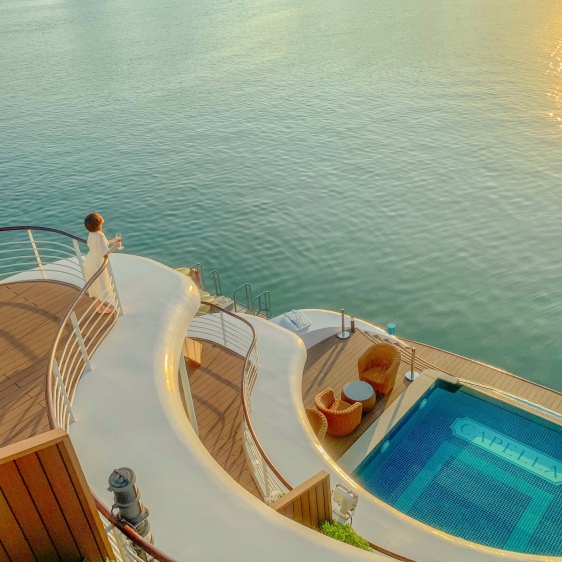 The yacht is considered an artistic masterpiece that adorns the radiant beauty of Lan Ha Bay. A glimpse at the design of Capella embodies the beauty and value of Indochinese design styles combined with the modern amenities of a luxury 5-star yacht. Capella Cruise is the perfect choice to bring customers the best feelings during their trip to discover Lan Ha Bay. In particular, with 30 luxurious and spacious rooms with restaurant facilities, swimming pool, spa, sunbathing area ... are arranged harmoniously on 5 floors of the yacht. In addition, the yacht has a swimming pool, so it is very comfortable for families with children to enjoy the facilities on the sea.
Unique experiences such as water skiing, kayaking, bamboo boat trips to visit caves ... all make visitors very excited. And on the sundeck, Sky Terrace room & from the Lounge (4th floor) overlooking the swimming pool will be the most interesting check-in point.
Paradise Cruise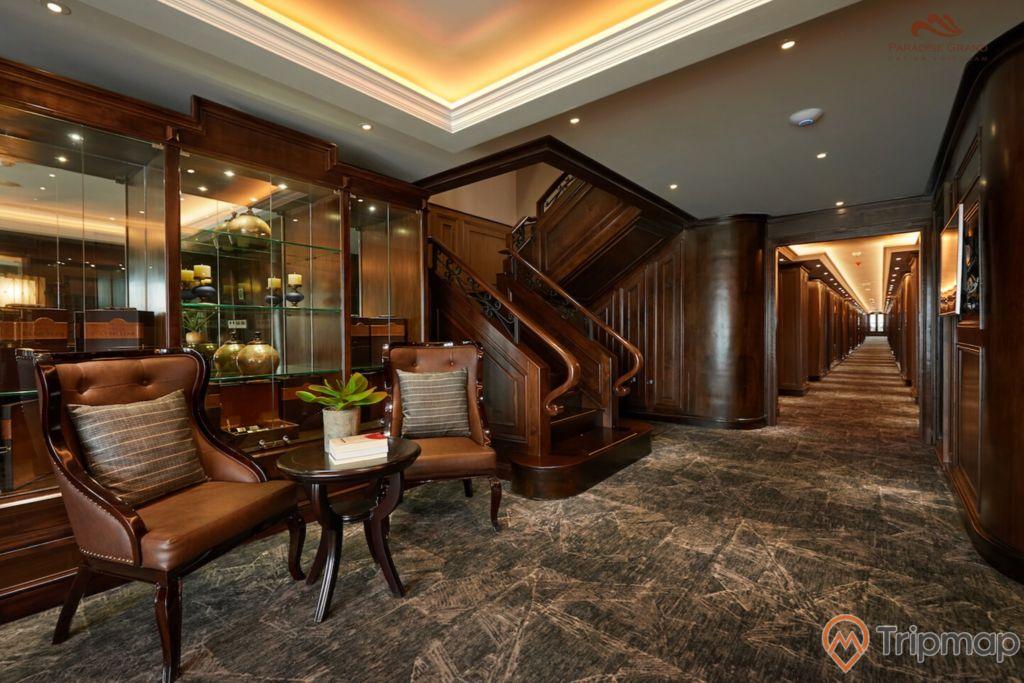 As one of the best quality 5-star Ha Long cruise lines. Paradise Cruises previously had a wooden yacht line - Paradise Luxury and a steel yacht line - Paradise Elegance.
Launched in 2020 with 5-storey chop top design, 39 cabins including 4 room types are Grand Balcony; Executive Balony; Grand Balcony Suite and Captain's View Grand Suite.
Inside the room is full of equipment such as air conditioner, life jacket, wardrobe, personal safe, private bathroom, free toiletries, ... for guests to have a comfortable and safe experience. on the cruise to Ha Long Bay. Not only that, the luxurious sunbathing boom with outdoor bar and live music will surely bring you the best trip.
Indochine Cruises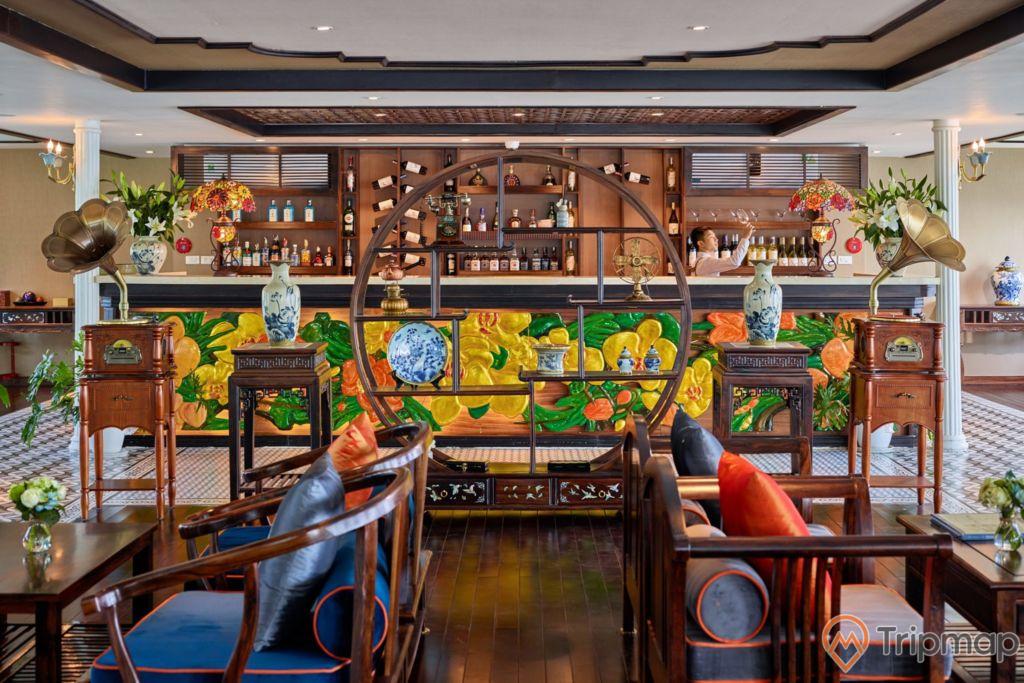 Launched to visitors in 2019, Indochine offers a luxurious, modern, top-class design that also blends with traditional style. Spacious design with 43 bedrooms and each bedroom has its own balcony so that visitors can fully capture the nature of Ha Long in sight. There are 4 main types of rooms such as Junior Suite, Suitem Executive Suitem President Suite.
In addition, Indochine yacht has a spacious "Cochinechine Lounge" area so that visitors can socialize, admire the scenery of the bay and the caves on the bay in the clearest way. The spacious restaurant area with a rich menu of dishes cooked by famous chefs will surely be the most outstanding resort and check-in destination.
Coming to Quang Ninh, traveling to the mountains on the most luxurious and modern yachts always gives visitors the most satisfaction. Along with the lovely scenery of the bay, the land of the mines, these luxury yachts seem to bring the nature of the sea and islands closer to people and also adorn the beautiful ink painting here.