Ha Long Tourism always attracts a large number of domestic and international tourists. Ha Long "causes nostalgia" with many scenic spots, delicious dishes, interesting experiences ...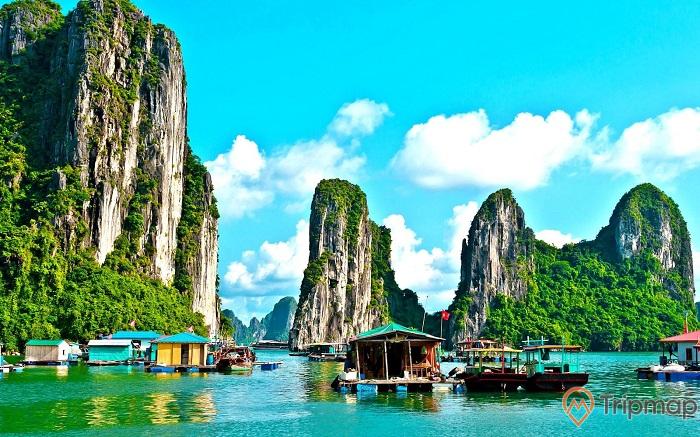 What to do in Ha Long, where to go, what to eat, which hotel to choose? Why did you choose Ha Long as your vacation destination? How is Ha Long Quang Ninh travel experience to be both fun and relaxing, right? All will be revealed in the full Ha Long travel guide below!
About Ha Long
Ha Long in Quang Ninh province, about 180km from Hanoi, is known as the tourist paradise of the North. Thanks to its convenient location, modern infrastructure, and developed transportation system, every year, Ha Long attracts tens of millions of domestic and international tourists.
Ha Long Bay has an area of ​​1.553km2 including 1.900 large and small limestone islands with very vivid shapes. The bay has been voted many times by UNESCO as a natural wonder of the world, a must-visit place once in a lifetime.
How much does it cost to travel to Ha Long?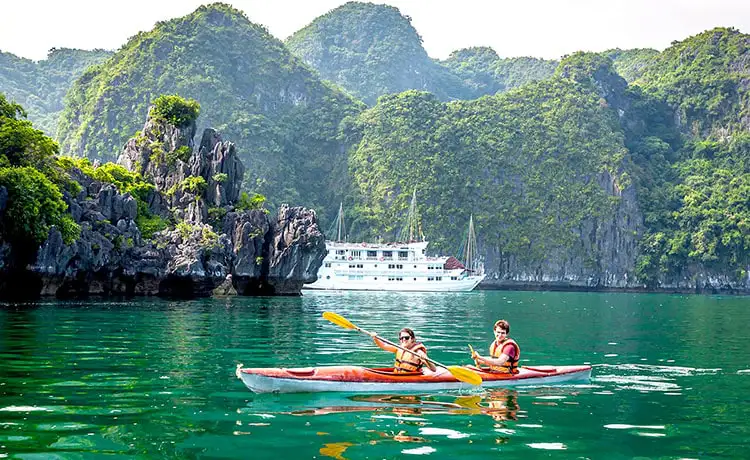 How much does it cost to travel to Ha Long? Depending on the time, nature and level of spending, the cost of Ha Long tourism is also different. You can refer to the following cost table to plan the most suitable trip.
Travel expenses:
Bus ticket Hanoi - Ha Long: 100.000 - 200.000 VND / person
Airfare from Ho Chi Minh to Ha Long: 300.000 – 900.000 VND / person (may vary depending on time and airline)
Travel costs in Ha Long: boat to visit the bay costs 340.000 VND / person, taxi / motorbike taxi: about 200.000 - 500.000 VND / person depending on the travel route
Hotel cost: relatively diverse, from affordable to high-end, the price is about 200.000 - 2.500.000 VND / night
Money for meals: 500.000 – 1.000.000 VND/person
Entertainment costs: 500.000 – 700.000 VND/person
Thus, the total cost for Ha Long 2 days 1 night tour is about 1.640.000 - 3.640.000 VND / person.
Why should you come to Ha Long once in your life?
Why should you choose Ha Long as your travel destination? With the following 3 reasons, believe that everyone wants to pack a backpack and go.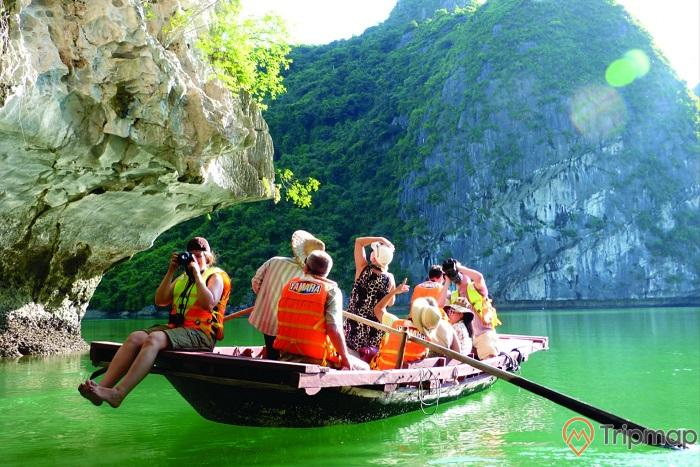 1 in 7 natural wonders of the world: Being in the top 7 natural wonders of the world, Ha Long Bay is definitely the dream destination of every traveler. Not only domestic tourists, foreign tourists are also very interested and admiring the nature bestowed here.
There are full facilities and quality services: Over the years, Ha Long has had an extremely high economic development rate. The system of facilities and infrastructure is invested in a synchronous and quality manner. Guests will be served a full range of facilities, meeting the needs of entertainment, relaxation, shopping ...
Many interesting and attractive places to play, entertain and discover: Coming to Ha Long, you will be free to explore, experience and have fun. Ha Long travel experience of most people is not to be missed attractive attractions such as: Ha Long Bay, Old Town, Night Market, Tuan Chau....
How to get to Ha Long?
Train station/bus station in Ha Long
Ha Long City Bai Chay bus station is the largest bus station, this is also the central bus station for tourists to visit. If you go by your own vehicle or take a bus, you can take this point as an endpoint on Google map for convenience. Address of Bai Chay bus station at Google map: https://goo.gl/maps/62MpNq59LFQtY6GN7
In addition, if you go by plane, you can land at Van Don airport and then go to the tourist center by public transport from here.
What means of transport to Ha Long?
With the synchronous development of transport infrastructure, moving to Ha Long is very quick and convenient. From Hanoi, visitors can use a variety of means of transport to get to Ha Long such as:
Motorcycle
Traveling to Ha Long by motorbike from Hanoi and some northern provinces, you can choose 1 of the following 2 routes:
Route 1: Hanoi - Bac Ninh follow Highway 18 and then continue to move to Pha Lai - Chi Linh - Dong Trieu - Uong Bi - Ha Long
Route 2: Noi Bai Airport - Bac Ninh, continue to follow Highway 18A to Pha Lai - Sao Do - Dong Trieu - Uong Bi - Ha Long
It takes about 4-5 hours to travel by motorbike from Hanoi to Ha Long. But the long road will be tiring and dangerous. However, for those who love backpacking and exploring, this will be a great experience. However, if traveling by motorbike, you should keep an appropriate speed, wear a helmet with glasses, and wear long-sleeved shirts to be safer during the journey.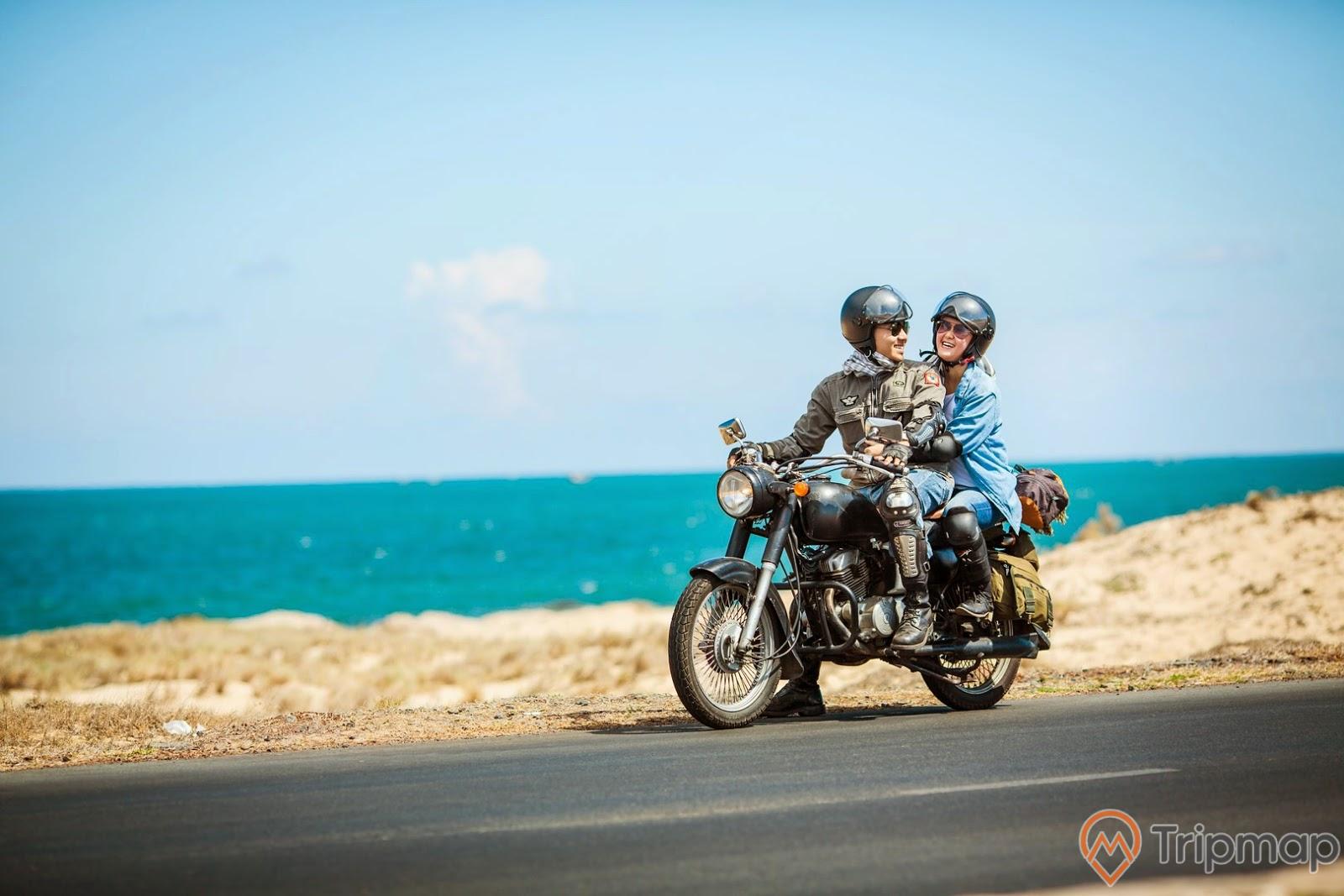 Car
If you take a car, you just need to follow the instructions at the Hanoi - Ha Long highway to be able to move to Ha Long quickly and safely. The time by car from Hanoi to Ha Long is only about 2 - 2,5 hours, so it is very convenient.
Public transport
In addition to private vehicles, you can also use public transport such as taxis, coaches, trains. If departing from the southern provinces, visitors can also take a plane to land at Cat Bi airport - Hai Phong or Van Don airport - Quang Ninh and move to Ha Long quickly.
Means of transportation in Ha Long city
In the Ha Long city area, there are many suitable means of transportation.
Motorcycle
You will easily rent a motorbike taxi at a reasonable price. However, with the Ha Long travel experience of many tourists, remember to ask for the price before getting on the bus to avoid being "spoiled".
Bus
Ha Long has a bus system running continuously, linking to famous tourist destinations. Depending on the starting point and destination, visitors will choose the most suitable bus route. The average bus fare in Ha Long is about 7.000 - 10.000 VND / way.
Tram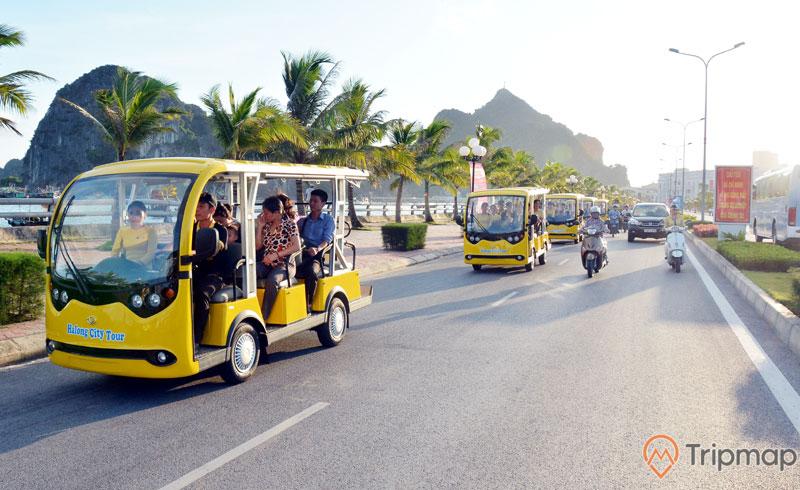 Currently, the city has 5 Ha Long tram lines serving tourists, departing from Bai Chay tourist area or Ha Long city center. The tram passes through famous Ha Long tourist sites such as Bai Chay Bridge, Quang Ninh Museum - Library, Ba Tho mountain relic cluster, Vinpearl Resort & Spa Ha Long...
Ticket price for Ha Long tram is from 500.000 to 900.000 VND / turn. Hours of operation are from 7:22 a.m. to XNUMX:XNUMX p.m. daily.
Summary of the most beautiful and hottest Ha Long tourist destinations
Ha Long Bay
Ha Long Bay possesses majestic and poetic natural beauty with thousands of large and small islands and many unique caves. The bay is also recognized by UNESCO as a natural wonder of the world, annually attracting a large number of tourists with beautiful destinations such as Dragon's Eye Island, Ti Top Island, Toad Island, Pearl Island, Hang Sung. Fever…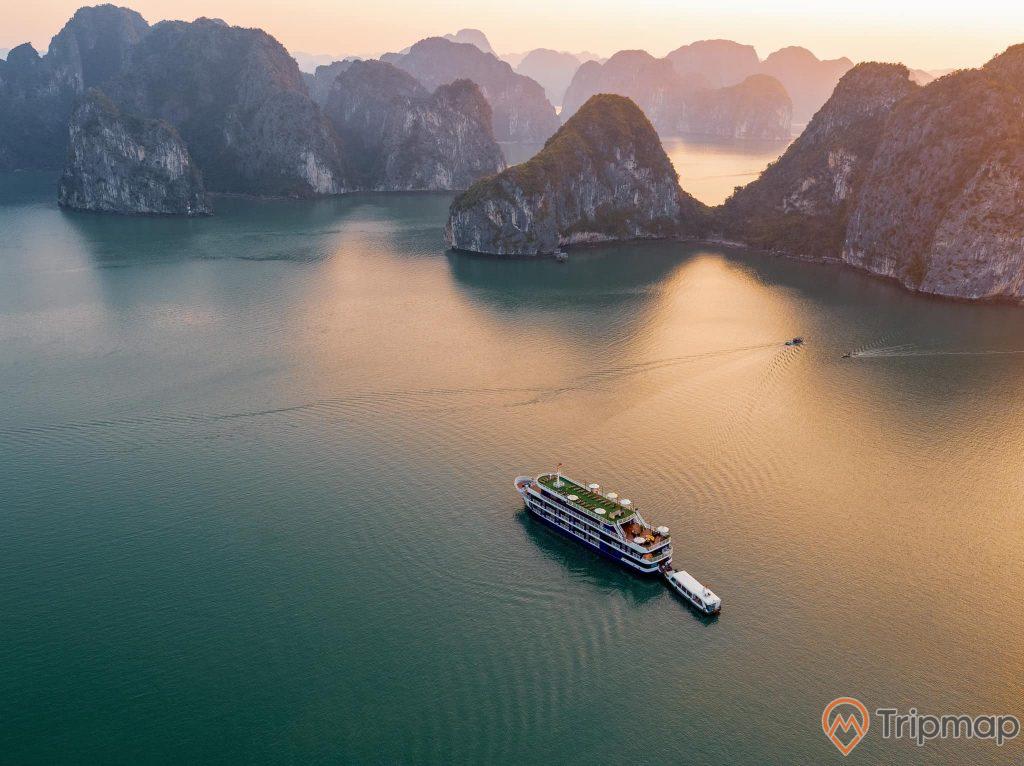 Visit Ha Long BayVisitors can enjoy the majestic limestone mountains that were formed more than 20 million years ago floating on the romantic emerald green water, explore the stalactite caves, swim on the island, eat and drink. and overnight on yachts, kayaking, visiting ancient fishing villages that are listed in the top list of the most beautiful villages in the world... Up to now, the bay management board has put into operation tourism around 26. vist location.
Tuan Chau Island
Located on Tuan Chau IslandTuan Chau tourist area attracts tourists by its beautiful and poetic space. Coming to Tuan Chau, you should join the water music show, have fun at the outdoor amusement park or the newly opened dinosaur park that attracts a large number of young people. Area Tuan Chau island tour Ha Long city is only about 2km. Thanks to the extremely convenient geographical position in terms of both waterway and road, it is quite easy to move to Tuan Chau Island, from Hai Phong only takes about 1 hour and from Mong Cai also takes only 2 hours.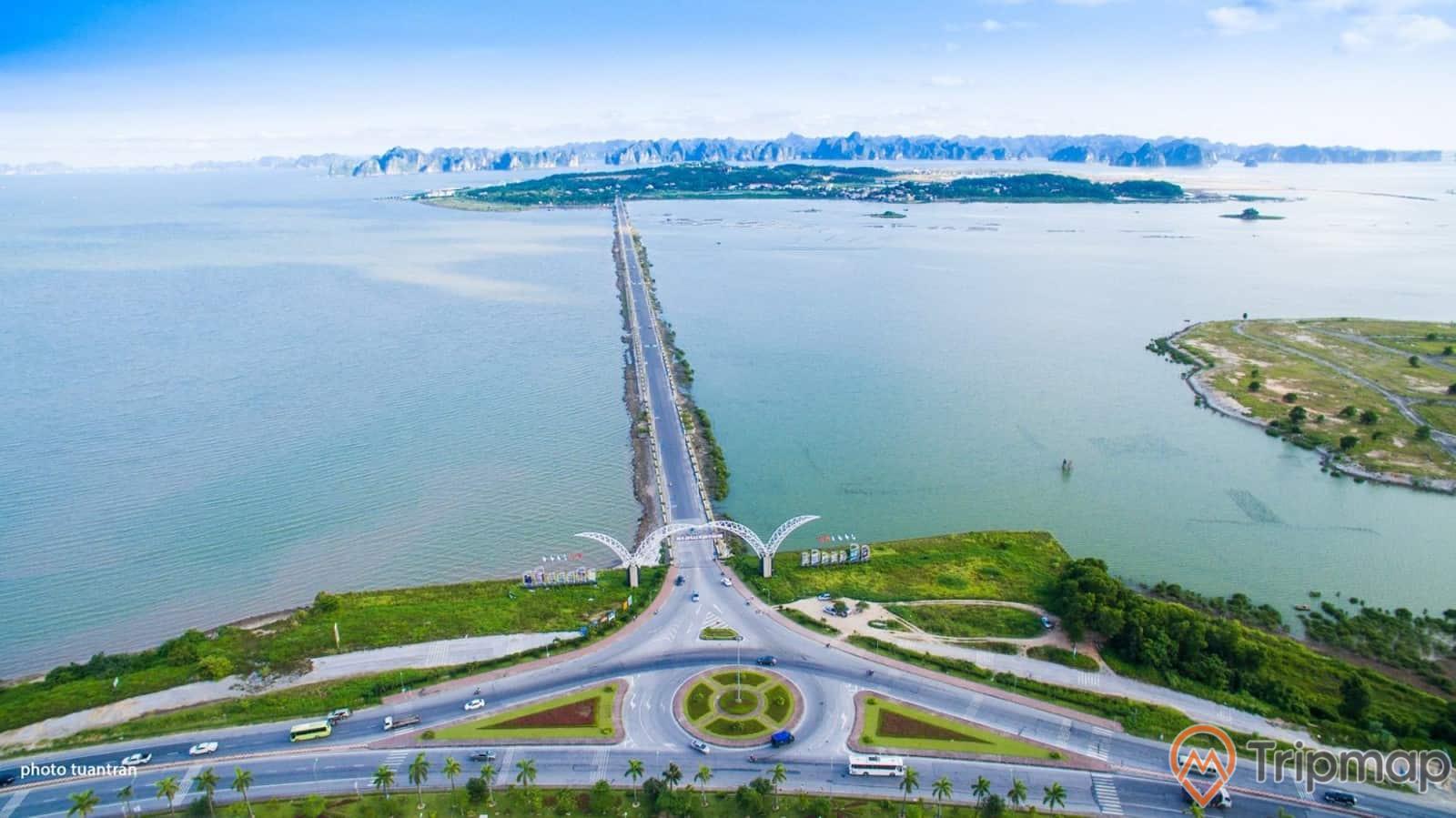 Quang Ninh Museum
Compared to a miniature model of Quang Ninh, Quang Ninh Museum contains the cultural features of Ha Long people, sketching the most typical features of the mining land. This is also a beautiful and famous check-in point. Located in the complex of Library Museum in Hong Hai Ward (Ha Long City), right on the shores of Ha Long Bay. The total investment from the design is worth more than 900 billion VND designed by the famous Spanish architect Salvador Perez Arroyo.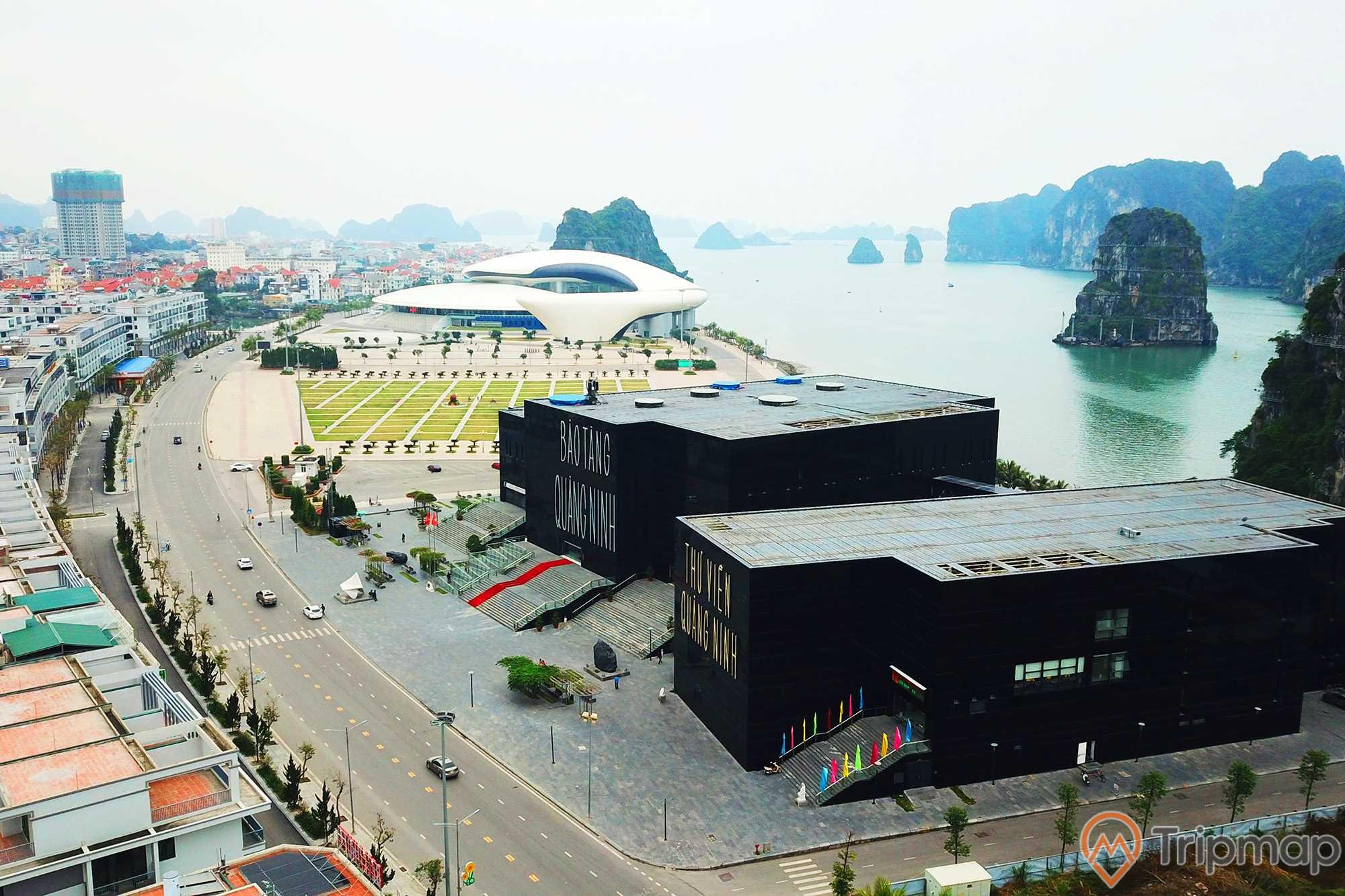 October 30 Square
Located on the banks of the romantic Ha Long Bay, October 30 Square Since being put into operation, it has attracted millions of tourists every year to visit, have fun or attend major socio-cultural events. So far, this work has become a beautiful stop on the shore of the heritage site for tourists from all over the country and abroad.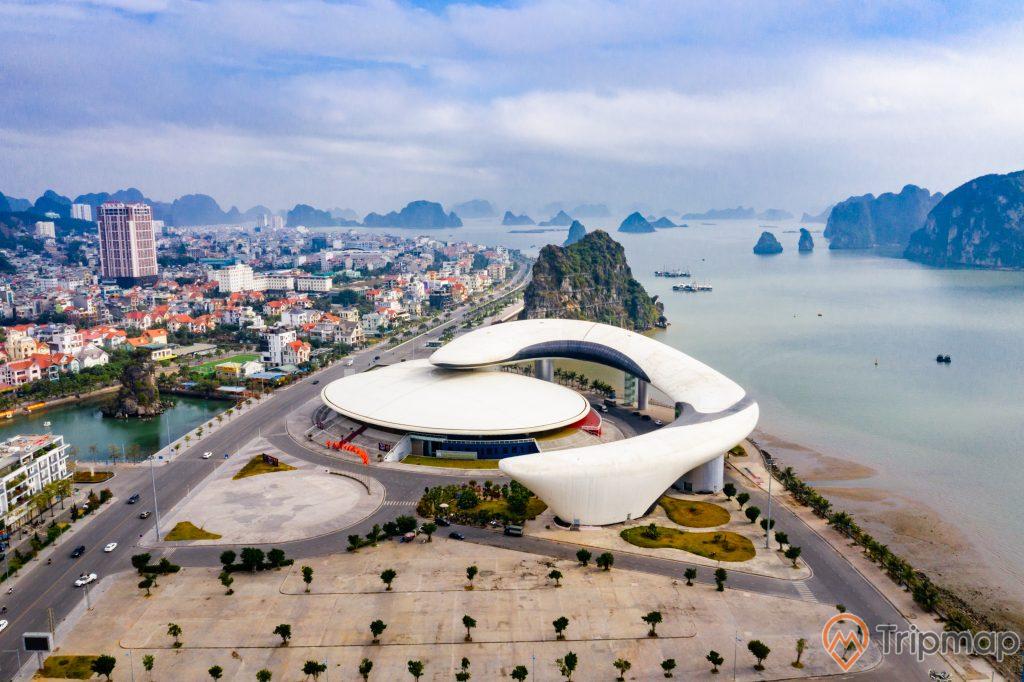 Sun World Ha Long Complex
Amusement parks Sun World Ha long Complex is a modern entertainment and entertainment complex of international class with an area of ​​up to 214ha. This can be said to be the largest entertainment complex in Ha Long.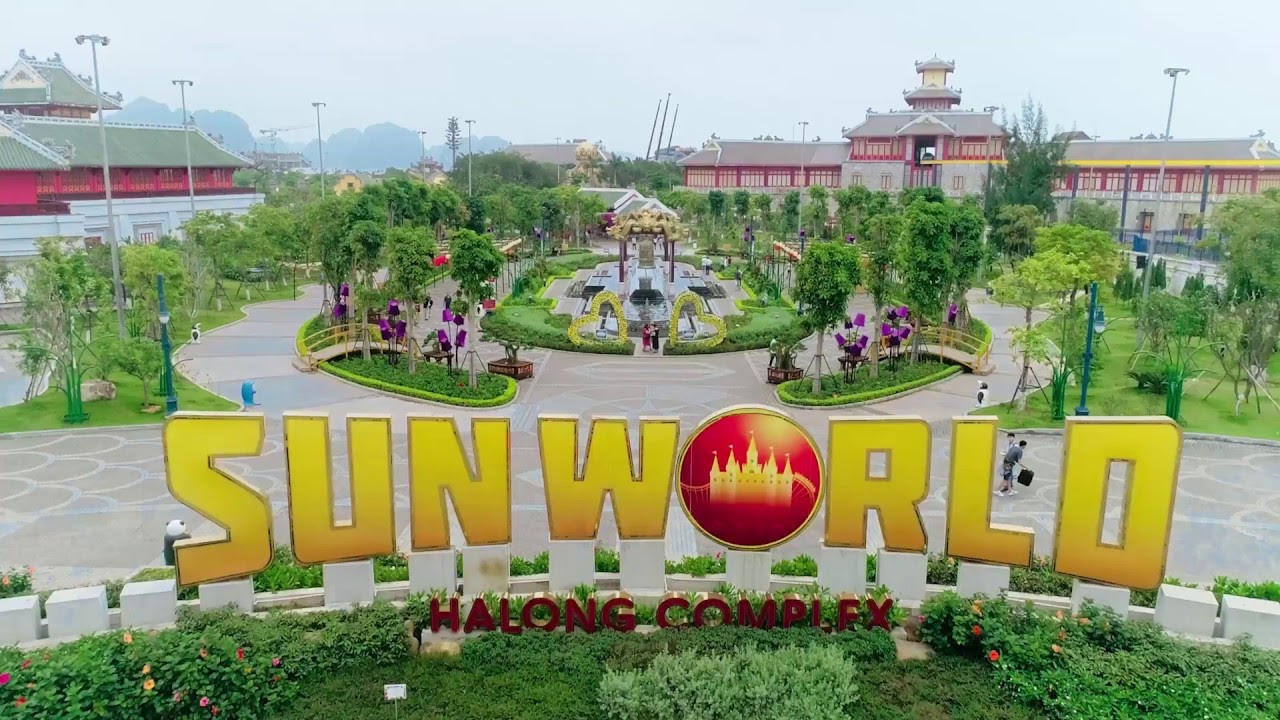 Sun World is divided into 2 main areas, including: The coastal entertainment complex and the entertainment complex on the top of Ba Deo mountain (mystical hill) are connected to each other by a modern cable car system – Queen Cable Car. This is not only a mere entertainment area, this place is also an attractive tourist destination for tourists.
Bai Tho Mountain
Bai Tho Mountain magical beauty but no less majestic. From here, you can cover the entire poetic scenery of Ha Long.
However, Bai Tho mountain climbing has been suspended due to safety concerns for visitors, you can instead visit and enjoy the scenery below. Please update the information from the local government carefully before planning a specific schedule for your Ha Long trip!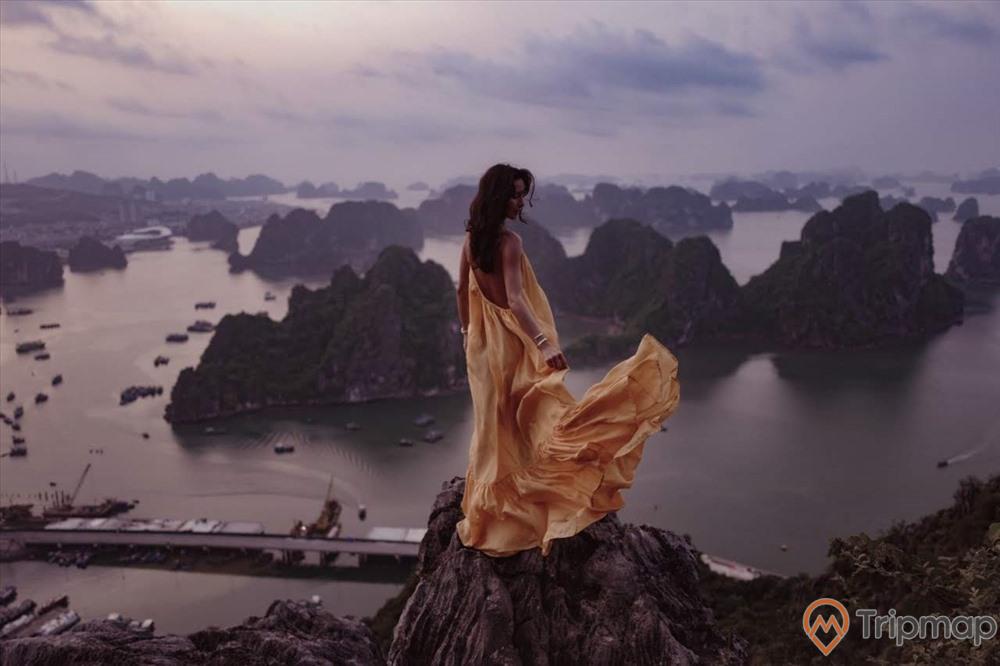 Bai Chay Beach (Now is Sun World Beach)
Hon Gai Beach located in Hong Ha ward, Ha Long city, Quang Ninh province, in the project "Renovating, embellishing and overcoming environmental pollution on Tran Quoc Nghien street". The beach was built in order to reduce the crowded situation of beaches in Bai Chay area, and at the same time, also contribute to bringing new living, playing and bathing spaces for locals and tourists. urban landscape refresh on the beautiful coastal road.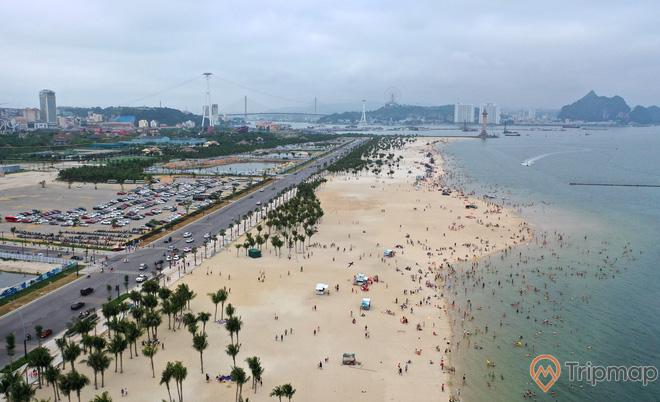 Ha Long Market
Sightseeing and shopping is one of the ideal experiences of tourists when traveling to Ha Long, Quang Ninh. In the city center, there are 2 big markets on Hon Gai side Ha Long market 1 and Ha Long Market 2. People around the area also call it Hon Gai market , and Loong Toong market. These are prestigious addresses, ideal for those who love to shop and enjoy seafood.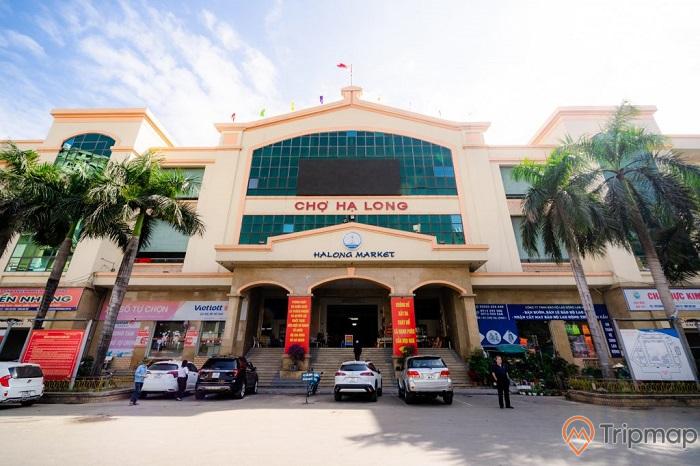 Share some other attractive Ha Long travel experiences
Not only visiting, sightseeing, having fun, coming to Ha Long, visitors also have the opportunity to try many unique and impressive experiences such as:
Kayaking: Sightseeing Halong Bay by kayak is an activity that visitors look forward to. You will be sitting on a small Kayak, swimming in the middle of the water, feeling very small in front of the majestic scenery of heaven and earth. Experience Ha Long Bay travel My thing when kayaking is to sit still and keep a tight posture for easy balance.
Overnight on cruise: If you love the romantic natural scenery, try an overnight stay on the yacht. Visitors will be greeted by dawn with the sea on all sides, no more smoke or noise of the city.
See Ha Long Bay from seaplane: This is a fairly new form of experience. On a seaplane, you will have a bird's-eye view of the sky, widening your eyes, embracing the majestic scenery of Ha Long Bay.
Enjoy the panoramic view of Ha Long City on Sun Wheel - Sun Wheel: Sun Wheel is located in a themed entertainment complex Sun World Ha Long Complex. This is an extremely famous theme park complex in Quang Ninh that anyone who comes here wants to visit once.
Going to Ha Long Market Buy fresh seafood: Visiting Ha Long market, one of the experiences not to be missed is visiting the fish market. Most of the fresh seafood of Ha Long and Quang Ninh waters are displayed here. Seafood is caught from the sea and brought to the fish market port and brought to the market to sell immediately.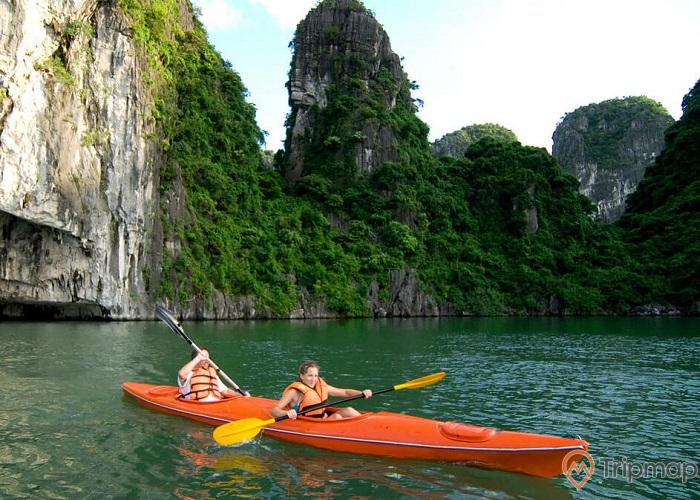 What to eat in Ha Long? Ha Long delicacies must try
Seafood hotpot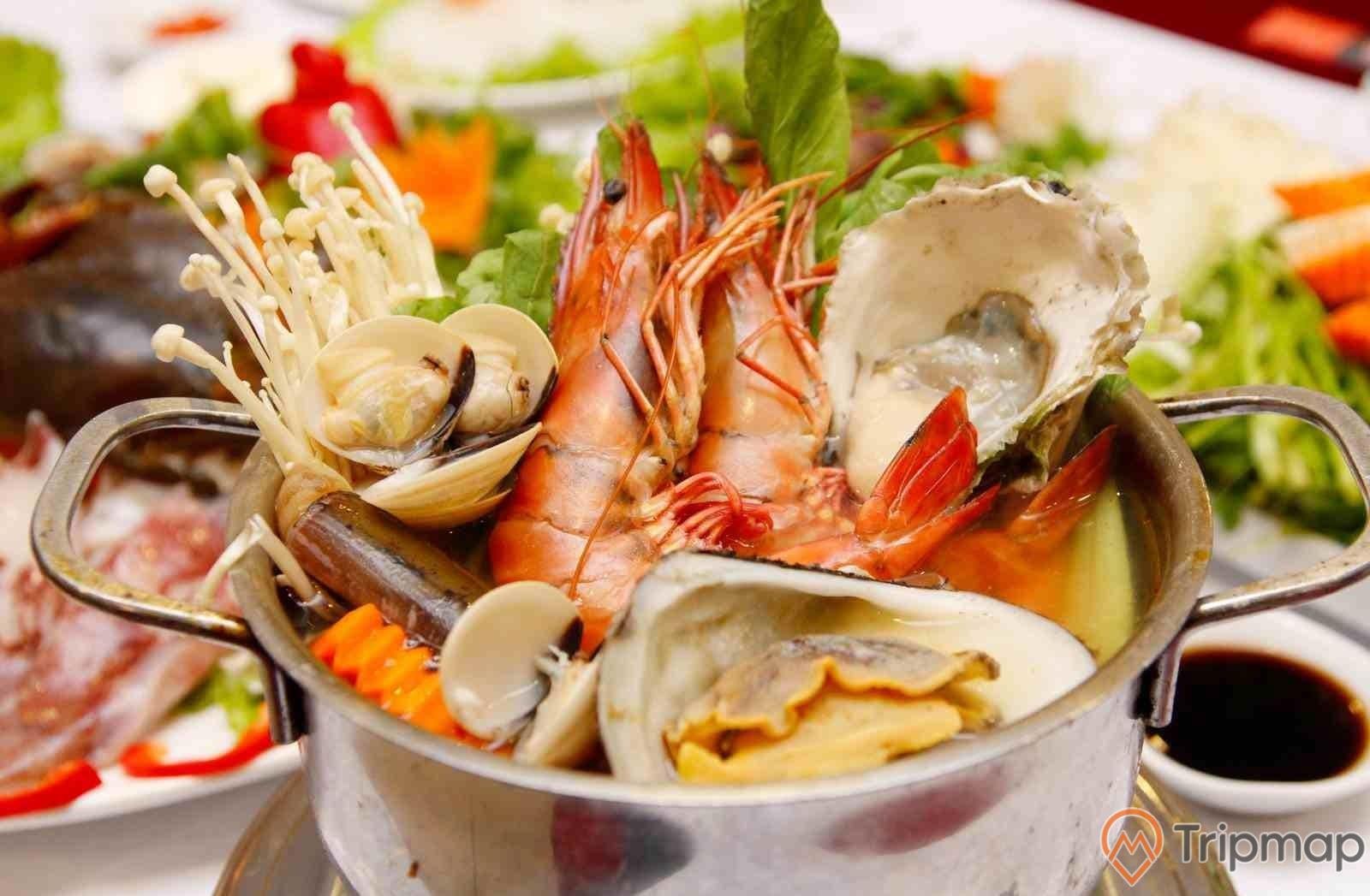 Coming to the sea with a variety of seafood species, you must definitely enjoy an original seafood hotpot in Ha Long. Ha Long seafood is considered to be delicious, rich in saltiness, and mouth-watering. The types of hot pot you should try right away are always:
Mixed seafood hotpot: With a variety of seafood such as shrimp, crab, crab, squid, surface (mantis shrimp), fish, nail snails, oysters, oysters, clams... Prices range from 500.000 VND to 1000.000 VND depending on the large or small pot.
Lap fish hotpot: Sounds very strange, right? This is a typical hot pot dish of Ha Long natives often eaten. Lap carp is the common name for all kinds of fish including: Small grouper, bald fish, scad, bull fish with medium-small size, not big. very. These are fish that can only be caught in the wild, cannot be farmed, so they have a different taste than industrial farmed fish. The price of a pot of Lap Lap hot pot is about 1 VND / kg of fish, enough for 500.000-4 people to eat.
Squid - famous Ha Long specialty
The first delicious dish to answer the question of what to eat in Ha Long is pounded squid. Grilled squid is a famous specialty of Ha Long sea. The golden spring rolls, fragrant and fragrant, are elaborately and elaborately processed. Squid can be fried immediately or eaten with sticky rice. In Ha Long, there is a dish of white sticky rice with squid ink, which is also stirring tourists from all over the world. Biting the patty, you will feel the crisp taste of fresh sea squid, the sweet taste when dipped with chili sauce or sweet and sour fish sauce.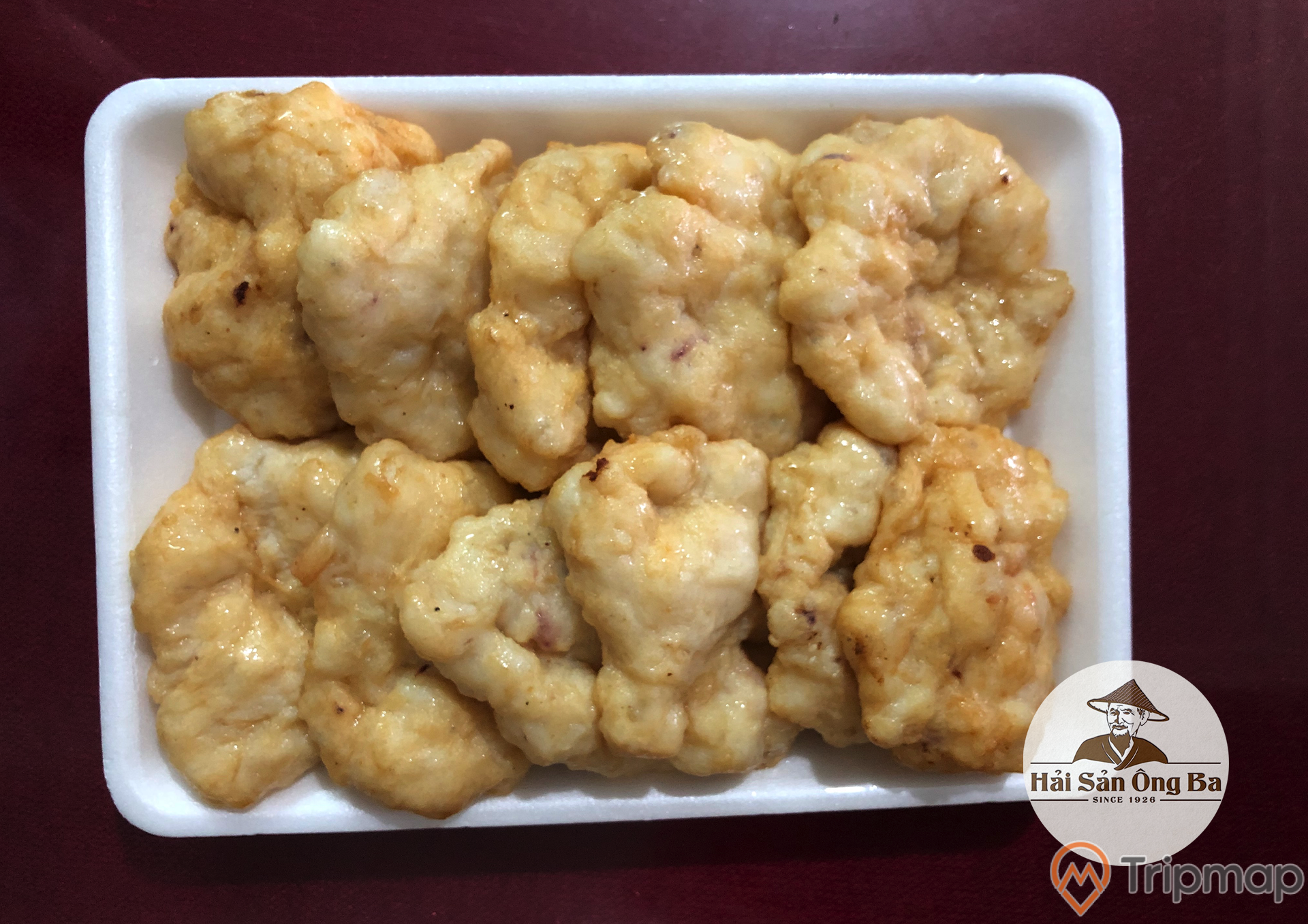 If you come to Ha Long and want to buy this dish as a gift, consider buying farewell squid from the people of Ha Long origin like Mr. Ba Seafood, Grilled squid Thoan, Hien Nhung ... They know how to choose standard squid and how to mix ink. Mix the right proportions with the traditional recipe. This way the patties will be more delicious and crispy.
Stir-fried snails with soy sauce - delicious Ha Long dish
Without guise leaves, cooking oil, Ha Long people stir-fry snails with the smell of ships, grated coconut, and lime leaves. The snail sauce doesn't need to be complicated, it's made from the chili sauce used to stir-fry the snails before.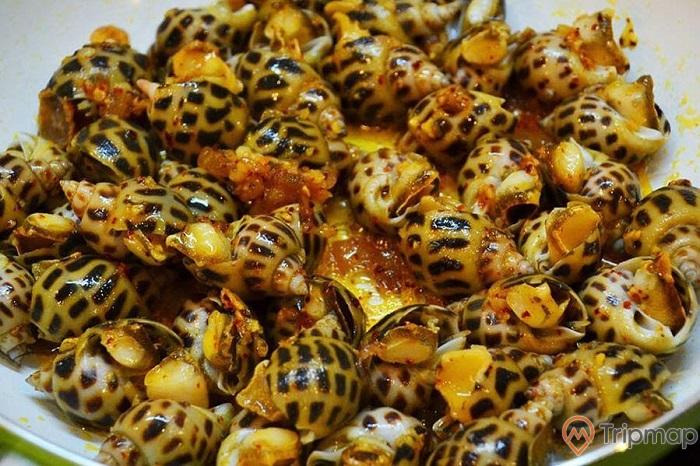 Wash the snails, put them in a pot, season with seasonings and bring to a boil. When it evaporates completely, a strong aroma will be released. Fried snails with crispy, greasy, spicy soy sauce make visitors stop hiccup.
Steamed or Grilled Crab (Thunder Crab)
Cu Ky is a type of sea crab with 2 very large claws and lots of meat. Although not as rich as crab, the crab meat is much more delicious, the price is also very affordable. Cu Ky steamed rice is an attractive dish that many tourists choose to enjoy when coming to Ha Long. In addition to steaming, you can also process pickles in many different ways such as roasting tamarind, baking charcoal, stir-frying vermicelli...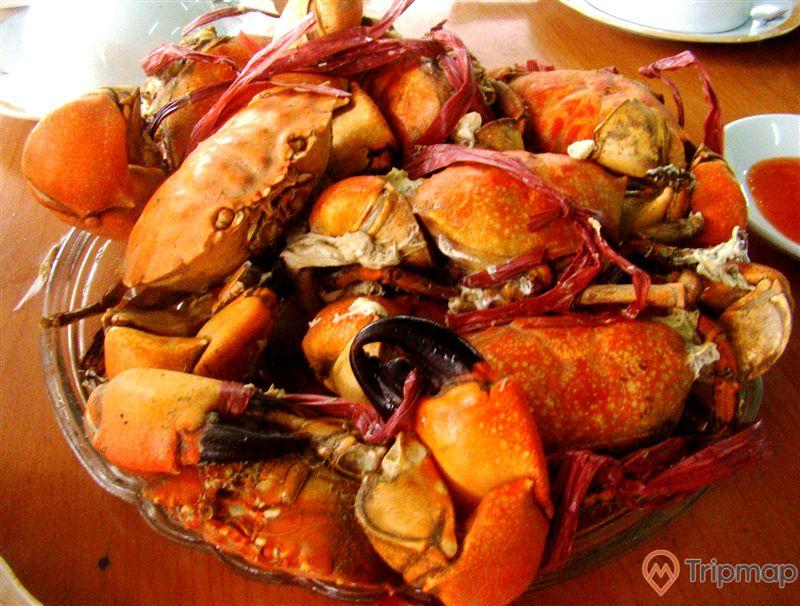 Worshiping Ha Long
Sacrifice Sea worms are extremely valuable, 1kg of dried earthworms costs up to 4-5 million VND. When coming to Quang Ninh, do not forget to enjoy the specialties from Satay such as: Crispy fried Sa worm, Grilled Sa worm, sauteed kohlrabi with satay, Deep fried sago...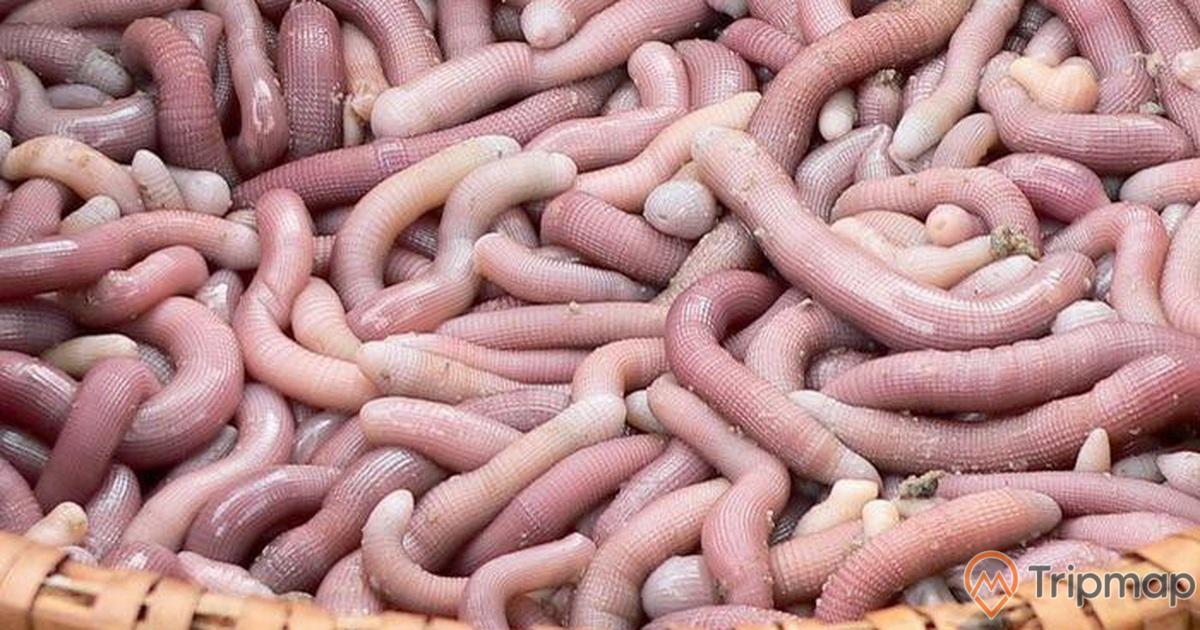 And if buying dried wormwood as a gift, the experience of many Ha Long tourists is to choose the ones with thick bodies and the same size.
Grilled Oysters - Traditional dish of Ha Long Bay, Quang Ninh
Grilled oysters with onion fat This is a rustic dish in Quang Ninh that is loved by many tourists. These Oyster greasy is pry one side of the shell, spread with onion fat, which is grilled on a charcoal stove. When you hear the sizzling sound, you add some crushed peanuts and you have a great drink.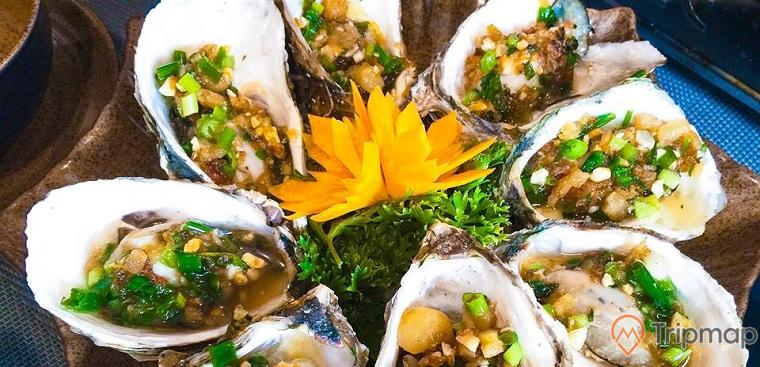 Sea bass 7 dishes
Sea buckthorn It is also a Ha Long dish not to be missed. The famous dishes from sam can be mentioned as: sam blood soup, fried sweet and sour sam's feet, fried egg sam, steamed sam, grilled sam, fried sam with guise leaves, fried sam bao...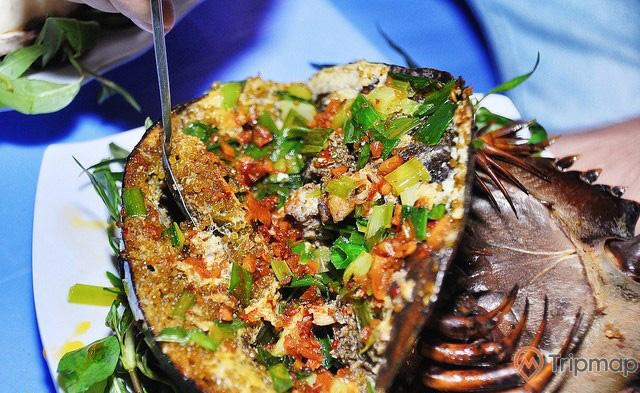 The sam is very similar to the sea, if you do not pay attention, it will be very easy to confuse. Many indigenous people believe that eating sam must eat both males and females in order not to have a cold stomach. Please choose reputable establishments to be able to enjoy the full flavor of this unique dish safely!
Ha Long spring rolls
If you travel to Ha Long on the occasion of the early winter, the North wind will blow, you will see fishermen here holding racquets to catch snakes. This is a delicious and nutritious specialty that is loved by many tourists. Cha ruoi is fried until it is golden brown, has a mild aroma, the outer shell is crispy but not dry. Eating radish with vegetables and vermicelli will be an unforgettable experience in the days of traveling to Ha Long.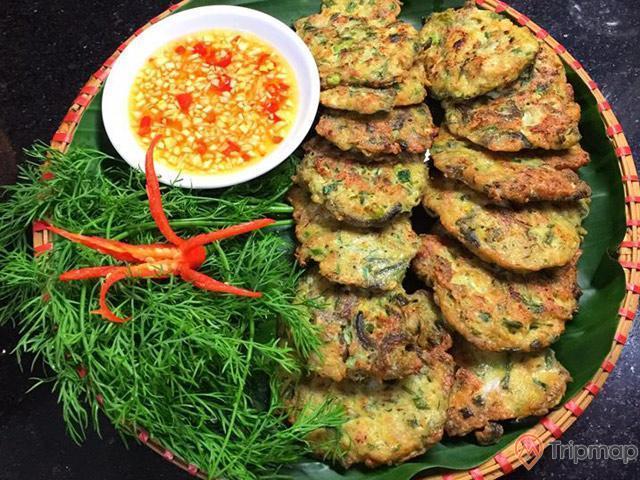 Ha Long seafood vermicelli
As a sea with many precious seafood, Ha Long is very famous for dishes made from seafood. The rich sweetness of the broth along with the firm surface of the meat, the dried yellow shrimp, and the crispy squid have created a delicious bowl of seafood vermicelli that attracts all visitors.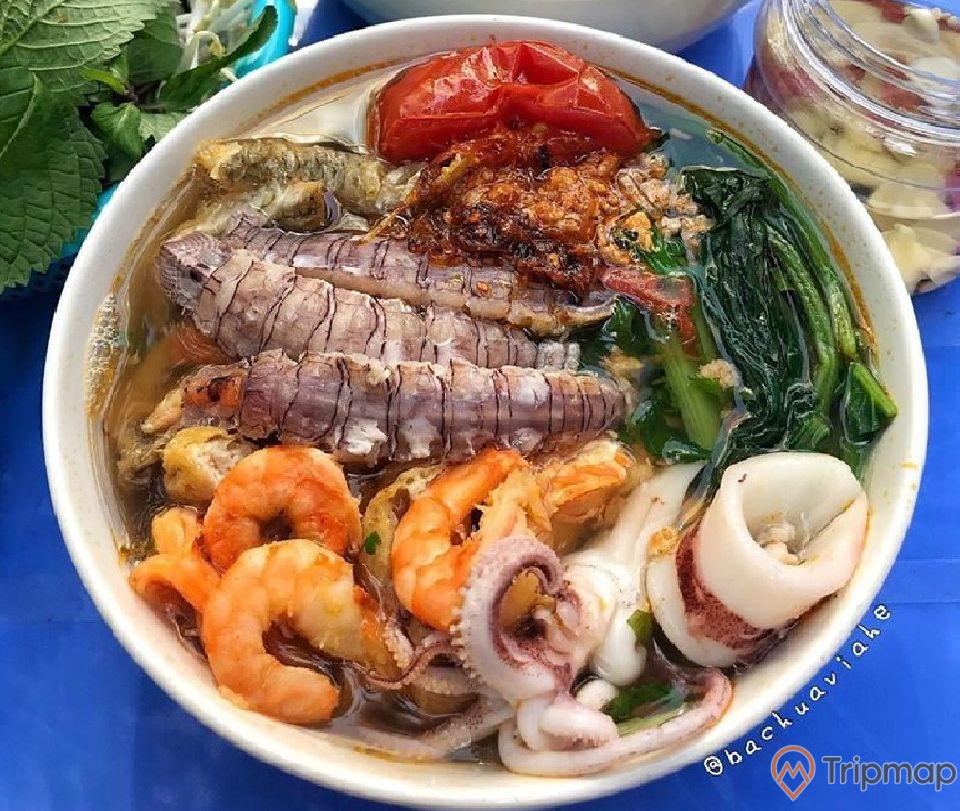 Nail snails - fresh Ha Long seafood
Nail snail is a very popular seafood in Ha Long waters. To buy nail snails as gifts or enjoy right away, my Ha Long travel experience is to choose long, meaty, watery snails.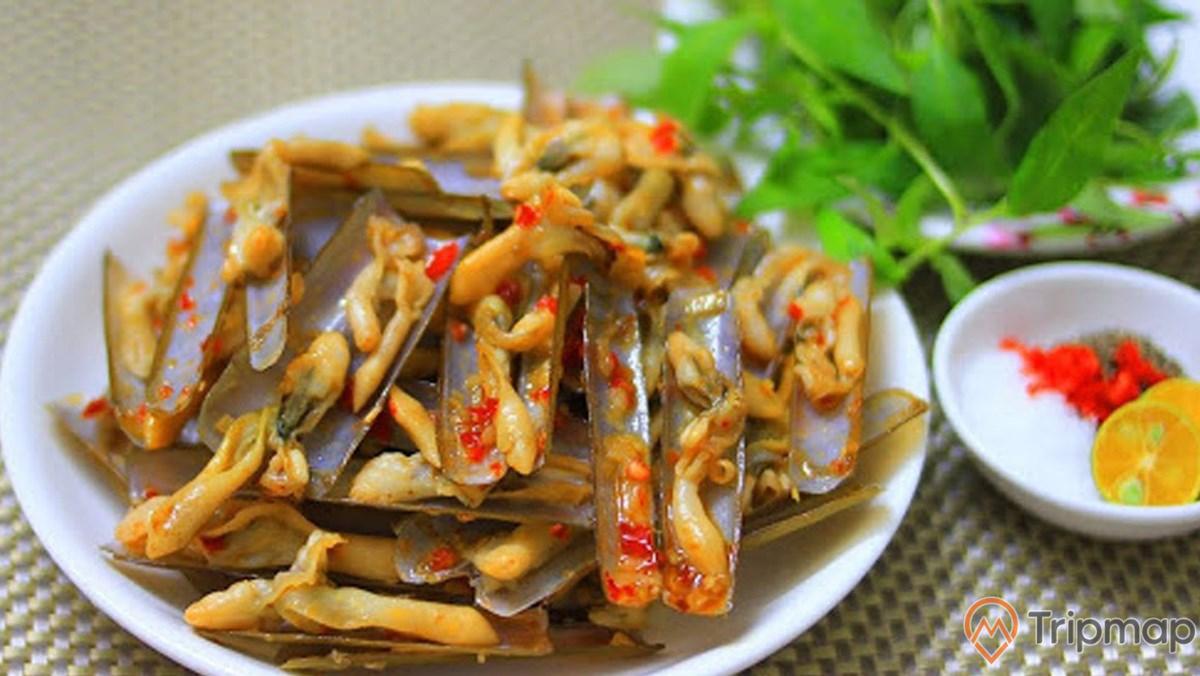 Most of the seafood restaurants in Ha Long have this dish. And if you want to buy it as a gift, the most popular place to buy nail snails is Ha Long fish market early morning or Cai Dam market. The price of nail snails is only from 80.000 - 120.000 VND / kg, can be processed into many delicious and attractive dishes.
Ha Long Tired Wine
Eating and enjoying food is indispensable. In Ha Long, there is a special wine made from Ngan. Bored is a nutritious seafood with health-promoting effects. If your family has elderly people, people who have just woken up, bored wine is the most appropriate gift.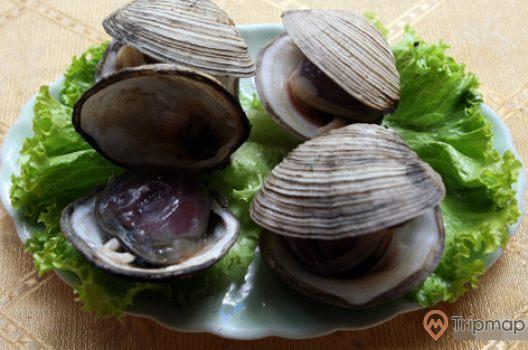 By experience in Ha Long travel, I know good wine must be bought from seafaring fishermen or original Ha Long people. They know how to clean, process, soak in order to retain nutrition, easy to drink without the fishy, ​​pungent taste of alcohol.
Buy as a gift when traveling to Ha Long?
Not only relaxing, eating, playing, traveling to Ha Long, you also pack a lot of specialties to bring home as gifts.
Dried octopus
Dried octopus is a famous and popular dish in Ha Long. Squid is made from fresh squid caught in salt water. After the preliminary processing, cleaning can be sun-dried or dried. The preliminary processing process to create dried squid is to cut the squid, remove the visceral organs and cuttlefish follicles. To produce a quality batch of ink, the input material is always the most important. Fresh squid is dried in direct sunlight on the sea. The number of sunny days is not too much, nor too few. Each brand will have its own secret.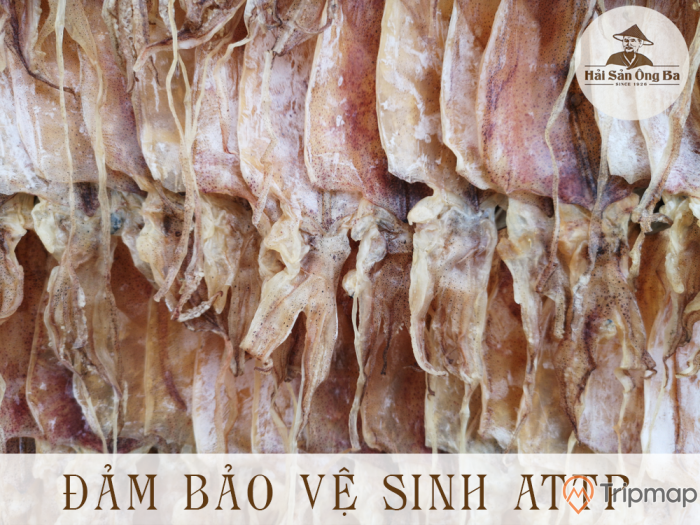 A sunny ink
Ink 1 sunny easy to buy, easy to carry, suitable as a gift. Dried squid is divided into many types, prices range from 400.000 to 2.000.000 VND / kg. My Ha Long travel experience is to only buy dried squid that are pink, thick, and whole. It feels dry to the touch but not sticky.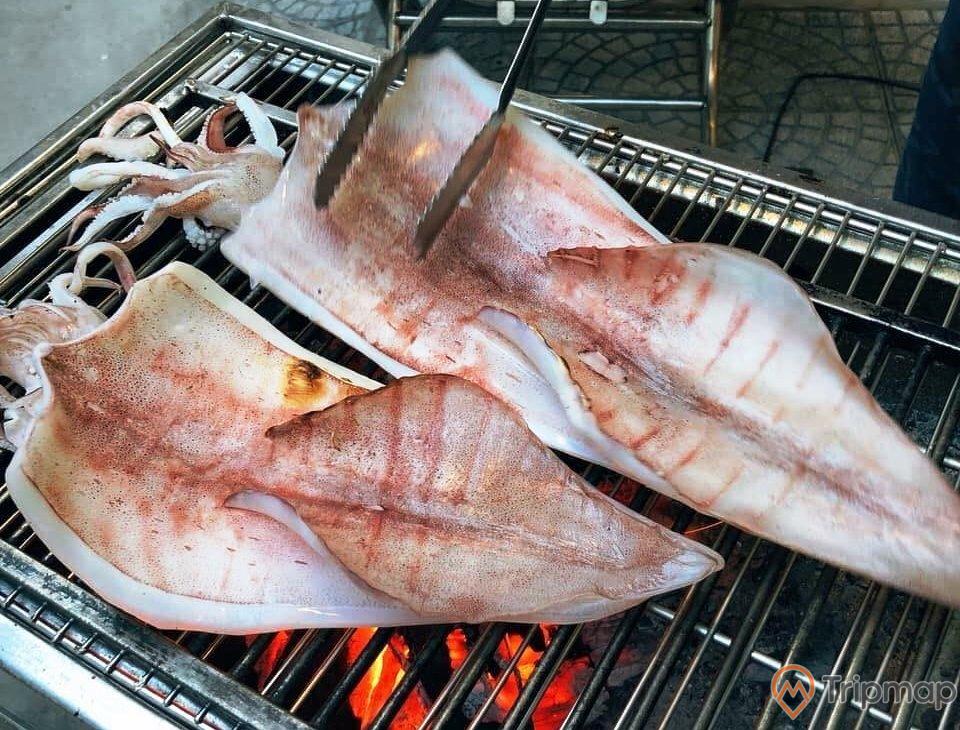 Dried fish, dried shrimp, dried shrimp
Dried food is the best choice to make a gift for Ha Long tourism, the types of dried fish in Ha Long are quite diverse such as: Dried bovine, dried yellowtail, anchovies, dried cobia, for long-term storage. If you go the farthest, please pay attention to remind the store to close the vacuum bag. Under the bright sunlight, under the sea breezes, under the traditional processing and marinating hands of coastal fishermen, yellow snapper is one of the dried seafood dishes that appeals to anyone. Eat once, remember for a lifetime.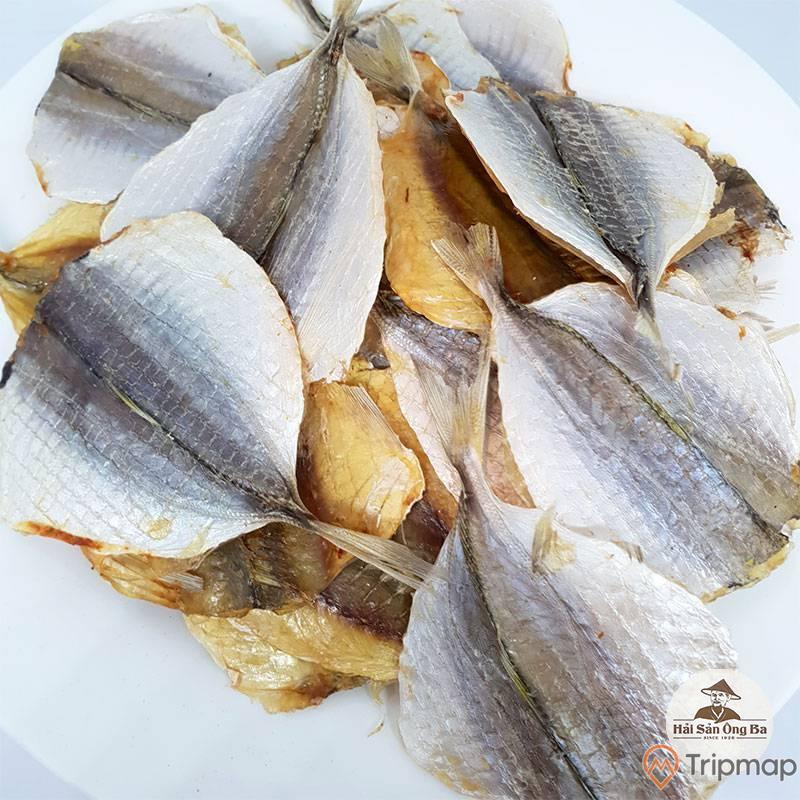 What's special about Ha Long dried shrimp? Dried shrimp is shrimp that has been sun-dried until very small for preservation. They are used in many Asian dishes, to give them a unique flavor. In Vietnamese cuisine, dried shrimp is widely used in dishes of all three regions of the North, Central and South. Dried shrimp can be used in stir-fried and braised dishes, soups, salads, rim dishes, porridge, etc.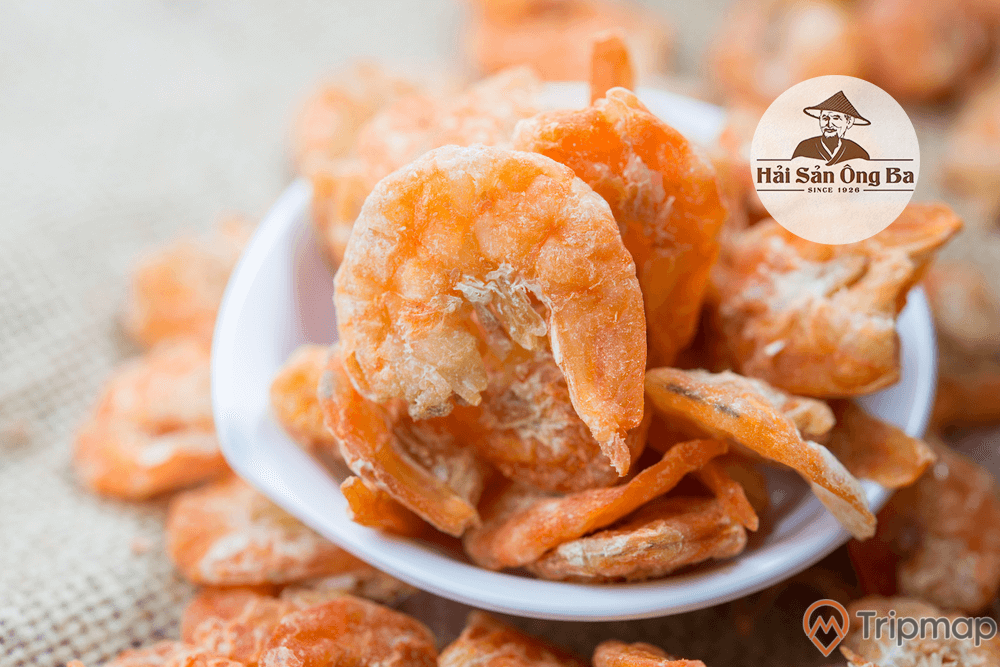 Shrimp paste - delicious dish suitable for all ages.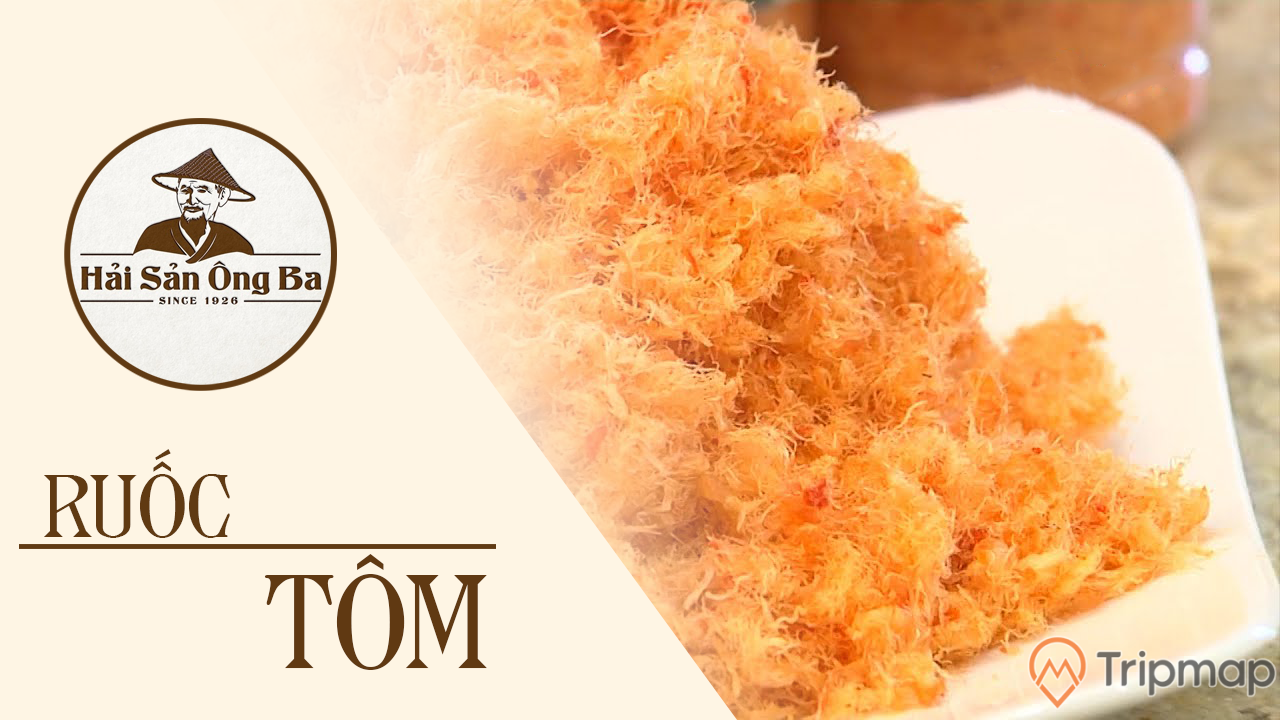 Shrimp paste (shrimp scrub) known as a quintessence of Ha Long Bay specialties. Shrimp paste with delicious flavor is suitable for all ages from young children to the elderly. Coming to Ha Long, you can't help but bring back delicious and fragrant shrimp shrimp boxes as gifts for your loved ones as well as reserve food for the family.
Frozen seafood
In Ha Long, visitors can easily enjoy fresh seafood dishes at reputable stores. However, it is difficult to bring fresh produce home. Therefore, choosing to buy frozen seafood as a gift or preserve it for food is the best choice. The types of seafood you should buy are: baby octopus (or the baby is called shrimp), clams eggs, squid, mackerel, shrimp, green fish ...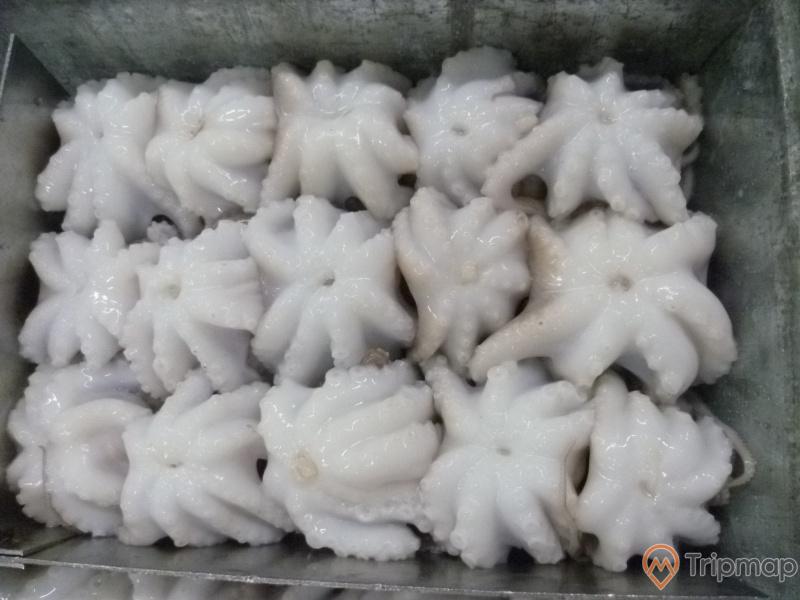 Mine bread
Bread in the mines is a wonderful memory of coal workers. Thick, soft cake made from butter, eggs, milk, sugar and fine flour. The stages from kneading dough, fermenting, baking, keeping heat are all done meticulously and skillfully.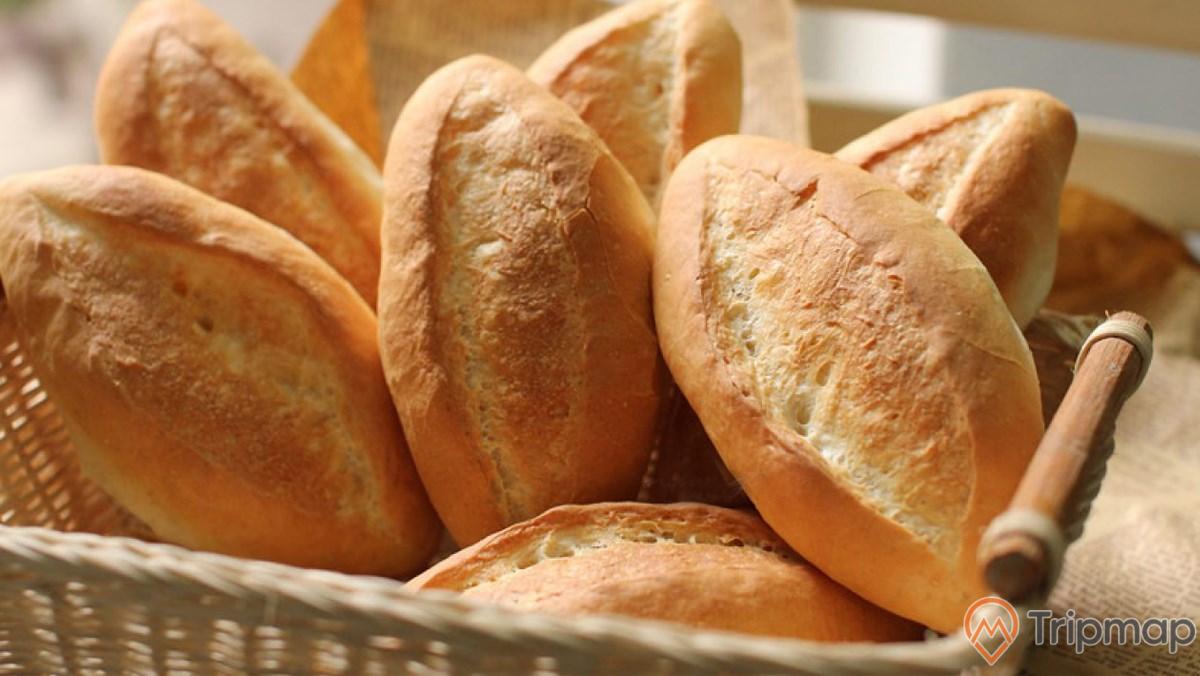 Different from ordinary cakes, Ha Long banh mi has a very unique taste, especially delicious when eaten with condensed milk. When cooled, the cake is not hard but soft, fragrant with buttermilk. This is a cheap gift, easy to buy when traveling to Ha Long.
Three Size Wine
Three Size Wine Ha Long is a famous specialty in Ha Long that is loved by locals and tourists. To create this wine, it is necessary to soak the white and purple three size tubers for many days. When drinking, alcohol is fragrant, does not cause headaches, used in the right dosage also brings positive effects to health.
Top class hotel in Ha Long
In Ha Long, there are many resorts, hotels, motels, homestays from affordable to high-class, serving a variety of resort needs of tourists. However, in order to have the most complete vacation in Ha Long, visitors can choose to stay at one of the top hotels and resorts in Ha Long listed below:
Vinpearl Resort & Spa Ha Long
Vinpearl Resort & Spa Ha Long - a resort located in the middle of Reu island floating on the sea, right in the city center. Inspired by the design of the French theater, the hotel is like a palatial castle in royal style with the dominant white color scheme.
All rooms of the hotel have a very romantic sea view. You will be greeted with the first rays of the morning sun or the sunset on the bay. Along with that, visitors will enjoy a regal life with a synchronous and modern 5-star utility system.
Vinpearl Resort & Spa Ha Long is located in the middle of Reu island, with a clear view.
Vinpearl Resort & Spa Ha Long has indoor and outdoor swimming pools. The highlight here is the Pool bar serving outdoor parties, creating a feeling of relaxation, helping guests relax as much as possible.
The restaurant system at Vinpearl Resort & Spa Ha Long is diverse according to 5-star standards, serving seafood dishes, BBQ, dining... However, in the tourist season, the restaurant is often crowded. eating lunch. Drawing from your own Ha Long travel experience, you should book a table in advance so it doesn't take much time.
Clean guest FLC Grand Hotel Ha Long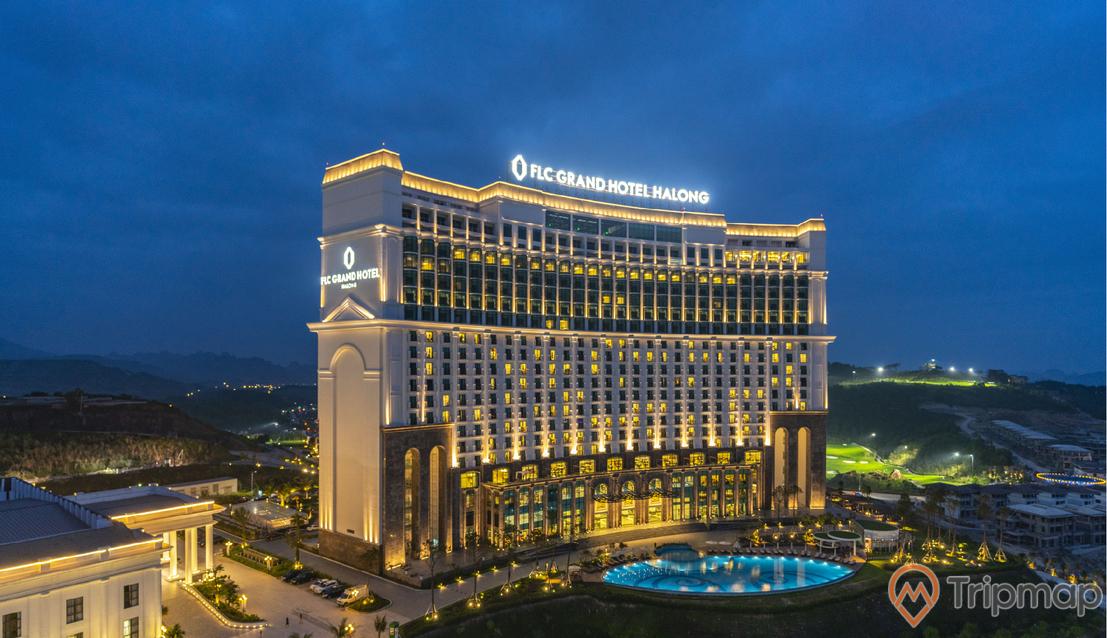 Belonging to the FLC Ha Long resort complex, located in Hong Ha ward, the center of Ha Long city (in the area of ​​​​pillar 3 - column 8 hills), 20-storey architecture, capacity up to 1500 people. With the location "situated, facing the sea", the frontage faces the sea, the whole heritage seems to be drawn into the eyes of tourists when resorting and staying here.
Wyndham Legend Ha Long Hotel
Located in a prime location, Wyndham Legend Ha Long becomes an ideal rendezvous for tourists.
Wyndham Legend Ha Long is rated by visitors as "the hotel with the most beautiful view in Ha Long". This is the first 5-star hotel in Bai Chay with an international brand built by Wyndham Group. Wyndham Legend Ha Long is luxuriously located right near the center of Ha Long city, on the beautiful Bai Chay beach.
Central Luxury Ha Long Hotel
The infinity pool system provides the most ideal relaxing space at Central Luxury Ha Long
Central Luxury Ha Long is located in the center of the bustling and busy Bai Chay beach resort, not far from SunWorld Ha Long amusement park and Queen cable car station. This is one of the prominent hotels of the Central hotel chain across the country. Visitors here like to immerse themselves in the bustling, dynamic and youthful atmosphere.
Novotel Ha Long Bay Hotel
Novotel Ha Long Bay's rooms are delicately and elegantly designed to create a feeling of closeness and familiarity for visitors.
Located at 160 Ha Long Street, Bai Chay Ward, Ha Long City, the highlight that makes the difference is the new and fancy design. Inspired by the poetic nature of Ha Long, Novotel Ha Long Bay's space is mainly combined with 2 colors black and white, exuding elegance, taste, but no less luxurious and modern.
Muong Thanh Hotel
Muong Thanh Ha Long Center Hotel has a prime location in the center of the tourist area
At Muong Thanh, we invite you to embark on a journey to find a serene space containing cultural features imbued with the spirit of Vietnamese identity, where people bond and cordially exchange sincere feelings.
Suggest some Ha Long travel itineraries
To have a trip, fully admire the nature and beautiful scenery here, please refer to these fun Ha Long travel itineraries!
Ha Long tour itinerary 3 days 2 nights
3 days 2 nights is a relatively long time to fully enjoy the scenery of Ha Long. You can set a specific schedule as follows:
Day 1: Check in, Visiting Ha Long Bay
Morning: Move to Ha Long, check in hotel
Pm: Cruise to visit Ha Long Bay
Night: Explore Ha Long at night
Day 2: Explore Tuan Chau island, swim in Bai Chay beach
Morning: have fun at Tuan Chau island
Pm: Have fun, swim in Bai Chay beach
Night: night market shopping and sightseeing Ha Long old town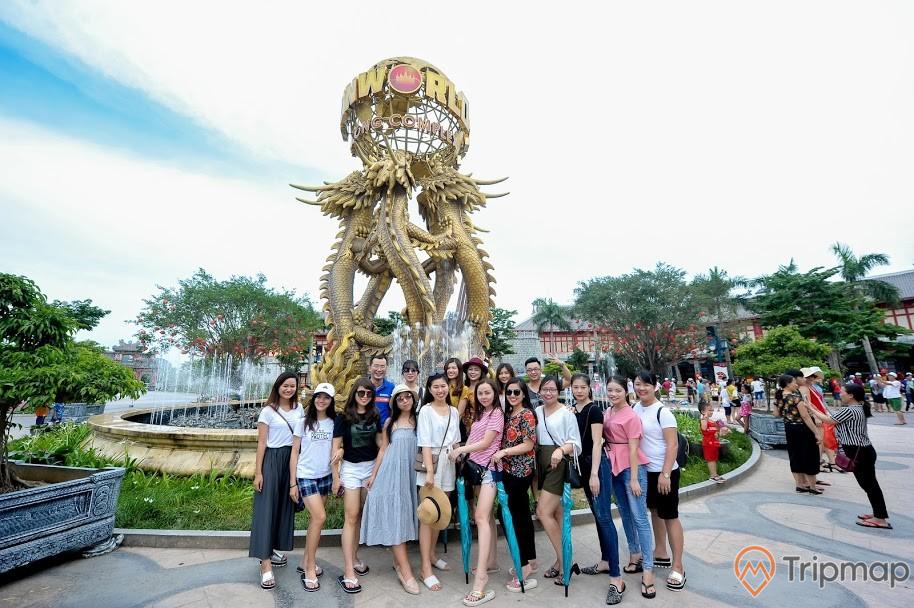 Day 3: Visit the fish market early in the morning, check out of the hotel
Shining: Go to Ha Long seafood market, buy Ha Long specialties as gifts
Lunch: Check out the hotel and say goodbye to Ha Long
Ha Long itinerary 2 days 1 night
In 2 days and 1 night in Ha Long, you will also be able to visit many beautiful scenes, many games. The specific reference schedule is as follows:
Day 1: Check in, explore Tuan Chau island
Morning: Move to Ha Long, check in hotel
Pm: explore Tuan Chau island with many interesting games
Dark: Enjoy dinner on a raft or have fun in the old town, Ha Long night market
Day 2: Visiting Ha Long Bay
Shining: Get on a cruise to visit Ha Long Bay.
Lunch: Check out from the hotel and return
Ha Long 1 day tour
1 day is too short a time to fully explore the beauty of Ha Long. However, that doesn't mean you should skip the hot shows:
8h30: Get on the bus to Ha Long
12h00: You board the boat to visit Ha Long Bay, enjoy lunch on board. On the cruise to visit the bay, visitors will be visit Thien Cung cave, Stone Dog Island, Lu Huong island, Isle of the Fighting Cock, Cua Van fishing village ...
16h30: The boat docked, ended the 4-hour bay tour on board and boarded the bus back to Hanoi.
Prestigious seafood restaurant in Ha Long
Coming to Ha Long, choose for yourself a restaurant near the resort to conveniently rest and keep fit for your travel schedule. Here, we introduce a few delicious and reputable restaurants in Ha Long for your reference
Khai Huong seafood restaurant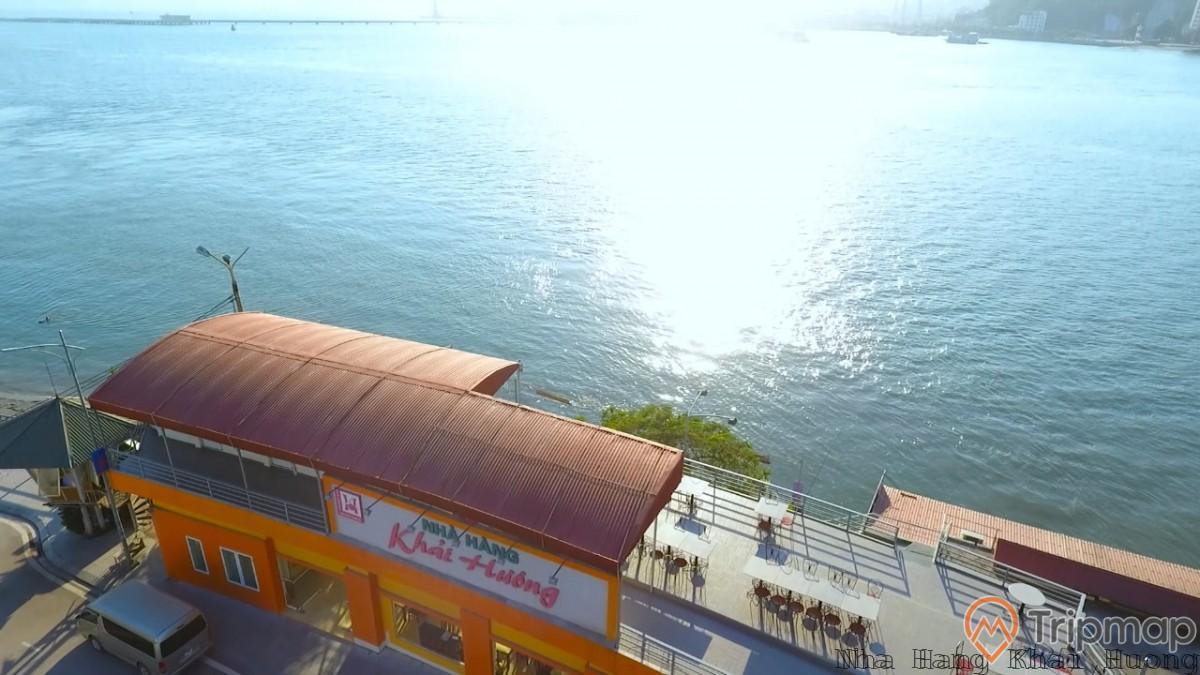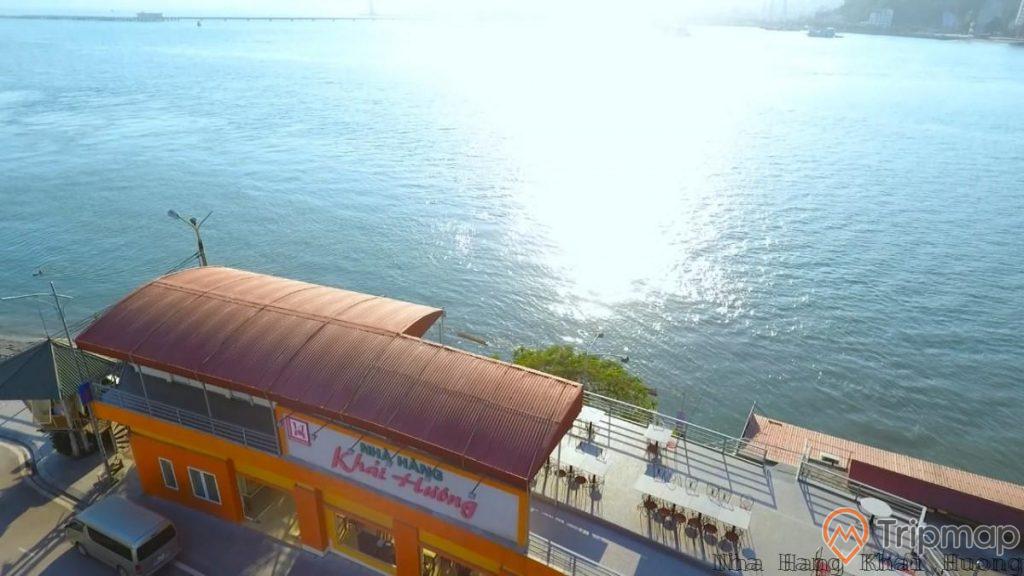 This is the only restaurant right next to Ha Long beach, half of the restaurant is built right on the sea, designed with 2 wide and airy floors, facing Cua Luc Bay, looking out to Bai Chay Bridge. majestic and Queen cable car, Tuan Chau international tourist pier.
Contact information:
Location: Khai Huong Restaurant, Hon Gai Old Ferry Terminal, No. 1 Le Thanh Tong Street, Hong Gai Ward, Ha Long City, QN.
Open door: 08h00 - 23h00 (After payment, you can sit overnight)
Reservation phone: 0932088588
Phuong Nam Ha Long Restaurant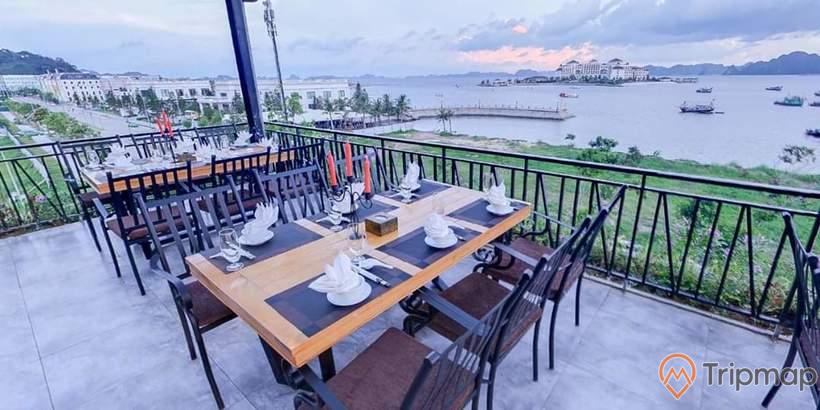 With a beautiful terrain, the back of the mountain, facing the sea. Visitors here can both enjoy delicious food while letting their souls watch the whole scene of the sky and mountains, listening to the sound of "the waves of the sea sighing". It seems that the fatigue and troubles of life are pushed back, the soul becomes relaxed and extremely refreshing.
Contact information:
Location: Do Si Hoa Street – Cai Dam Urban Area – Bai Chay – Ha Long City (Opposite Vinperl Hotel)
Hotline: 0901 599 598/02033.900.668
Golden Crab Seafood Restaurant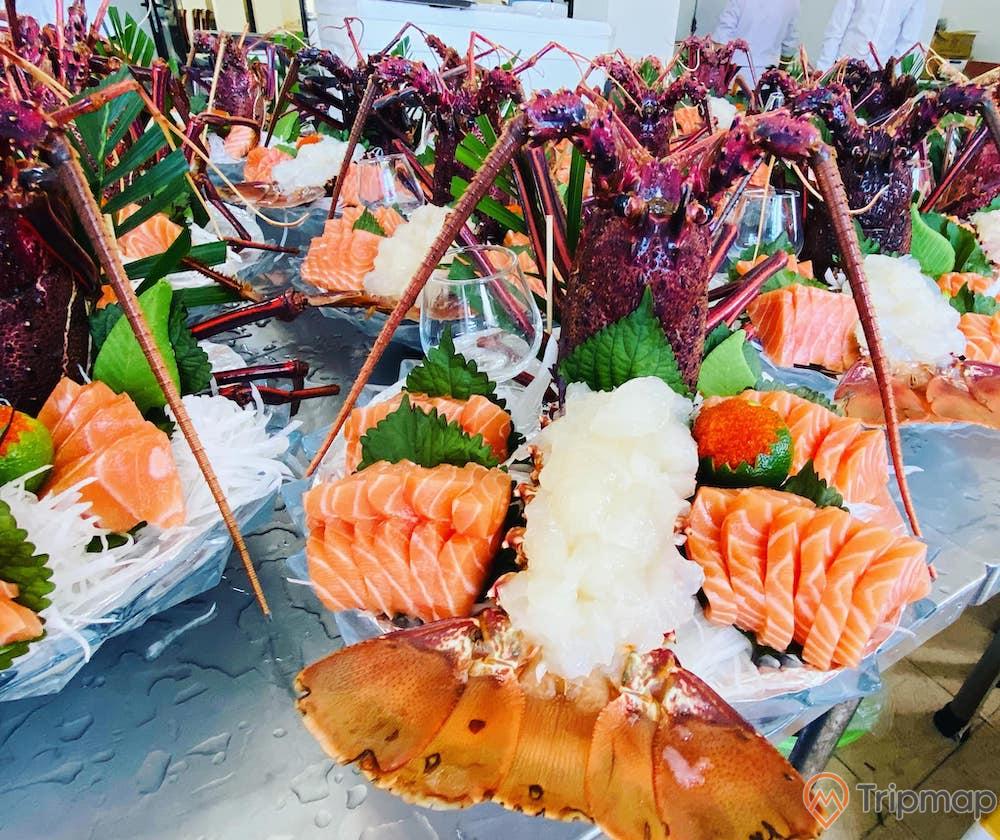 Located on Phan Chu Trinh street, with convenient traffic plus a unique, modern, 2-star standard 5-storey design space, Cua Vang restaurant is always rated as one of the most luxurious restaurants by tourists from all over the world. most important. With fresh seafood dishes prepared in a unique and novel style according to the flavors of 3 regions, Asian - European style comfortably pleases the most fastidious diners.
Contact information:
32 Phan Chu Trinh, Bai Chay, Ha Long City, Quang Ninh
Open: 10:00 AM – 10:00 PM.
Contact phone number to book a table: 0333819919
Thuy Chung Seafood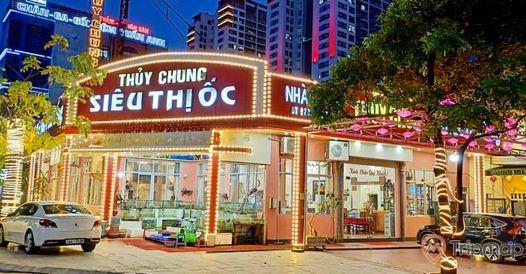 With an extremely luxurious space, Thuy Chung seafood belongs to the list of famous Quang Ninh restaurants specializing in the menu of fresh sea snail dishes. Therefore, sea snail enthusiasts coming to Thuy Chung will be a wise decision. In addition, there are also novelty squid dishes and hundreds of other rich seafood menus for customers to choose from. Here, visitors are comfortable to check-in, live virtual, especially young people.
Contact details:
Location: No. 4 Cai Dam, Bai Chay Ward, City. Ha Long.
Hotline: 0904087626
Ha Long Linh Dan Restaurant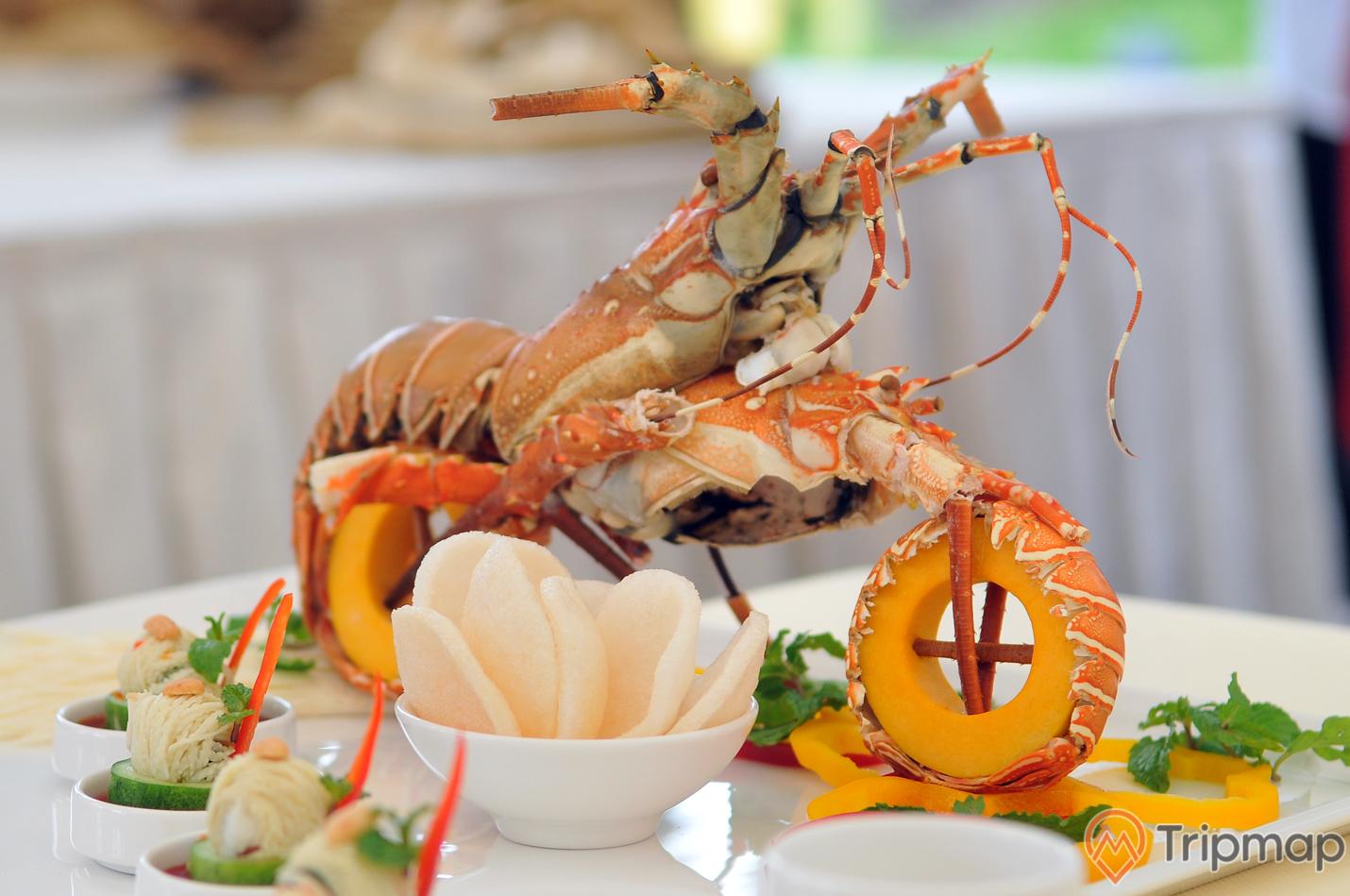 Always listed in the list of the most famous Ha Long seafood restaurants, Linh Dan restaurant has a luxurious and modern style with a team of professional, experienced and skilled chefs in processing and serving food. serving famous Asian and European dishes. Here, visitors can freely choose fresh seafood that is processed directly according to the needs of guests, at very reasonable prices.
Contact information:
Location: Linh Dan Restaurant at: 104 Bai Chay Street, Ha Long City, Quang Ninh
Open door: 09: 00 AM - 10 AM: 30 PM
Contact to book a table by phone number: 0333846025 - 0914634598
What month is the most beautiful to travel to Ha Long?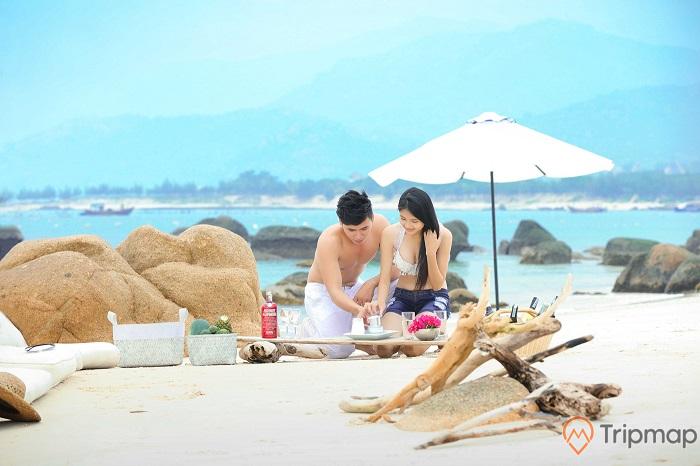 Ha Long weather varies from month to month and is quite different from season to season, so double check the weather forecast before your trip. Ha Long travel time can be divided into the following time periods:
April to June is the ideal time to travel to Ha Long. At this time, the weather hardly rains, it's sunny, warm and pleasant, very suitable for sightseeing, resting with family and friends.
June-August is the peak season of Ha Long, many families combine to relax for their children, so the number of guests is crowded, and the price of rooms and services is also easy to increase. Now is summer time. Especially in July and August, tropical depressions and storms are easy to occur, directly affecting tourists' Ha Long travel schedule.
Late November to Tet is the time when foreign tourists come to Ha Long mainly because Vietnamese tourists choose to come here in the summer. Therefore, this time Ha Long is also peaceful and has more private space for you to enjoy.
What to prepare before traveling to Ha Long?
With my Ha Long travel experience, I recommend you bring the necessary items such as:
Sunscreen: Sunscreen is an inseparable item of women when coming to Ha Long tourist area. Playgrounds are mostly outdoors and need to be moved frequently. If you forget to bring sunscreen, your skin color will change after a few days of traveling here.
Sunglasses, hats, flip flops: Ha Long summer is relatively hot, you should bring sunglasses, hats, flip flops... to facilitate moving and playing.
Swimwear: Traveling to Ha Long without swimming is a big omission. So pack a few of your favorite swimsuits.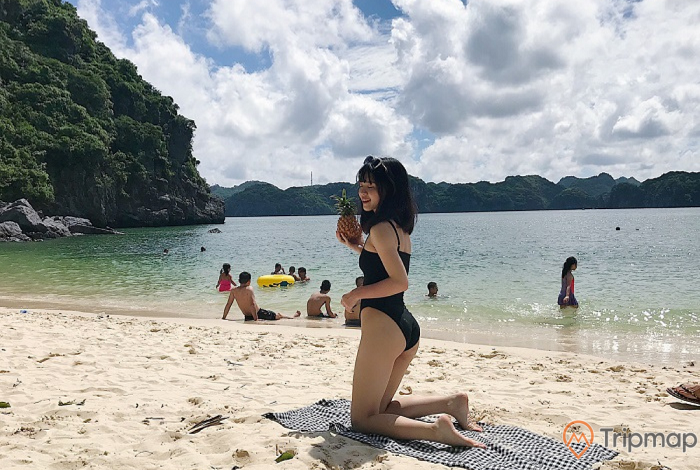 Identification: Wherever you are, identification is an indispensable item. They will support you to rent a room, rent a car….
Electronice device: Of course, electronics from cameras, computers, phones... are indispensable for any travel. Ha Long has many beautiful scenes that can be checked-in. So, remember to fully charge the battery to avoid missing out on good photos.
Certainly, no matter what time or schedule, Ha Long is still the dream destination of tourists. Ha Long has many beautiful hotels for you to relax and experience. For the convenience of your stay, with sweeping views of the world's natural wonders, book a room at Vinpearl Resort & Spa Ha Long to receive the most favorable price.
Wish you have a nice trip. If you have any questions, don't hesitate to click ask.