* Height restrictions: 122 cm or more
Quang Ninh is currently an extremely popular tourist destination not only thanks to the beautiful beauty of poetic natural landscapes but also an impressive system of artificial entertainment areas for the hot summer days of Vietnam. North. Water park Typhoon Water Park – one of the unique and classy entertainment spots that is like a cool glass of water to cool off in the summer. Coming here, visitors can not only immerse themselves in the natural space but also enjoy new relaxing moments with the water with an impressive game called - tornado.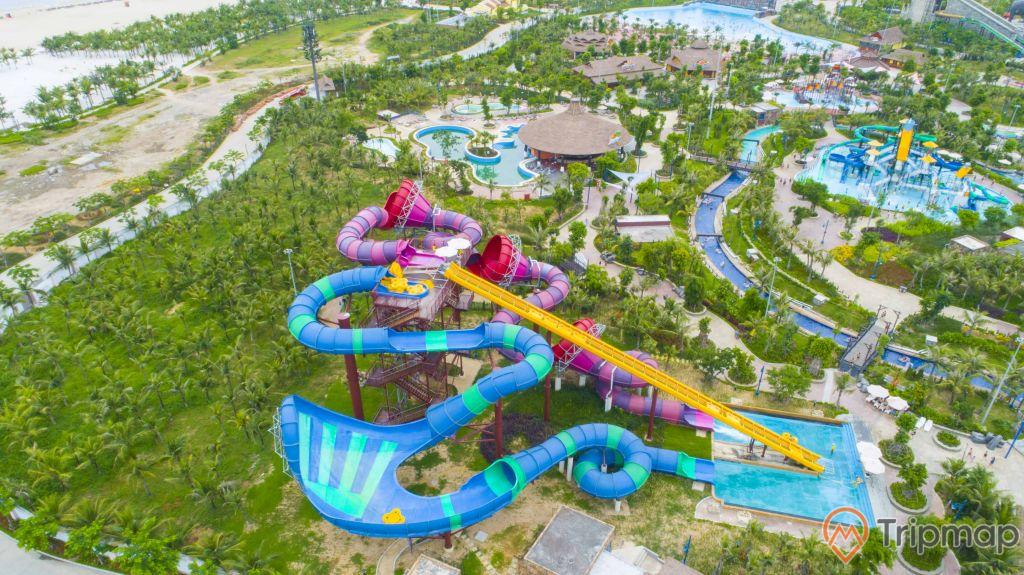 What's so attractive about tornadoes?
Among 12 special entertainment games at Typhoon Water Park, tornado is an adventure game, suitable for those who are brave, not afraid of heights, like to experience and explore new entertainment spaces. .
Possessing two colorful slides curving round from above and rolling down with swirling basins in succession, bringing a strong feeling of water skiing to participants. Players will experience the feeling of water skiing from many different positions, from straight slide to curved slide, circular slide, even floating, adventurous, floating around a large 45 degree inclined water funnel. , and then continue to fall on other circular slides as if broken with white foam.
Such consecutive hits for a period of more than 20 seconds and will eventually be dropped into a large lake. The capacity of the slide is from 2 to 5 people, so you always have a companion to enjoy the relaxing moments especially interesting like being caught in the hurricanes, the whirlpools of the tsunami. so.
What do visitors experience in tornadoes?
For those who are not afraid of heights, this is a pretty suitable location to enjoy the panoramic view water park, enjoy the cool, clear breeze, immerse yourself in an extremely natural and beautiful space. Try your hand at an ideal height.
When relaxing the body along the slide, immersing in the cool clear water, taking the initiative in all postures along the slide, people feel more comfortable, refreshed and healthier. And this is also an interesting fitness game that any young visitor wants to try once.
Tornado is also a place to play for the birth of cool and unique photos to refresh your collection. And although this is an extremely attractive entertainment, it also depends on the physical condition and health as well as the height and age of each person to participate.